Southeast Asia is a region that encompasses continental and island areas between China, India, and Australia. It includes the Indochina peninsula and the Malay Archipelago, and constitutes part of the Asia-Pacific region.
It stretches across 11 countries: The mainland comprises Vietnam, Cambodia, Laos, Myanmar, Thailand and Malaysia, while the island area includes Brunei, East Timor, Indonesia, Singapore, and the Philippines.
The gaming market of Southeast Asia has significant potential. According to data from Statista, the total size of the market was 4.75 billion USD in 2021 and is expected to grow to 5.33 billion USD in 2022—and 7.14 billion USD in 2026. As a bit of background, Newzoo assessed the market at 4.4 billion USD in 2019, up 16% from the previous year. Indonesia had the largest market share, with revenue at USD 1.6 billion in 2020—and 1.83 billion USD in 2021. The region's video game market size is expected to expand at a compound annual growth rate (CAGR) of 8.5% between 2020 and 2025.
General characteristics of the market
There has been a shiftaway from the dominance of AAA-developers such as Square Enix and Activision toward independent indie companies like Toge Productions and Mason Games, who promote their games via online services—Steam, Google Play and App Store.
The mobile games market has outstripped the PC and console games market. In 2019, mobile games accounted for approximately 70% of the industry revenue in Southeast Asia, with video games accounting for 23%. This is attributed to the fact that, unlike console games, mobile games do not require an online subscription to access multiplayer mode. This uptrend in hyper-casual gaming is likely to facilitate further growth in the Southeast Asian mobile games market.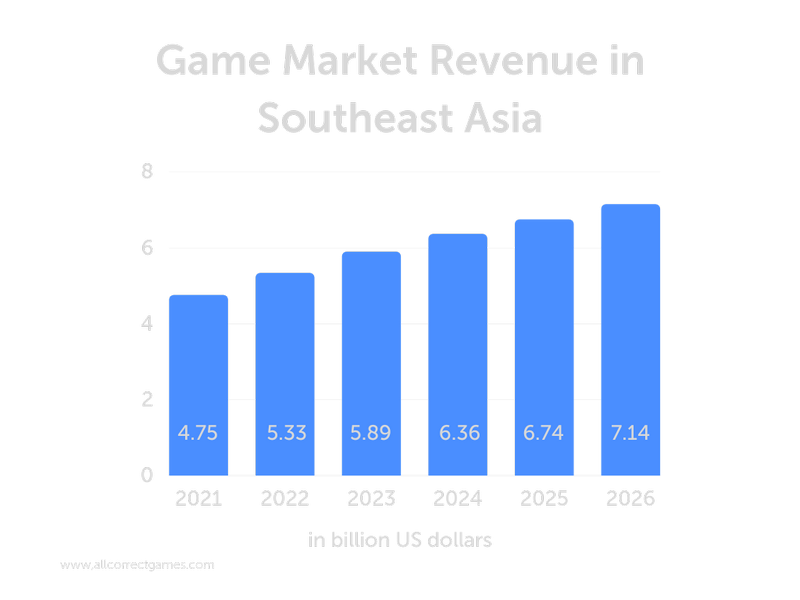 Foreign investment constitutes another growth factor, with video game giants opening branches in the region. For example, the Japanese company Sony has opened PlayStation Studios Malaysia—a branch of PlayStation Studios. China's Shanghai-based company miHoYo has a Singaporean division Cognosphere, which published the video game Genshin Impact.
But what really drives investment and stimulates growth in the region's gaming market is esports, the fast-growing sector generating significant revenue. A report by Tencent predicted that esports revenue would reach a staggering 72.5 million USD in 2024, which would represent an average annual growth rate of 20.8%—almost double the growth rate globally (11.1%). The number of esports viewers on streaming platforms such as Twitch and YouTube is expected to increase the flow of investments to the region's gaming industry.
NFTs (non-fungible tokens—a unique information unit stored on a blockchain) constitute another trend: Gaming companies are including NFTs in video games. Video game NFTs are bringing into being a player base loyal to the play-to-earn (P2E) paradigm, meaning that games will become a way to earn an income. Video game NFTs have also been gaining momentum in Southeast Asia after the launch of the NFT-based online game Axie Infinity. The game was developed in Vietnam and drew in 2.5 million players from across the world, with sales worth over 2.3 billion USD (as of October 2021). However, some gaming companies are steering clear of NFTs for fear of the potential risks.
Overview of the market by country in the region
| State | Market value (2021), billion USD | Growth dynamics 2020-2021, % | GDP (million USD) |
| --- | --- | --- | --- |
| Indonesia | 1.83 | 18 | 1,186,093 |
| The Philippines | 1.48 | 14 | 394,086 |
| Thailand | 0.52 | 23 | 505,982 |
| Malaysia | 0.43 | 16 | 372,701 |
| Vietnam | 0.28 | 21 | 362,638 |
| Singapore | 0.21 | 17 | 396,987 |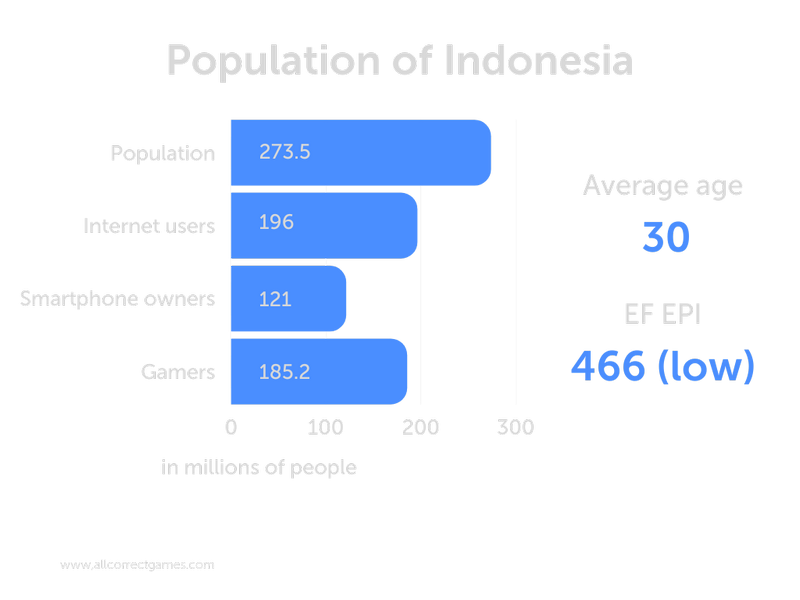 | Main factors | Key players | Opportunities |
| --- | --- | --- |
| Active business association and supportive government. Talented developers working in the largest gaming market in Southeast Asia. | Asosiasi Game Indonesia (AGI) played an important role in boosting the gaming industry, thereby developing business, supporting talent and protecting legal standards. Skilled developers are in high demand. The country's growing pool of local developers has led to the release of several famous, award-winning games. However, sales and the increase in local developers remain relatively small. | The gaming industry in Indonesia has the support of government, industry and society. Indonesia is the largest gaming market in Southeast Asia, with a revenue of 1.6 billion USD and accounts for 64% of the online population, with 110.3 million players in 2020. |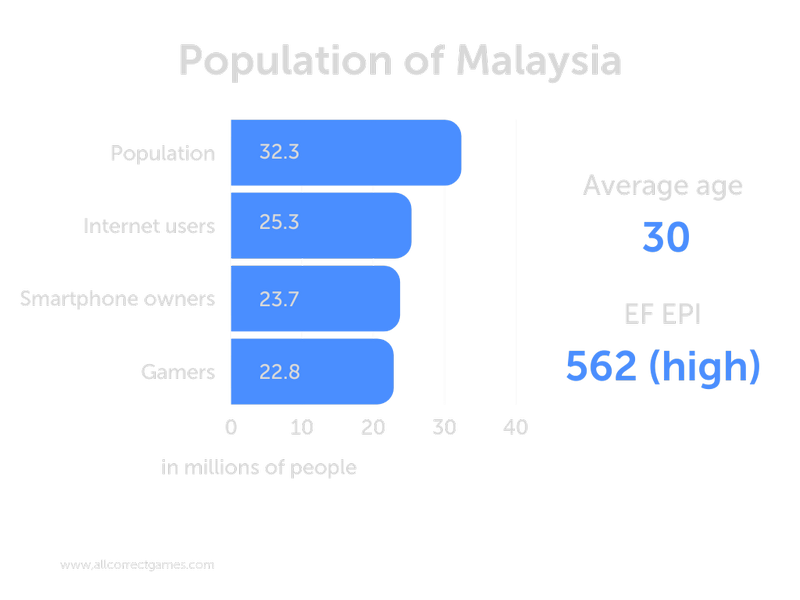 | Main factors | Key players | Opportunities |
| --- | --- | --- |
| State acknowledgment of the gaming industry as a key segment of the economy, strengthening of policy conducive to foreign investment. An ecosystem that provides opportunities for gaming startups with good state funding. Malaysia is a hub for outsourcing and intellectual property creation for the growing gaming market. | The government has managed to attract substantial foreign investment in leading small- and medium-scale gaming startups for collaborative work and business and for supporting and accelerating business growth. Some studios have earned a name for themselves around the world for developing original IP games and providing outsourced developers for the biggest international publishers. | The Digital Content Ecosystem (DICE) policy aims to further strengthen the local digital content industry. Government-backed initiatives have been set up to facilitate growth of the gaming industry, including finance schemes, training, incubation, business links, and market access. The higher education system provides a solid foundation for nurturing talent. The One Academy ranked in tenth place amongst the best game design schools at the Rookie Awards 2019, where it took home four awards. Around 50 higher education institutions offer gaming-related courses in Malaysia. |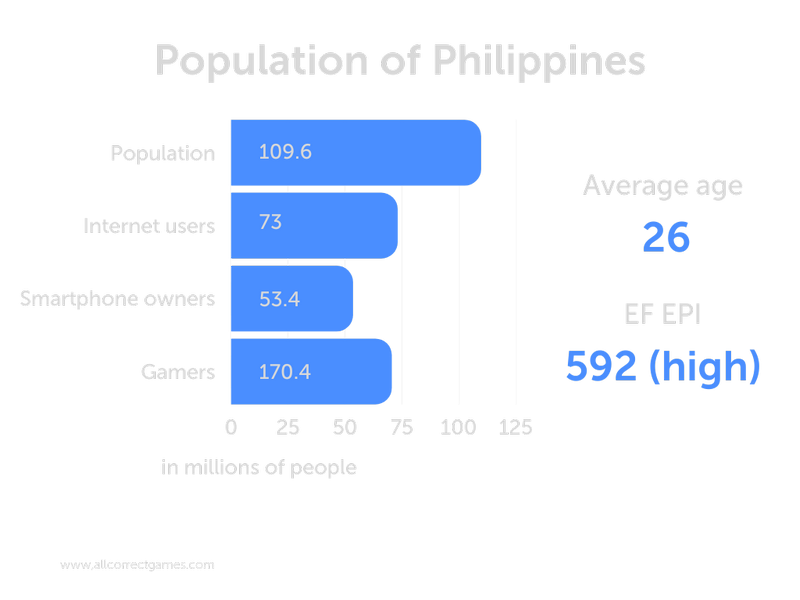 | Main factors | Key players | Opportunities |
| --- | --- | --- |
| Competitive labor market and salaries. Good workforce capacity on international projects. Oldest gaming association in the region. Fastest-growing mobile games market in 2020. | The Game Developers Association of the Philippines (GDAP), founded in 2007, has 56 game studios and education institutions to its name. The Philippines is home to a number of famous artists working for large-scale companies such as Warner Bros. and Pixar Studios. The Ubisoft team in the Philippines developed the artwork for several games in the Assassin's Creed series. | The cost of labor in the Philippines is amongst the most competitive in Southeast Asia. For this reason, Filipinos are a big draw for foreign studios such as Gameloft, Keywords, Gumi, Garena, and Ubisoft. According to a report by App Annie, user spending on mobile games increased by more than 55% in the Philippines in 2020. |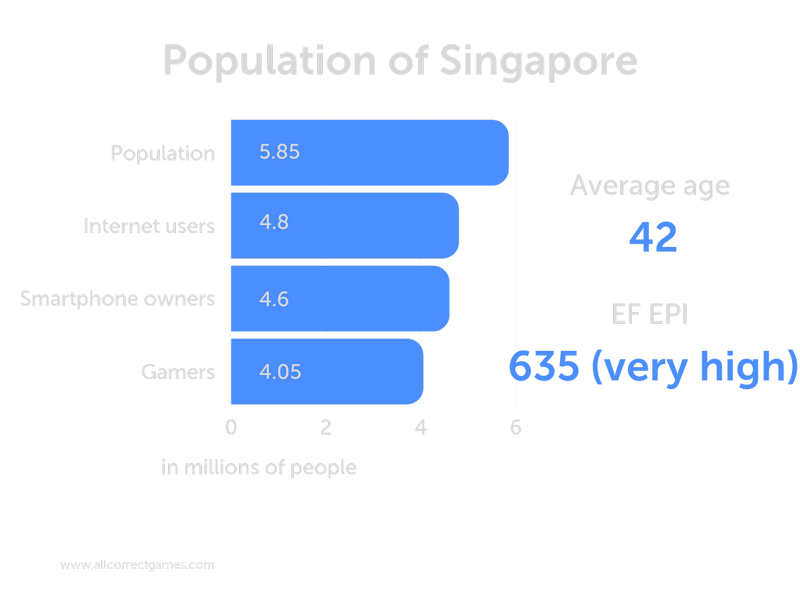 | Main factors | Key players | Opportunities |
| --- | --- | --- |
| International recognition of Singapore and active participation of the gaming community facilitates growth of the country's gaming industry. Quality international investments and growing local companies, the highest annual expenditure per player on the consumer market. | Singapore Games Association—SGGA—holds round-tables and discussions with independent developers that focus on a range of topics and developments such as logistics in game design, conceptual design, and best practices. Recently, in 2020, some of the leading game studios opened offices in the country: Tencent, Riot Games, Storms, Cargo Studio and AlterCulture Studios. DigiPen Singapore, Nanyang Polytechnic, Republic Polytechnic and the National University of Singapore are among Singapore's top universities offering courses for the gaming industry. | Since 2020, the first exhibition in Singapore, gamescom asia, has taken place. Preparations for the event include Singapore Games Week and the Esports Awards. Singapore's gaming market is the smallest in the region, and yet has the highest annual expenditure per player: 214 USD in 2020. The corporate tax rate in Singapore stands at 17%, which is the lowest in Southeast Asia, making the country popular for foreign investments and startups. |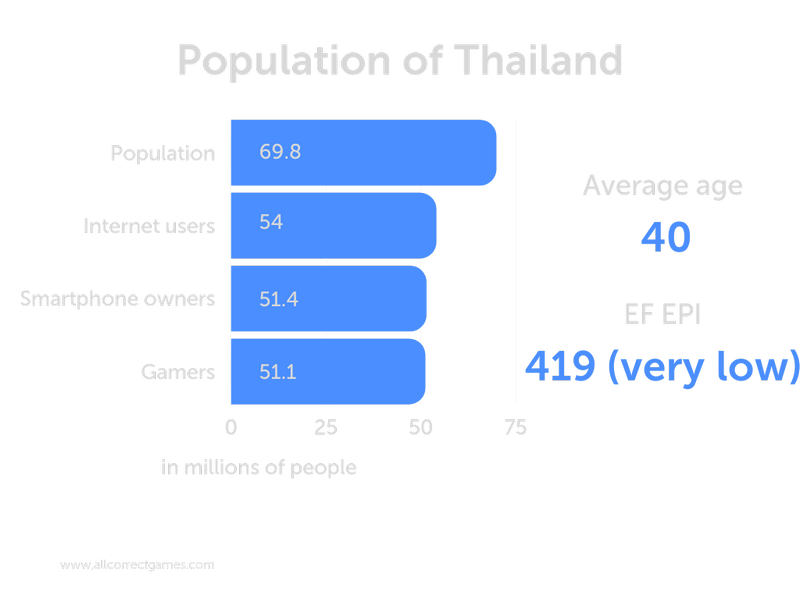 | Main factors | Key players | Opportunities |
| --- | --- | --- |
| Active gaming association with the support of the Thai government. Popular local games and game localization, as well as an institution with an esports study program. Home to the second-largest gaming market in the region, thanks to a strong partnership between telecommunications and industry players in introducing new technologies. | DEPA Game Accelerator Program for the improvement of game publishers and developers in Thailand in four popular categories—to bring capabilities and practices up to international standards. Popular, successful local games on the Chinese and Japanese markets, such as Kingdoms Reborn, Home Sweet Home, Project Nimbus, So Many Me, Fallen Knight, Timelie, and more. In 2020, two cloud gaming services were officially announced in Thailand: Blacknut by Gameloft and Antstream Arcade. | Investments in gaming companies supported by the Thai government (including labor, startups, events and marketing, infrastructure). The launch of an education program on the gaming industry and esports in Thai universities can be considered an industry response to the wider player base in the country. According to data from DEPA and the IMC Institute, Thailand's gaming market was the second largest in Southeast Asia in 2020, with annual growth at 14.1%. |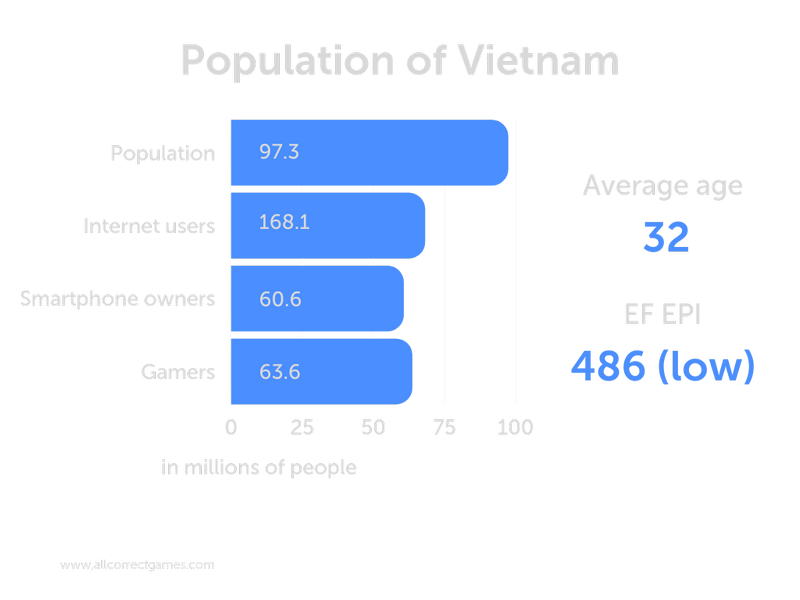 | Main factors | Key players | Opportunities |
| --- | --- | --- |
| Young population, large gaming community. Foreign gaming companies working in partnership with local studios. Competitive market and government support of digital transformation. | With more than half of Vietnam's population under the age of 25, this young sector plays a significant role in the growth of the gaming market. The French video game studio Gameloft has been based in Vietnam since 2004. Vietnam is home to talented engineers, with the cost of services lower than in more developed markets. Most of these engineers develop and create casual games that are simpler in terms of quality, graphics, and user interface, with the notable exception of Caravan War and Tiles Hop: EDM Rush! | There are around 3.99 million gamers based in Vietnam, over 60% of whom are aged between 18 and 30. Foreign developers often work with Vietnamese publishers to improve market penetration and navigation, create and manage a community, and sell their products. Vietnam's national digital transformation program, which launched in 2020, aims to ensure over 80% of homeowners have access to fiber-optic infrastructure by 2025. |
Player statistics
By 2021, the number of online payers in Southeast Asia using mobile devices rose to 250 million, with Indonesia, Malaysia, Thailand, Vietnam, Singapore, and the Philippines being the six biggest markets for mobile games publishers in the region.
The availability of free games is one of the most important factors in the growth of the mobile games market, as compared with games for personal computers. The emergence of cloud-based mobile games has boosted this growth even further.
A survey by Google showed that at least one in three smartphone owners in Southeast Asia played mobile games at least once a week. More than 82% of the region's online population in urban areas are gamers:
80% play mobile games.
69% play PC games.
57% play console games.
More than 55% of mobile gamers are aged around 55 and only 8% are teenagers. This is mostly because of the popularity of casual and hyper-casual games, which do not require any particular experience and can be played by anyone.
The number of female gamers has increased in recent years. A survey by Asia Sports Tech suggests that there is a large gaming community of women in Southeast Asia, which constitutes 40% of the region's players. Chase Buckle from research company GWI said, "Women also prefer multiplayer games and esports content."
The emergence and global reach of 5G networks is providing a wider audience for games. Broader use of smartphones is expanding the reach of multiplayer games to more players. Cloud game technology is enabling players to play video games wherever they want, even on low-budget, low-speed devices.
Players in the region's developing countries such as Indonesia and Vietnam in particular are faced with the challenge of internet access problems. In some areas, they have to deal with low internet speeds and an uneven distribution of services. Those living in remote areas especially are subject to poor infrastructure, while many people cannot access internet services at all.
Game localization in Southeast Asian languages
The languages of the Southeast Asian mainland can be divided into four different groups: Tibeto-Burman, Tai-Kadai, Mon-Khmer and Hmong-Mien (the Miao-Yao languages). Practically all of these are tonal languages, meaning that the meaning of a word affects how high it is in pitch.
| Country | Official language | EF EPI | Language proficiency |
| --- | --- | --- | --- |
| Singapore | English Malay Chinese (Mandarin) Tamil | 635 | Very high |
| The Philippines | Filipino English | 592 | High |
| Malaysia | Malay | 562 | High |
| Vietnam | Vietnamese | 486 | Low |
| Indonesia | Indonesian | 466 | Low |
| Myanmar | Burmese | 429 | Very low |
| Cambodia | Khmer | 423 | Very low |
| Thailand | Thai | 419 | Very low |
Please note that Southeast Asia is multicultural region. It is home to over 100 different ethnic groups speaking multiple languages and dialects.