According to Statista data, the Thai game market clocked in at USD 227m in 2019, and is likely to climb up to USD 249m in 2020. The number of players is expected to climb from 5.9m to 6.3m as well. The largest slice of the revenue pie (USD 120.2m) was earned by mobile games, PC and console games coming in at USD 83.7m. Online games and game apps for social media earned USD 14.2m and USD 8.2m, respectively.
Statista and Newzoo differ in their valuations of the Thai game market by a factor of two, the gap explained by their varying data sources and calculation methods. With that said, both data analytics companies point to market growth of 9.7% in monetary terms and 6.8% in user terms.
Newzoo data on the Thai video game market is much more optimistic for developers, their analysts valuing it at USD 692m. That ranks it 20th in the world.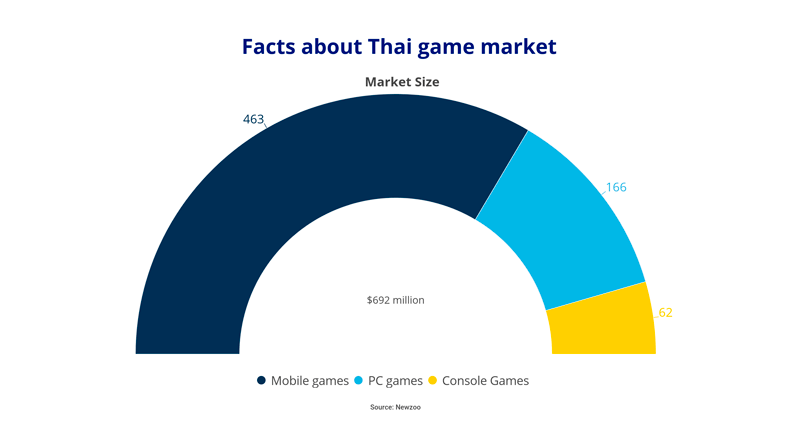 Thailand loves esports—Infofed puts the year on year growth in spectators at 30-40%. Interestingly, that level of popularity extends to competitions on mobile platforms, facilitated by the growth in smartphone and tablet performance as well as the release of games with even better graphics and gameplay.
The Thai video game market (in particular, local developers and esport event organizers) is supported by DEPA, the Digital Economy Promotion Agency.
Before releasing a game on the Thai market, it's important to bear in mind some cultural peculiarities. For example, German developer Kalypso Media released Tropiko 5 in 2014 only to have it banned in local stores when government censors saw a dictator capturing a tropical island in the plot and assumed it was a reference to the political situation in the country. You can read more about the cultural intricacies of the Thai game market in our Culturalization Guide.
Thai gamers
Thailand is an agro-industrial country. GDP per capita is USD 19,018, placing the country 75th in the world.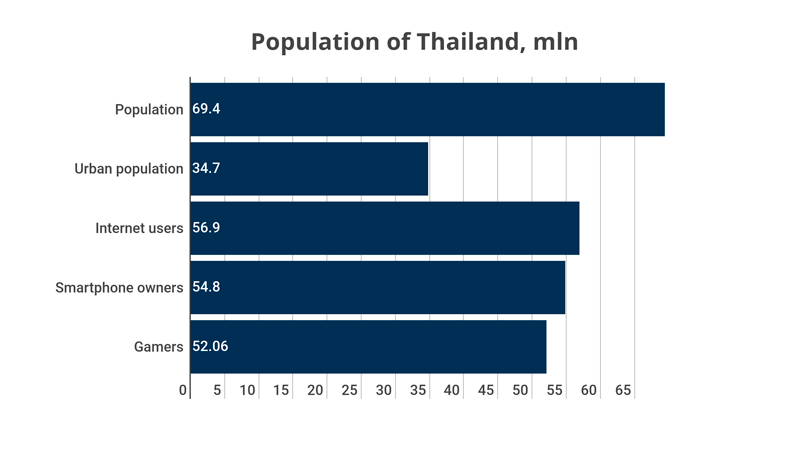 According to Statista data, only a very small percentage of the country's population plays video games. But that conclusion probably has more to do with the calculation methodology—the service only counts those who spend regular time in front of a screen rather than also including casual gamers.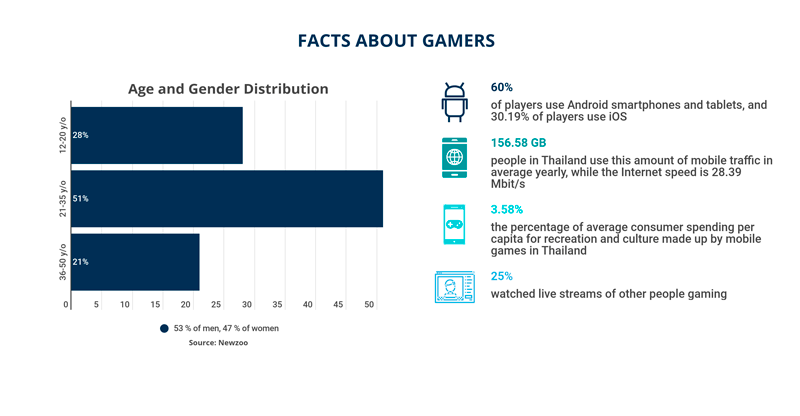 Thai mobile game developers
IT isn't a key sector in Thailand. Despite the fact that software developers often travel to the country to enjoy its stunning climate and low prices, few major game developers have an office there. Google Play has just 493 Thai publishers registered out of the 152,611 total in 2020.
Some better-known developers are:
Ini3
7 Raven studios
Corecell Technology
PIGSSS GAMES
Playlab Games
Asiasoft
Sanuk Games
Siamgame Mobile
Sandbox Global
Game Square Interactive
Incidentally, a check of the App Annie charts shows games released by Chinese and Korean developers filling the top slots, with Ini3 apps the only locals in the top 100. The global statistics lists Royal Casino, Samkok MOE – สามก๊กโมเอะ, and Slots Casino – Maruay99 Online Casino as the most in-demand apps released by Thai companies in terms of downloads.
Localization into Thai
The Thai language belongs to the Tai group of the Tai-Kadai family and is the official language of Thailand. It has roughly 60 million native speakers.
Thai has no punctuation marks (commas, semicolons, question marks, and so on). Words are written from left to right, though they aren't separated by spaces. It's actually sentences that are separated by spaces instead of periods.
One interesting fact about Thai is that it's one of the few languages with its own numeral system. With that said, in day-to-day life, particularly over the last 10–15 years, Thais have switched to using Arabic numbers almost exclusively. That's due to how quickly Thailand has developed, the close economic ties it enjoys with other countries, and the large share of the economy made up by organized tourism.
An example of excellent localization: the LINE messenger
The LINE messenger is an interesting example of successful localization, and it's also a leader in the local mobile app market.
Its success in Thailand is second only to its popularity in its home market of Japan. It took time for the developers to create a variety of platforms and products that answer the needs of Thai consumers (for example, they built separate apps for TV, music, video, selfies, etc.). When it comes to mobile app users in Southeast Asia, we can sum them up in three words: young, educated, and single. The LINE developers went right after that target audience as they put together their functionality suite.
While their apps are profit leaders, LINE is also at the top of the iOS and Google Play download rankings. In 2015, two of the ten most popular games were developed by LINE.
General English proficiency in Thai is extremely poor. Only 27% of the population can speak the language. With that in mind, games released by western developers and localized completely into Thai enjoy a much better reception among Thai gamers. Such games make up half of the most lucrative games in Southeast Asia and 35% of the most popular games in Thailand. King and Supercell are the top western developers in the country. That said, small indie developers like Playlab are also popular.
Even the biggest player in the country's mobile app market, LINE, recently encountered problems with the local government, which claimed that several stickers in the messenger poked fun at particular ruling figures.