OVERVIEW
Malaysia is a country in South-East Asia consisting of two parts that are separated by the South China Sea.
60% of the population are Malay, who, according to the country's law, enjoy special privileges in business, education, and in public service. The next largest ethnic groups are Chinese (22.6%) and Indians (9.1%).
Malaysia's state religion is Islam.
Official name: Malaysia
Capital: Kuala Lumpur
Population: 32 512 873  (Worldometers)
Average Age: 30.3 (Worldometers)
GDP: $365 bln (WorldBank) – 2019
Official languages: Malay
Games Market
In absolute terms, Malaysia's gaming market is among the largest in South-East Asia.  The country's government has highlighted the games industry as one of the driving forces of Malaysia's economic growth and promotes the development of businesses in this field.
Nonetheless, Malaysians themselves regard their games industry as a developing industry. Hasnul Hadi Samsudin, the vice president of the Malaysian Digital Economy Corporation, has compared it to a teenager, who still has a lot to learn.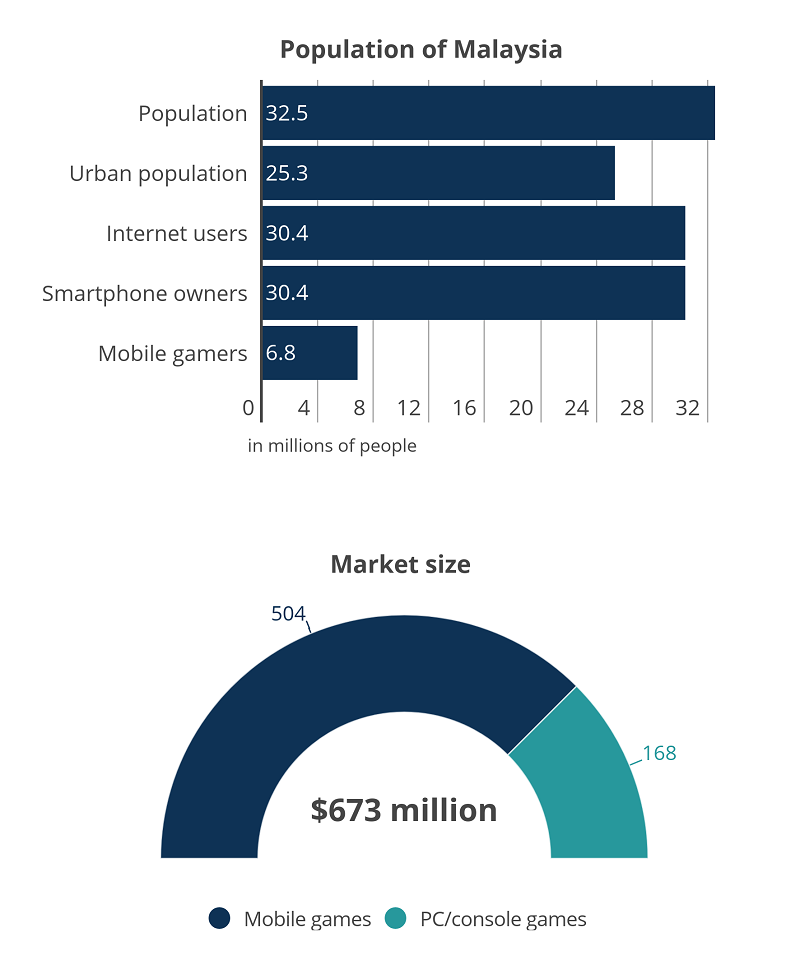 Player statistics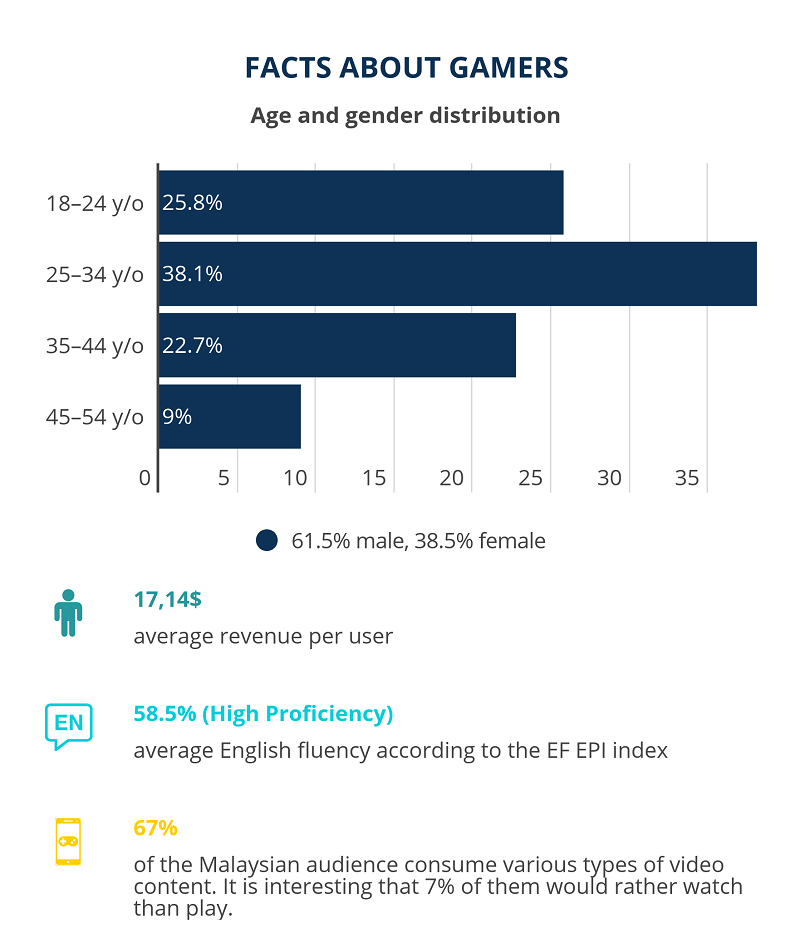 Malaysian gamers generally have a positive attitude towards in-game purchases. According to data from Newzoo, in the six months following the date of their last report (the beginning of 2020), 87% of users made some kind of purchase in a game.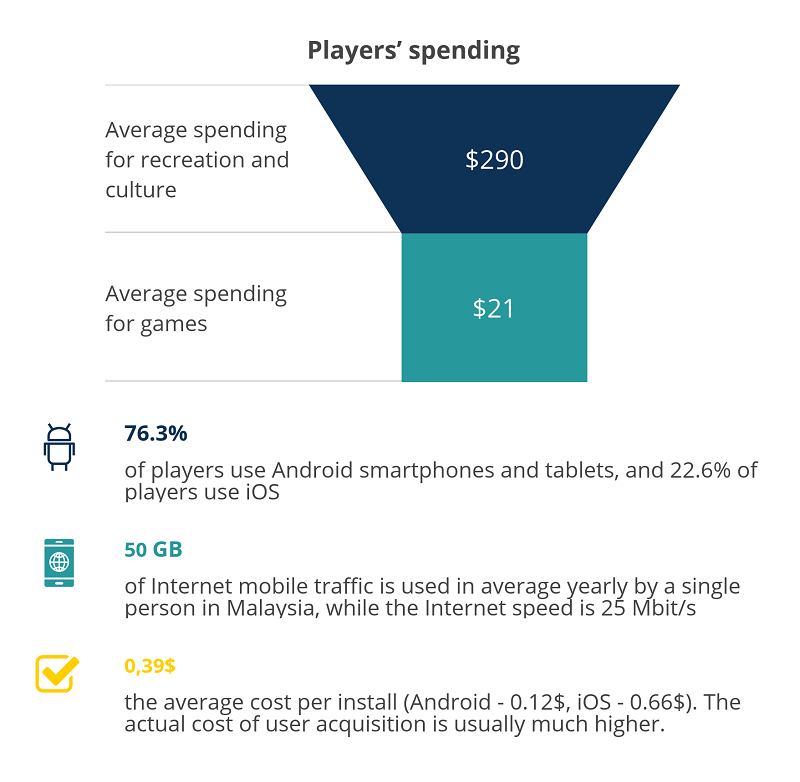 Popular game genres:
Strategy
Battle Royale
Role-Playing
Casual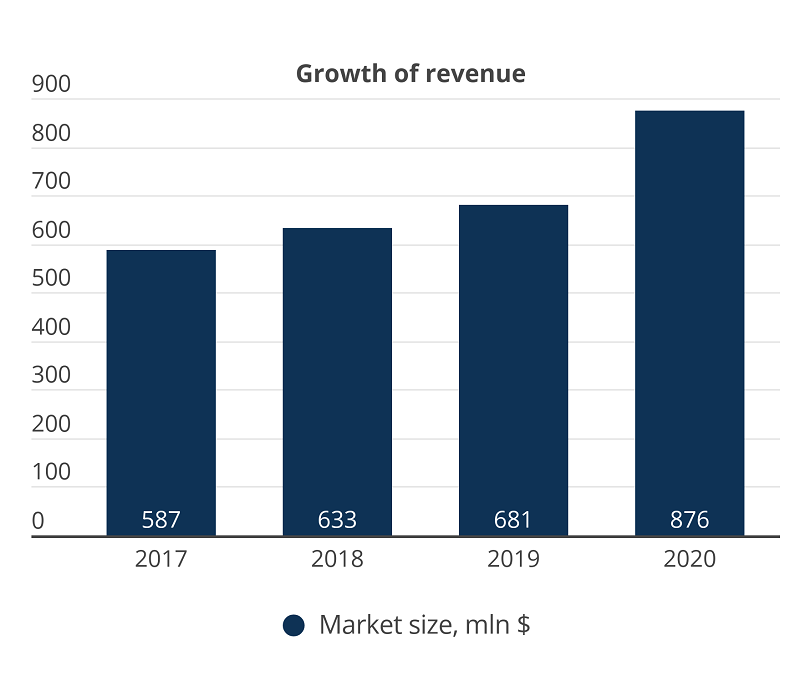 Developers
There aren't a great deal of Malaysian developers that operate on the global market, however there are some major companies that outsource the development of digital content, such as Passion Republic (Uncharted 4, Dark Souls 3, Batman: Arkham Knight, Mortal Kombat X) and Streamline Studio (Street Fighter V, Final Fantasy XV).
From among the local market players, it is worth noting the following:
Kaigan Games – Simulacra
Ammobox Studios – Eximius Seize the Frontline
Magnus games studio – Re:Legend
Metronomic – No Straight Roads
7th Beat Games
Weyrd works
Streamline Games
Game Taiko
In addition, many international companies, including Bandai Namco, Double Eleven, Gameloft, Codemasters, and others, have offices in Malaysia.