General Information
South Korea (officially the Republic of Korea, with the capital in Seoul) is a country in East Asia situated on the southern half of the Korean Peninsula. The country shares a land border with the DPRK and a sea border with Japan. It is the 107th largest country in the world by area.
South Korea is one of the 15 most economically developed countries. Currently, heavy industry and production of high technology make up the basis of the country's economy. LG, Samsung and other South Korean electronics producers are well-known worldwide.
Population: 51 329 085 (Worldometer)
Average age: 43,7 (Worldometer) — 2020
GDP: 1630 млрд USD (World Bank) — 2020
Official language: Korean (Pyojuneo), Korean Sign Language
The Gaming Market
The South Korean gaming industry is a significant power in the global gaming market. Multiplayer RPGs from local companies are especially popular, and the Lineage series could be considered a national treasure. Currently, nearly all the major Korean companies are working successfully in the mobile market: NCSoft, Netmarble, Gamevil Com2uS, Nexon, Pearl Abyss, Kakao Games and dozens of others.
According to data from Newzoo, the total size of the South Korean gaming market was 7.325 billion USD in 2020. This is the third largest market in the East Asia region and the fourth largest in the world.
ESports are particularly popular in South Korea. While we won't devote much attention to them, it's worth nothing that eSports champions are held in the same esteem as popular actors, athletes and musicians. This is believed to have started with the game StarCraft in 1998.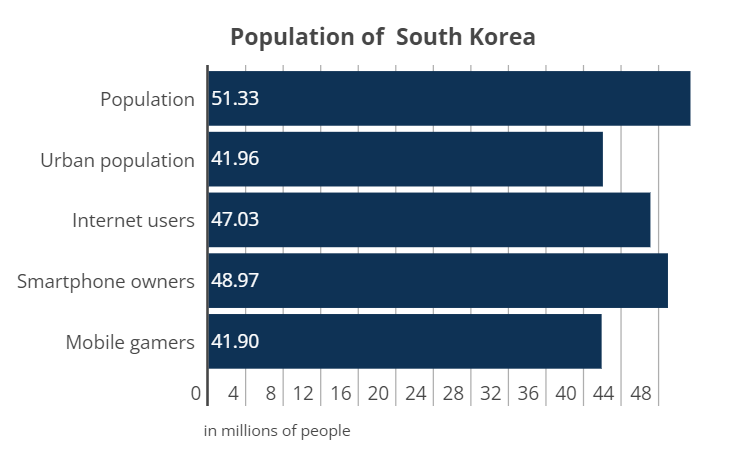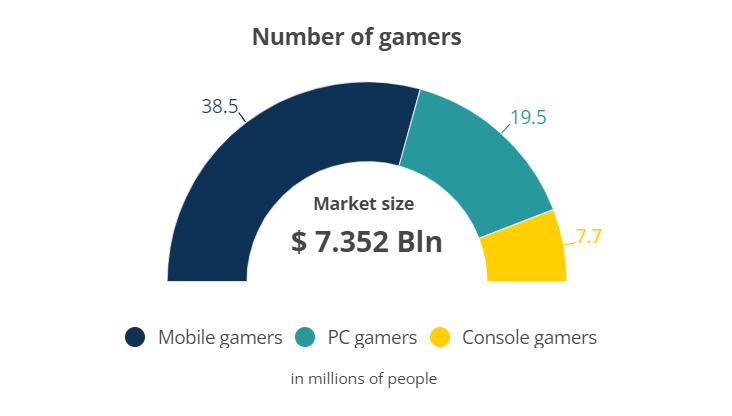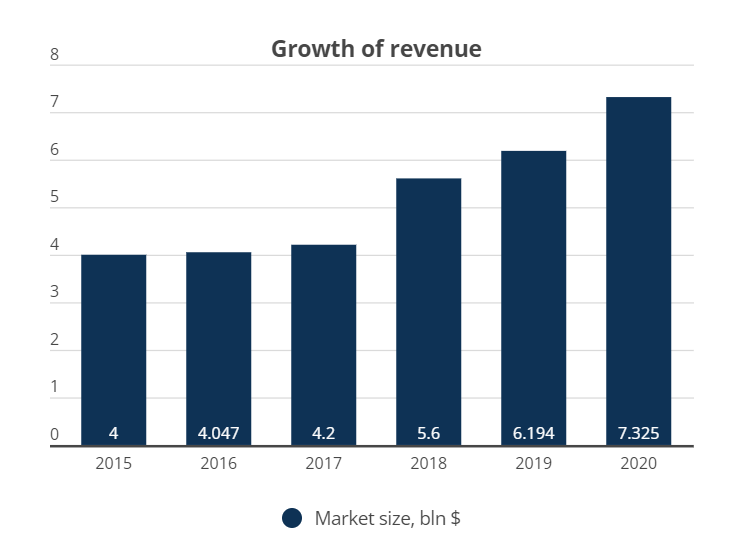 South Korea is a country with widespread banking services. 94% of the citizens has a bank account, and paying by card is the standard method of purchasing most items.
Player Statistics
South Korea has the highest amount of mobile devices in all of Asia, which directly influences the number of mobile players in the country. 53% of South Korean players opens a mobile game at least once a month, according to data from Newzoo. This is significantly higher than the percentage that plays PC games (37%) or console games (17%).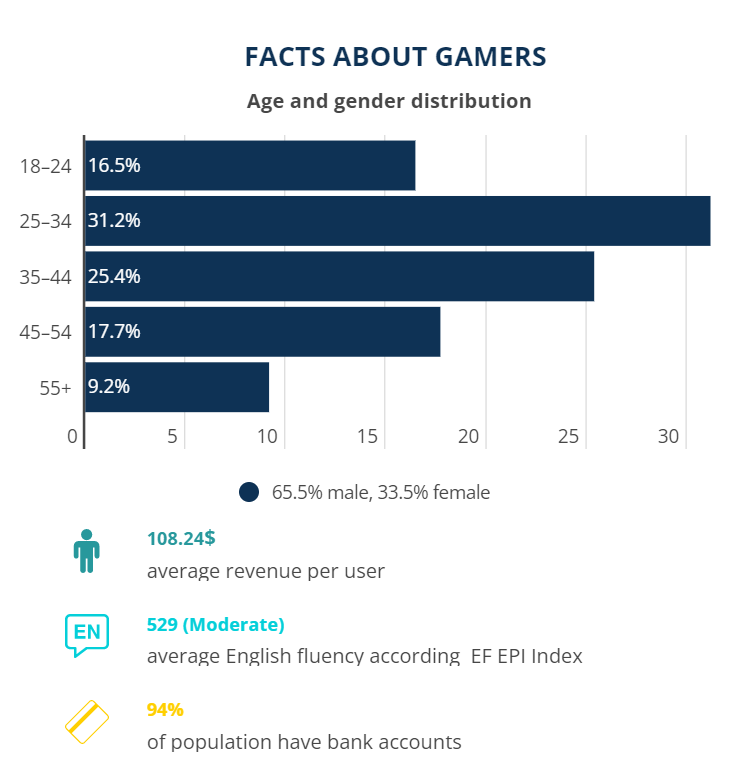 What Korean gamers love most is multiplayer RPGs. The majority of revenue comes from popular IPs: Lineage, Black Desert, Ragnarok, Three Kingdoms and Marvel Future Fight.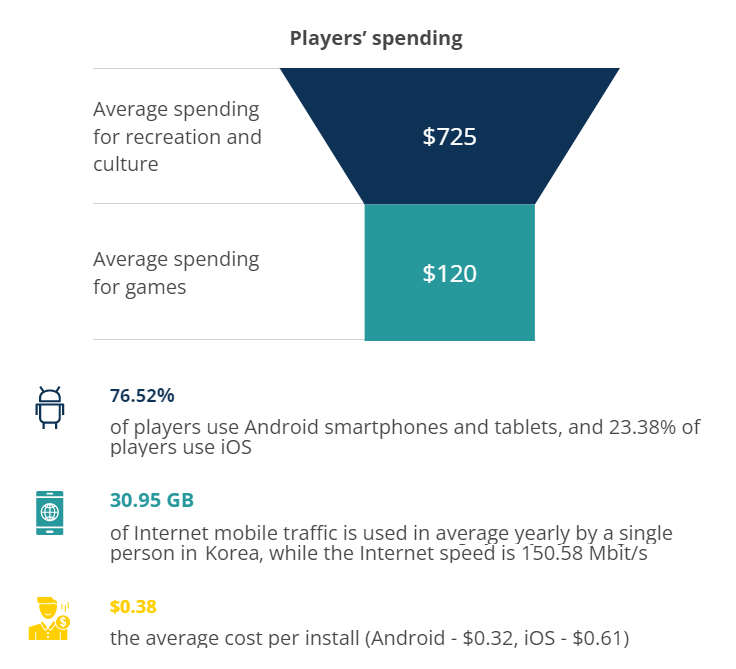 Popular game genres:
1. Casual.
2. Action.
3. Puzzle.
4. Simulation.
5. Role-playing.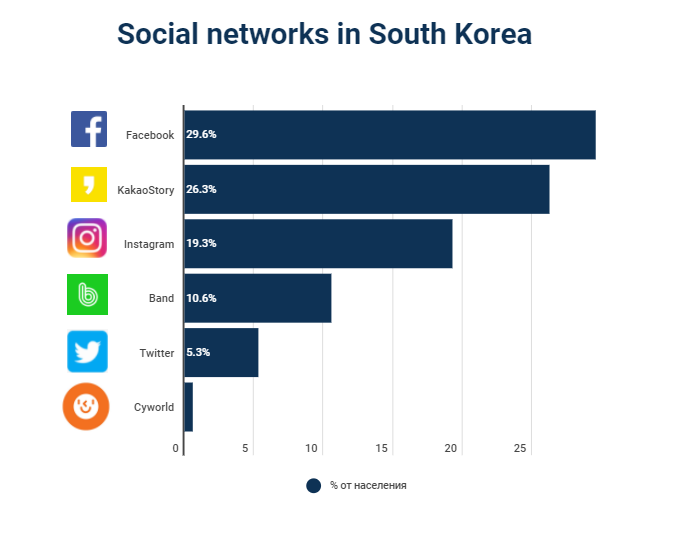 Game Developers
South Korea is a country where developers often dictate the terms of development for the entire gaming market. A few dozen years ago, Korean developers released super successful MMORPGs, known to the Russian audience as "Korean grinders." Just a few years ago, a Korean company Bluehole (now known as Krafton) —or rather, an affiliated company of it, PUBG Corp. —released PUBG and once again changed the landscape of the gaming industry, starting the "battle royale" trend.
265,000 people are employed in the Korean video games industry.
Over 11,000 games from Korean developers have been released just in Google Play (3% of the total number of games).
What's more, South Korea is the only country in the world where there is a special branch of the law that regulates the gaming market. As a part of it, the country enacted the "Cinderella Law," which forbids children and teens under 16 to play games from 10 in the evening until 6 AM. When creating an account for a game, you must also enter your passport number. All of these measures are intended to prevent gaming addiction.
In May 2020, the South Korean government announced its official support for the gaming industry. It promised to increase the amount of investment, to remodel gaming clubs for professional players training, and to create 102,000 jobs over the next 4 years. The government also plans to devote special attention to support for small and medium-sized businesses.
Several dozen major gaming companies are currently operating in South Korea. Here are the most famous:
• NCSoft — Lineage 2M;
• Netmarble — Marvel Future Fight;
• Gamevil Com2uS — Summoners War;
• Nexon — V4;
• Pearl Abyss — Black Desert;
• Kakao Games — TERA Classic;
• Webzen — MU Origin 2;
• NHN Entertainment Corporation — Dr. Mario World;
• PUBG Corporation — PUBG.
Localization
Here you can get a detailed information about localization pricing.
Korean is a language isolate spoken by around 60 million people.
Modern Korean has six dialects: central, northeastern, southeastern, southwestern and the dialect spoken on Jeju island. With the exception of the latter, all of the dialects are relatively similar and are mutually intelligible.
When localizing apps into Korean, it is important to take into account the following:
• Chinese and English borrowings
• Different styles of speech
• Use of suffixes
Different styles of speech are used depending on social position and age, as well as the topic of conversation. During translation, it is essential to bear in mind that Korean has numerous synonyms for any given word.
For developers interested in the East Asian region, we've developed a detailed overview. If you have any questions about games in South Korean market, write to us and we will share useful information!