Overview
India is composed of 29 states and 7 union territories. Hindi and English are the country's two official languages at the national level, with another 21 official languages at the state level.
The Republic of India is a sovereign state in South Asia. As of August 2016, its population was 1.33 billion, covering an area of 3.29 million km². This makes India the largest country in South Asia, the second most populous country in the world and the seventh largest by area. The nation's capital is New Delhi.
India is a federation with a parliamentary system. The Prime Minister is Narendra Modi and the President is Pranab Mukherjee.
India is bordered by Pakistan to the west, by China, Nepal and Bhutan to the northeast, and by Bangladesh and Myanmar to the east. In addition, India shares a sea border with the Maldives in the southwest, with Sri Lanka in the south and with Indonesia in the southeast. The disputed territory of Jammu and Kashmir shares a border with Afghanistan.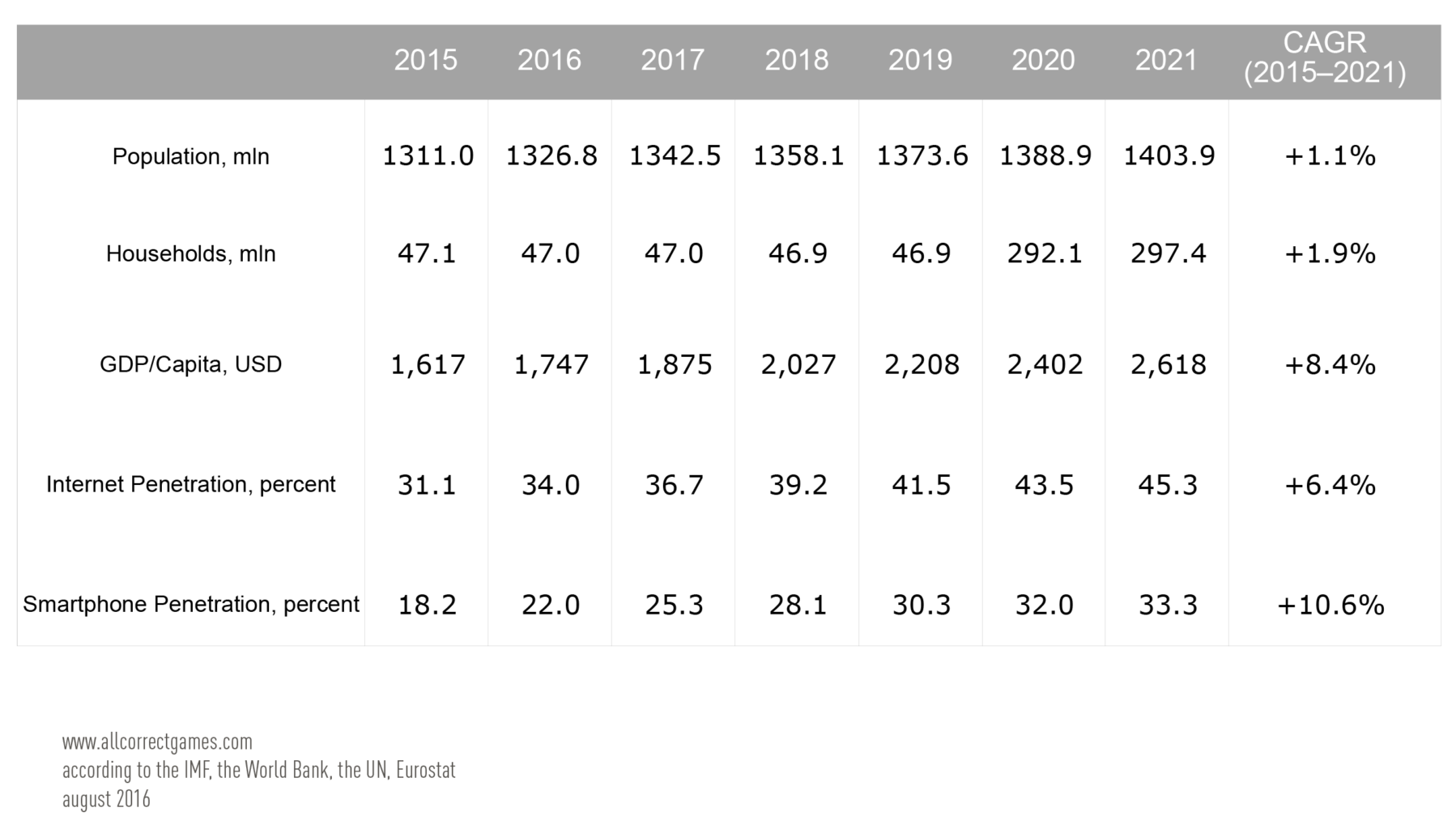 India is viewed as the cradle of European civilization, and it is known for its numerous religions, its ideas of nonviolent resistance, and its unique film industry.
Mobile games market in India
Revenue in 2016 totaled $466.3 million.
Estimates suggest that revenue will grow by 13.7% annually and reach $3.5 billion by 2021.
In 2016, 21.7% of Indians used mobile devices, and this is expected to grow to 34.7% by 2021.
Average revenue per user (ARPU) – $2.32.
Average CPI in India: for iOS – $0.94, for Android – $0.36.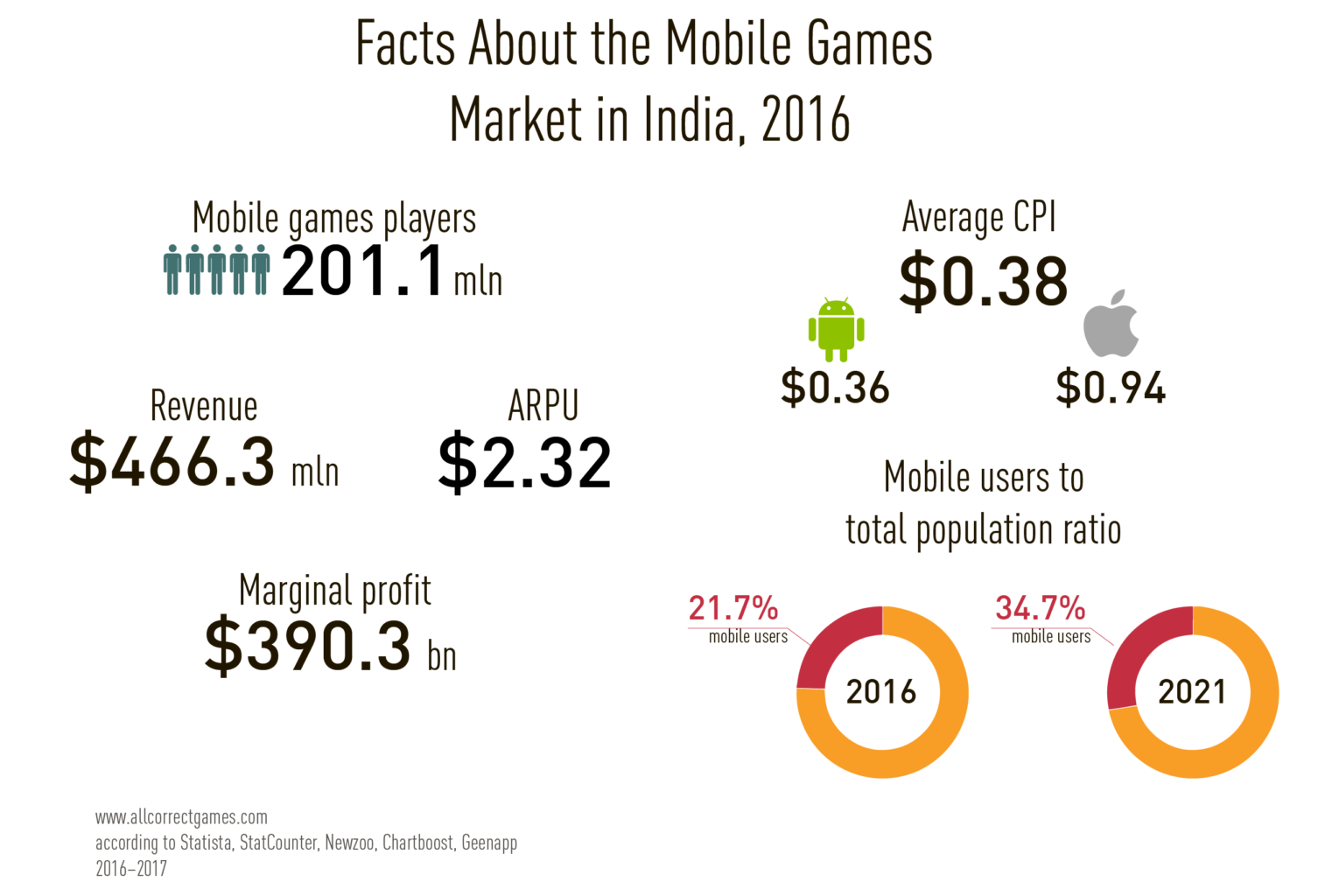 Most people in India first access the Internet via an inexpensive mobile phone. This same trend is observed in other Asian countries.
In India, only 2% of the population has payment cards, so making payments on mobile platforms is fraught with difficulty.
In India, Android is the top mobile operating system (76.67%), Facebook is the top social network (98.14%), Google is the leading search engine (93.45%) and WhatsApp is the preferred messenger. Samsung is the top mobile device manufacturer (27.38%). Interestingly, the second most popular smartphone brand is Micromax (8.79%). When it comes to tablets, Android takes 62.24% and iOS 32.59%.
Who plays mobile games in India?
The top-grossing games charts (from App Annie and Think Gaming) show that Indian players enjoy games of chance and card games. They also love games like cricket. We also believe that games featuring Bollywood stars would also be hugely popular, but this has not been tested in practice yet.
Indian mobile games developers
The top-earning Indian games companies (according to App Annie and Think Gaming) develop games based on Indian card games.
Here are seven leading companies:
Localization into Indian languages
English is one of India's two official languages. It varies from region to region and is not the mother tongue of most Indian citizens. This means that, while some Indians may be able to play games in English, to draw a large audience to a game, localization into the local languages will be necessary.
In 2015 it was recorded that India was home to native speakers of 454 languages. In terms of localization, the five most relevant Indian languages are (list of Indian languages by number of speakers, 2001 figures):
Hindi (650 million speakers, 2017) is an official language and covers India's northern states.
The main languages of southern India:
Telugu (89.7 million speakers)
Bengali (83 million speakers in India, 215 million in total worldwide, 2017)
Tamil (66 million speakers, one of the official languages of Sri Lanka and Singapore)
Kannada (40.3 million speakers), spoken in the state of Karnataka. The state capital is Bangalore, known as the Indian "Silicon Valley."
Since Android 5.1.1, the operating system has offered fonts for all Indian languages. However, language support also depends on smartphone manufacturers. As of 2015, the following languages have typically been supported (fonts and keyboards):
Hindi, including dialects, as well as Marathi and Nepali in Devanagari script
Bengali
Tamil
Telugu
Malayalam
Kannada
Since its 9th version, iOS has supported the following languages (fonts and keyboards):
Hindi, including dialects, as well as Marathi in Devanagari script
Punjabi
Telugu
Tamil
Bengali
Urdu
In 2014, the Indian government named the most popular Indian languages for mobile app localization (according to Best Practices for Localization of Mobile Web Applications in Indian Languages). In no particular order, the languages are:
Assamese
Bengali
Gujarati
Hindi
Kannada
Meitei
Malayalam
Marathi
Punjabi
Odia
Tamil
Telugu
Urdu
Useful links: