General information
Great Britain, the UK, or its full official form the United Kingdom of Great Britain and Northern Ireland, is a sovereign state off the north-west coast of continental Europe consisting of England, Wales, Scotland, and Northern Ireland. The UK covers a total of 242,500 km², and in 2020, the population was estimated to be more than 67 million.
The UK is a unitary parliamentary democracy and a constitutional monarchy. The UK's economy ranks sixth in the world in nominal gross domestic product (GDP) and eighth in purchasing power parity (PPP). The country's economy is characterized by a high income level and a very high human development index (13th in the world).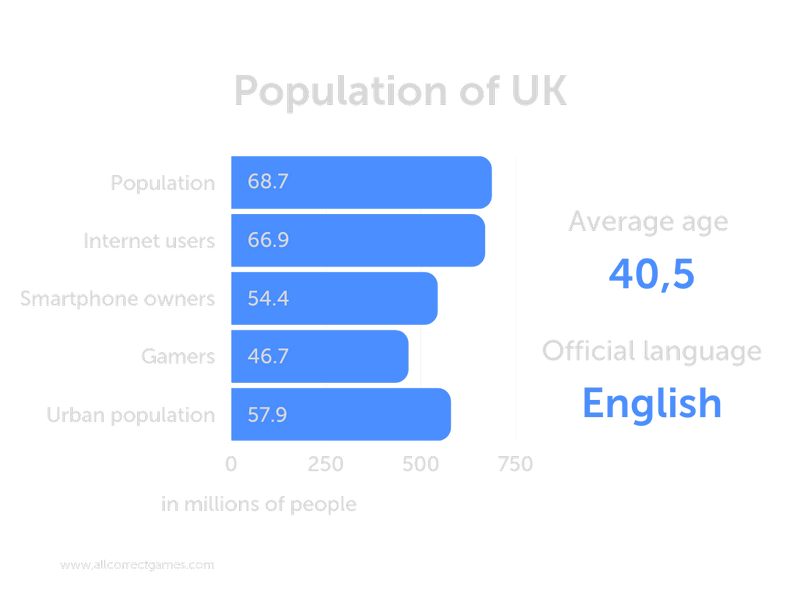 The Gaming Market:
The UK is the leading video game market in Europe (second according to Newzoo, first according to Ofcom) and the sixth largest gaming market in the world. Over the past few decades, video games have become the most popular form of entertainment among players of all ages. The gaming industry has become the most profitable entertainment sector in the UK.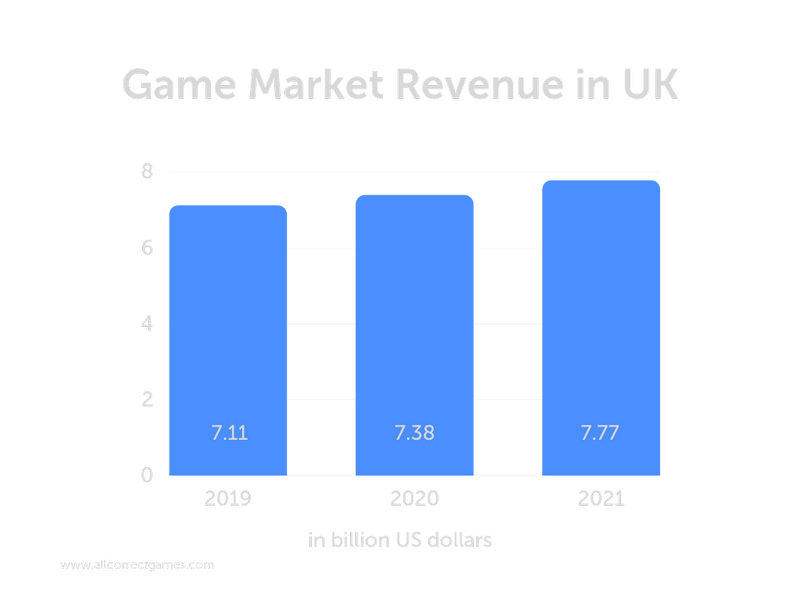 The UK consumer gaming market was valued at 9 billion USD in 2021, a 2% increase from 2020. One of the main factors driving market growth in the UK has been the digital transformation of the gaming industry.
British gamers, on average, spend more on digital purchases than on physical games. A study by Ampere found that British gamers between the ages of 13 and 64 spent on average just under 35 USD on video game-related purchases during the 30 days prior to the survey. Players aged 3 to 15 spent an average of almost 13 USD on in-game purchases during that 30-day period, which is almost double the UK average.
Market Forecasts:
It is expected that by 2027 there will be 49.1 million users in the video game segment.
The share of gamers will be 58.3% of the country's total population in 2022 and is expected to reach 70.4% by 2027.
It is predicted that in 2022 the average revenue per user (ARPU) in the video game segment will be 140.20 USD.
Player statistics
39% of Britons over the age of 16 play online games, as do 56% of British children aged 3 to 15.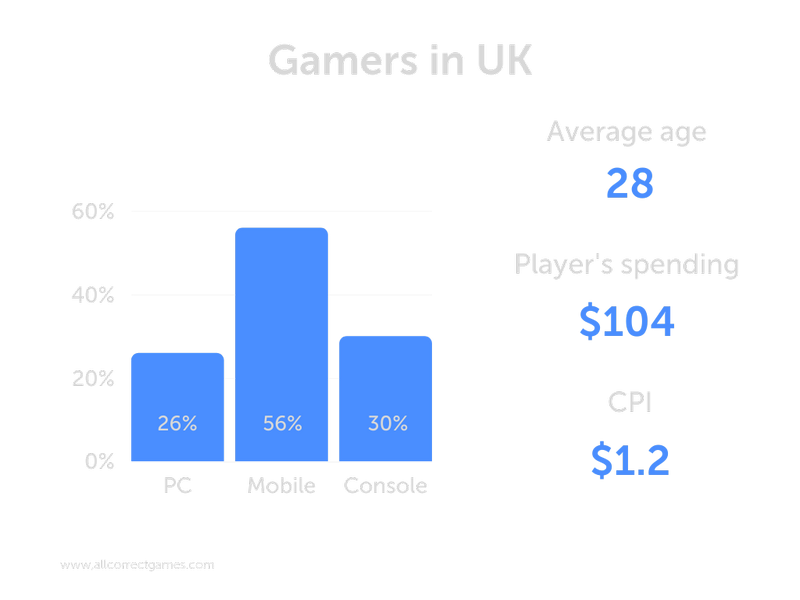 In the fourth quarter of 2021, British gamers aged 13 to 64 spent 7 hours and 33 minutes per week playing video games. During the COVID-19 pandemic, online games became increasingly important for children aged 8 to 17, who began spending more time playing online games in 2021 than before (according to 85% of their parents).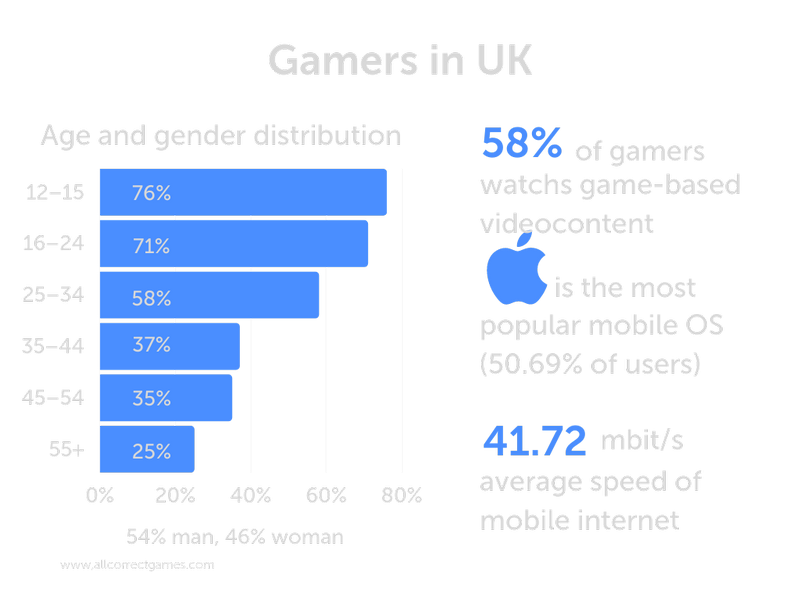 In 2021, 20% of British adults said they played free computer games at least once a month.
The most popular game is Candy Crush Saga, launched by 1.2 million adults daily in the UK, and the Wordle web game attracted 1.8 million British adults a day in February 2022. Wordle is particularly popular with women, who accounted for 68% of adult gamers in the UK in February 2022.
58% of Britons aged 13 to 64 watch video game-related content. 37% of Britons aged 13 to 64 said that watching a video game-related content allows them to feel part of the gaming community. YouTube is the most popular platform for viewing game content. It's used by 74% of viewers. Twitch, a streaming platform to broadcast games, is used by 25% of the audience; in September 2021, 2.9 million adults visited Twitch, while British adults spent an average of 20 minutes a day on the platform, logging into the service from PCs, laptops, or mobile devices.
58% of British gamers aged 13 to 64 buy game subscriptions.
British gamers, on average, spend more on digital games (including game subscriptions) than on physical games. PlayStation Plus, an online multiplayer gaming console, was the most popular paid game subscription in the UK, with 3.2 million subscribers by the end of 2021. At the end of 2021, cloud gaming services had 2.1 million paid subscribers. PlayStation Now is the most popular cloud gaming subscription service in the UK, used by 7% of people aged 13 to 64.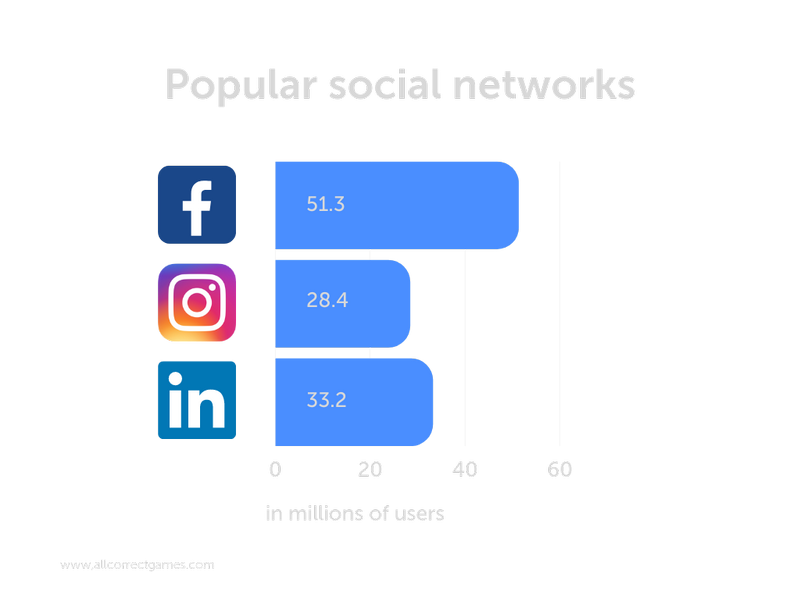 32% of British VR gamers aged 13 to 64 used the PlayStation VR headset.
Creative and building games
Playing against multiple people/teams
Action/adventure
Puzzles or quizzes
Playing in a virtual world
Sports
Shooters
Playing against one other person
Fitness and dance
Simulation experience
Electronic Arts Ltd
Activision Blizzard UK Limited
Microsoft Ltd
Ubisoft Limited
Nintendo of Europe GmbH
Survivor In Rainbow Monster
MADFUT 23
Color page ASMR
Stumble Guys
Speed Train
Woodoku
Figgerits – Word Puzzle Game
Roblox
2248 Puzzle
Stormshot
Coin master
Candy Crush Saga
Roblox
Clash of Clans
Royal Match
Pokémon GO
Bingo Blitz
State of Survival: Zombie War
Evony: The King's Return
Match Masters
Culturalization for UK Residents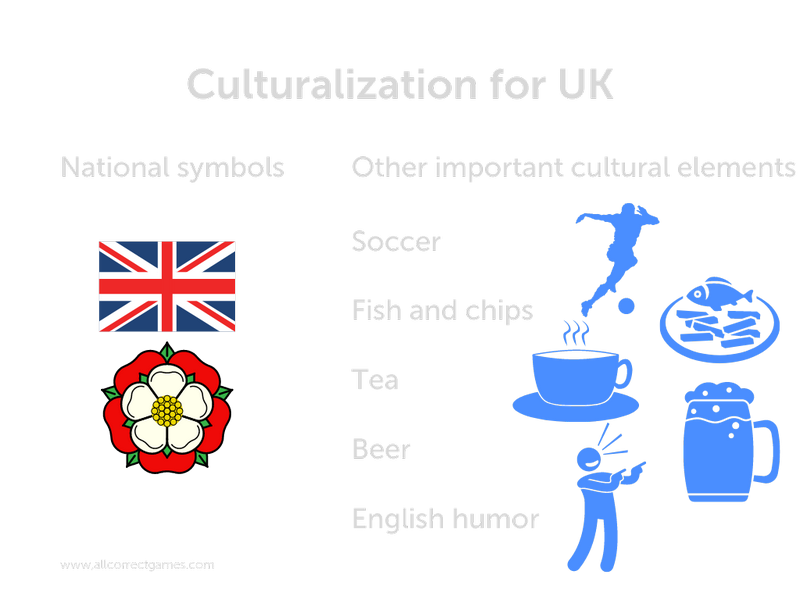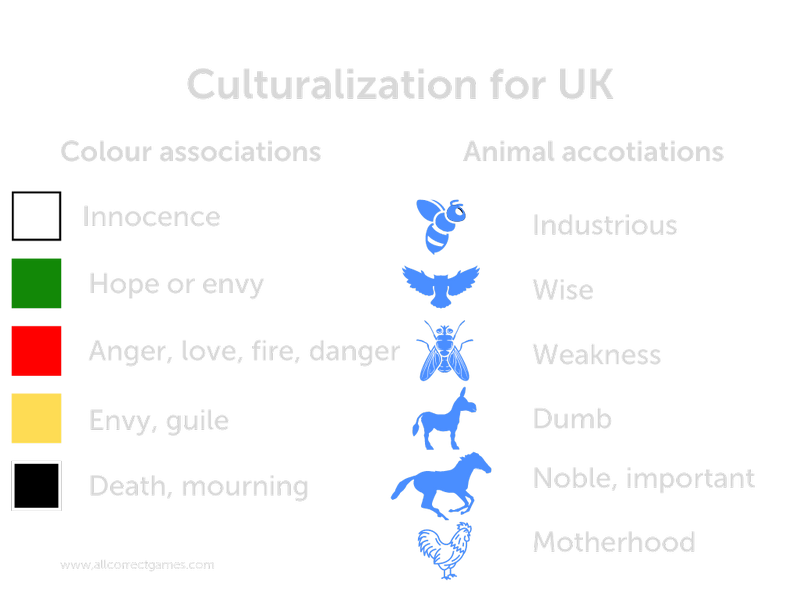 The main holidays are New Year (January 1), Burns Night (January 25), Valentine's Day (February 14), St Patrick's Day (March 17), Easter (floating date), St George's Day (April 23), Father's Day (June 16), Halloween (October 31), Guy Fawkes Night (November 5), Christmas (December 25), Boxing Day (December 26), New Year's Eve (December 31).
Localization into English
English is the world's lingua franca and an official language in many countries.
Not surprisingly, English firmly ranked first in the list of the most used languages on the internet. Language pairs involving English are the most in-demand in localization.
It's necessary to distinguish between the British and American variations of English. They are very similar, but there are a number of differences, the main one being the relative simplicity of American grammar.
As a rule, English is either the original language in which in-game texts are written or the first language into which the game should be translated. It offers access not only to the United Kingdom and other English-speaking countries, but also to a considerable portion of the rest of the world. Players may prefer their native language version, but if the game is good, they will also play in English. In addition, translation from one rare language to another is traditionally done through English.
Separate British and American localization can also be provided, especially if there is voiced dialog in the game.