OVERVIEW
Official name: Kingdom of Saudi Arabia
Capital: Riyadh
Population: 34.8 million (Worldometers)
Average Age: 31.8 (Worldometers)
GDP: USD 785 billions (WorldBank) – 2019
Official language: Arabic
Saudi Arabia (official name: Kingdom of Saudi Arabia; capital: Riyadh) is the largest country on the Arabian Peninsula. Its economy is dominated by petroleum and corresponding industries.
The Saudi culture is inextricably linked to the teachings of Islam, which is why depictions of alcohol, pork, and women not wearing a hijab are considered taboo. These are important factors to account for when planning to release projects in the country.
Facts About Game Market of Saudi Arabia
General state of the country's games market
Among the MEA countries (Middle East & Africa), Saudi Arabia ranks second in terms of market volume (estimated at $758 mln according to Newzoo), slightly falling behind Turkey (market volume estimated at $826 mln according to Newzoo).
Google Play and Apple Store are available in every region of the country. However, due to its explicit censorship laws, failure to account for the specifics of Saudi Arabia may result in your application getting blocked there.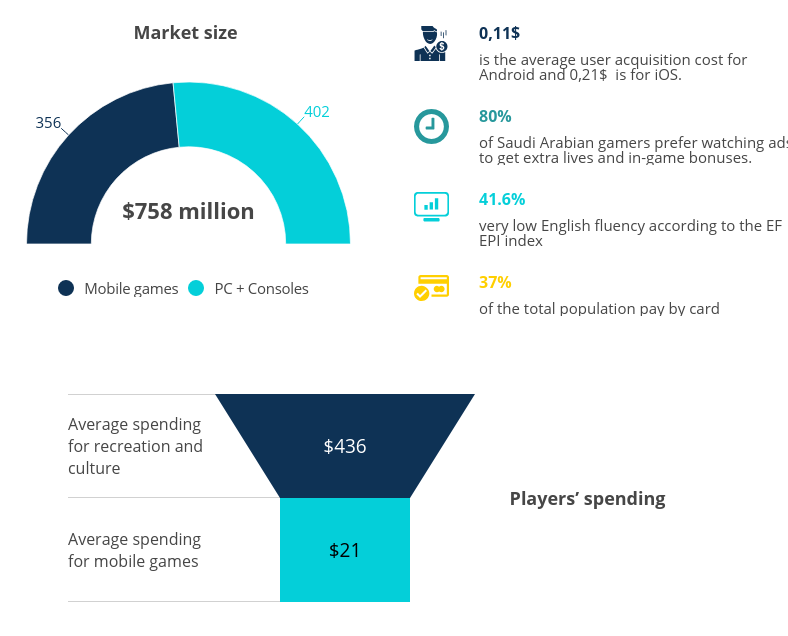 Player Statistics 
According to the research conducted by AdColony and onDevice Research, 77% of gamers in Saudi Arabia prefer playing at home. An average Saudi gamer spends between 10 and 20 minutes on this activity per day.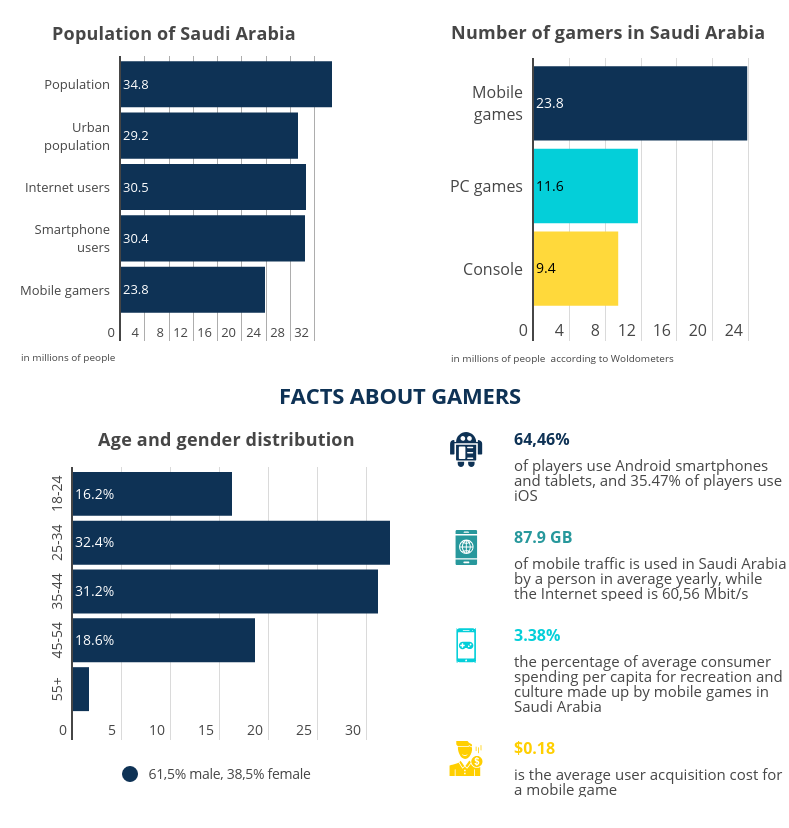 80% of Saudi Arabian gamers prefer watching ads to get extra lives and in-game bonuses.
Cash is the most common payment method in Saudi Arabia (46%), while approximately 37% of the total population pay by card (Worldometers).
Google Play and iTunes accept the following payment methods:
By card;
With mobile phone number;
With top-up cards.
In September of last year, Pocket Gamer reported that the ARPPU in Saudi Arabia equated to $270. This is an extraordinary statistic even if you take into account the fact that the country's GDP per capita is well above average.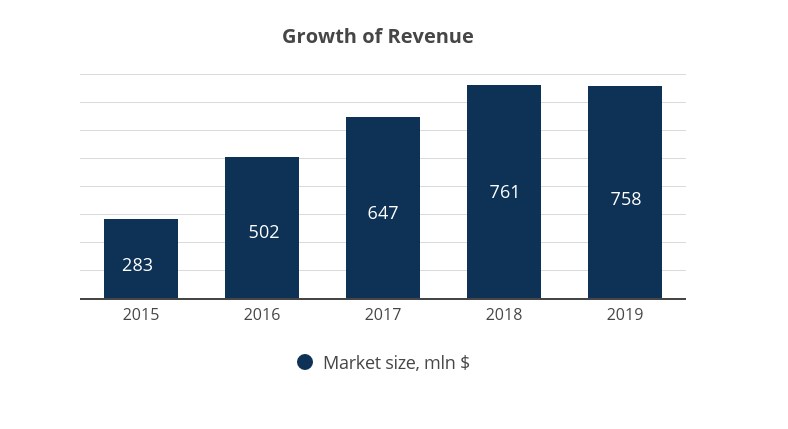 Game Developers
The Saudi Arabian domestic games market is still at its infant stage of development, and there are no offices of large international game companies. This is most likely due to the fact that Saudi Arabia is a fairly closed country and the barriers to start a business are significantly lower in the neighboring regions.
Semaphore is the most notable and well-known game developer in Saudi Arabia. They even develop games for PlayStation 4.
Developer list:
Semaphore — Gravity Error, Unearthed: Trail of Ibn Battuta;
Light Studio — Outsourcing.