OVERVIEW
India (officially The Republic of India, capital – New Delhi) is a country in South Asia. It is the second-most populous country in the world (poised to overtake China and become the first) and the seventh-largest country by land area.
India serves as the birthplace of numerous religions: Buddhism, Hinduism, Sikhism, Jainism. It has also become a major supplier of IT-industry talent. Moreover, India exports a large number of software, technical, and financial services. However, the bulk of its export consists of vehicles, machinery, equipment, handicrafts, chemicals, food, and agricultural commodities.
Official name: The Republic of India
Capital: New Delhi
Population: 1 380 004 385 (Worldometers)
Average Age: 28.4 (Worldometers)
GDP: $2875.14 bln (WorldBank) – 2019
Official languages: Hindi, English
Games Market
India's gaming industry is one of the world's fastest developing gaming markets. It is already leading in terms of the number of gamers—there are over 300 million of them. 2019 saw the rise of the country's first "unicorn"—Dream11, a fantasy sports app for cricket, soccer, baseball, and basketball.
After a conflict (August – September 2020) between India and China, the Indian government banned 118 Chinese apps. Among them, PUBG Mobile, the most profitable Battle Royale game of our time. Some analysts believe that this move may stimulate the country's domestic market, while others see it as a serious blow to the billion-plus market.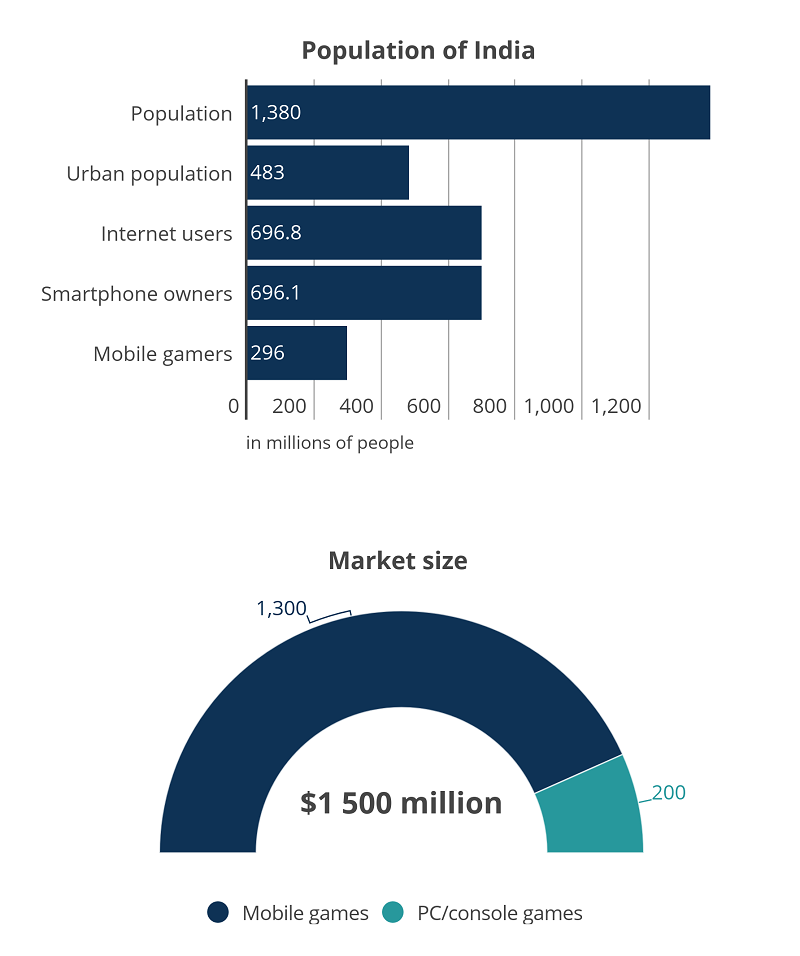 Despite the impressive absolute numbers of players and their engagement, India continues to show weak monetization results. The reason for the latter lies in the country's tough economic situation.
Player statistics
The Indian gamer most likely plays mobile games, which account for both the lion's share of player activity and game company revenue.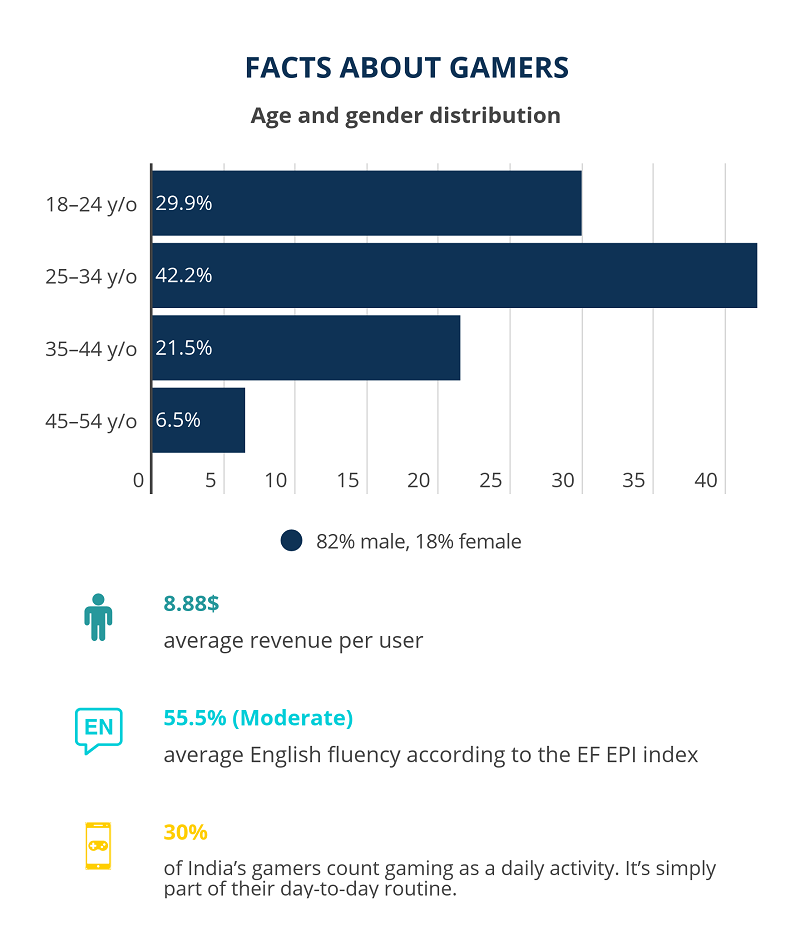 Kantar IMRB offers a more detailed look at India's gamers:
76% of Indian gamers play twice a day or more.
31% launch games 4-5 times a day.
Local players are known for regularly downloading new games, resulting in India's record download rates.
86% of players spend time playing mobile games at home. The report indicates that city dwellers are using video games as a new means of taking time for themselves.
Men and women play for different reasons. Women "clear their minds" and "relax," while men appreciate the adrenaline rush they get while gaming.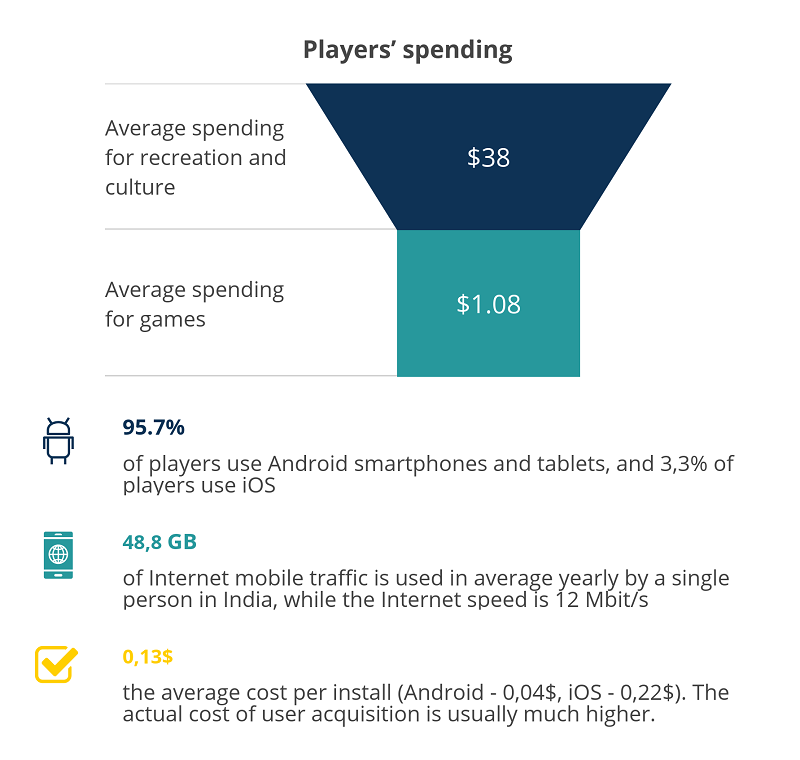 Popular Genres
Action / Adventure
Racing / Sports
Puzzle / Quiz / Words
Strategy / RPG
Casino / Betting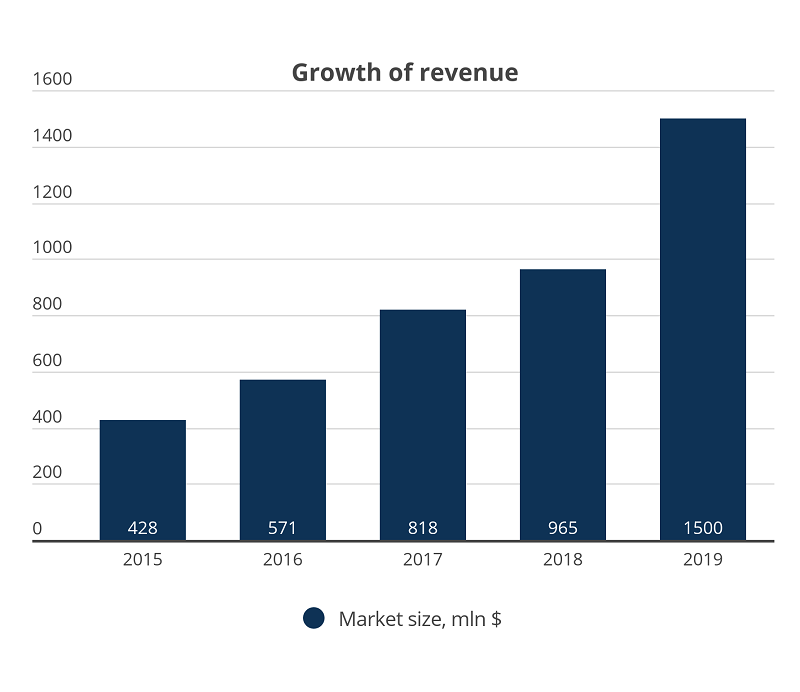 Developers
India's game development market is still nascent. There is a plethora of small outsourcing companies, but the country is still lacking in terms of its own game development. On the other hand, there is a number of international companies like Rockstar (their India branch is the former outsourcing company Technicolor) and Ubisoft (an Indian studio responsible for the Prince of Persia: The Sands of Time remake).
It would be remiss to claim that India does not have its own developers. They do exist, but their projects rarely make it beyond the local market. For example:
2Pi Interactive;
99Games;
Apar Games;
CreatioSoft;
Dhruva Interactive;
digiKhel;
Dumadu Games;
GamersFirst;
Games2win;
Geek Mentor Studios;
Hashstash.
ALLCORRECT GAME LOCALIZATION STUDIO
Localizing a game into the main languages increases its revenue by a factor of 1.9 (based on data from Google Europe and Allcorrect's research).
Allcorrect is an ROI-based localization company. Our approach is based on finding profitable markets for developers and publishers and adapting games for target audiences, taking particular cultural aspects into account. Our goal is to make your games popular and your players happy.
We've been translating games since 2008, and we've localized over 968 projects during that time. Our portfolio includes localizations of large-scale AAA projects as well as indie games that have dominated the international market.