General information
The United Arab Emirates (shortened to the Arab Emirates or simply the Emirates) is a federal state in the Middle East. It is composed of seven emirates, each of which has its own government. Each government is an absolute monarchy. The emirates include Abu Dhabi, Ajman, Dubai, Ras Al Khaimah, Umm Al Quwain, Fujairah and Sharjah.
The government is headed by the President of the United Arab Emirates, who is also the Emir of the largest emirate, Abu Dhabi. Abu Dhabi is both the name of the capital city of the UAE and the name of the emirate the city is located in.
The UAE is in southwest Asia, in the eastern part of the Arabic peninsula. It shares a border with Saudi Arabia to the west and south, as well as a border with Oman to the southeast and northeast. It also borders the waters of the Persian Gulf and the Gulf of Oman.
In 2022, the UAE had a population of 10,191,889. Workers from South and Southeast Asia make up the vast majority (up to 70%) of the population. The native population is mainly Sunni Muslims.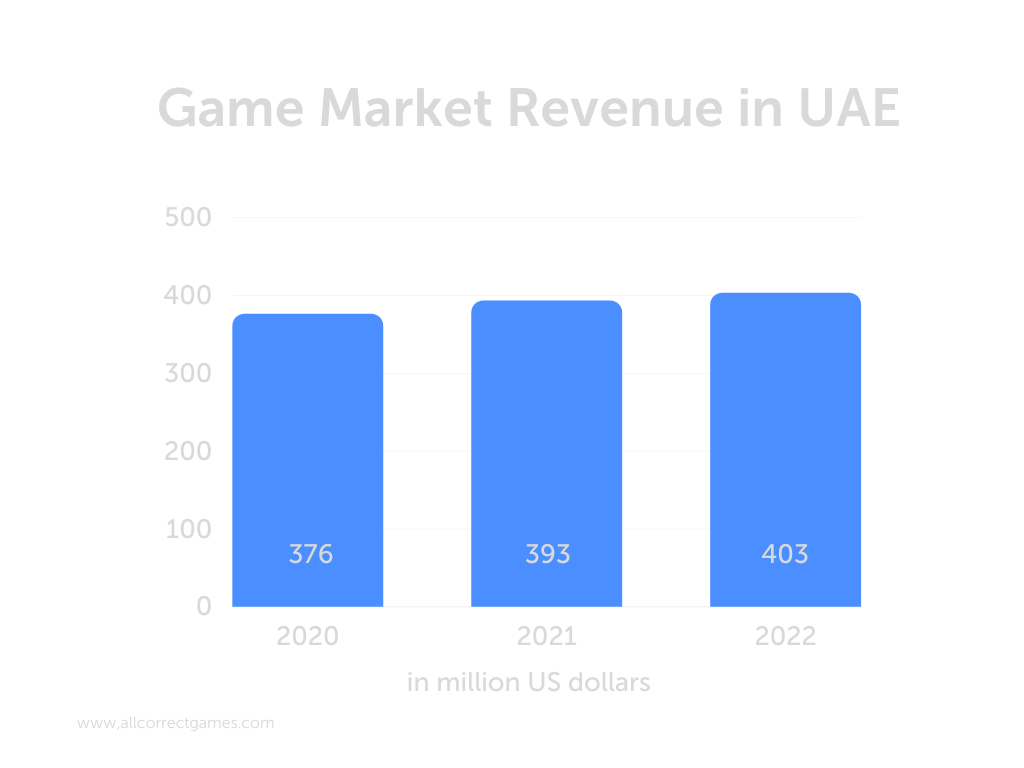 The country has massive oil reserves. Oil exports account for much of the GDP (56.4% in 1980, 41.1% in 1995). Owing to economic diversification, the share of oil and gas in the GDP between 2009–2013 was lower than 40%.
The Gaming Market
According to data from Statista, an annual revenue growth rate of 5.28% can be expected (CAGR 2022–2027). As a result, market value can be expected to reach $372.6 million by 2027. According NewZoo, in 2022 game market income amounted to 403 million dollars.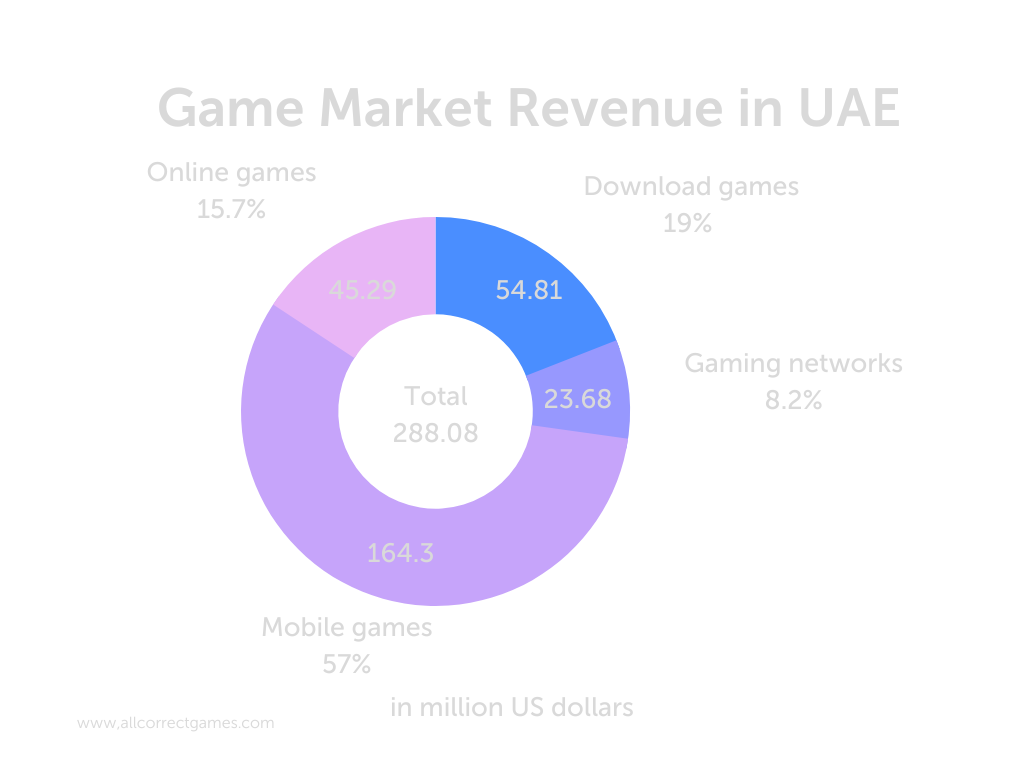 Market penetration among the population was 37.8% in 2022. It is expected to reach 40.7% by 2027.
The biggest gaming segment is mobile games, with a market value of $164.3 million in 2022.
The average revenue per user (ARPU) in 2022 was $75.55 USD.
Player statistics
According to a global survey of Statista users, in 2022 the United Arab Emirates had more adult gamers than any other country.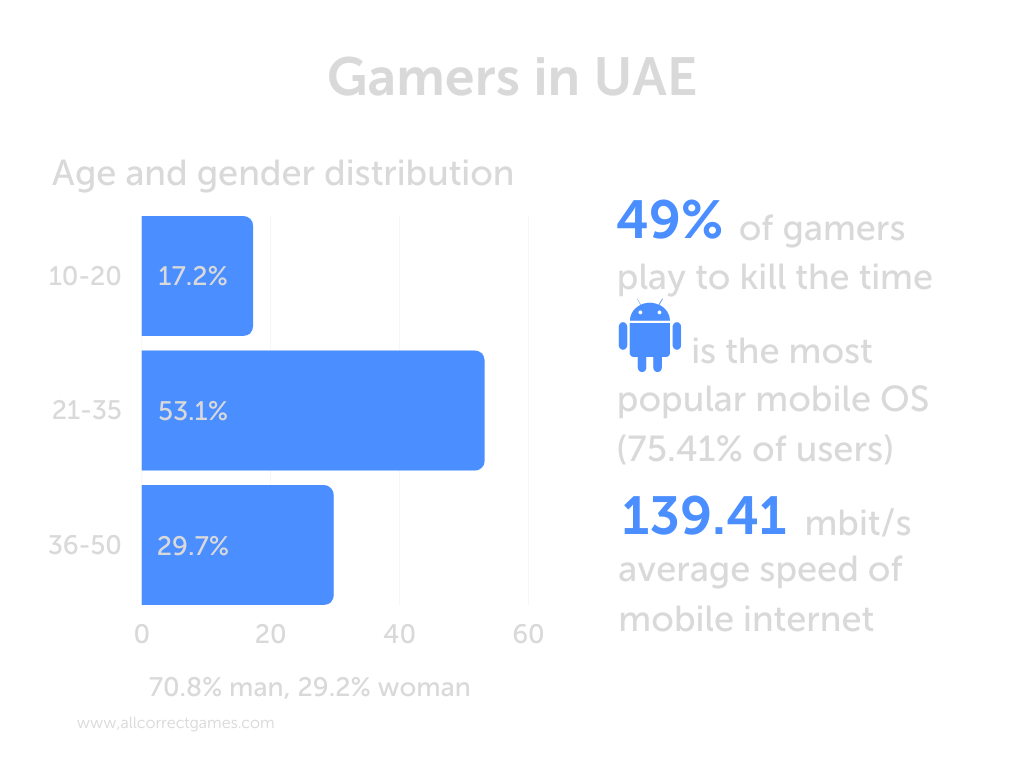 91% of surveyed residents between the ages of 18 and 64 stated they play games at least occasionally. 71% of survey participants confirmed they play most often on mobile devices.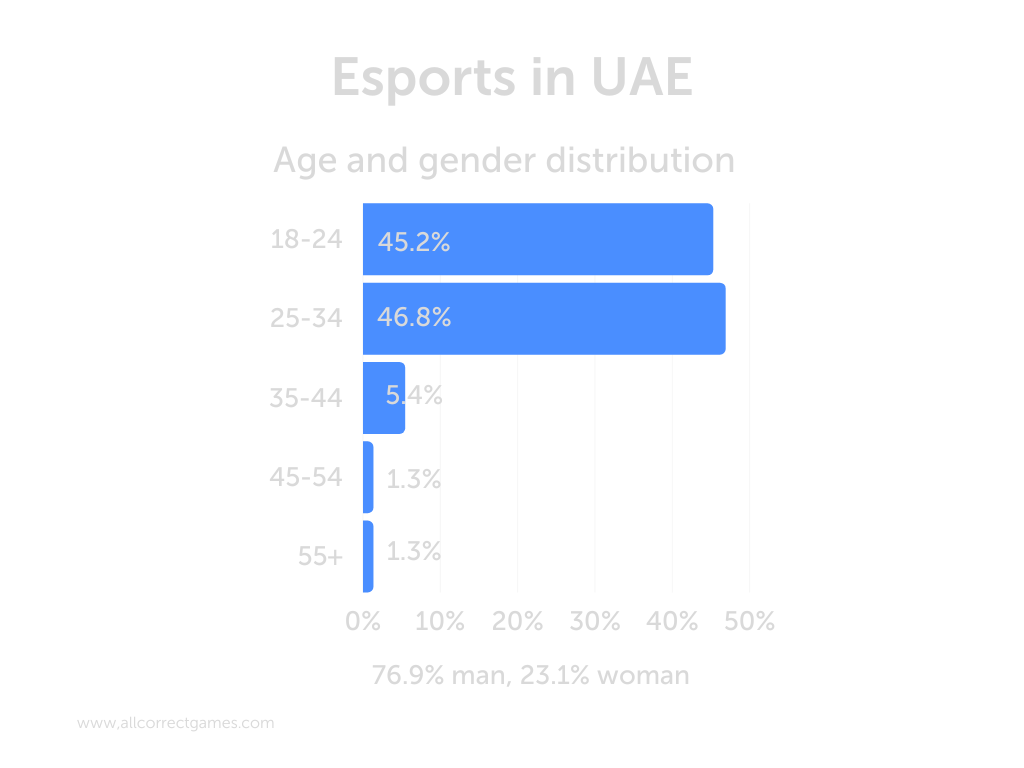 In 2022, 76.9% of esports gamers in the UAE were men, while 23.1% were women. 25–34-year-olds were the leading esports age group in the UAE that year.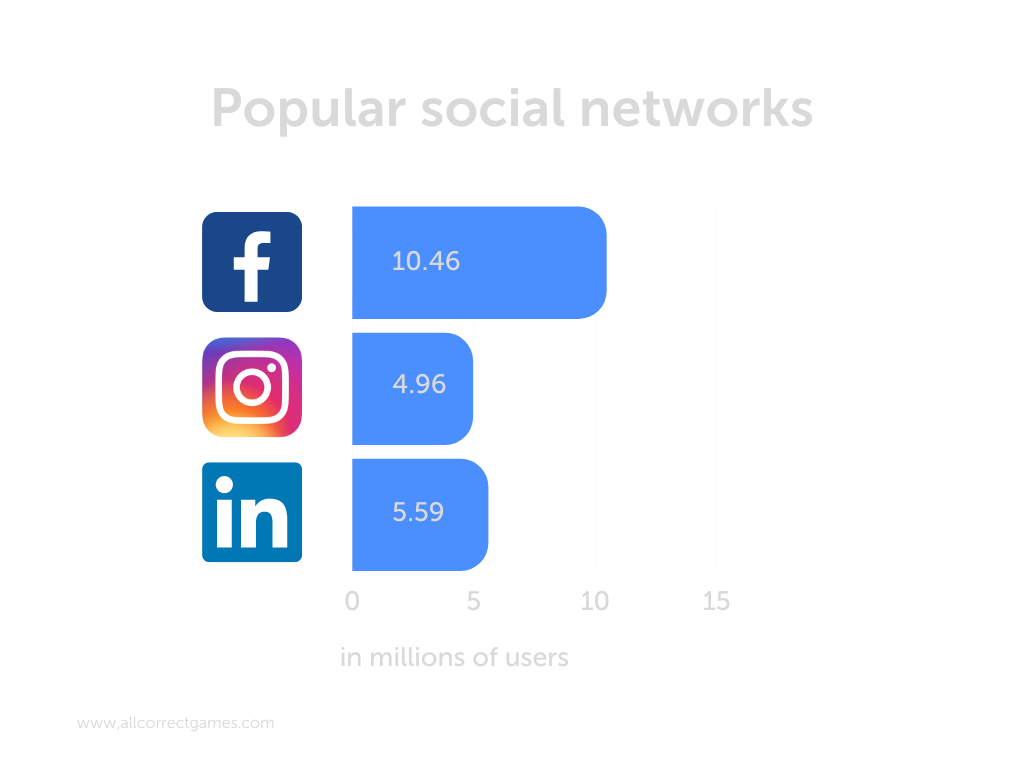 The most popular games
PC:
1. Roblox
2. Overwatch 1 & 2
3. Minecraft
4. Call of Duty: Modern Warfare II/Warzone 2.0
5. Fortnite
6. Grand Theft Auto V
7. Counter-Strike: Global Offensive
8. Valorant
9. Call of Duty: Modern Warfare/Warzone
10. League of Legends
PlayStation and Xbox:
1. Fortnite
2. FIFA 23
3. FIFA 22
4. Call of Duty: Modern Warfare II/Warzone 2.0
5. Overwatch 1 & 2
6. Grand Theft Auto V
7. Rocket League
8. Fall Guys
9. Call of Duty: Modern Warfare/Warzone
10. Minecraft
Top free mobile games in App Store:
1. Makeover Studio: Makeup Games
2. Top War: Battle Game
3. Gardenscapes
4. Tap Away 3D
5. Roblox
6. Royal Match
7. Parking Jam 3D
8. Chess—Play & Learn
9. Legend of Slime: Idle RPG
10. Survivor.io
Top free mobile games in Google Play Store:
1. Attack Hole
2. Pokémon UNITE
3. Roblox
4. Survivor.io
5. Save the Doge
6. Candy Crush Saga
7. Mob Control
8. Space Survivor
9. Stick Hero: Tower Defense
10. Monster Demolition—Giants 3D
Developers
In addition to large international companies such as Ubisoft, slightly smaller developers are also represented in the country. These companies include: Cubix, Quytech, The NineHertz, Logic Simplified, Aspired, Stepico, Brill Mindz Technologies, and many others.
Culturalization for the UAE population
Before entering the UAE market, it's important to keep in mind the country's cultural nuances. 75% of residents practice Islam, which leads to certain restrictions on gaming content.
1. Media content, videos, and images should not contain any disrespect towards Islam or criticism of the Emirati government nor promote any crimes.
2. There is a 21+ age restriction on games that contain references to nudity, sex, gambling, and alcohol/drug use.
3. Anything encouraging dangerous or antisocial behavior (including risky stunts, suicide, and self-harm) as well as teaching unlawful practices is banned.
4. Content should not promote alcohol: "Advertising alcoholic beverages or drugs, either directly or indirectly, is not permitted. Drug use is not allowed in the UAE, although images in foreign content are usually accepted. It is forbidden to show local residents participating in such activities, even in fictional content."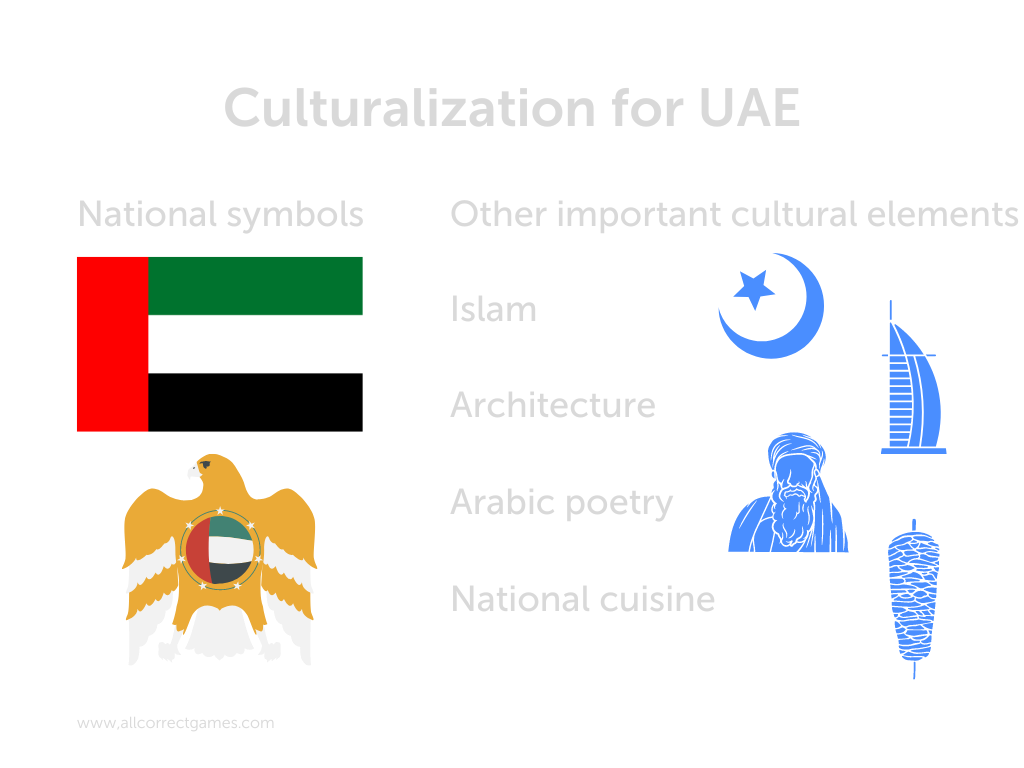 Localization into Arabic
Arabic is the official language of the UAE. English, Hindi, Urdu, Farsi, and Tagalog are also used in the country. English is widespread in the business and tourism sectors, although according to the EF EPI, the average English proficiency level in the UAE is low.
Localization into Arabic has a number of special features. Firstly, the language is written in a right-to-left script. It's important to allow for the use of r2l fonts at the development stage and, if possible, to adapt the user interface.
Arabic has a great deal of word-formation freedom. This means that traditional language constructs can easily be adapted into a modern form. Arabic uses a wide variety of synonyms, words with multiple meanings, and homonyms. The main ways of forming words are syntactic, semantic, and morphological (using word-building models and formulas).
We suggest reading our articles on this topic:
Localizing into Bidirectional Languages
Unity from right to left