General information
The Balkans, also known as the Balkan Peninsula, is a region in Southeastern Europe. As a more general term referring to the region as a whole, "the Balkans" includes countries that fall outside the peninsula. Southeastern Europe is another term for the same region.
Historians say the Balkans include Albania, Bosnia and Herzegovina, Bulgaria, Croatia, Greece, Kosovo, Montenegro, North Macedonia, Romania, Serbia, and Slovenia. The total area amounts to 666,700 square kilometers, and it's populated by 59,297,000 people.
This report will look primarily at the countries that make up what used to be Yugoslavia.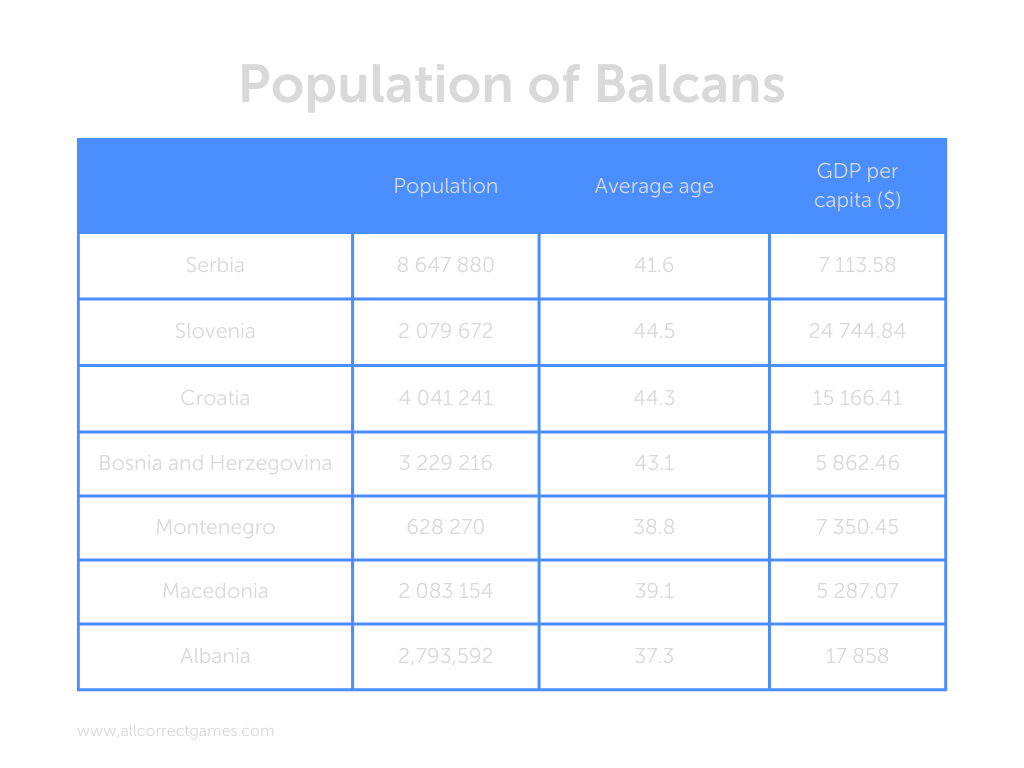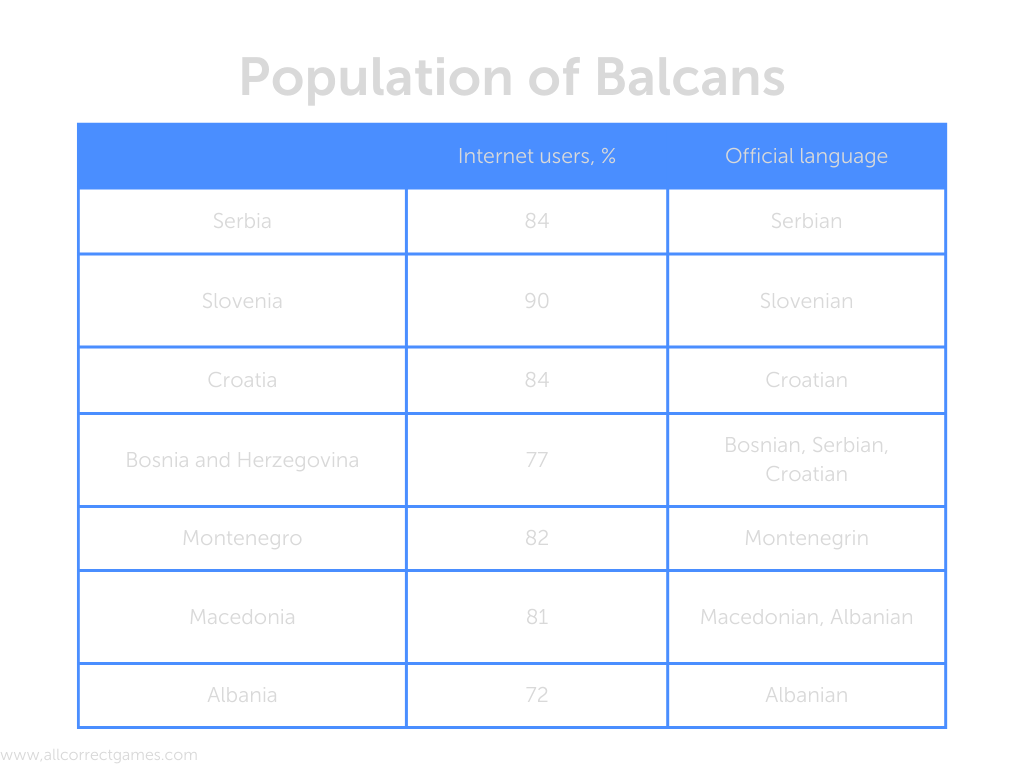 General characteristics of the Balkan gaming market
Serbia
Last year, the Serbian video game sector exceeded $110 million in revenue. That shows how the country is quickly transforming itself into a global gaming and tech hub, making it one of the biggest players in Southeastern Europe.
It is home to about 130 gaming companies, with 3,000 people involved in the industry. Another factor is the Serbian Games Association, which represents the community's interests.
Many major companies, including Endava and Ubisoft, have set up offices in the country. Serbia is also the headquarters of Nordeus, the mobile game developer that was acquired by Take-Two Interactive in 2021.
Major developers and publishers with offices in Serbia: Playstudious Europe, 3Lateral, Digital Arrow, Fortuna, Ubisoft, Nordeus, Peaksel, Playrix RS, Two Desperados, Mad Head Games, Webelinx Games, Yboga, Brave Giant, Foxy Voxel, Bunker VFX, Sozan.
According to Statista, Serbia will have more than 600,000 gamers by 2027. An expected population of 6.71 million people means 9% of them will probably be gaming in five years.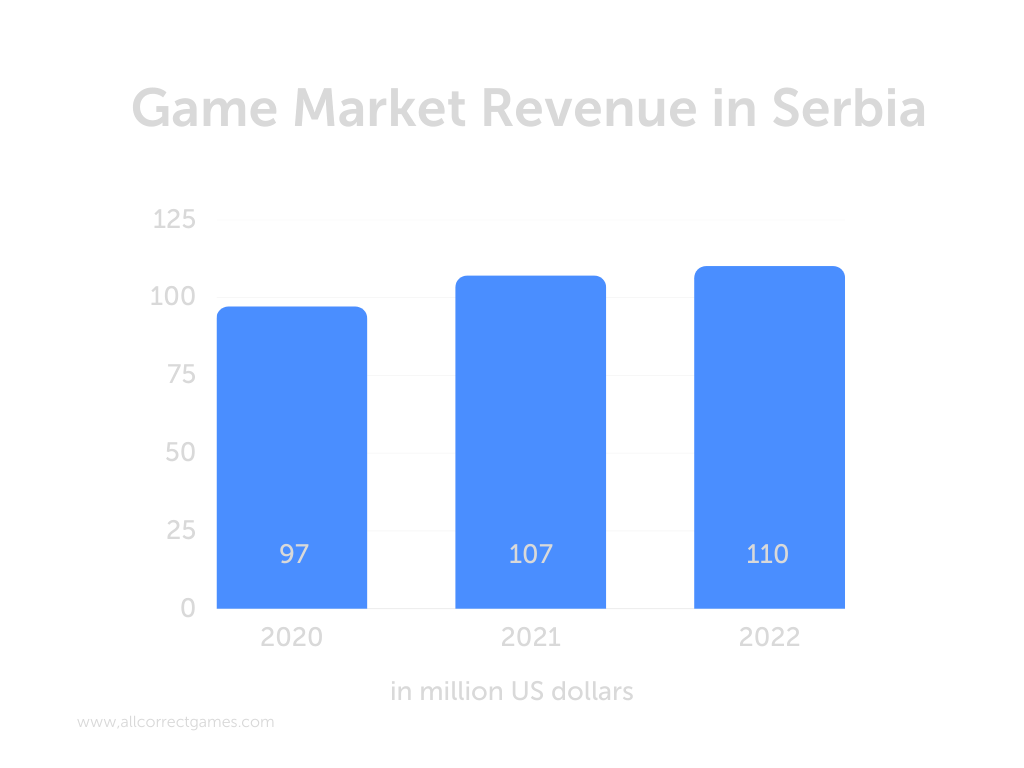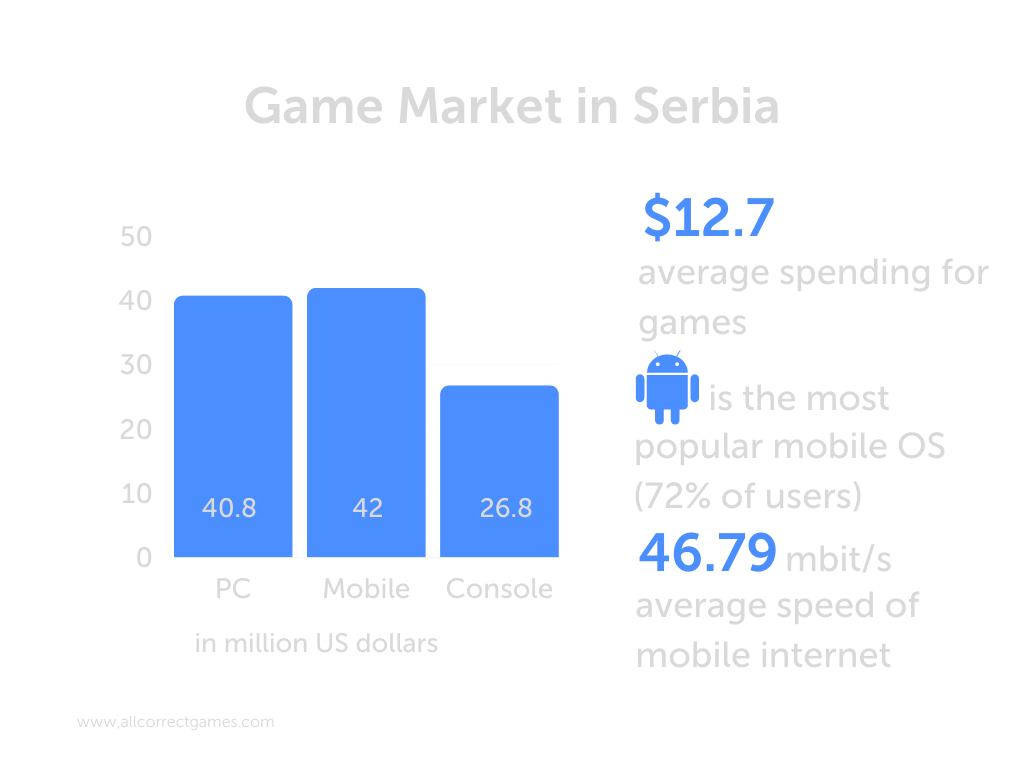 Slovakia
The Slovak gaming industry kept chugging right along last year, boosting revenue to 80 million euros. According to statistics provided by the Slovak Game Developers Association, that follows a longstanding trend despite the small slowdown expected after the record pandemic years.
The country has more than 70 gaming companies, with around 1,300 people involved in the industry. Its largest companies are Pixel Federation, PowerPlay Studio, Inlogic Software, SuperScale, Nine Rocks Games, Blue Brain Games, Studio 727, Games Farm, NOISE artillery, QORPO, and 60fps.
The largest outsourcing studios are SuperScale, Studio 727, Cassa Game Industry, and NOISE artillery.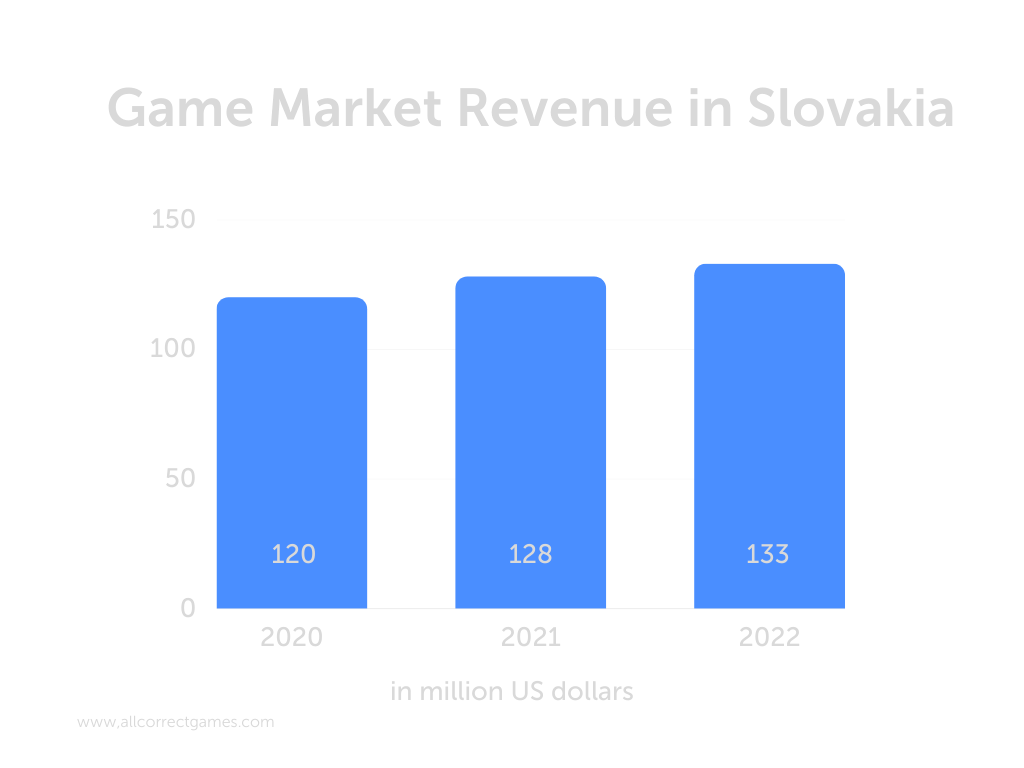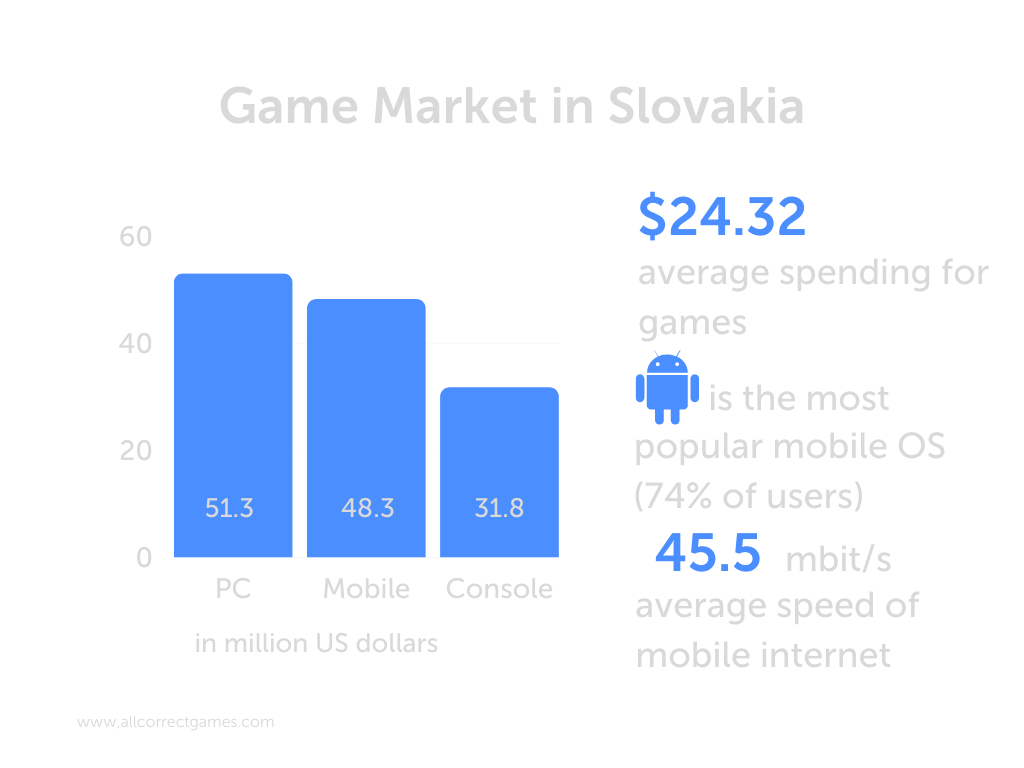 Slovenia
While the video game industry in Slovenia is relatively small, the country does have a few hits under its belt. Talking Tom Cat, a well-known app, was developed by a Slovenian company in Ljubljana. In addition, Slovenia hosts major gaming events and exhibits like Slovenia Games Conference and Na meji nevidnega.
There are approximately 400 people working in the industry.
The largest gaming companies in Slovenia are Outfit7, Arxel Tribe, and ZootFly.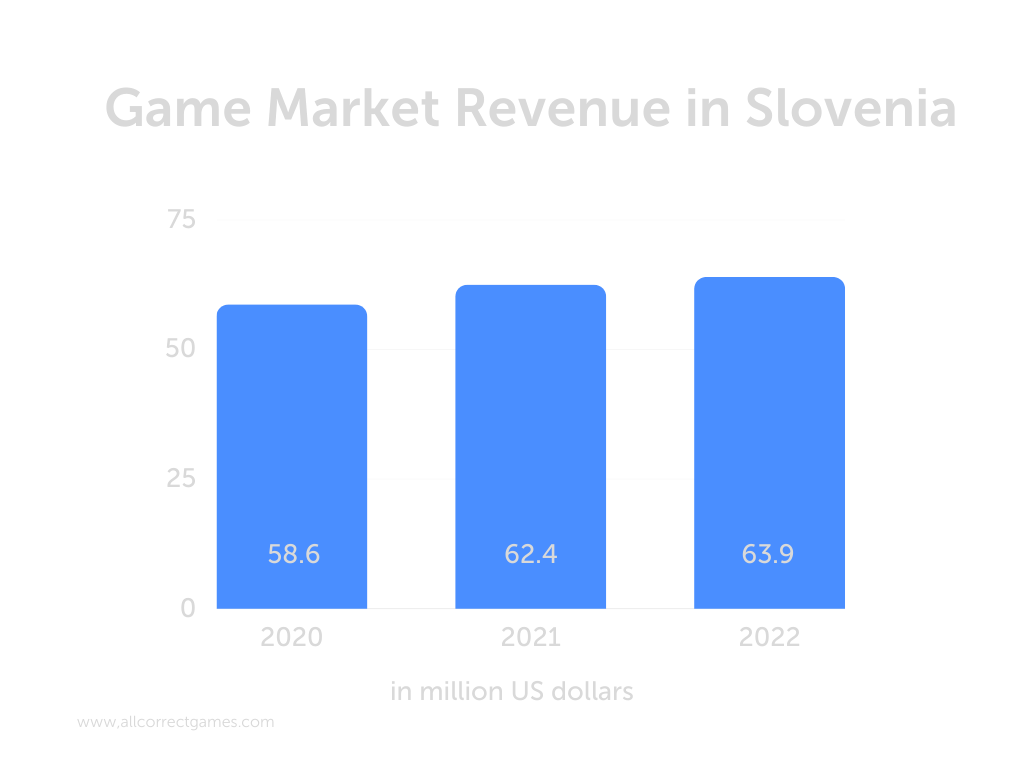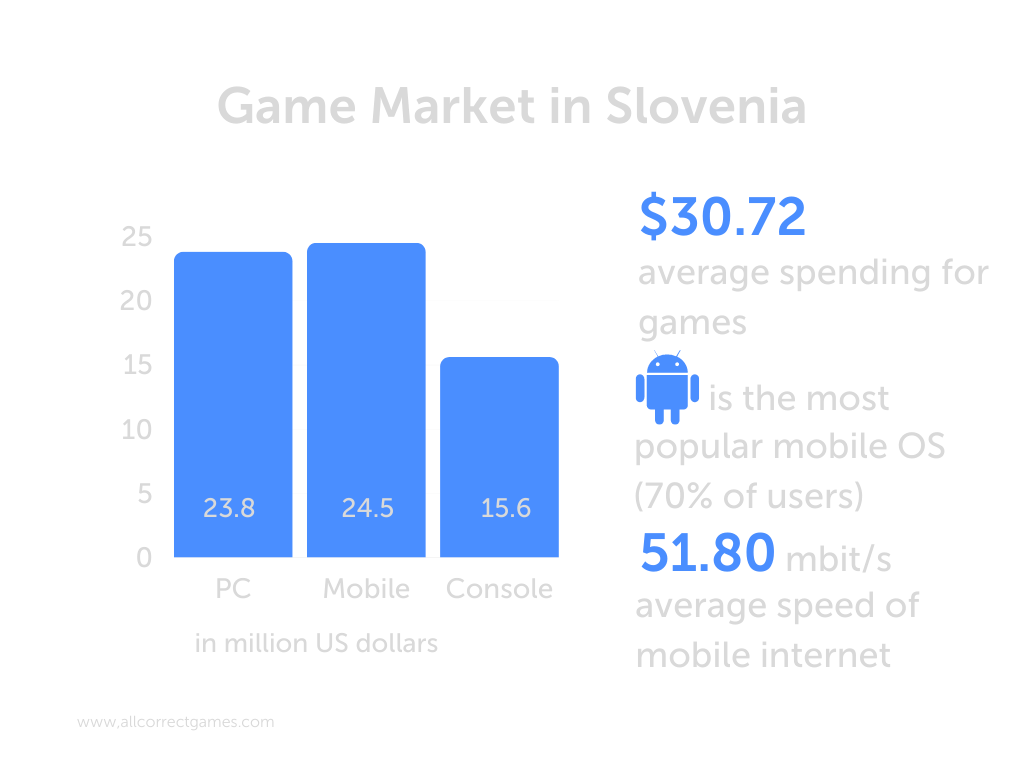 Croatia
Industry growth is driven by strong interest in computer games, the popularity Croatian games enjoy around the world, and many national and international esports competitions offering generous cash prizes.
Croatia has about 70 game developers. In 2019, 230 people were working in the industry, though that number had jumped past 500 by 2021.
Government support has been a strong driver. In 2022, construction began on a gaming campus costing 50 million euros in Novska. Its objective is to advance the video game industry in Croatia and around the region. Construction should be complete in two years. Among other goals, it is primarily designed to attract more than 50 Croatian gaming startups.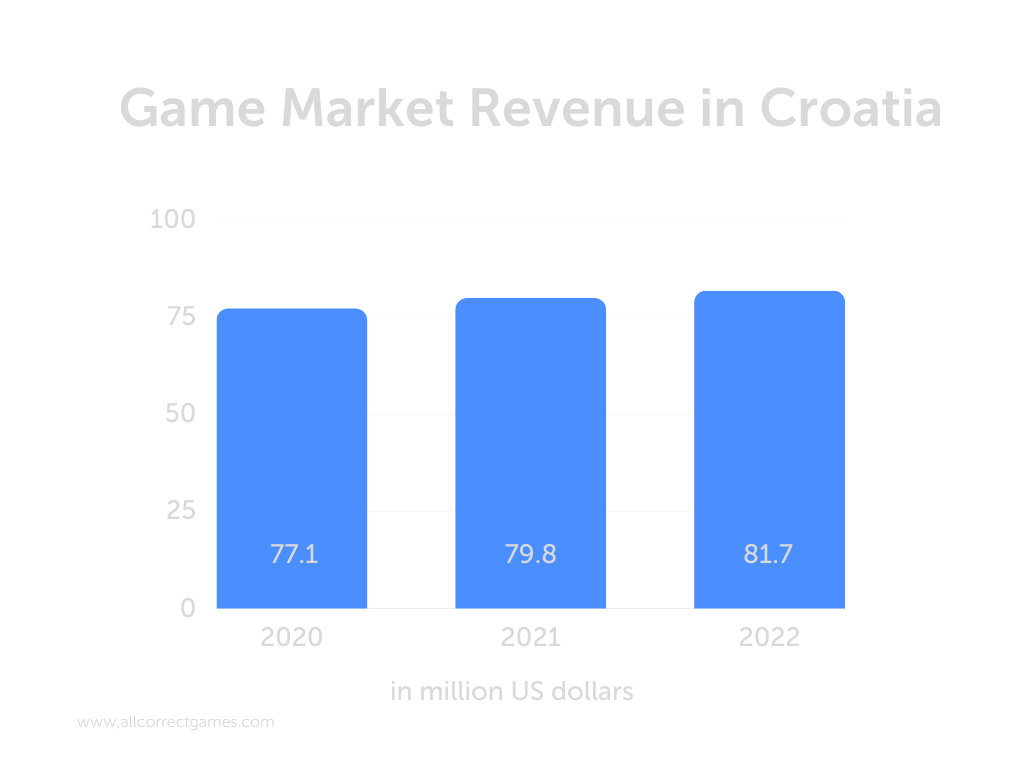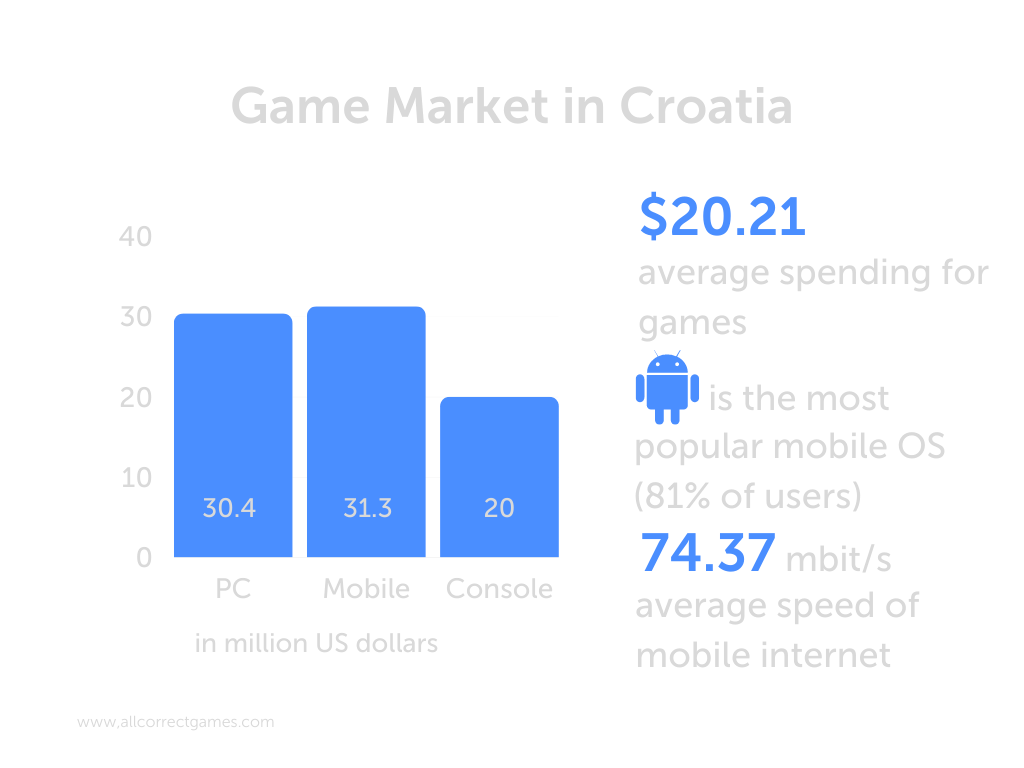 Bosnia and Herzegovina
The gaming market in Bosnia and Herzegovina has seen limited revenue and growth numbers. Researchers tie that to a few factors: a lack of government funding for video game development, no available education, logistical problems with equipment and opening bank accounts, and no double taxation agreements. Given that casinos are legal, they're the main focus.
According to Statista, the number of users in the video game segment is projected to reach 800,000 by 2027.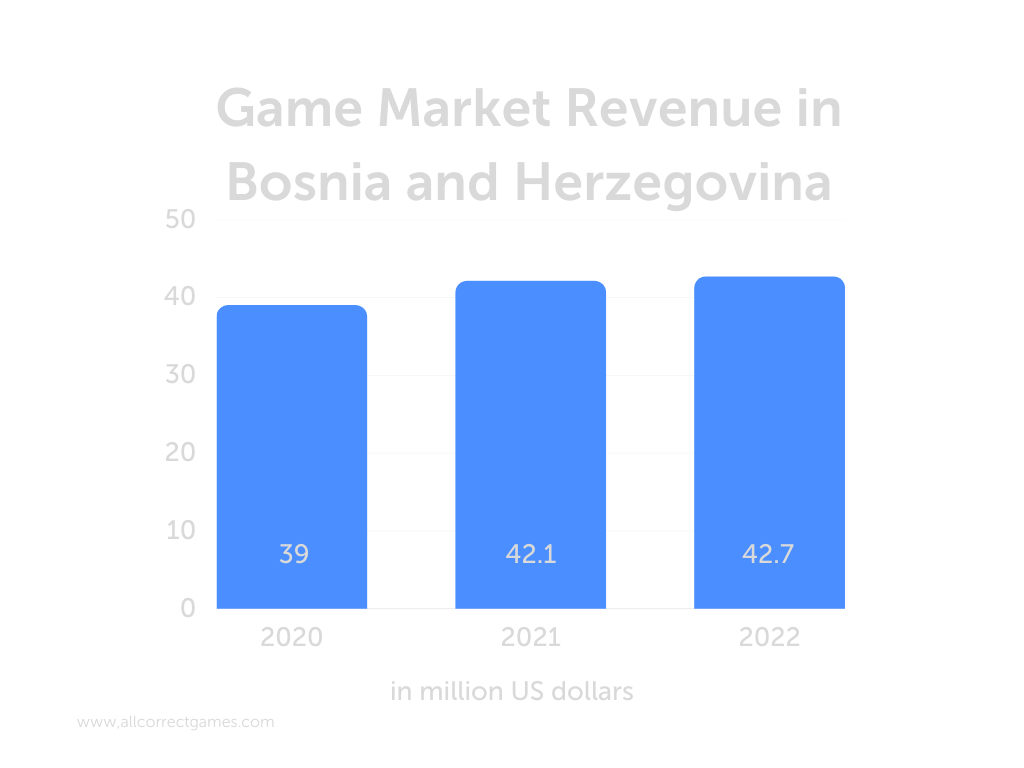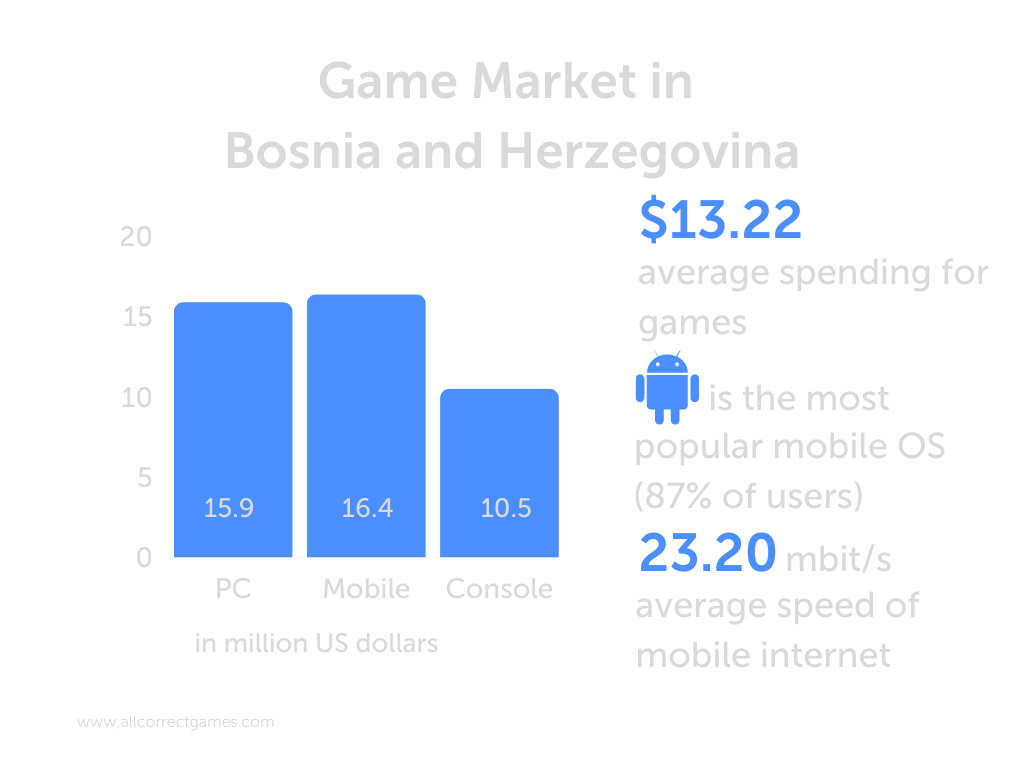 Montenegro
The gaming industry in Montenegro is just getting started.
Statista calculates that revenue in the video game segment will reach $4.95 million in 2023. The annual growth rate for revenue (CAGR 2023-2027) is projected to clock in at 5.93%, pushing the market value to $6.23 million by 2027. Over the same period, the number of users in the video game segment is expected to reach 200,000. User penetration will be 24.9% in 2023, climbing to 27.1% by 2027. The largest segment is mobile games, with a market value of $3.06 million in 2023.
Macedonia
Over the past two years, the number of registered/existing companies in the gaming sector has grown to 17. Although that's a low number, data points to a positive trend in recent years.
The last year with available data on the number of people employed in the gaming industry was 2020, when there were 26, or nine more than in 2017. But those are still very low numbers. The biggest factors restraining growth are the difficulty of accessing global markets, problems attracting local and foreign investors, a dearth of labor, a lack of government support, the absence of a competitive backdrop, and regional/legal barriers. Macedonia isn't a member of the EU, which puts it at a disadvantage.
Statista points to revenue in the video game segment being $17.42 million in 2023. By 2027, it should have 600,000 users. User penetration will be 28.4% in 2023, climbing to 30.8% by 2027.
Games developed in Serbia:
1. Call for Heroes: Pompolic Wars
2. The Crew 2
3. Enemy Engaged 2
4. Genesis Rising: The Universal Crusade
5. Golf Club: Wasteland
6. Hellion
7. Hidden Expedition
8. Mindtrap
9. Movie
10. Mystery Case Files
11. Phantom Club
12. Pyroblazer
13. Scorn
14. Steep
15. Tom Clancy's Ghost Recon Breakpoint
16. Tom Clancy's Ghost Recon Wildlands
17. Top Eleven Football Manager
18. UnderRail
Games developed in Slovenia:
1. Alfred Hitchcock Presents: The Final Cut
2. Casanova: The Duel of the Black Rose
3. Dream of Pixels
4. Faust
5. Jerusalem: The Three Roads to the Holy Land
6. The Legend of the Prophet and the Assassin
7. Line Rider
8. Marlow Briggs and the Mask of Death
9. Mistmare
10. Mordhau
11. My Talking Tom
12. Panzer Elite Action: Dunes of War
13. Panzer Elite Action: Fields of Glory
14. Pilgrim: Faith as a Weapon
15. Pompei: The Legend of Vesuvius
16. Prison Break: The Conspiracy
17. Ring
18. Talking Angela
19. Talking Tom & Friends
20. Tinker Island
Games developed in Croatia:
1. The Academy: The First Riddle
2. Bear with Me
3. Doodle Jump
4. Embryo
5. Escape Simulator
6. Eyes in the Dark: The Curious Case of One Victoria Bloom
7. Faraway: Puzzle Escape
8. Football Glory
9. Gas Guzzlers Extreme
10. I Hate Running Backwards
11. Inked
12. Kaptain Brawe: A Brawe New World
13. Legacy: Dark Shadows
14. Legends of Dawn
15. Patron
16. Raid: World War II
17. Red Solstice 2: Survivors
18. The Red Solstice
19. Saint Kotar
20. SCUM
21. Serious Sam
22. SEUM: Speedrunners from Hell
23. Solstice Chronicles: MIA
24. Space Force: Rogue Universe
25. Speed Limit
26. Spherical Worlds
27. Starpoint Gemini
28. Starpoint Gemini Warlords
29. The Talos Principle
30. Unity of Command
31. Unity of Command II
32. Urban Jungle
33. Viktor, a Steampunk Adventure
34. Vruće Ljetovanje
35. The Ward
36. Zotrix