Overview
Taiwan is an island nation located about 150 kilometers off the eastern coast of mainland China. Taiwan is famous for both its modern metropolises and its objects of traditional Chinese culture. The island is also not without its natural beauty: healing hot springs, majestic mountain ranges, and the sunny beaches of the South China Sea, East China Sea, and Philippine Sea all attract tourists to Taiwan.
The second (and official) name of this island nation is the Republic of China. However, China considers Taiwan its own territory and forbids other countries from maintaining diplomatic relations with the partially-recognized country. This is why you won't find any Taiwanese diplomats in your home country.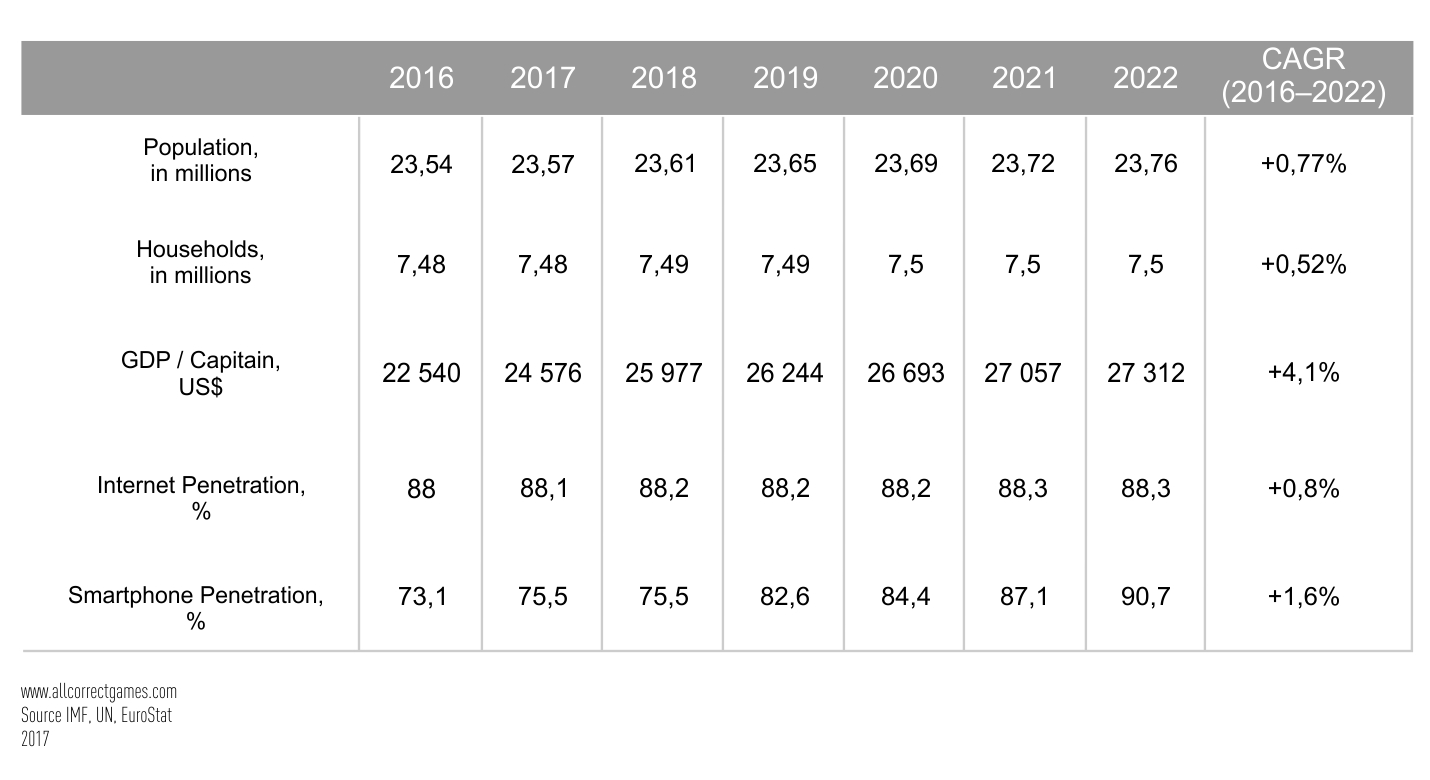 Interestingly, the native-born population of the Republic of China makes up just under 2% of all people living there. More than 98% of the residents of Taiwan are Chinese. Despite this, the country has one of the lowest birth rates in the world.
The Republic of China is a democracy, unlike China. According to polls, people are very sensitive about their right to influence serious political decisions.
Taiwan is well known as a technologically-advanced country. It is the largest producer of computer chips and LCD screens in the world. In addition, the manufacturing of semiconductors generates large profits for the country. Despite its small size (the country's area is 35,980 km2) Taiwan ranks fifth in the world in gold reserves.
Anyone can definitely name at least three international companies that originated in Taiwan: Asus, Acer, and HTC. These companies design computers, computer components, peripherals, mobile phones, and routers.
Mobile games market in Taiwan
Research from the analytics agency Niko Partners indicates that the gaming market in Taiwan reached USD 1.26 billion in 2016. Mobile games made up a little more than 51% of this total, or USD 642.8 million. Analysts predict that this sector will grow rapidly and state that by 2021 the market will more than double—reaching USD 2.8 billion. According to experts, the weight of the mobile segment will grow and reach 60% of the total market volume.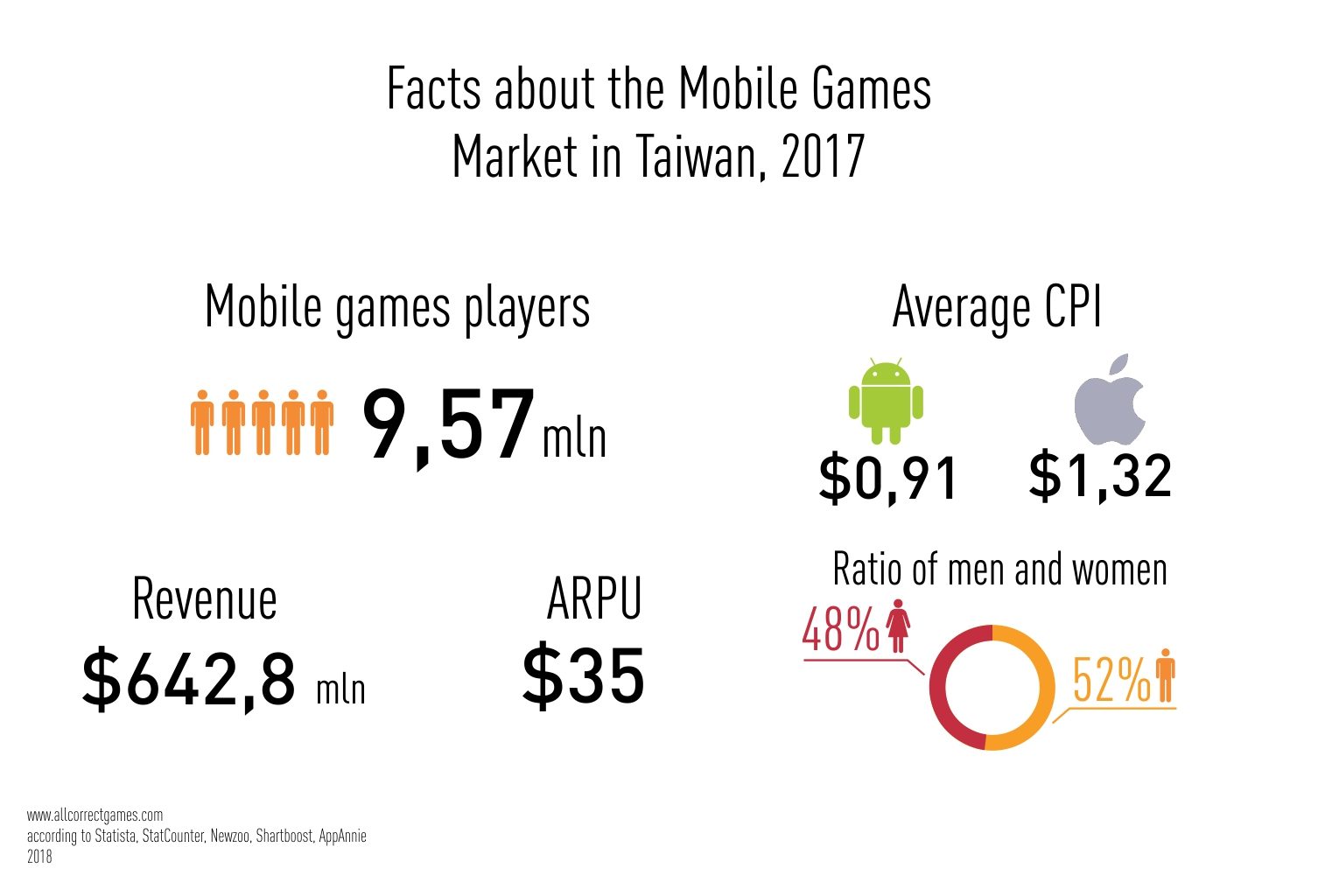 Computer games and eSports are very popular in Taiwan. These two segments, which are inseparable, will be the main drivers for growth in the region.
Although Taiwan is in 55th place in terms of country population size, its gaming market is one of the top 15 on the planet. This is due to several factors: gamer interest, government investments in technology, and a good Internet infrastructure.
Interestingly, Taiwanese gamers are among the most impatient, according to Unity research. The average duration of a gaming session is shorter only in Vietnam, where it is ten minutes and one second. Taiwanese gamers play games a whole three seconds longer!
According to 2016 data, paying gamers in Taiwan on average brought the industry USD 35. As a comparison, South Korean users spend twice as much—about USD 86. Given the difficulty of retaining Taiwanese users, game creators should thoroughly develop tutorials and methods of retention if they want to be successful in Taiwan.
On the other hand, the population's low financial capacity and retention difficulties are compensated by low costs for attracting users. According to data from Chartboost, one iOS user costs USD 1.32, and one Android user costs USD 0.91.
The overwhelming majority of Taiwanese people use one of two operating systems: Android or iOS. The former accounts for 66.57% of the market and the latter accounts for 33.1%.
Device diversity is a bit more straightforward. Apple holds the leading position, with 33.1% of Taiwanese residents using the company's devices. Next come Samsung (22%), HTC (12%), Asus (9.45%), and Sony (9.21%).
Taiwanese residents prefer Google over all other search engines, with 87.4% of the population using the service. The closest competitors are Yahoo! (11.39%) and Bing (0.98%).
Who plays mobile games
in Taiwan?
NewZoo research for 2018 shows that men and women in Taiwan are about equally interested in mobile games. The male population accounts for slightly more than 52% of Taiwanese players, and the female population accounts for less than 48% accordingly.
The main portion of active male gamers are between the ages of 21 and 35, and they make up 40% of the overall number of male gamers. Ages 36 to 50 follow; it emerged that this age group makes up 37% of male gamers in Taiwan. Completing the triumvirate is the age group from 10 to 20 years old. This group accounts for 23% of male gamers.
The composition of female gamers by age is very different than that of male gamers. Although the primary group of active gamers is women aged 21 to 35 (they make up 42%), young gamers (ages 10 to 20) account for 35% of the audience. Hardest of all is finding a female Taiwanese gamer aged 36 to 50: they are 23% of the female gaming population in Taiwan.
According to data from July 2018, the most popular game in the Taiwanese App Store was Tower of Saviors, and in the Google Play Store it was Lineage M. Learn more about the ten best games in each app store.
| | | | |
| --- | --- | --- | --- |
| Name (iOS) | Genre | Name (Android) | Genre |
| Tower of Saviors | Puzzle, RPG game | Lineage M | RPG |
| Lineage M | RPG | Tower of Saviors | Puzzle, RPG game |
| King of Glory | MOBA | King's Raid | RPG |
| Final Blade | RPG | "I Have Money" Casino | Casino |
| Ocean Legend | RPG | Let's Vegas Slots | Casino |
| Lords Mobile: War Kingdom | Strategy | Dragon Ball Z Dokkan Battle | Action |
| Wonderland Legend RO: Guardian of Eternal Love | RPG | Lineage II Revolution | RPG |
| Star City Online | Casino | Darkness Rises | RPG |
| Ancient Legend | RPG | Pokémon GO | Adventure |
| Lineage II Revolution | RPG | Wonderland Legend RO: Guardian of Eternal Love | RPG |
There are special offshore zones in Taiwan where casinos can be registered, including online casinos. Because of this, there are three different casino games in the top lists that are wildly popular in Taiwan.
On the whole, the portrait of a Taiwanese gamer isn't very different from that of the average Asian gamer. People in Taiwan love RPG games with a plethora of characters, they love anime style, and they love in-depth character development.
Taiwanese mobile game developers
Chinese and South Korean developers are very popular in the Republic of China. However, domestic publishers and developers are also breaking into the market in the region. Let's name the largest of them.
Gamania
GM99
Wanin
LongE
ICAN
Evatar
Mark Brilliant
Smart Alec
Userjoy
Mamba Interactive
It's interesting to note that in Taiwan Lineage M wasn't released by NCsoft or Netmarble, but by a domestic publisher called Gamania.
All Taiwanese developers are primarily focused on the domestic Asian market. Because of this, Europeans often don't even know the names of games released by Taiwanese companies.
Despite the invasion of mobile devices, as of 2015 only 21.8% of Taiwanese residents used mobile banking, while 78.2% preferred more traditional payment methods. The vast majority of the population (58% of people) paid with cash, while 36% used cards.
Culturalization for Taiwanese residents
Taiwan's younger generations are not prejudiced and are notably quite progressive. Young people travel often (Taiwanese residents don't need visas to go to Europe or the US) and partake in academic exchange programs. They have a positive outlook on choosing religion, gender, and romantic partners.
There are a fair number of people with non-traditional sexual orientations in the Republic of China. Moreover, Taiwan was the first country in Asia whose constitutional court deemed the ban on same-sex marriages to be a violation of human rights. As a result, the government legalized same-sex relationships.
Many people call Taiwan a European version of China, and there's a bit of truth to that. Chinese people living in the Republic of China are considered to be closer to Western culture, especially when it comes to vacationing and how they spend afternoons. Europeans link this to the fact that the island was a Japanese colony until 1945 and the residents absorbed the values of the Land of the Rising Sun.
Like in other Asian countries, a culture of respect for elders developed in Taiwan. Taiwanese people are also known for their friendliness. According to tourists, Taiwanese people make every effort to appear graceful and decent in any situation, especially with foreigners.
The fact that people of many different religions of the world live as peaceful neighbors on the island explains the progressive views and democratic principles of Taiwan. The most common religions are Buddhism and Confucianism.
Taiwanese people enjoy gambling. Because of this, mobile slot games are very popular. As for games from other genres, you can find the love for RPG games that is particular to all Asians.
It's worth noting that Taiwanese people won't buy or play games simply because their favorite character or series is in them (like gamers do in South Korea). In a list of the trendiest games, games created as a part of popular franchises were only in fifth place.
It also can't be said that people in Taiwan like only anime style. For example, when Lords Mobile: War Kingdom was released, the publisher didn't change the quintessentially European art, and the game was nevertheless well received in the domestic market. Now the project is in sixth place in the top list for iOS. This is an excellent position for a strategy game in an Asian country that was not created as part of a franchise.
Localization into Chinese
The official language in the Republic of China is Chinese. The northern (Pekingese) dialect was chosen from the numerous dialects to be the national language. However, locals use the Fujian dialect in everyday life.
This is the dialect spoken by the majority of Chinese migrants. This language can be heard in Chinese stores and in Chinatowns all over the world.
The majority of Taiwanese people are fluent in English (it is taught as the first international language at many schools), and older generations communicate mainly in Japanese.
Chinese is part of the Sino-Tibetan language family, which consists of variations that are mutually intelligible to varying degrees. Chinese is the most common modern language: the total number of Chinese speakers exceeds 1.3 billion people (982 million native speakers as of 2016).
There are currently two types of Chinese character systems: simplified and traditional. When localizing text from mobile applications, the simplified writing system is used for mainland China and Singapore, and the traditional system is used for Hong Kong and Taiwan. And don't forget about lexical differences. In particular, different gaming terminology might be used in different countries and areas.
When recording voice-over, it is important to consider that Chinese has 10 dialect groups: the northern supergroup (北—Beijing), the Jin, Hui, and Wu groups (吴), Xiang (湘), Gan (赣), Hakka (客家), Yue (粤), Pinghua, and the Min supergroup (闽). Below is a table of the differences in Chinese characters and dialects based on location.
| | | |
| --- | --- | --- |
| Country and region | Characters | Dialect |
| PRC | Simplified | Northern supergroup (Mandarin in European literature) |
| Hong Kong | Traditional | Yue (Cantonese in European literature) |
| Macau | Traditional | Yue |
| ROC (Taiwan) | Traditional | Northern supergroup |
| Singapore | Simplified | Northern supergroup |
The Chinese language is distinguished by its compactness; in this way, it is similar to English. In fact, Chinese words have fewer symbols than English words have letters. However, since the symbols are more complex, a larger-sized font is needed. This, in turn, demands larger spaces between lines than in English version. Even with larger fonts, texts in Chinese with horizontal orientation are slightly shorter than they are in English.
The main issue with Chinese localization is the fonts. There are about 80,000 characters in Chinese. A person with average literacy can recognize 5,000 to 6,000 characters. But knowing 2,000 symbols is enough to understand the majority of texts. Games that use bitmap fonts can lead to insufficient memory. This problem is usually solved as follows: the translated text is scanned and all the unique Chinese symbols are output into a large bitmap. This is then used as a reference to the font. In this way, memory is only expended on the symbols that are actually used. But this option won't work for dynamic texts (for example, names that gamers enter), because the gamer could use symbols that aren't in the bitmap. Another approach to localization is using the operating system's fonts, if they're available.
Here's what our investigation shows about the peculiarities of localization:
27% of Chinese gamers stop playing a game if they notice a punctuation or grammatical error;
players are willing to pay more for high-quality localization;
Chinese gamers want to provide feedback about localization errors but don't know how to do so;
they don't like the use of swear words.