The Middle East, also known as the Middle East region, is a region centered in Western Asia, comprising 17 countries: Bahrain, Republic of Cyprus, Egypt, Iran, Iraq, Israel, Jordan, Kuwait, Lebanon, Oman, Palestine, Qatar, Saudi Arabia, Syria, Turkey, United Arab Emirates, and Yemen.
Most of the Middle Eastern countries (13 out of 18) are part of the Arab world. The most populous countries in the region are Egypt, Turkey, and Iran, with Saudi Arabia being the largest country in terms of land area. The history of the Middle East dates back to ancient times, and the geopolitical significance of the region has been recognized for millennia. Several major religions originated in the Middle East, including Judaism, Christianity, and Islam. Arabs constitute the main ethnic group in the region, followed by Turks, Persians, Kurds, Azerbaijanis, Copts, Jews, Assyrians, Iraqi Turkmen, Yazidis, and Greek Cypriots.
There are other concepts of the region, including the broader Middle East and North Africa (MENA), which includes the Maghreb states and Sudan, or the "Greater Middle East," which additionally encompasses parts of East Africa, Mauritania, Afghanistan, Pakistan, and sometimes Central Asia and the South Caucasus.
General characteristics of the countries in the region: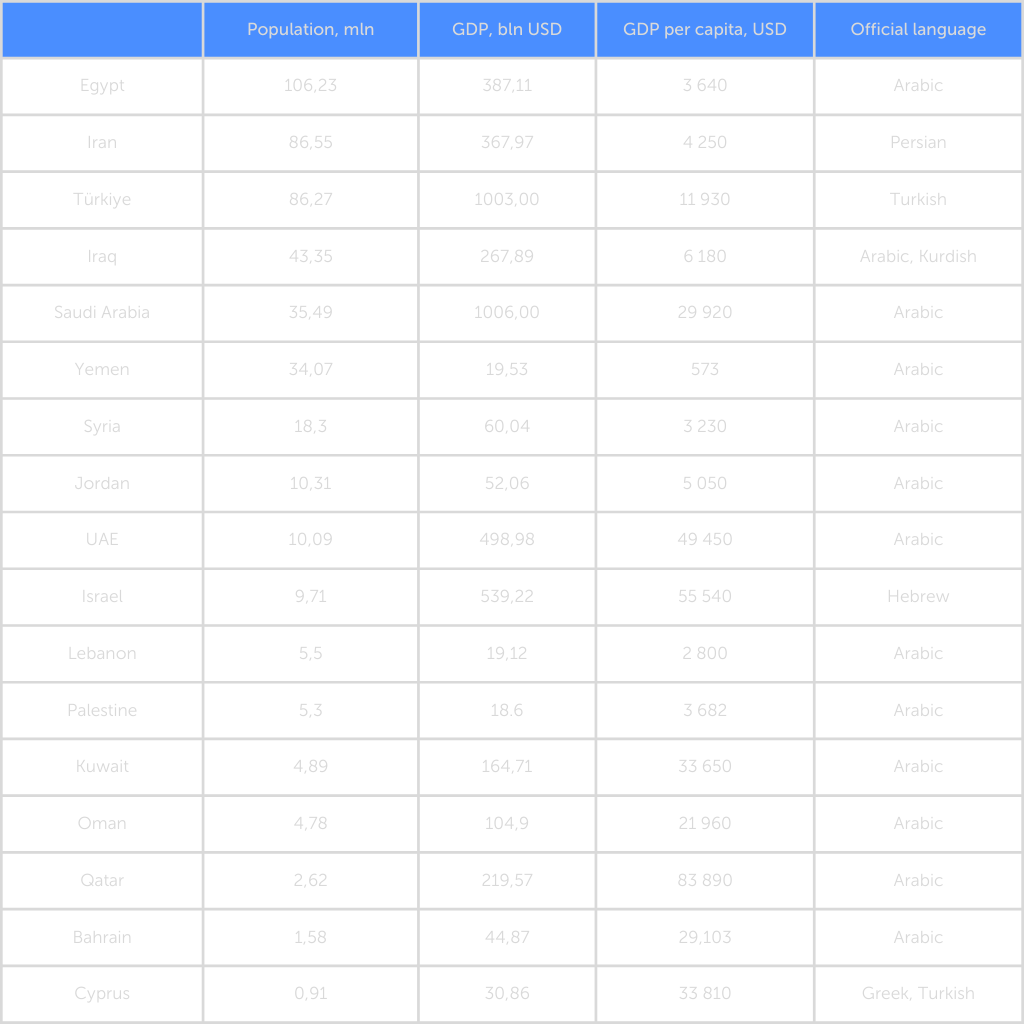 Analysis of the Middle East Game Market
According to Statista, the Middle East game market is expected to grow at an average annual rate of 13.88% during the forecast period of 2022-2027. The COVID-19 pandemic has led to significant growth in the region's game market due to the widespread use of online gaming services. The increasing penetration of smartphones and online games is now a decisive factor in market growth.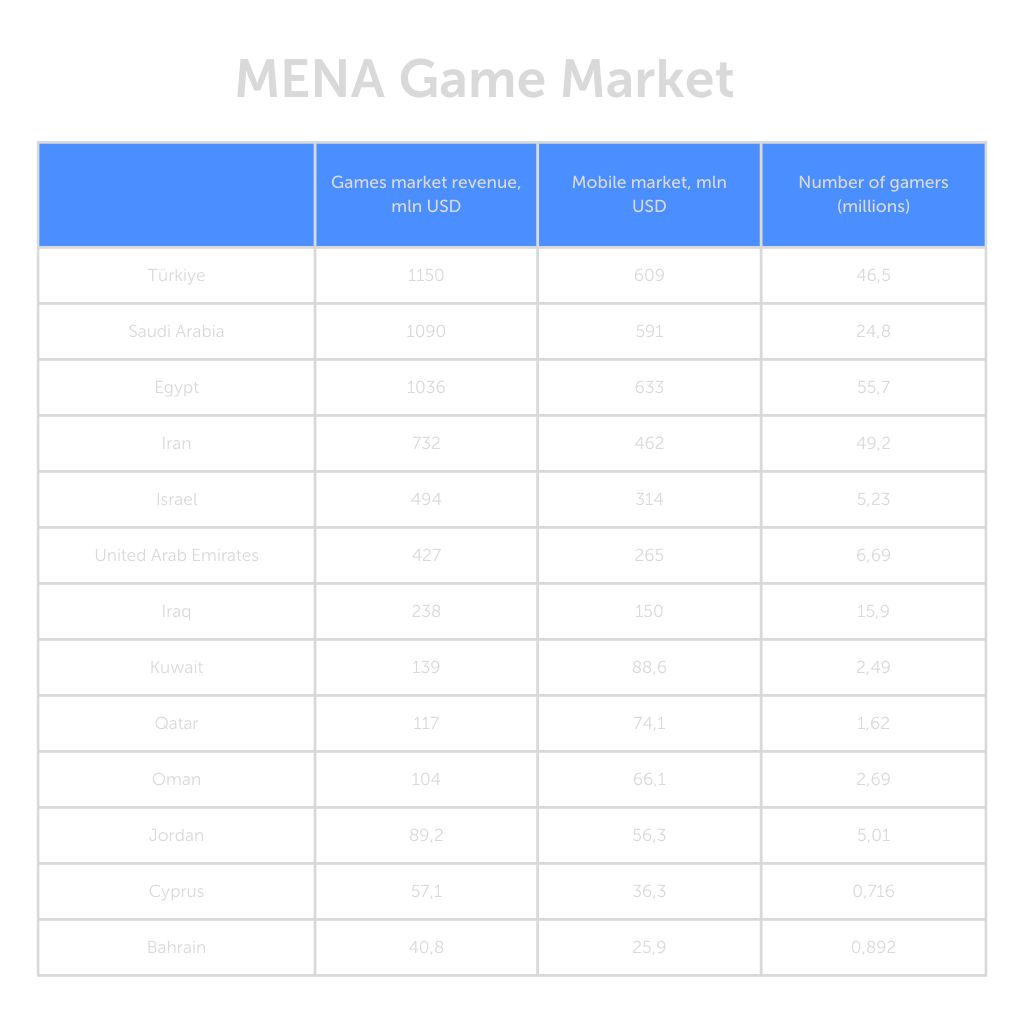 The gaming industry is particularly thriving in the United Arab Emirates, thanks to growing interest and investments in the development of local talent and games. The average gamer in the country spends $115 USD per year. The government of Saudi Arabia is also actively investing billions of dollars in industry development.
Key Trends and Forecast for the MENA-3 Region (Saudi Arabia, Egypt, UAE):
It's quite important to note, that MENA-3 doesn't mean that those are top-3 countries by revenue. Niko Partners (authors of such an approach) haven't described the principle by which they packed those countries together. However, those are most perspective countries of the region in terms of either revenue or number of players.
The revenue from MENA-3 games is estimated to reach $1.8 billion in 2022 and will increase to $2.8 billion in 2026, with an almost 10% average annual growth rate over 5 years. This represents a 56% increase compared to the value at the end of 2022.
The number of gamers in the MENA-3 region is projected to be 67.4 million in 2022 and will grow to 87.3 million in 2026, with a nearly 6% average annual growth rate over 5 years. This indicates that ARPU (Average Revenue Per User) will increase over time.
Egypt has the largest gaming population and is the fastest-growing market in the MENA-3 region. Saudi Arabia is the largest market in terms of game revenue and is considered the center of the gaming industry in the region, while the UAE has the highest ARPU among the three markets.
Growth will be driven by mobile games, investments from the public and private sectors, and esports.
76% of gamers in the MENA-3 region are under the age of 35, with Egypt having a significantly higher percentage of gamers under 25, who are considered "digital natives," compared to Saudi Arabia and the UAE.
73% of gamers in MENA-3 are involved in esports to some extent, such as watching esports content, playing esports games, or participating in amateur or professional tournaments.
Overview of the Highest Game Revenue Countries in the Region:
Saudi Arabia
The Kingdom of Saudi Arabia is a key player in the MENA game market.
In the mobile gaming industry, Saudi Arabia has an average revenue per paying user (ARPU) of $270 (compared to $32 in China). This high ARPU, driven by the wealth of Saudi Arabia, contributes to the growth of mobile games in the MENA region. Being the largest country in the region, Saudi Arabia is a highly attractive market for mobile gaming companies. Despite the pandemic, significant annual growth in consumer spending on mobile games was observed in Saudi Arabia, Kuwait, and Israel in 2021.
Key Facts and Figures:
The kingdom ranks 19th in the world in terms of game market size.
Nearly a quarter of the online population in Saudi Arabia plays mobile games five or more days a week.
A survey of mobile gamers in Saudi Arabia revealed that almost 60% of respondents spend money on mobile games. The gaming population in Saudi Arabia is diverse, with 42% of players being female and 45% aged between 21 and 35.
According to Mohammed Saud Al-Tamimi, the governor of the Saudi Communications and Information Technology Commission, 89% of the population in Saudi Arabia are gamers.
Gaming trends in Saudi Arabia have attracted the attention of startups and investors. Saudi Arabia's Crown Prince Mohammed bin Salman plans to develop 30 competitive games by 2030 as part of the national gaming and esports development strategy.
Sandsoft recently opened a studio in Riyadh, creating opportunities for career growth, and Savvy Games Group, owned by the Public Investment Fund (PIF), plans to invest billions in initiatives to transform Saudi Arabia into a global gaming hub. The company also intends to acquire a game publisher for $13 billion.
The most popular types of mobile games are puzzles (39%), sports (34%), racing (31%), and adventure (29%).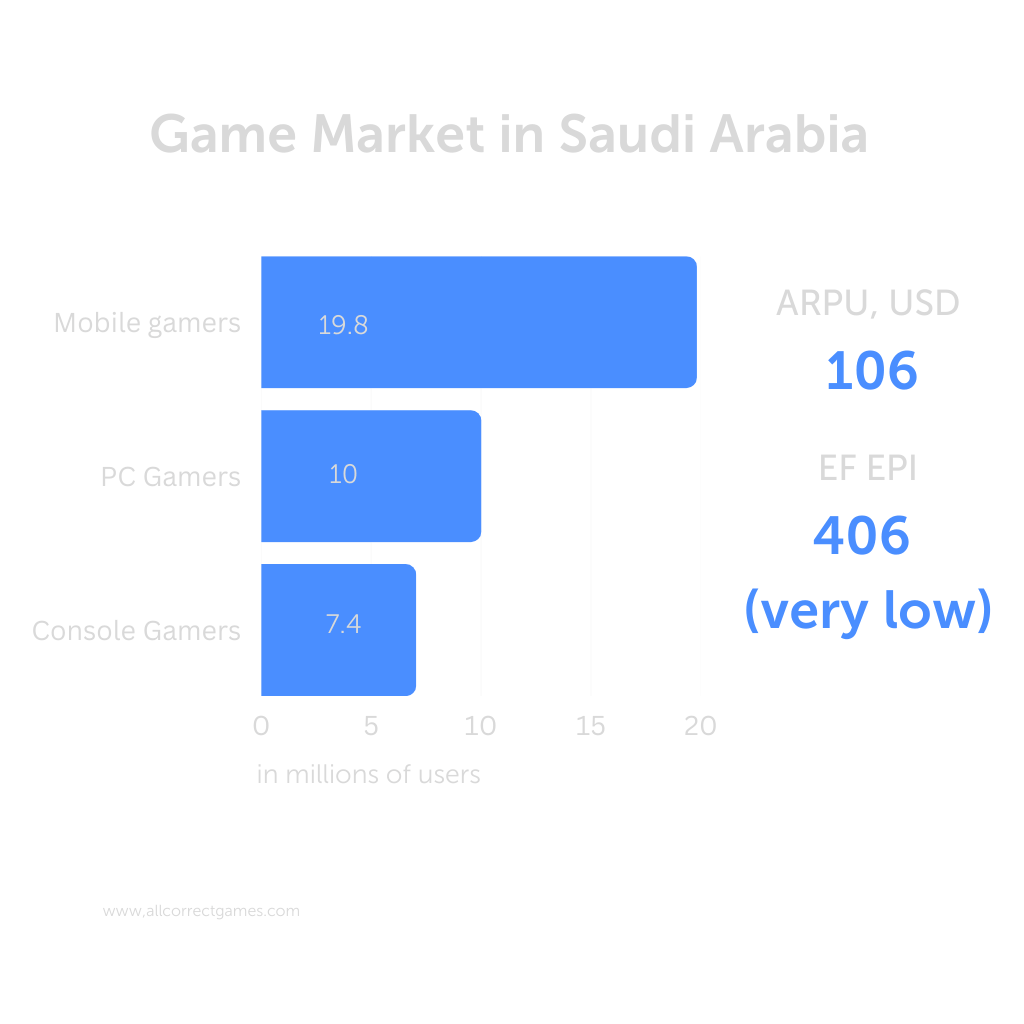 Turkey
In recent years, Turkey has become a major market for mobile games. Turkish mobile game developers have attracted billions of dollars in financing and investments. In June 2020, Zynga acquired Istanbul-based company Peak Games for $1.8 billion, making it the first unicorn company in Turkey. Two months later, Zynga announced the acquisition of Rollic, another Turkish game development studio. In 2021, 20% of the top 100 downloaded games in the US were developed by Turkish studios.
A new report shows that investments in Turkey's gaming sector grew by 60% on a yearly basis in 2022. According to the Gaming in Turkey report, funding was directed to 23 Turkish companies during the past year. Problems, particularly related to trade, had a negative impact on the global gaming market last year, said Ozan Aydemir, the founder of Anadolu Agency.
"Istanbul was the second city in terms of concluded gaming deals in Europe after London and fifth in the world," he said. "Mobile games shape the industry, generating about $92 billion in total revenue," he added.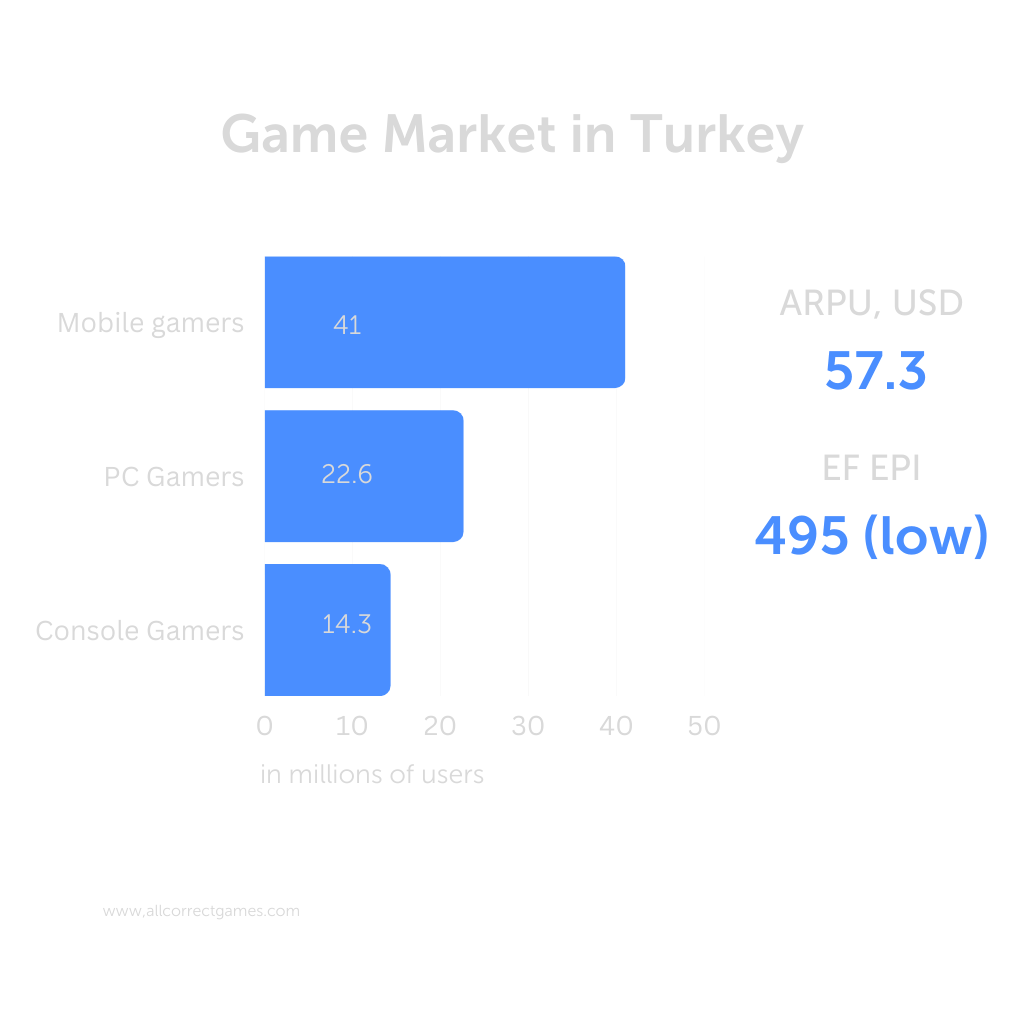 Israel
In 2021, Israeli game publishers generated revenue of $8.6 billion, representing an 800% five-year growth compared to $1 billion in 2016. The compound annual growth rate (CAGR) exceeded 55%.
The expansion occurred at a high pace, particularly due to the COVID-19 pandemic quarantine when people sought games for socialization.
The development of the Israeli gaming industry has been made possible by the advanced Israeli ecosystem and high capabilities in areas such as data analytics and marketing.
In 2020, around 14,000 people were employed in 190 Israeli gaming companies, marking a 250% growth compared to 4,000 employees in 2017. The average annual growth rate reached nearly 38%.
43.7% of Israel's population, approximately 4.03 million people, play video games. It is projected that this percentage will reach 48.6% by 2027, resulting in a total of 4.5 million people.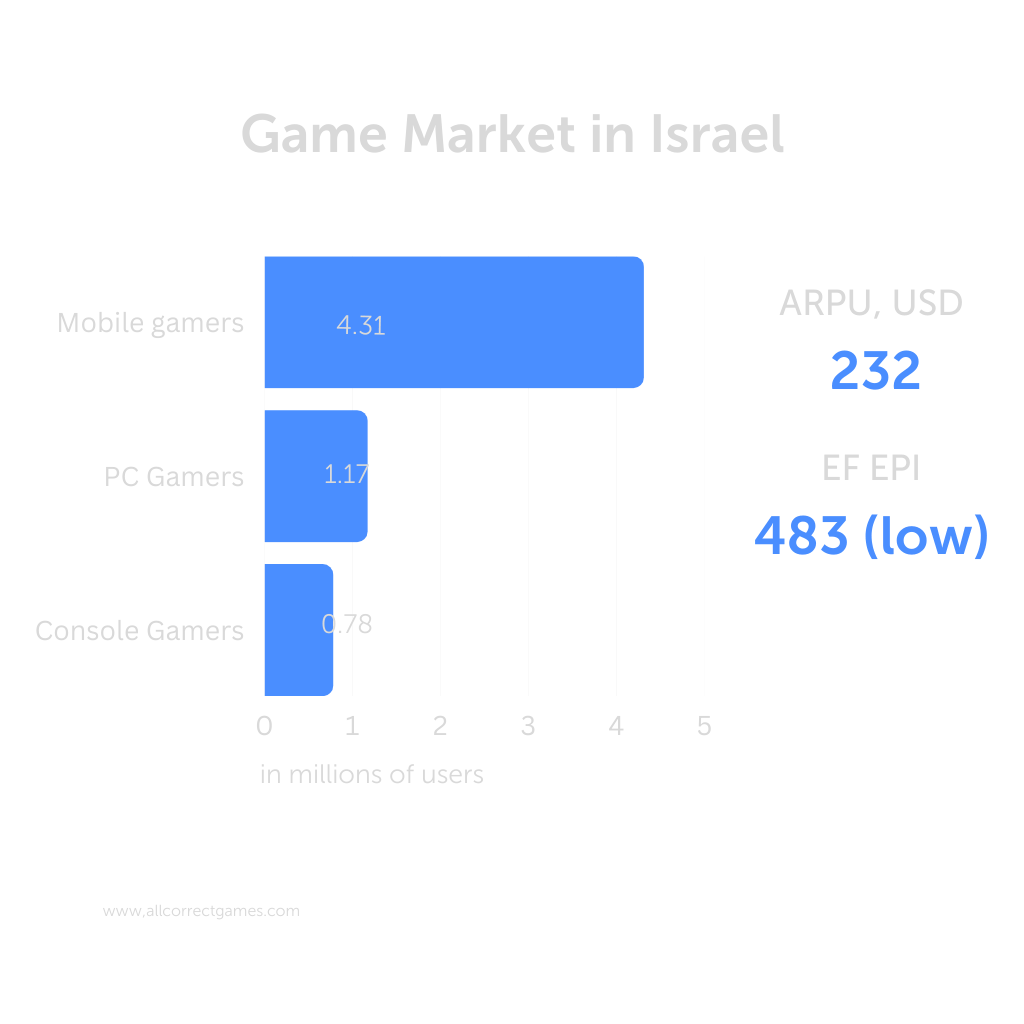 UAE
The mobile gaming industry in the country has experienced significant growth due to advancements in technologies such as AR, VR, cloud gaming, and 5G. Mobile gamers in the UAE play an average of 20 to 40 minutes per day. The popularity of hyper-casual games is another notable trend. Esports and fantasy websites are driving forces in the gaming industry in the Middle East, with Activision and Riot Games introducing dedicated servers for Call of Duty and Valorant. Recently, Kuwaiti telecommunications provider Zain Group, serving 50 million customers in the MENA region, launched a new esports brand called Zain Esports to create a calendar of regional online esports tournaments.
Dubai also plans to build a dedicated esports stadium, and the International Esports Federation (IESF), based in South Korea, has signed a memorandum of understanding with UAE's Motivate Media Group as part of its plans to expand esports in the Middle East.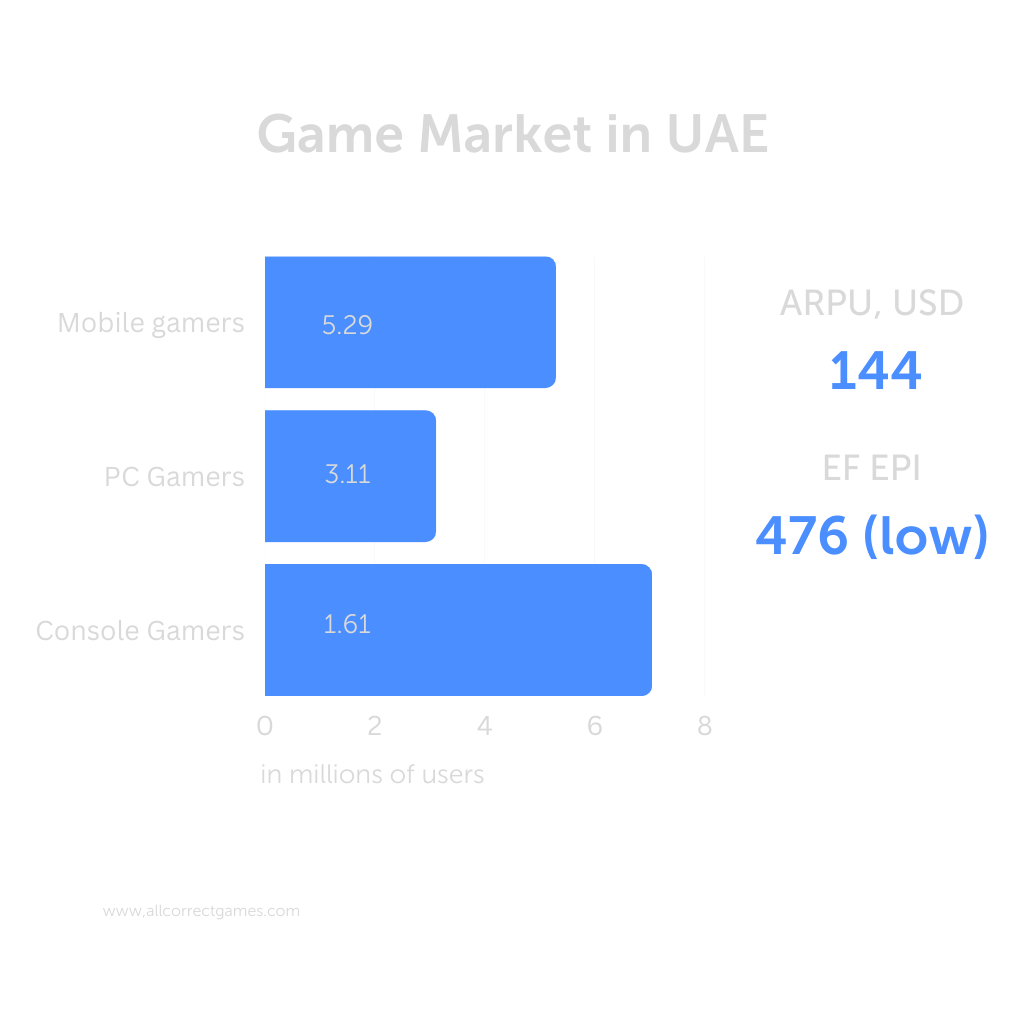 Top Mobile Games in the Largest Countries of the Region (May 2023):
Saudi Arabia
Yalla Ludo – Ludo&Domino
PUBG MOBILE
Roblox
Ludo STAR
Clash of Clans
Royal Match
كملنا – Kammelna
Rise of Kingdoms
تربيعة بلوت
Whiteout Survival
Evony: The King's Return
انتقام السلاطين
Free Fire
Age of Origins:Tower Defense
Gardenscapes
Egypt
انتقام السلاطين
EA SPORTS™ FIFA 23 Companion
Coin Master
PUBG MOBILE
Clash of Kings
Candy Crush Saga
League of Legends: Wild Rift
Tower of Fantasy
Whiteout Survival
Yalla Ludo – Ludo&Domino
FIFA Soccer
Age of Frostfall
Roblox
Gardenscapes
Royal Match
UAE
PUBG MOBILE
Yalla Ludo – Ludo&Domino
Roblox
State of Survival: Zombie War
Royal Match
Candy Crush Saga
Rise of Kingdoms
Age of Origins:Tower Defense
Evony: The King's Return
Street Fighter: Duel
Clash of Clans
Gardenscapes
Top War: Battle Game
Texas Hold'em Poker: Pokerist
Mobile Legends: Bang Bang
Localization into Arabic
Localization into Arabic has a number of special features. Firstly, the language is written in a right-to-left script. It's important to allow for the use of r2l fonts at the development stage and, if possible, to adapt the user interface.
Arabic has a great deal of word-formation freedom. This means that traditional language constructs can easily be adapted into a modern form. Arabic uses a wide variety of synonyms, words with multiple meanings, and homonyms. The main ways of forming words are syntactic, semantic, and morphological (using word-building models and formulas).
We suggest reading our articles on this topic:
Localizing into Bidirectional Languages
Unity from right to left