General Information
Brazil is a sovereign nation in South America. It is the largest country in South America, both in terms of territory and population. It is the only Portuguese-speaking country in the Americas.
Brazil is ranked ninth in the world in terms of nominal GDP and seventh in GDP adjusted for purchasing power parity.
Portugal, the former colonizer of the country, has had a significant influence on Brazilian culture. Portuguese is the official language, and virtually the only spoken language in Brazil. The majority of Brazilians are Catholics, which makes Brazil the country with the largest Catholic population in the world.
Population: 212 559 417 (Worldometers)
Average Age: 33.5 (Worldometers)
GDP: $1.84 bln (World Bank) – 2019
Official language: Portuguese
The Gaming Market
The Brazilian gaming market is the largest in Latin America and the 12th largest in the world. According to data from Newzoo, in 2021 the market will grow to 2.3 billion dollars. This will be primarily due to mobile games, which will take 47% of the profits. In addition, the taxation policy as regards gaming consoles has changed in recent years. This has led to small-scale growth in this sector of the industry, as well. There has also been overall growth of the Brazilian economy and the population of the middle class in the country (to a great extent represented by millennials, who like to play video games). Despite this, only slightly more than one third of the population express an interest in games. This means that the country still has enormous potential for developing the market, especially thanks to increased availability of internet access and smartphones.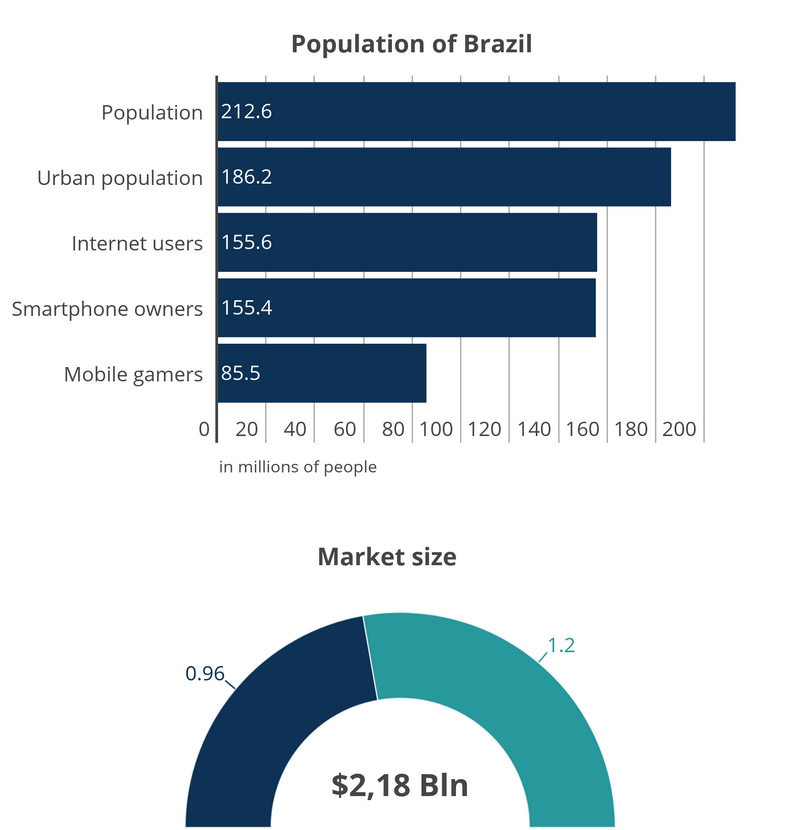 Player Statistics
The most up-to-date information on Brazilian gamers in 2021:
• Interestingly, the majority of them are female. While overall, the disparity between men and women is insignificant (48.5% vs. 51.5%), the mobile games market has a significantly higher number of female gamers—62.2%. They show a preference for casual games.
• Over half of gamers are under 34 years old.
• During the pandemic, 51.5% of gamers started to spend more time playing online games with friends. 42.2% started to spend more money on games.
• 27.6% of gamers are a part of the upper-middle class. The percentage of gamers in the working and lower classes is 49.7%.
• 40.8% of mobile gamers play every day (for PC gamers this figure is 19.6%, and for console gamers it is 15%).
• 83% of gamers made in-game purchases within the last six months (Newzoo).
• 7.6 million people have at least watched gaming-related video content in the last month, which means Brazil ranks third globally in this statistic (Newzoo).
• A poll conducted by Newzoo determined that Brazilian gamers most enjoy character customization, freedom of choice in games, science-fiction settings, and construction.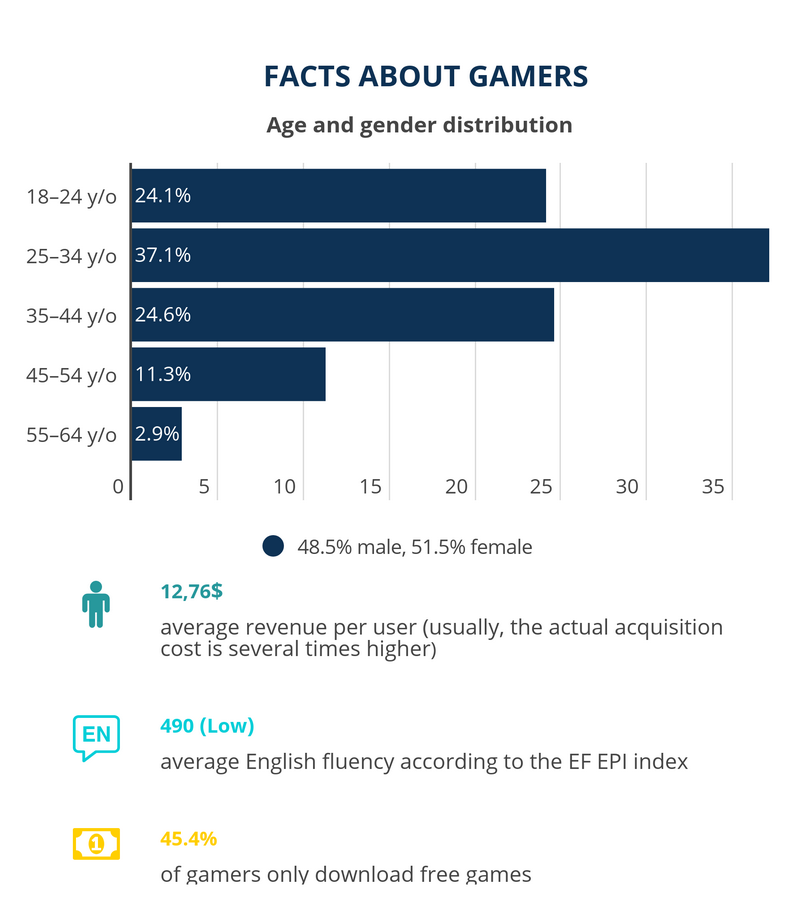 Marketing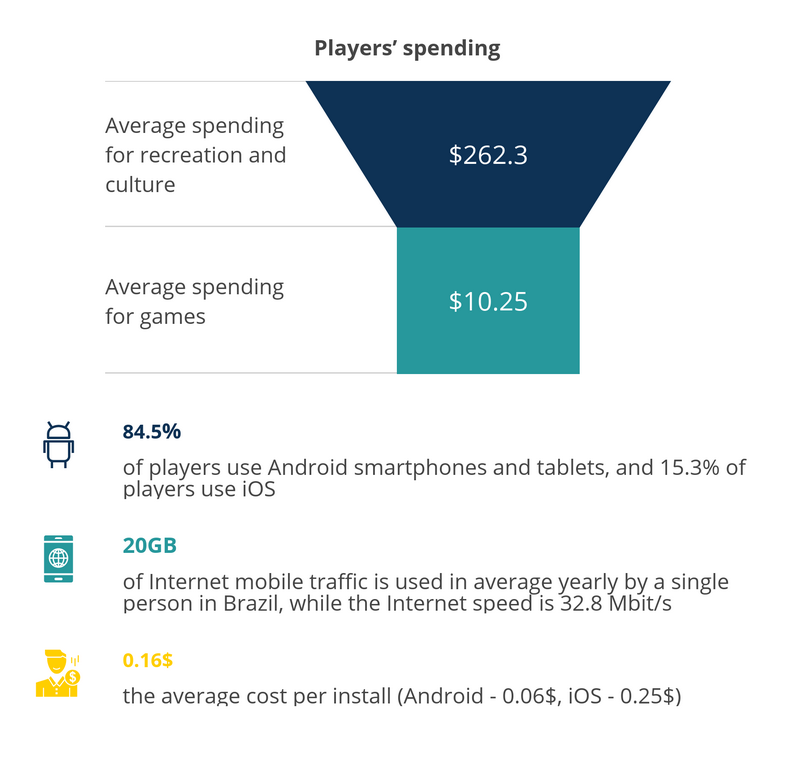 Popular game genres (Brasil Game Show):
1. Action&Adventure
2. Sports
3. Strategy
4. Racing
For mobile games (Newzoo):
1. Strategy
2. Adventure
3. Racing
4. Shooter
5. Simulation
6. Battle Royal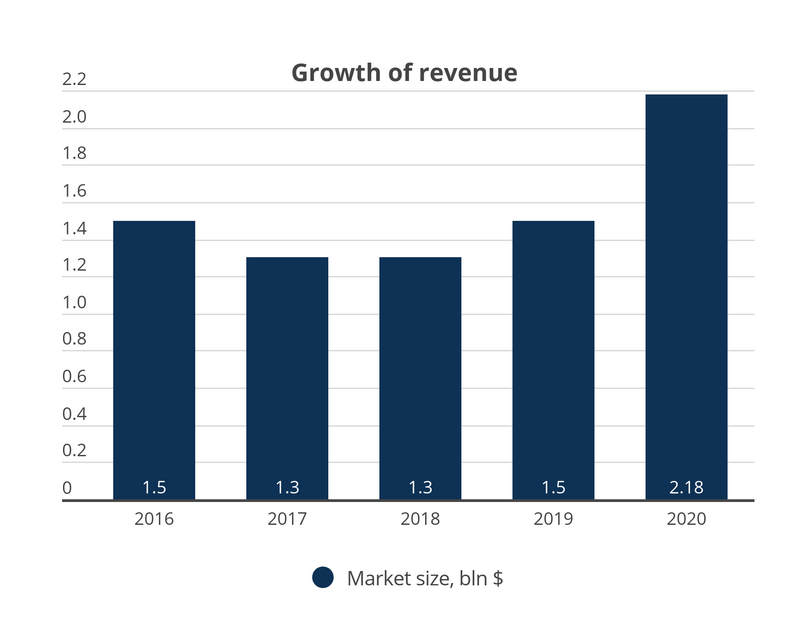 Developers
For the most part, the Brazilian gaming industry is represented by local companies that develop indie games, such as Hoplon Infotainment (Heavy Metal Machines) and Behold Studios (Chroma Squad).
Some better-known mobile developers are:
• Tapps Games (Bid Wars – Storage Auctions, Pawn Shop Tycoon, etc.—over 550 million downloads).
• Top Free Games (Bike Race Free, Bike Race Pro, and Racing Penguin—these three games have over 200 million downloads).
• Virtua Games – Jogo de Moto e Carro – Bike Games (146 million downloads).
• PlayKids Inc (146 million downloads).
Localization
Brazil is a country with a vast cultural and historical inheritance, but a low level of English language mastery. It falls behind Poland, Portugal, South Korea, and even Argentina in the English proficiency index. This makes localization of video games virtually essential for the Brazilian market. However, simply using European Portuguese is not possible, as the Brazilian dialect differs significantly from the one spoken in Portugal. Some words are spelled differently, and others have different meanings. Brazilians often make verbs from nouns and condense expressions. On top of that, Brazilian gamers enjoy references to their culture (for example, Brazilian teams in soccer simulators or Carnival outfits).