General Information
Turkey (officially the Republic of Turkey) is a country located in Western Asia (97%) and Southern Europe (3%). It has a population of 83.6 million people (2021). It has an area of 783,562 km² (putting it 19th in the world in terms of population and 36th in terms of area). It is a unitary state.
The capital is Ankara, and the state language is Turkish.
It is an industrial country with a dynamic, developing economy. It has been a member of NATO since 1952, the European Council since 1949, and an official candidate for membership in the European Union since 1999.
Turkey is located in the Eastern Hemisphere. Part of Turkey's territory (97%) is in Asia and 3% is in Europe. The majority of the country's territory is located within Asia Minor, also known as Anatolia, and the Armenian highlands. A smaller part is located on the Balkan peninsula between the Black and Mediterranean seas.
Turkey is divided into 81 il (provinces, known as vilayet in the past). Each il is subdivided into districts. In 2007, these totaled 973 districts.
Turkey has a multinational population. The exact ethnic makeup of Turkey is unknown (Kurds, who make up the main ethnic group in Eastern Turkey, are not legally recognized). Two ethnic groups: the Turks (up to 68%) and the Kurds (about 20%) make up the absolute majority of the Turkish population.
Population 85,815,253 (Worldometer)
Average age 31.5 (Worldometer)
GDP 720.10 billion USD (Trading Economics)
GDP per capita 12,035.03 USD (World Bank)
Official language Turkish
The Gaming Market
The gaming market in Turkey is the 18th largest in the world, with sales reaching 1.22 billion USD at the end of 2021.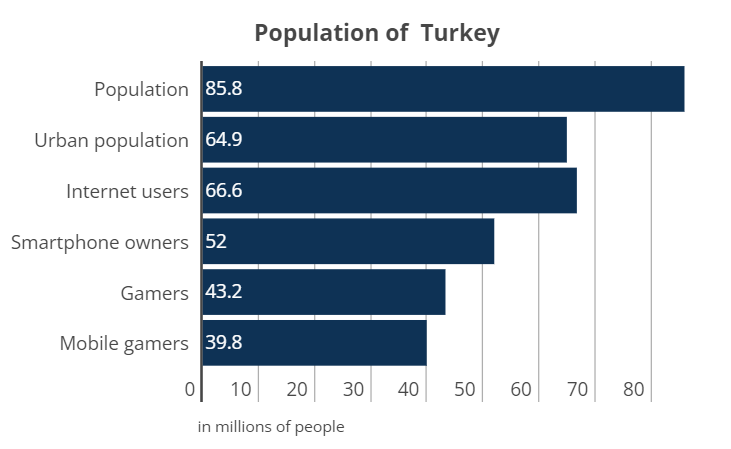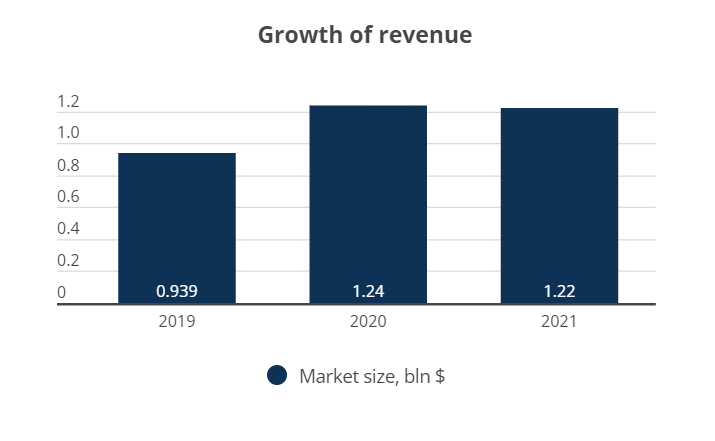 The digital games industry in Turkey began to grow in the late 2000s, but really took off in the 2010s with the increase in popularity of games that can be played on mobile phones and tablets.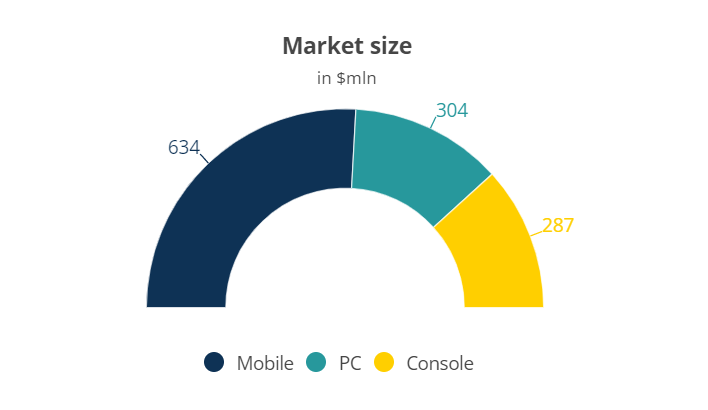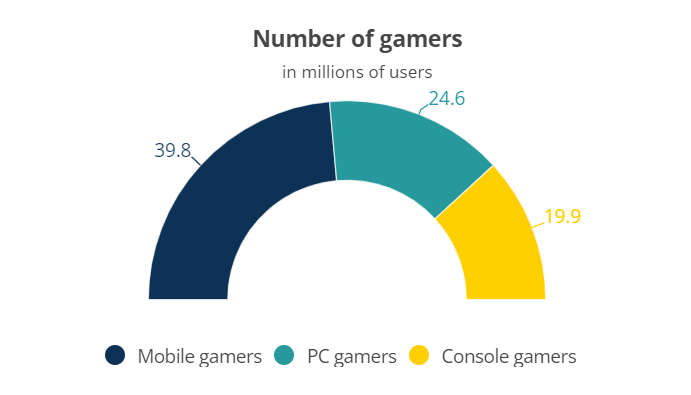 The pandemic, coupled with a fall in the cost of the Turkish lira due to economic crisis, has given the industry even greater impulse for growth.
Last year, according to a yearly report on the Turkish gaming market, the digital gaming market in Turkey reached a revenue of 1.22 billion USD, and the number of gamers rose from 32 million in 2019 to 43 million in 2021. Approximately half of this revenue was earned via mobile games.
Player Statistics
79% of adults in Turkey play mobile games.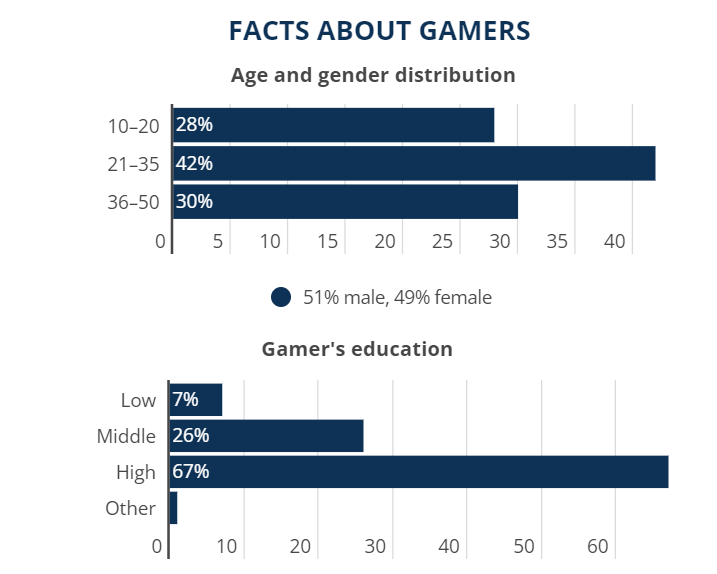 According to research by AdColony and GlobalWebIndex from 2020, both young people and adults play games. The gathered data also show that 84% of all internet users in Turkey play mobile games on at least one device.

80% of the Turkish population do not speak any other language but Turkish. This means that localization of games is mandatory for reaching the game's target audience.

Most popular game genres
1. Action-adventure games—49.2%
2. Puzzles—46.2%.
3. Racing games—45.7%.
4. Sports—45.6%.
5. Strategy games—39.3%.
6. Simulators—38.3%.
7. Card games—26.3%.
8. RPGs—21.1%.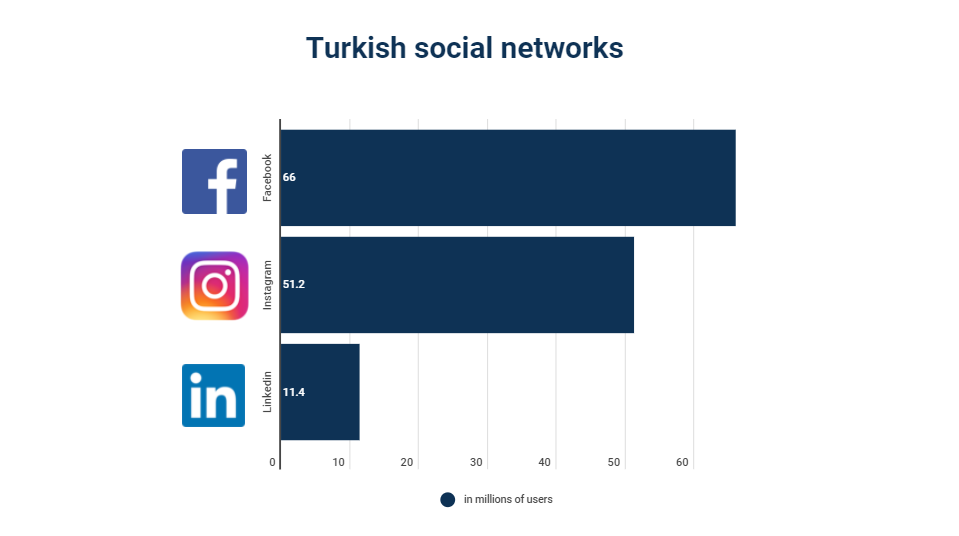 *Usually, the actual customer acquisition cost is several times higher.
The largest gaming companies in the country
1. Dream Games.
2. Peak Games.
3. TaleWorlds Entertainment.
4. Alictus.
5. Rollic Games.
6. Zuuks Games.
7. Ruby Game Studio.
8. Good Job Games.
The most profitable games in Turkey
1. PUBG Mobile.
2. Garena Free Fire.
3. Valorant.
4. World of Warcraft.
5. Call of Duty: Mobile.
6. Counter-Strike: Global Offensive.
7. Cyberpunk 2077.
8. Roblox.
9. Resident Evil Village.
10. League of Legends.
11. FIFA 21.
12. Football Manager 2021.
13. Lords Mobile: Castle Clash.
14. PES 2021.
15. Mobile Legends: Bang Bang.
16. Brawl Stars.
17. Tom Clancy's Rainbow Six: Siege.
18. Call of Duty: Warzone.
19. Metin2.
20. Battlefield 2042.
Turkish game developers
Games are a big business in Turkey. The mobile market accounts for over half of profits from games. Studios like Good Job Games, Peak Games, and Fast Free Games have successfully conquered the market, acquiring over 30 million local users and hundreds of millions more abroad. Google Play lists over 2,633 Turkish companies out of 158,753 game publishers. This is about 2% of the total amount.