General Information
Thailand is located in Southeast Asia, in the center of the Indochinese Peninsula. With an area of half a million square kilometers — about 75% the size of Texas — it has a population of 70 million people. The country borders Myanmar in the north and west, Laos and Cambodia in the east, Malaysia in the south, and has access to the beautiful Andaman Sea and Gulf of Thailand. Bangkok is the capital and largest city.
Aside from a brief period of parliamentary democracy in the mid-1970s, Thailand has periodically alternated between democracy and military dictatorship. Since 2019, the nominal form of government has been a constitutional monarchy, but in fact, it has been a military dictatorship since 2014.
The head of state is the king. While he has lost absolute power, he remains the Supreme Commander, the defender of Buddhism, and remains a symbol of national unity.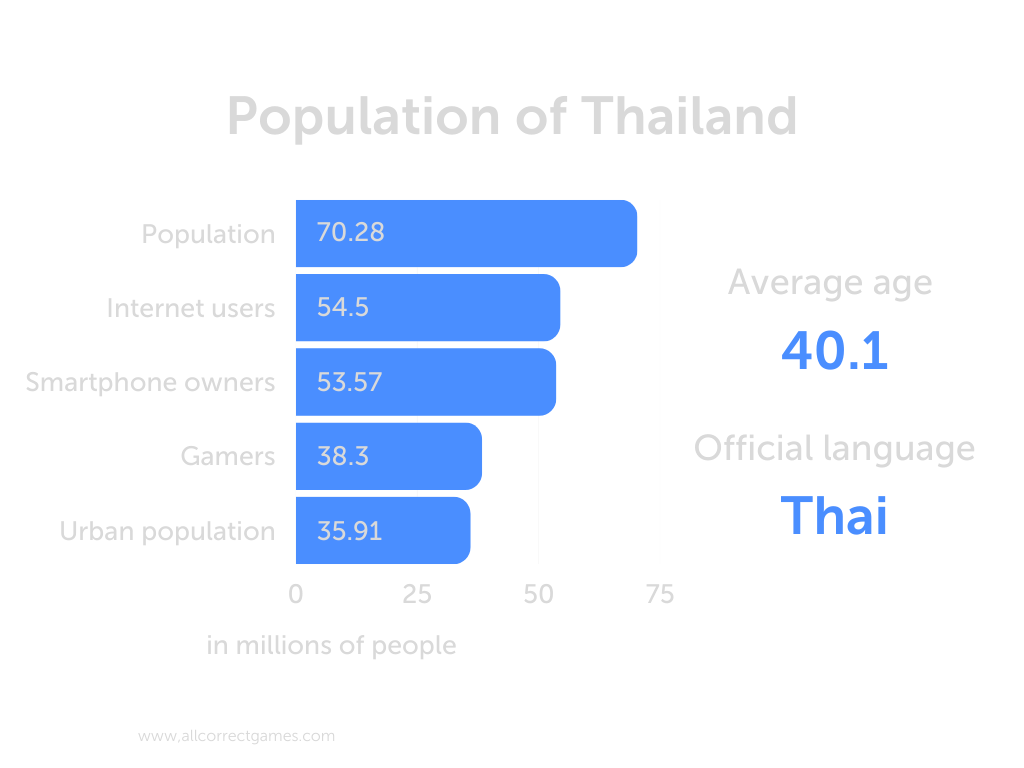 Thailand is a middle power in global affairs and one of the founders of the Association of Southeast Asian Nations (ASEAN). It ranks very high in the Human Development Index, with the second-largest economy in Southeast Asia and the 22nd largest in the world by purchasing power parity. Thailand is classified as a newly industrialized country, with manufacturing, agriculture, and tourism as leading sectors.
The Gaming Market
According to Newzoo, Thailand ranks 19th in the world in terms of games revenue, with a total revenue of $1.1 billion. This makes it the second-largest gaming market in Southeast Asia, following Indonesia, which had revenues of $1.8 billion in 2022.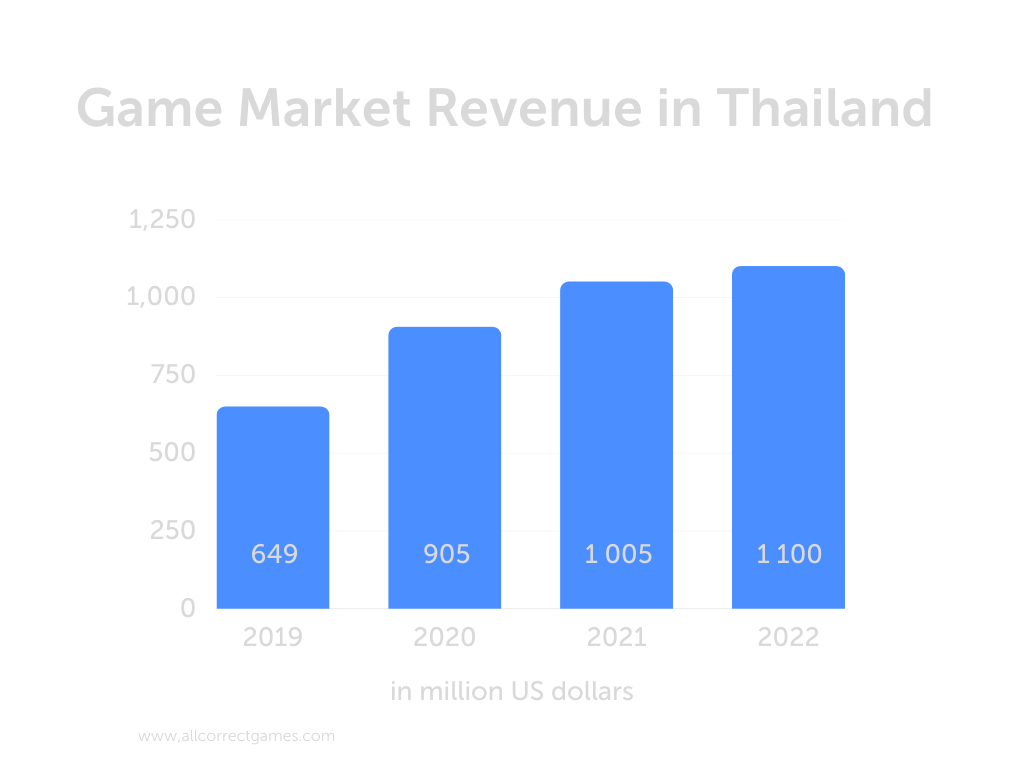 Government Support
The Ministry of Digital Economy and Society (DES) is preparing to support local game development through a government program aimed at improving the skills and capabilities of the population in game development, which is necessary for competition in the global market.
The "Thai Gaming Industry on the Global Stage" program is led by the Digital Economy Promotion Agency (DEPA) and is aimed at supporting Thai game developers. The program's plan is divided into two main types of activities: those that train new workers for the gaming industry and those that help develop existing workers and products.
Regarding the training of new workers, the Game Online Academy is a platform where participants can improve their qualifications or retrain in another profession in the game industry. All courses are free and contain a wide range of lessons and materials. This academy aims to train more than 50,000 employees for the gaming industry.
A second aspect of the program aims to encourage game developers to create exciting and engaging games that can compete with large companies in the global gaming industry. Participants have the opportunity to participate in game development workshops, receive training and advice from experts, and meet with investors.
Mobile Devices
Due to the increasing penetration of smartphones, most Thai gamers have used mobile devices for gaming in recent years, rather than PCs, tablets, and gaming consoles. Large developers have taken notice of the growing base of mobile gamers and have focused on developing and publishing games for mobile devices. Some of the most popular online games for smartphones in Thailand include Garena RoV, Garena Free Fire, Roblox, and PUBG Mobile.
Esports
The popularity of esports in Thailand has significantly increased in recent years, with many national and international tournaments now held regularly.
In September 2021, the Thai government recognized esports as a professional sport, which led to increased funding, recognition, promotion, and greater support for the local esports industry. Esports teams and athletes now have access to more resources, including training facilities and financial support. The Government of Thailand and leading educational institutions, such as the Thailand Esports Federation (TESF), are working on developing esports education programs to train competitive players who will represent Thailand on the international stage.
In 2023, the leading competitive esports game in Thailand with the most professional players is PLAYERUNKNOWN'S BATTLEGROUNDS (PUBG), with 223 professional players. This is followed by Free Fire (193 players), Arena of Valor (186 players), Valorant (174 players), PLAYERUNKNOWN'S BATTLEGROUNDS Mobile (159 players), and Counter Strike Global Offensive (133 players).
Player Statistics
According to an April 2022 survey by Rakuten Insight, 82.8 percent of respondents aged 16 to 24 in Thailand stated that they play online games. The survey revealed that half of the respondents in Thailand play online games daily and nearly 41 percent of Thai respondents play for one to two hours in a single online games session.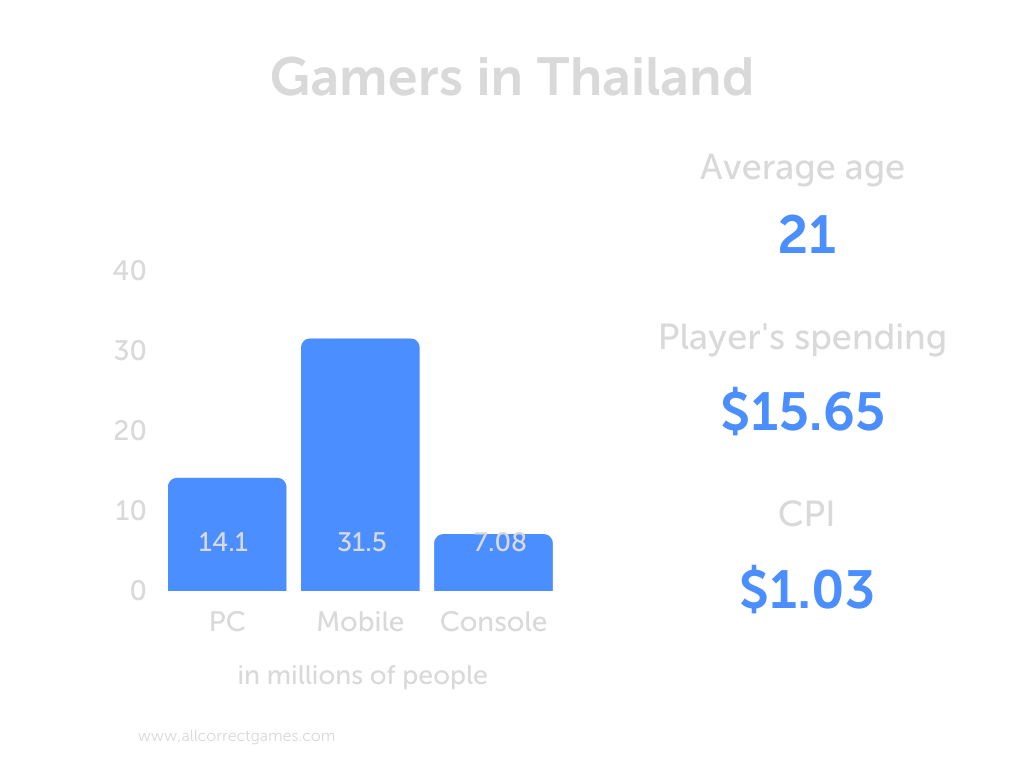 The survey also found that 92% of respondents in Thailand used mobile phones for online gaming and that role-playing games were the most popular genre of online games.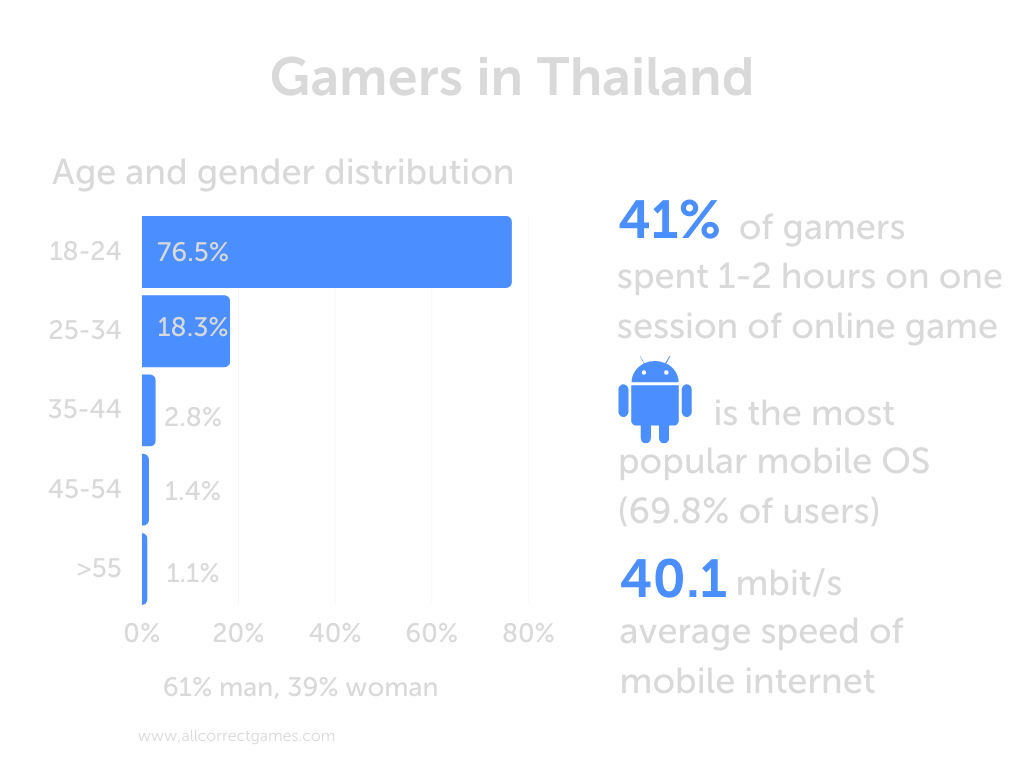 When it comes to male and female gamers, women were slightly more likely to play games on mobile devices, while male gamers dominated the number of players on other devices.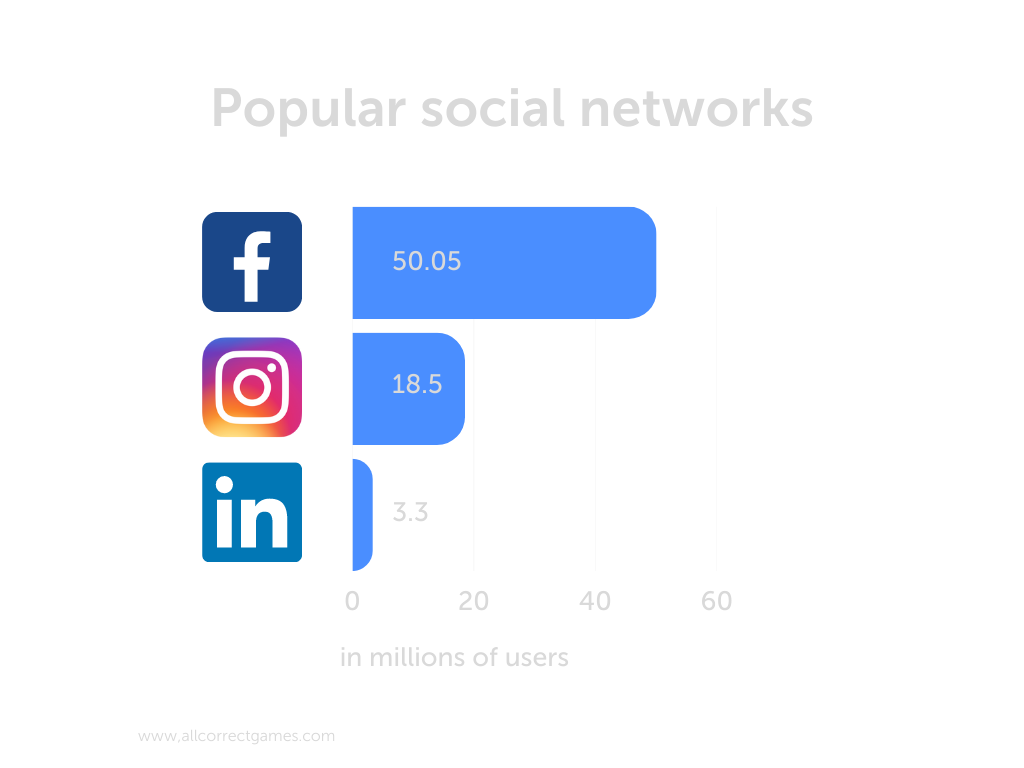 With a strong gaming community in Thailand, the vast majority of gamers (95%) reported spending money on virtual goods or in-game items in the past six months. And how these players spent money can also be divided by gender:
• Men most often spent on game characters (42%).
• Women most often spent on in-game currency (46%).
Nevertheless, in-game currency is the most purchased item among all players.
Popular Game Genres
According to the same Rakuten Insight survey, nearly 34 percent of respondents from Thailand stated that they prefer to play role-playing online games.
Role-playing games or RPGs include the sub-genres of massively multiplayer online role-playing games (MMORPGs) and multiplayer online role-playing games (MORPGs).
Regarding online games, the most popular in Thailand are well-known AAA games such as Final Fantasy XIV, World of Warcraft, and Destiny 2. Character creation, world exploration, and cooperative gameplay are the main aspects of these MMORPGs.
In addition, DOTA 2 has long been a popular multiplayer online battle arena (MOBA) for Thai online gamers over the last decade. The highest paid esports athletes in Thailand are mainly DOTA 2 players who have earned nearly $500,000 over their esports careers.
Most popular game genres in Thailand (2022)
1. Role-playing games (RPG/MORPG/MMORPG) – 33.57%
2. Fighting games (e.g., Super Smash Bros Ultimate) – 26.1%
3. Casual games (e.g., Bejewelled, Tetris, Plants vs Zombies, etc.) – 22.08%
4. Action/adventure games – 19.91%
5. Real-time strategy (e.g., Starcast, Age of Empires, League of Legends) – 17.37%
6. Simulators (e.g., SimCity) – 15.07%
7. Battle royale (e.g., Fortnite Battle Royale, Apex Legends, etc.) – 14.61%
8. Casino and card games (e.g., PokerSolitaire, Blackjack) – 13.51%
9. Racing games (e.g., Super Mario Kart) – 11.45%
10. Sports (e.g., FIFA, Champions Manager, etc.) – 11.18%
Top mobile game charts:
• Garena RoV: Songkran (Garena International I)
• eFootball™ 2023 (KONAMI)
• Free Fire (Garena International I)
• Coin Master (Moon Active)
• Roblox (Roblox Corporation)
• FIFA Soccer (ELECTRONIC ARTS)
• Summoners War: Chronicles (Com2uS)
• Candy Crush Saga (King)
• PUBG MOBILE (Tencent Tianyou Technology Ltd)
• Call of Dragons (Farlight Games)
• Free Fire MAX (Garena International I)
• LINE Rangers & Overlord! (LINE Corporation)
• Girls' Connect: กาชาไอดอล (EskyfunUSA)
• Call of Duty®: Mobile (Garena International I)
• LINE Let's Get Rich (LINE Corporation)
Culturalization for Thailand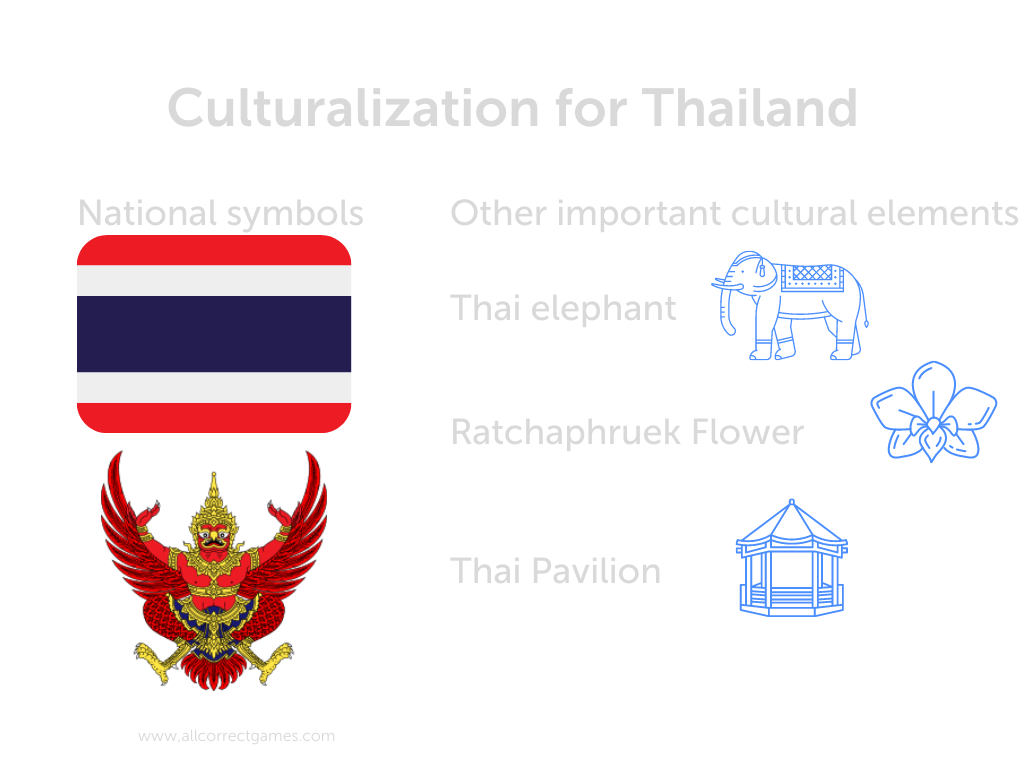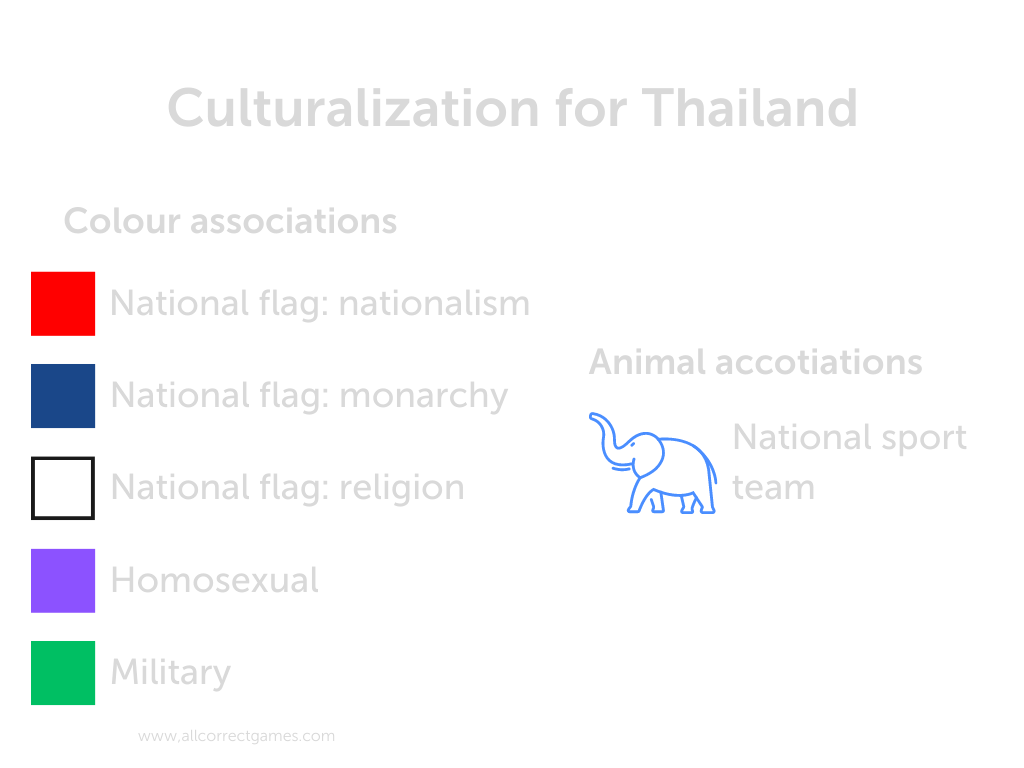 Localization into Thai
The Thai language belongs to the Tai group of the Tai-Kadai family and is the official language of Thailand. It has roughly 60 million native speakers.
Thai has no punctuation marks (commas, semicolons, question marks, and so on). Words are written from left to right, though they aren't separated by spaces. It's actually sentences that are separated by spaces instead of periods.
One interesting fact about Thai is that it's one of the few languages with its own numeral system. With that said, in day-to-day life, particularly over the last 10–15 years, Thais have switched to using Arabic numbers almost exclusively. That's due to how quickly Thailand has developed, the close economic ties it enjoys with other countries, and the large share of the economy made up by organized tourism.
An example of excellent localization: the LINE messenger
The LINE messenger is an interesting example of successful localization, and it's also a leader in the local mobile app market.
Its success in Thailand is second only to its popularity in its home market of Japan. It took time for the developers to create a variety of platforms and products that answer the needs of Thai consumers (for example, they built separate apps for TV, music, video, selfies, etc.). When it comes to mobile app users in Southeast Asia, we can sum them up in three words: young, educated, and single. The LINE developers went right after that target audience as they put together their functionality suite.
While their apps are profit leaders, LINE is also at the top of the iOS and Google Play download rankings. In 2015, two of the ten most popular games were developed by LINE.
General English proficiency in Thai is extremely poor. Only 27% of the population can speak the language. With that in mind, games released by western developers and localized completely into Thai enjoy a much better reception among Thai gamers. Such games make up half of the most lucrative games in Southeast Asia and 35% of the most popular games in Thailand. King and Supercell are the top western developers in the country. That said, small indie developers like Playlab are also popular.
Even the biggest player in the country's mobile app market, LINE, recently encountered problems with the local government, which claimed that several stickers in the messenger poked fun at particular ruling figures.