General Information
The Republic of Korea, commonly known as South Korea, is a country in East Asia. It covers an area of 100,210 square kilometers, ranking 107th in the world in terms of territory and 27th in terms of population.
The capital and largest city is Seoul and the official language is Korean. As a unitary state and a presidential republic, the head of state is the president (currently Yoon Suk Yeol, since May 10, 2022), who is elected by direct universal suffrage for a term of five years. The legislative power is vested in the National Assembly, headed by the speaker.
South Korea is made up of 16 administrative divisions, including 9 provinces, 6 metropolitan cities with provincial-level status, and 1 special city (Seoul).
Located in the southern part of the Korean Peninsula, South Korea has a single land border with the Democratic People's Republic of Korea (separated by the demilitarized zone) and a maritime border with Japan. The Yellow Sea is to the west of South Korea, the Sea of Japan to the east, and the Korea Strait and the East China Sea are to the south.
The Republic of Korea is a mono-ethnic state, with Koreans making up about 96% of the population. Over 65% of the country's population is non-religious, with Buddhism and Christianity being the main religions.
South Korea is an industrialized country with a developed economy. The currency is the South Korean won.
Gaming Market in South Korea
South Korea is one of the largest gaming markets in the world. Game development companies there are known for their MMORPGs and complex multiplayer games, with a focus on mobile and online games for the PC. There is even a well-established cliché of "Korean MMORPGs," referring to MMORPGs that require a lot of grinding. The major companies in the industry are the so-called "3N": Netmarble, Nexon, and NCSoft. Other notable companies include Krafton and Pearl Abyss, which have become unicorn companies in recent years, meaning their startup valuations exceed one trillion South Korean won (usually the classification works at USD 1 billion).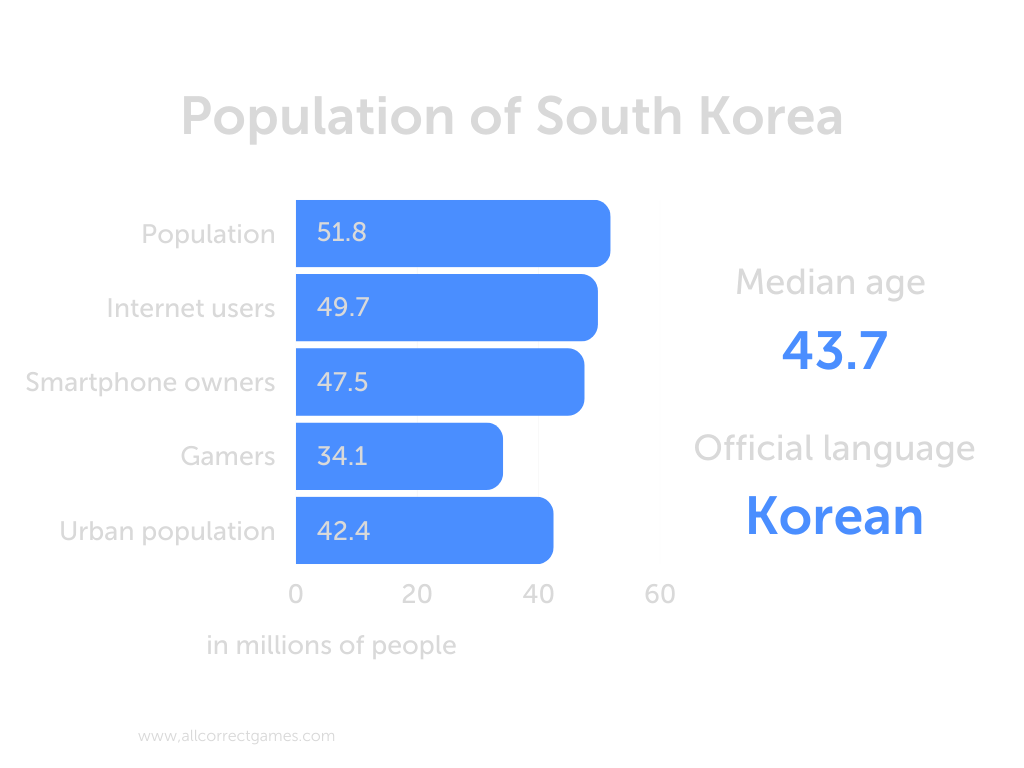 The existing infrastructure in South Korea is one of the best in the world for the development of the gaming industry and it is ranked among the top countries in terms of internet accessibility and connection speeds. Additionally, many consumers are already familiar with cutting-edge technologies and open to new developments. An example of this is the success of 5G in South Korea, which also opens up new opportunities for the growth of the gaming market and related technologies. Furthermore, the overwhelming majority of gamers in South Korea play games on mobile phones. In fact, mobile gaming has become the main segment of the market.
Despite the prevalence of mobile gaming, computer games are still an integral part of the gaming market in South Korea. PC games have thrived thanks to PC bangs, which have become important hubs for both professional and casual gamers. These establishments are equipped with high-end gaming PCs and excellent internet connectivity. While casual single-player games have recently taken the lead in popularity, multiplayer PC games, such as League of Legends, have remained popular as well. The revenue from game sales has reached trillions of won, and it is expected to continue growing in the future.
In December 2022, approximately 38% of the total gaming time spent on PC in South Korea was devoted to League of Legends. It was followed by FIFA Online 4, which accounted for around 16.3% of the total time.
South Korean gamers are known for their global success in esports across various games. The country has developed a strong gaming culture and a conducive infrastructure, resulting in the emergence of a robust gaming market in South Korea. The government has announced plans to support the gaming industry by easing restrictive laws and allocating more attention to esports and gaming events. By expanding the gaming ecosystem, the government hopes to create more job opportunities in the coming years and foster further industry growth.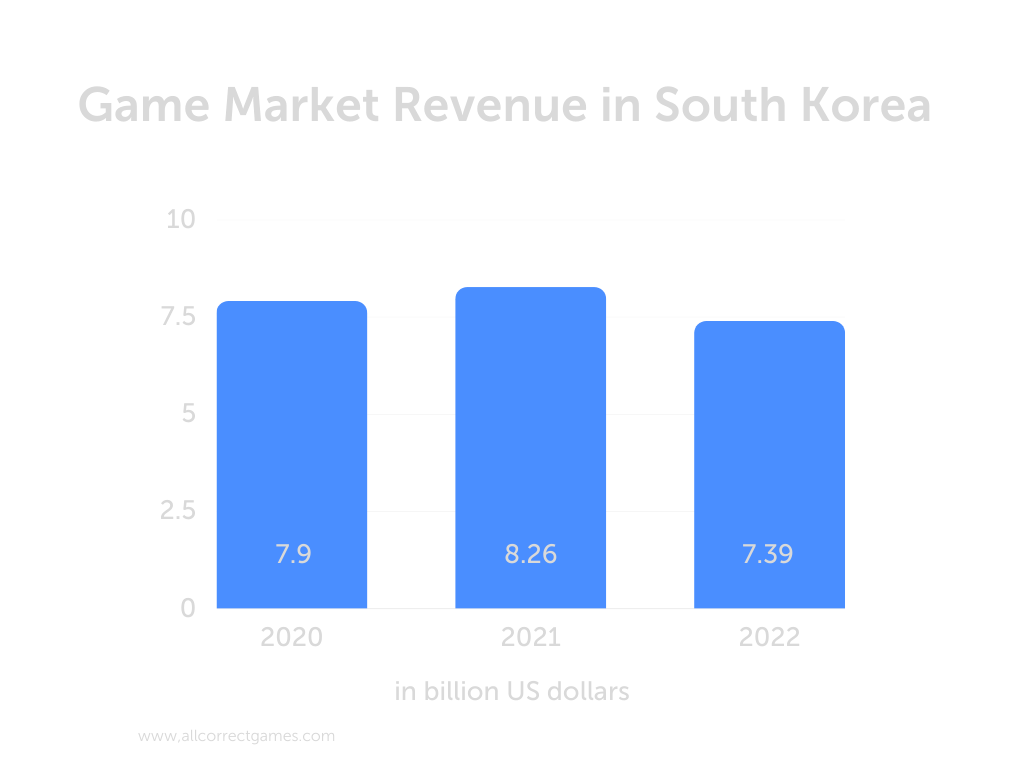 Most likely, the following factors influenced the market decline in 2022:
1. The end of the pandemic and lifting of lockdowns, which gave people more alternatives to games.
2. A weakening Korean won exchange rate, which reflects a decrease in revenue in dollar equivalent.
Player Profile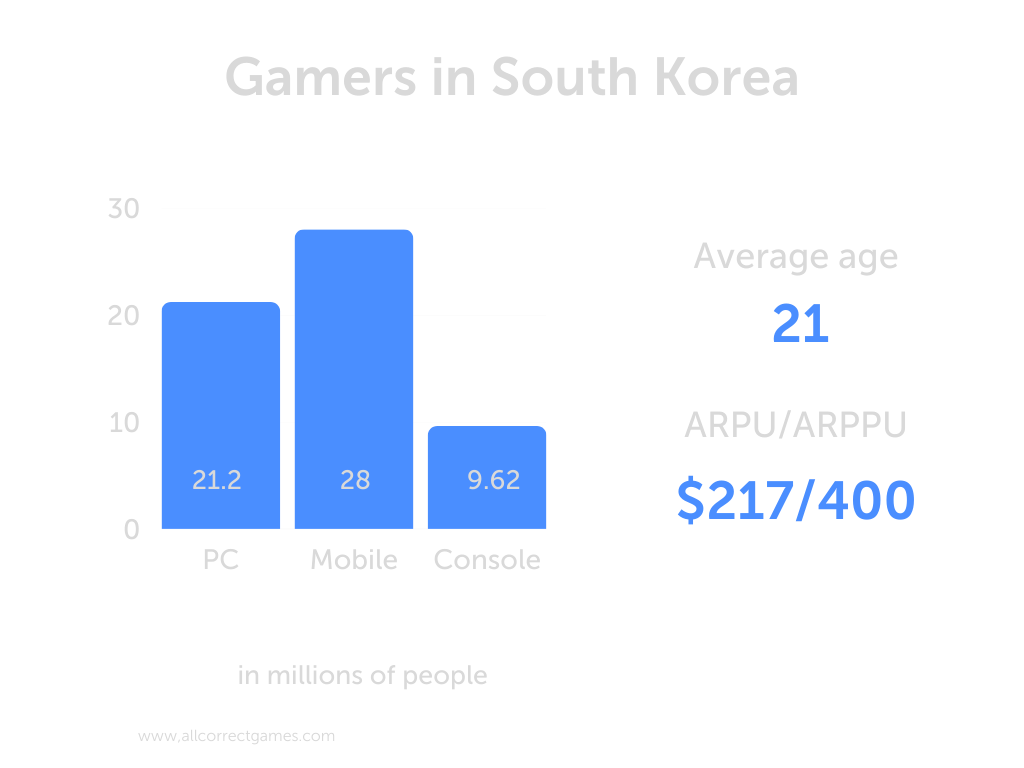 According to a survey conducted in South Korea in 2022, about 74.4% of South Koreans played games that year, with a growth of 3.1% compared to 2021. The best performing year for gaming engagement was 2015, which stood at 74.5% of the population.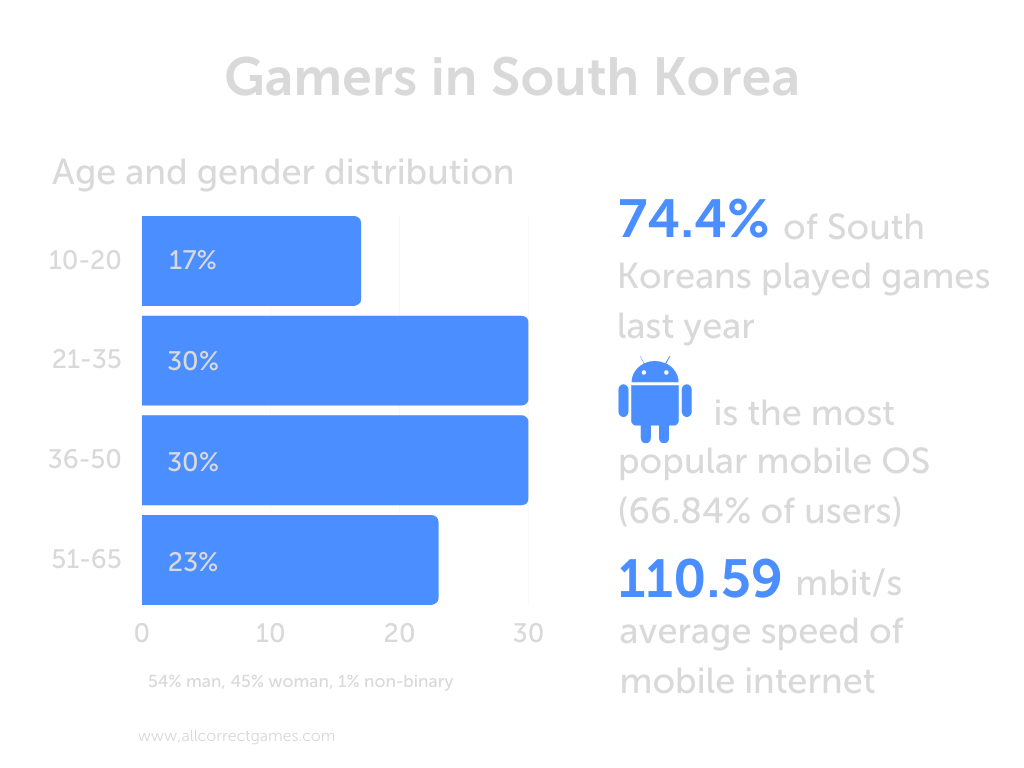 According to the 2021 survey, mobile games are popular among all age groups in South Korea, with people over 40 years old being the largest age group of mobile gamers. Even among the smallest group of people aged sixty and above, nearly one-third reported playing mobile games. Mobile games were more popular among women than men, with approximately 65% of women in South Korea playing mobile games compared to about 60% of men.
According to a survey conducted in South Korea in 2022, about 75% of male respondents stated that they played video games in the past year. Around 73% of female respondents also played during that period.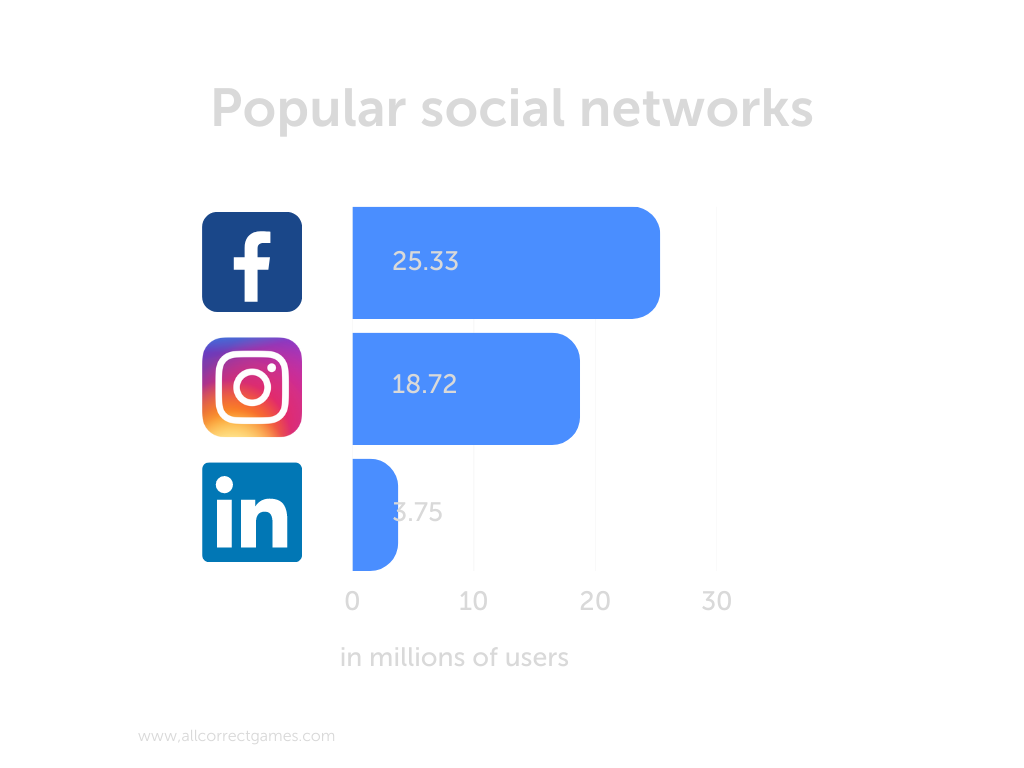 Popularity of Mobile Games in South Korea
The 2022 survey revealed that approximately 63% of Koreans play mobile games, which is higher than any other gaming platform, including PC games.
Access to mobile games is facilitated by the high prevalence of smartphones in South Korea. According to Newzoo, in 2022, consumers within the country spent USD 4.34 billion on mobile games. The largest share of spending on mobile games was allocated to massively multiplayer online role-playing games (MMORPGs), although puzzles were the most popular genre of mobile games based on audience surveys.
Esports
South Korea has established itself as a major international player in the esports industry. Despite the overall popularity of mobile games compared to other platforms, PC games dominate the domestic professional esports scene.
League of Legends and PUBG remain the most popular esports games in 2021, hosting the highest number of domestic esports tournaments and involving the largest number of professional esports players.
It is expected that the esports market in the country will reach USD 142 million in 2023.
Popular Genres of Mobile Games
Puzzle games were the most popular genre of mobile games in the 2022 survey, followed by role-playing games (RPGs) and mobile variations of board games.
Nearly half of the surveyed Koreans stated that the primary reason for playing games on mobile devices is to pass the time, which is well-suited for casual genres. However, the largest share of spending on mobile gaming apps is dedicated to massively multiplayer online role-playing games (MMORPGs).
Favorite Game Genres
According to a survey conducted in South Korea in 2022, approximately 41% of respondents stated that role-playing games (RPG/MORPG/MMORPG) were one of their top three favorite computer game genres. Other popular genres included shooters (FPS/TPS/gun shooter) and sports games.
About 46% of mobile gamers reported that puzzles were one of their top three favorite mobile game genres. Other popular genres included role-playing games (RPG/MMORPG/MMORPG) and online board games.
Approximately 32.5% of console gamers stated that sports games were one of their top three favorite console game genres. Other popular genres included action and puzzles.
Major Game Publishers in South Korea as of February 2022 by Market Capitalization:
1. Krafton: KRW 12.7 trillion
2. NCSoft: KRW 11.2 trillion
3. Netmarble: KRW 8.8 trillion
4. Pearl Abyss: KRW 6.2 trillion
5. Kakao Games: KRW 5.5 trillion
6. WeMade: KRW 3.2 trillion
Top Game Charts for PC and Consoles in 2022 (Newzoo):
1. League of Legends
2. Counter-Strike
3. Roblox
4. Overwatch
5. Apex Legends
6. FIFA 22
7. Minecraft
8. PUBG: BATTLEGROUNDS
9. Dota 2
10. Diablo II: Resurrected
Top Game Charts for Mobile in Google Play and App Store in 2023:
1. 리니지M (NCSOFT)
2. 오딘: 발할라 라이징 (Kakao Games Corp.)
3. Lineage W (NCSOFT)
4. 天堂2M (NCSOFT)
5. FIFA 모바일 (NEXON Company)
6. FIFA ONLINE 4 M by EA SPORTS™ (NEXON Company)
7. 나이트 크로우 (Wemade Co. Ltd.)
8. Genshin Impact (COGNOSPHERE PTE. LTD.)
9. 아키에이지 워 (Kakao Games Corp.)
10. 히트2 (NEXON Company)
11. Roblox (Roblox Corporation)
12. 데블M (37GAMES)
13. Survivor.io (HABBY)
14. GODDESS OF VICTORY: NIKKE (Shenzhen Tencent Tianyou Technology Ltd.)
15. 프라시아 전기 (NEXON Company)
16. Blade&Soul Revolution (Netmarble)
17. Honkai: Star Rail (COGNOSPHERE PTE. LTD.)
18. 한게임 포커 (NHN Corp.)
19. 던전앤파이터 모바일 (NEXON Company)
20. Whiteout Survival (Century Games Pte. Ltd.)
Culturalization for South Korea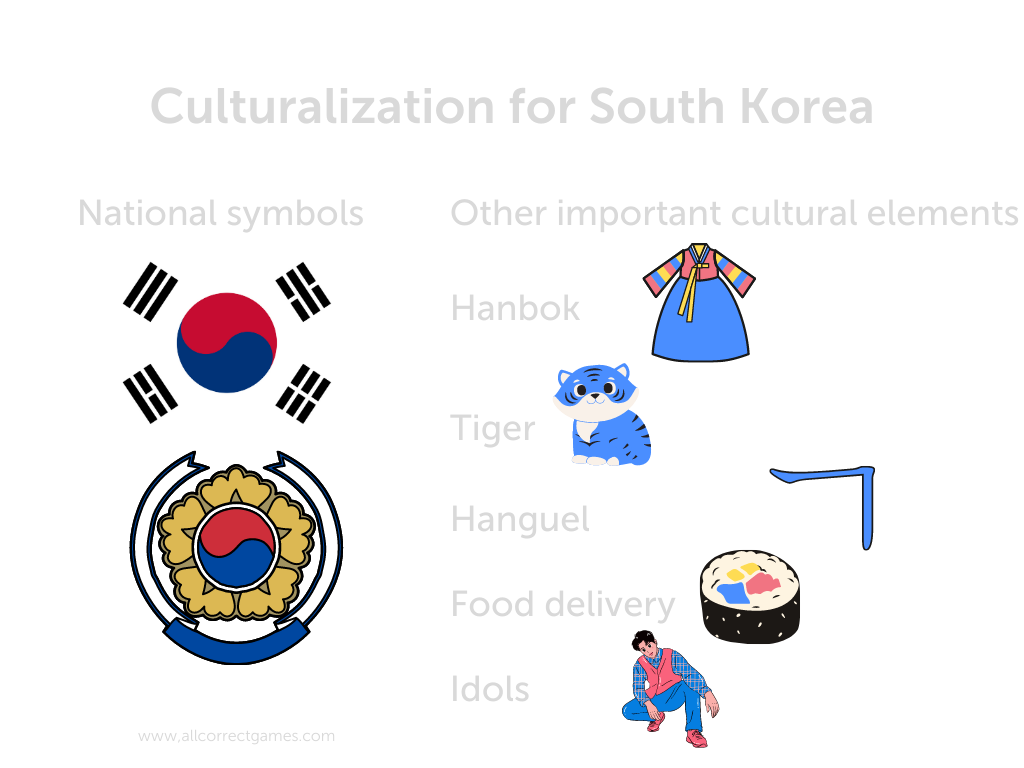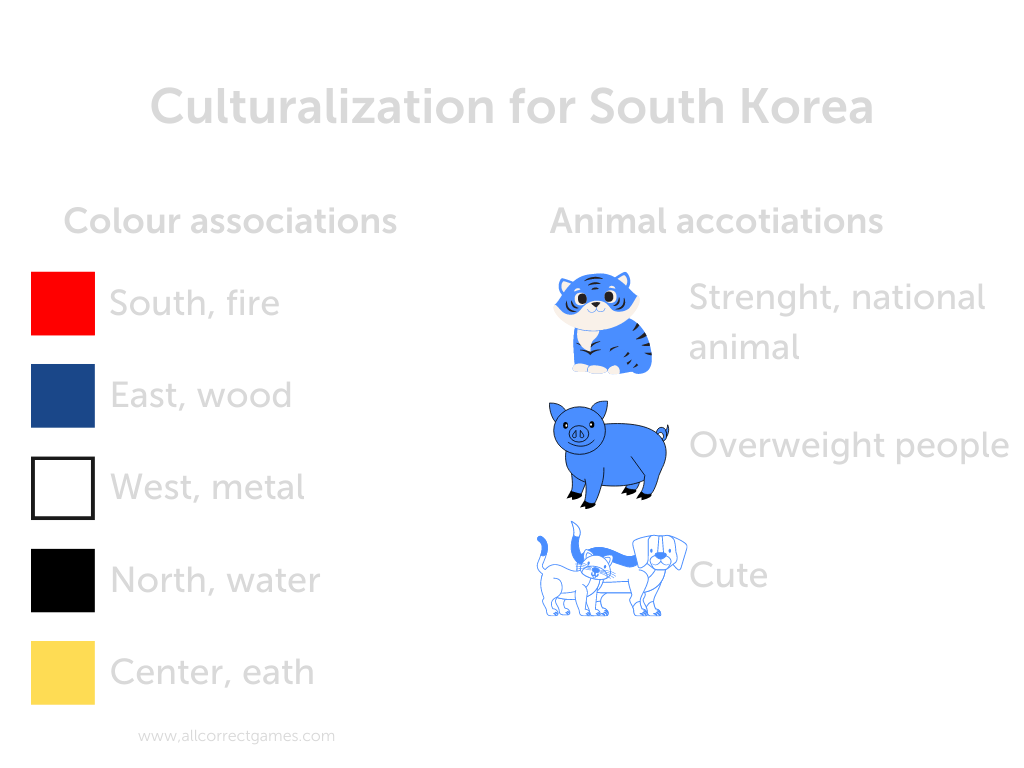 Localization
Korean is a language isolate spoken by around 60 million people.
Modern Korean has six dialects: central, northeastern, southeastern, southwestern and the dialect spoken on Jeju island. With the exception of the latter, all of the dialects are relatively similar and are mutually intelligible.
When localizing apps into Korean, it is important to take into account the following:
• Chinese and English borrowings
• Different styles of speech
• Use of suffixes
Different styles of speech are used depending on social position and age, as well as the topic of conversation. During translation, it is essential to bear in mind that Korean has numerous synonyms for any given word.
For developers interested in the East Asian region, we've developed a detailed overview. If you have any questions about games in South Korean market, write to us and we will share useful information!