General information
Japan (Japanese: 日本 Nihon, Nippon, lit. "Land of the Rising Sun"), officially known as the State of Japan (Japanese 日本国 Nihon-koku, Nippon-koku), is an island nation in East Asia. It is located in the Pacific Ocean to the east of the Sea of Japan, China, North and South Korea, and Russia. It extends from the Sea of Okhotsk to the north to the East China Sea and Taiwan to the south. Japan is located in the Japanese archipelago, which, according to official government reports, is made up of 6,852 islands. Japan is third in the world in terms of nominal GDP and fourth in terms of GDP adjusted for purchasing power parity.
Japan is a developed country with a very high standard of living (19th in the Human Development Index). The country has one of the highest life expectancies (85.3 years in 2017) and one of the lowest infant mortality rates in the world.
The gaming market
The Japanese gaming market is one of the most prominent and influential in the world. Despite its relatively small size, Japan has the third-largest gaming market in the world.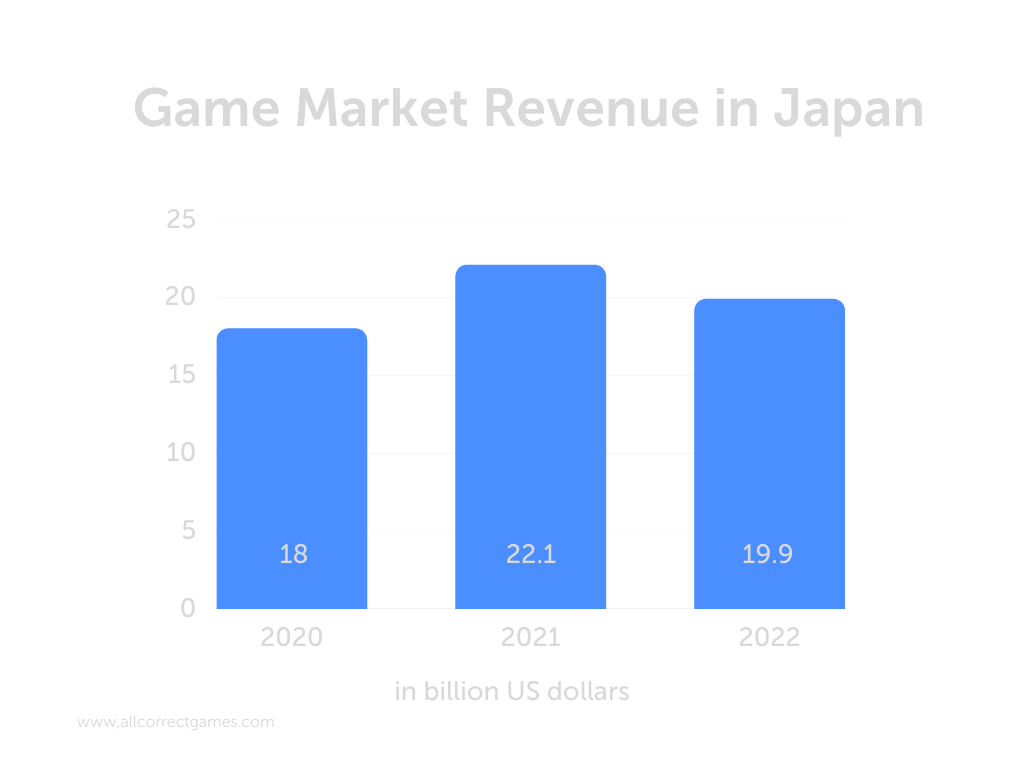 Games in Japan are characterized by a specific visual style and local content characteristics, which have led to the creation of a unique but enormous video gaming industry. Japan is a developed market for all gaming platforms: PC, mobile devices, and consoles. Console games are particularly important relative to other Asian digital gaming markets, as the headquarters of major console manufacturers (Sony, Nintendo, and Sega) are located in Japan. Console games have always been popular with Japanese gamers, but in recent years, trends have been shifting towards mobile games. Currently, mobile devices are the biggest gaming platform in Japan in terms of revenue and number of players. Consoles and PC games trail behind mobile games in both categories.
Mobile devices
According to a July 2022 survey of Japanese residents who play smartphone games at least once a month, 65% of respondents played smartphone games every day. The total percentage of people who reported playing smartphone games at least once a week was 92%.
The coronavirus pandemic had a positive effect on the mobile gaming market: in 2021, the number of sessions increased by 22% compared with the same period in the previous year. However, this statistic returned to normal by 2022, with the number of sessions only showing an 8% growth over pre-pandemic figures.
Hypercasual games dominate in terms of number of downloads: 15% of all downloads are games in this genre, followed by RPGs at 13% and puzzles at 12%.
The Japanese Mobile Content Forum (MCF) reports that the market value for mobile games in Japan reached the equivalent of 12 billion USD in 2021. The growth rate was not as high as in the previous year, likely due to decreased effects of the coronavirus pandemic.
Consoles
Nintendo and Sony lead the market for gaming equipment / consoles.
In 2021, Nintendo's annual revenue worldwide reached 16.534 billion USD, a 37.34% increase from 2020.
The Nintendo Switch proved popular among Japanese gamers. The latest reports show that in 2021, Nintendo sold more Nintendo Switch consoles in Japan than the numbers of sold PlayStation 5, PlayStation 4, and Xbox units put together. The Nintendo Switch sold 5.3 million units in 2021. The Nintendo 3DS was also popular with Japanese consumers last year.
In 2021, Sony's annual revenue reached 84.594 billion USD, an 11.32% increase from 2020. Sony sold a total of 9.5 million PlayStation 5 consoles worldwide in 2021. In Japan, sales of the PlayStation 5 reached almost 970,000 units.
Aside from these two equipment manufacturers, Japan is the homeland of numerous international developers of gaming software, including Bandai Namco, Square Enix, Konami, Capcom and Sega.
PC
The PC gaming market makes up a smaller proportion of the overall gaming market (PC gaming accounts for only 7% of the total Japanese gaming market), but still shows consistent growth.
In 2021, PC gaming in Japan brought in 131.3 billion yen (868 million USD). This indicates that the size of the PC gaming market in 2021 was approximately double that of 2018. The same is true for the number of players. In 2021, there were 16 million PC gamers, meaning that nearly 30% of all people playing games in Japan use a PC. That is a 45% increase compared to the 11 million gamers recorded in 2015.
Esports
In the growing esports market, Japan holds large tournaments with prizes exceeding 909,000 USD (more than 100,000,000 yen): Shadowverse World Grand Prix 2021, PUBG Mobile Japan League Season 1.
Current Japanese legislation makes development of esports difficult in some ways. Firstly, copyright law designates esports as "cinematographic works" or "works of computer programming." Broadcasting competitions for wider audiences, sharing them on the internet, and recording them for secondary distribution all raise questions of copyright violation. Secondly, esports could be considered a type of gambling, which is prohibited in Japan.
Despite the legal issues with hosting esports competitions, esports remains an actively-developing and promising sphere.
Player statistics
Japan has one of the highest numbers of players in the world: 58% of the population. Of this, the largest segment is mobile game users: 41%. Among mobile gamers, the number of males is slightly higher than the number of women, especially in the 15–44 age group.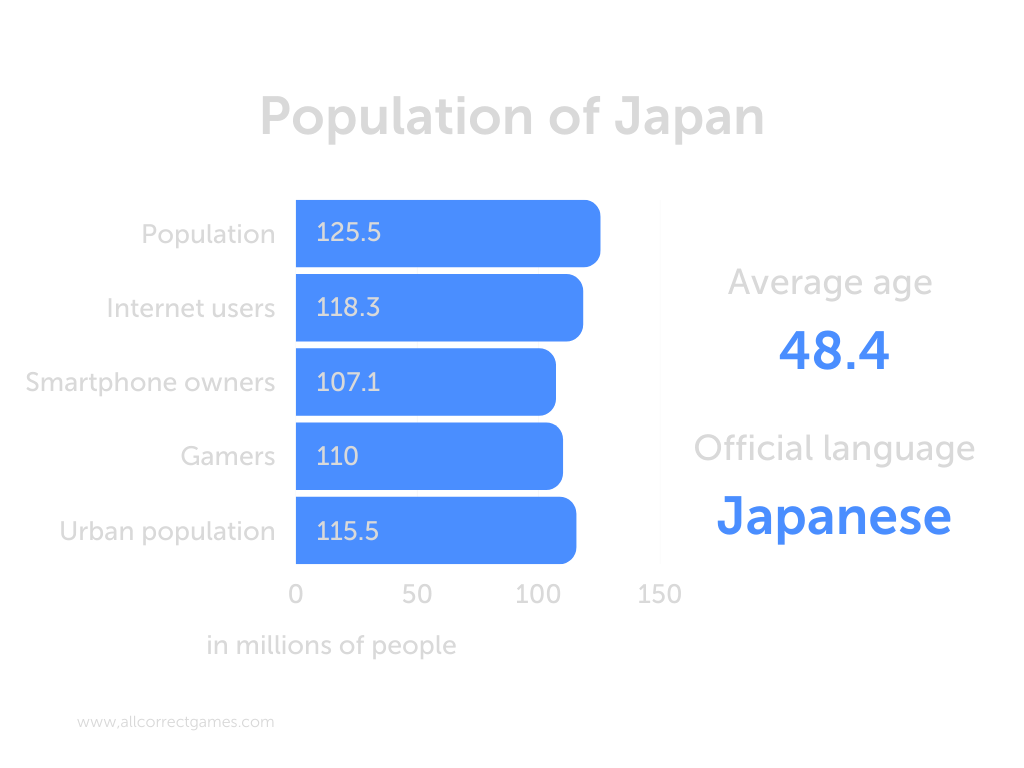 Around 70% of smartphone owners play mobile games every day, and almost 95% play at least once a week. The frequency of smartphone gaming by Japanese users is high compared to world statistics.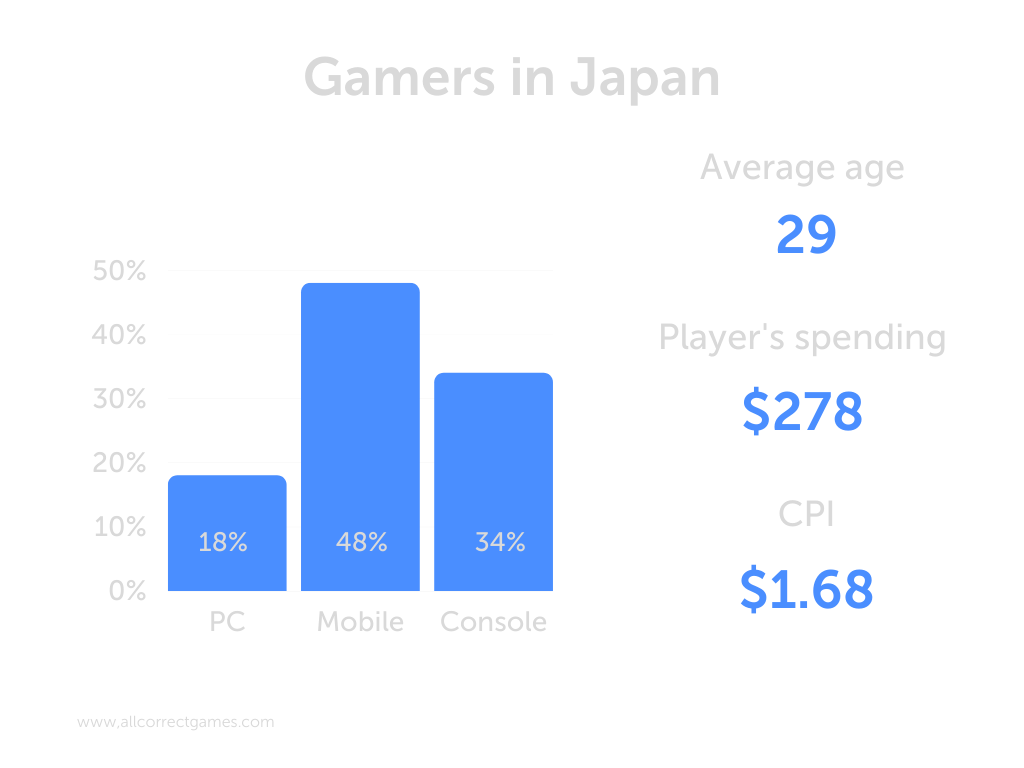 The majority of mobile gamers come from the younger age range (from 15 to 40). Consoles are most popular with the 29–49 age group, and PC gaming with people aged 50–64.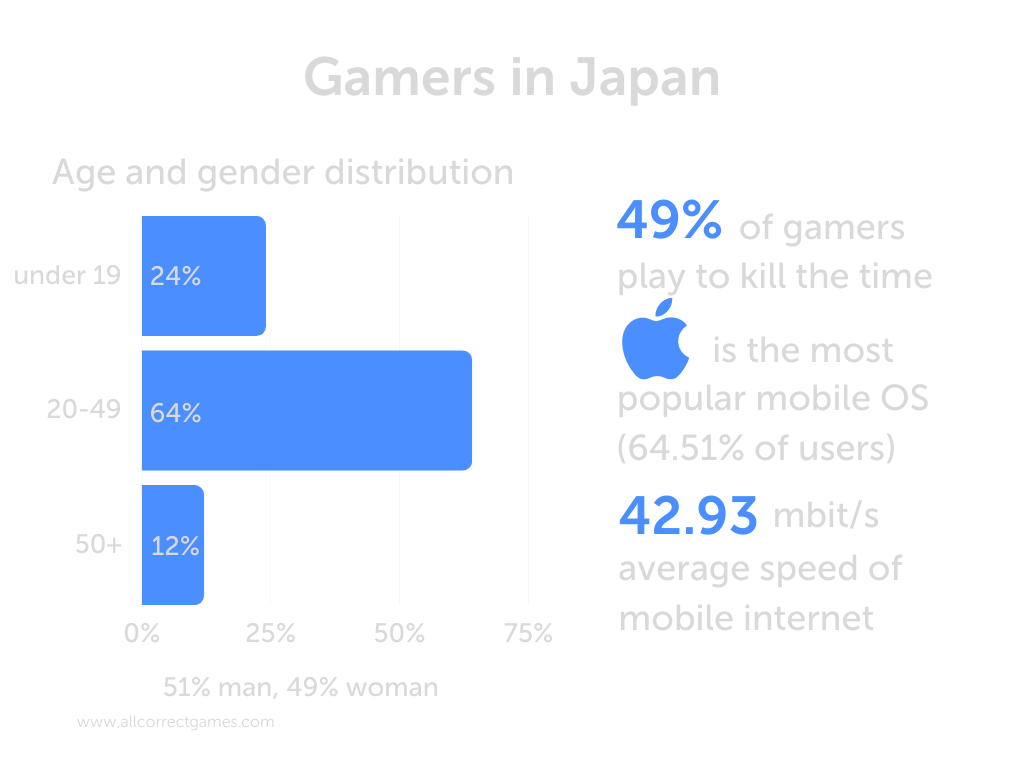 Player expenditures
Japanese mobile gamers take their online gaming very seriously. According to GMO Research, 61% of surveyed gamers admitted to paying for mobile games or making in-app purchases. The majority of players who make in-game purchases are men.
According to a survey by Asmarq, 40% of respondents paid for gaming apps for their smartphone last year. In terms of amounts spent on games, over half of paying users spent up to 1,000 yen a month (~$7), and around 30% of men and 40% of women spent under 500 yen (~$3.5).
Player motivations
50% of Japanese gamers see games as a way to relax and have fun. While this is a high percentage, it is significantly lower than the worldwide average (63%).
49% of Japanese gamers see games as a way to fill time, which is also lower than the worldwide average (55%).
45% of Japanese gamers see games as a way to immerse themselves in game worlds (compared to 38% worldwide).
13% of Japanese gamers see games as a means of communication (compared to 25% worldwide).
11% see games as a way to compete and enjoy victory (compared to 24% worldwide)
9% see games as a way to be part of a team and achieve mutual goals (compared to 17% worldwide).
Most popular game genres (Newzoo, 2021)
Mobile:
1. Roleplaying games: 36%
2. Puzzles: 34%
3. Simulation games: 24%
Consoles:
1. Roleplaying games: 46%
2. Adventure games: 35%
3. Simulation games: 32%
PC:
1. Roleplaying games: 32%
2. Shooters: 23%
3. Simulation games: 22%
Top-selling video games in Japan in October 2022 by sales volume (Statista):
Game Sales volume
Splatoon 3 (Nintendo Switch) 492,566
Dragon Quest: Awakening of the Five Tribes Offline (Nintendo Switch) 58,561
Persona 5: The Royal (Nintendo Switch) 58,038
NieR: Automata The End of YoRHa Edition (Nintendo Switch) 48,167
The Legend of Heroes: Kuro no Kiseki II -Crimson Sin- (Nintendo Switch) 41,770
Mobile game publishers with the most number of downloads:
1. Geisha Tokyo, Inc.
2. KAYAC Inc.
3. BabyBus
4. Nintendo Co., Ltd.
5. LINE Corporation
6. Bandai Namco Entertainment Inc.
7. KONAMI
8. New Story Inc.
9. GOODROID, Inc.
10. The Pokémon Company
Chart-topping mobile games on Google Play:
1. 機動戦士ガンダム 鉄血のオルフェンズ by Bandai Namco Entertainment Inc.
2. テイルズウィーバー: SecondRun by NEXON Company
3. Survivor.io by Habby
4. GODDESS OF VICTORY: NIKKE by Level Infinite
5. Woodoku by Tripledot Studios Limited
6. にゃんこ大戦争 by PONOS Corporation
7. Tap Away by Popcore Games
8. Lords Mobile: Kingdom Wars by IGG.COM
9. 脱獄ごっこPRO by LiTMUS Co., Ltd.
10. Rent Please!-Landlord Sim by ShimmerGames
Localization and culturalization for the Japanese market
Japan has a low rate of English proficiency: less than 30% of the population can speak English, and less than 10% can speak it fluently. This is despite the fact that English is widely taught for years in schools.
According to the EF English Proficiency Index (EF EPI), Japan ranks 80th in the world in terms of English proficiency, which is quite low.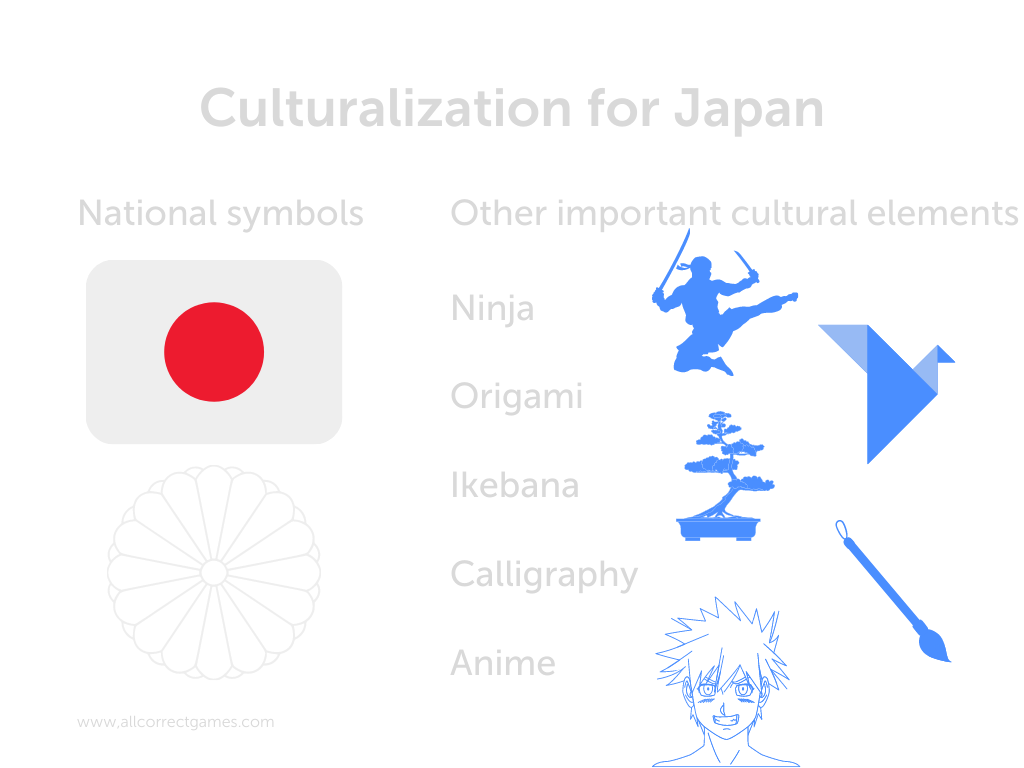 Such statistics reinforce the need to localize foreign games.
The main consideration when localizing games in Japan is the need to adapt the content, not just translate it. Cultural requirements and norms must be considered.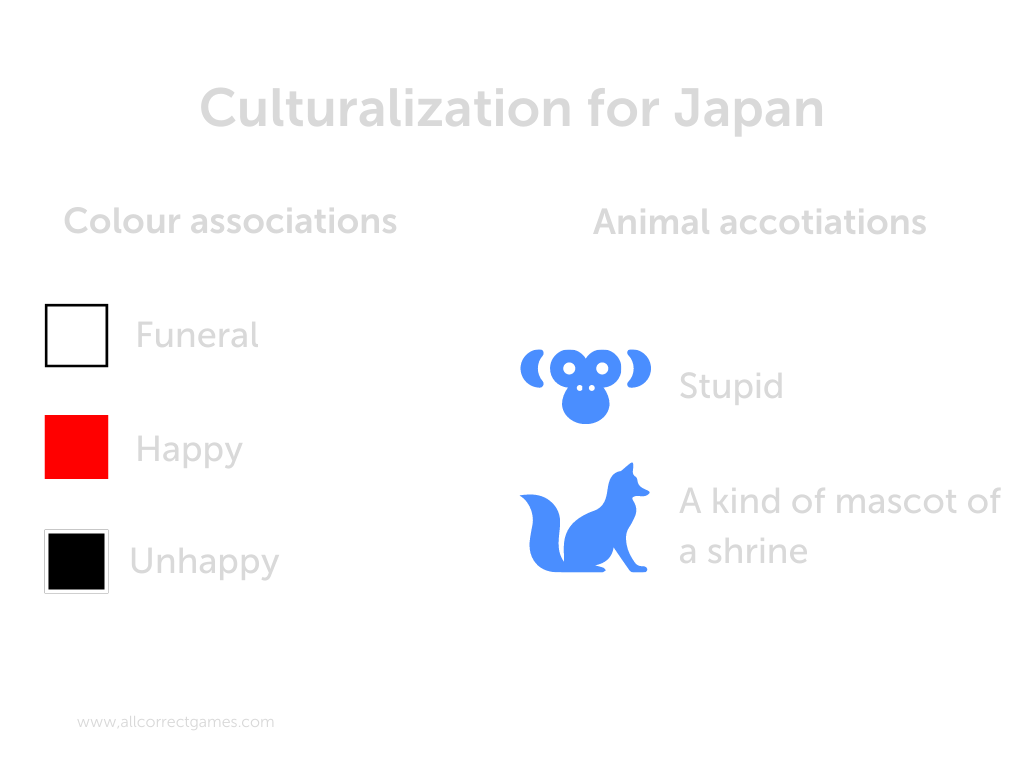 Japan-specific factors that require special attention in localization:
1. Lexical and linguistic particularities
Japanese has several writing systems (kanji, hiragana, katakana, and romaji) and two computer input methods, which makes it quite a tricky language right from the start. In addition, Japanese words often change, and the official writing systems, kanji and kana, as well as some linguistic forms, are reviewed annually by the Japanese Ministry of Education.
2. Speech style
Japanese is an extremely rigid language. It has different levels of politeness that depend on the hierarchical status of the person you are speaking with, their relationship to you, their social status, and more. The so-called "neutral" level of Japanese can sound very polite and sterile.
3. Gender-based particularities
Japanese has strict requirements for the tones that men and women speak in.
4. Delicate topics
You must avoid religious topics, as well as promoting any tobacco products, drugs, etc. in games.
5. Symbols and colors
Symbols and colors are very important in Japan. For example, the number four (4) means death.
6. Violence in Japanese localization
Although games are rarely banned in Japan, they do undergo censorship. Scenes depicting violence or nudity are prohibited.