General information
India (Hindi: भारत Bhārat, officially the Republic of India Hindi भारत गणराज्य Bhārat Gaṇarājya), is a country in South Asia. It has a population of around 1.4 billion and covers an area of 3,287,263 km². This makes it the world's second-most populous country, the seventh-largest country in the world by area, and the biggest country in South Asia. The capital of India is New Delhi. The official languages are Hindi and English.
The Constitution of India lists 21 official languages. These are languages that are spoken by a significant share of the population or have classical status. However, Hindi is considered to be the official language, while English has the status of an "associate official language." India is known for its significant ethnocultural diversity.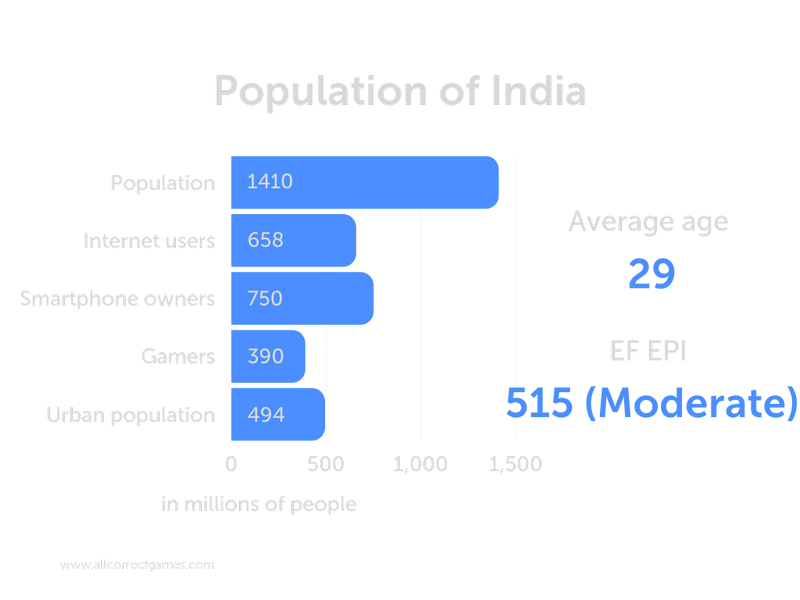 It borders Pakistan to the west, China, Nepal, and Bhutan to the northeast, and Bangladesh and Myanmar to the east. In addition, it shares a sea border with the Maldives in the southwest, with Sri Lanka in the south, and with Indonesia in the southeast.The disputed territory of Ladakh shares a border with Afghanistan.
The gaming market
Having grown steadily over the past five years, the gaming market in India is worth an estimated 2.2 billion USD in 2022, and various sources expect to see continued growth in the years to come. For instance, KPMG estimates that the market will grow to 3.9 billion USD in 2025, while data published by Mordor Intelligence suggests the market may reach 4.88 billion USD in 2026. Industry reports by Statista put the likely size of the market at 7 billion USD by 2026, assuming average annual growth of almost 30%.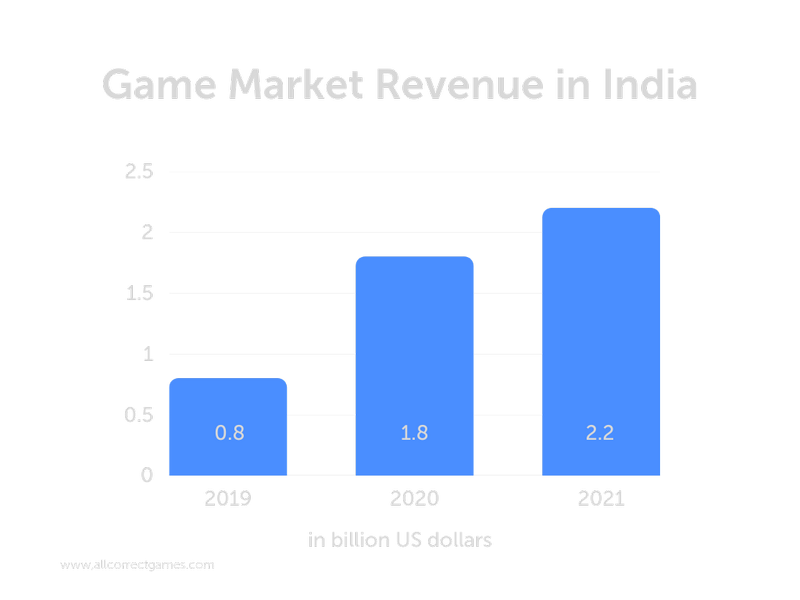 Factors underlying this growth include a decrease in the average age of the population, increasing incomes, the appearance of new game genres, and a rapid rise in the number of smartphone and tablet users.
One key shift in India's gaming industry is the current boom in game development. Over the past couple of years, more than 200 companies developing games have been founded.
According to the analytics company Sensor Tower, India is currently the largest market for online games in the world by number of apps downloaded. As of May 2022, India accounted for 19.2% of all game downloads worldwide, a total of 916 million. The relevant figures for January were 14.6% and 761.8 million, which points to steady growth.
The significant growth of the online gaming industry in India has been underpinned by the modern, high-quality software that is now available on mobile devices.5G networks give users more gaming opportunities by decreasing lag, increasing gameplay reliability, permitting access to improved cloud computing facilities, allowing for real-time streaming, and more.
Another new technology in India's gaming industry is cloud gaming, which enables users to play high-quality games on handheld devices. Key factors such as these are expected to continue exerting a positive influence on market growth.
Key trends and growth rates
Increased disposable income
A young population
Available technologies
Localized games
Good countrywide Internet coverage
Ever-increasing smartphone penetration
A rapidly growing base of digital payment platform users
A rapidly expanding ecosystem with local developers
The influence of government on the gaming industry
Legally speaking, all games in India fall into one of two categories: games of chance and skill-based games.Different states might categorize the same game differently.There is no single classification system for games in India.The principal laws regulating this issue are the Cinematograph Act of 1952, the Indian Penal Code, the Constitution, the Public Gambling Act, and the Prize Competition Act.
Bans on Chinese games
In March 2019, PUBG Mobile was banned in the Indian state of Gujarat when the local government decided that the game was "too addictive and violent" and was distracting students in exam season.Once exam season was over, some cities lifted the ban.
Against the backdrop of continuing disputes between China and India in 2020, Mobile Legends: Bang Bang was officially banned in India on June 29, 2020, for reasons of confidentiality.
On September 2, 2020, the Indian government banned PUBG Mobile, PUBG Mobile Lite, and more than 100 other Chinese apps, claiming that they were illegally stealing user data and secretly transferring it to servers located outside India.
Garena Free Fire, another popular game in India, was similarly banned in February 2022 for reasons of national security.
Bans on online games involving betting
Local authorities in some Indian states have banned online games involving betting. Andhra Pradesh put bans in place in 2020 in response to an increase in gamer suicides due to gaming debts. In 2021, the local government in Tamil Nadu announced a ban (later declared unconstitutional by the Madras High Court) on online games of skill such as chess, quiz games, fantasy games, rummy, and poker. Karnataka, the center of the Indian technology industry, also proposed a ban on online games involving betting in 2021. Karnataka's ban included online games that charge users entry fees.
Esports
According to a report by EY India, India is one of Asia's largest esports markets, valued at 3 billion Indian rupees (around 35 million USD) in the 2021 financial year and forecast to reach 100 billion Indian rupees (around 1.2 billion USD) by 2025.
India's esports ecosystem is largely focused on mobile devices, and is currently centered around games such as Battlegrounds Mobile India and COD Mobile. Battlegrounds Mobile India is a port of PUBG Mobile, intended for India alone. At one time, this game was the single most popular choice for Indian esports players.
Valorant, a PC game by Riot Games, also has a following in the region: in partnership with NODWIN Gaming, Riot Games organized the Valorant Conquerors Championship, which gave access to the global Valorant Champions Tour.
India enjoys success in esports events in the global arena.
The Indian government has not recognized esports as a sport. In a statement, the Minister for Youth Affairs and Sports declared that India has no officially recognized governing body responsible for regulating esports organizations or promoting esports.
Player statistics
The COVID-19 pandemic accelerated the rise of online gaming in India: people began to spend more time playing games, using virtual worlds as a place to socialize and compete with others.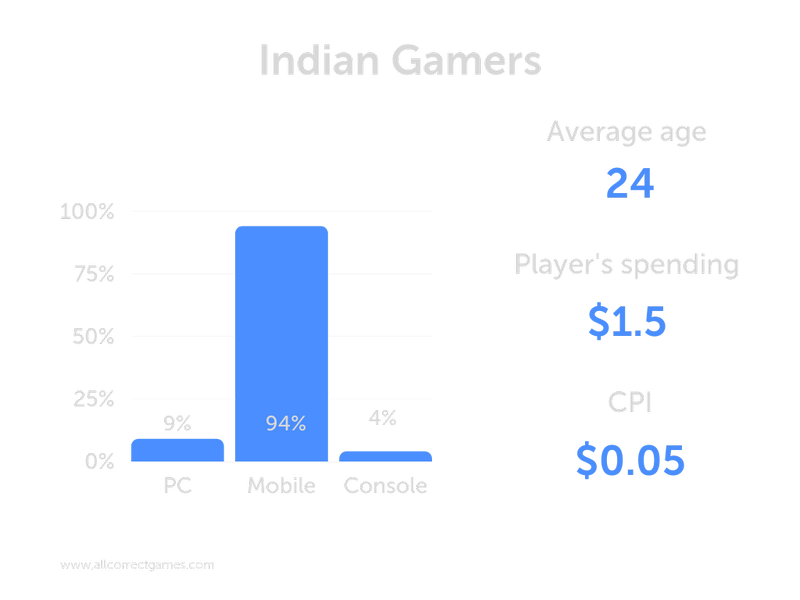 According to a report by India's Broadcast Audience Research Council (BARC), the average time people in India spent on games increased by 44% during the pandemic (to 3 hours 38 minutes a week from 2 hours 31 minutes before the pandemic).
Games became an extremely popular source of entertainment, irrespective of players' age or location.
Access to smartphones and high-speed Internet was a major factor contributing to their popularity.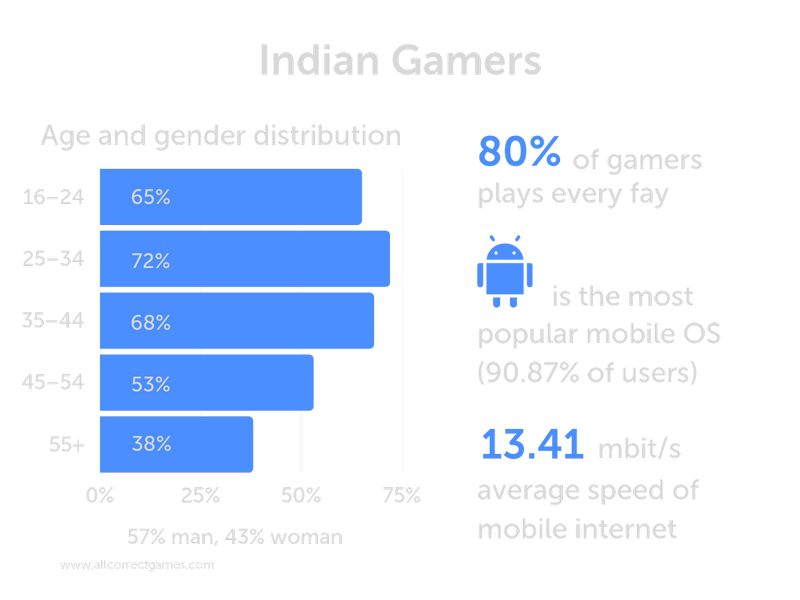 People in India play games for several reasons:
Fun and relaxation
A need to compete and win
A desire to socialize with friends and family
The chance to improve particular skills
According to a report by KPMG, the average gamer in India has the following profile:
An average age of around 24
A preference for puzzle and action-adventure games (this holds for all ages and both sexes)
Consumption driven by friends, family, and peers, who play a decisive role in the average player's choice of new games
The availability of free alternatives and low perceived value limit the income that can be generated from players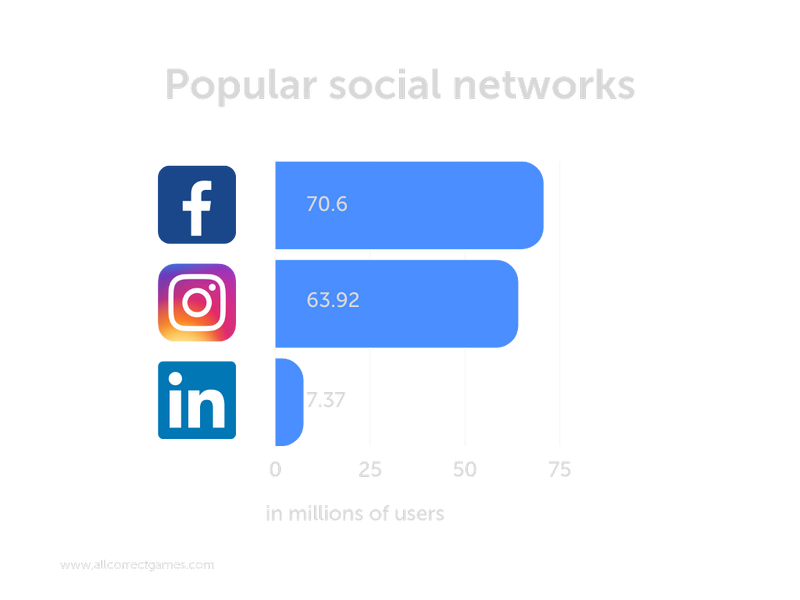 General statistics regarding players
Popular game genres:
Strategy games
Adventure games
Casual games
Card games and casino games
Sports games
Major publishers of games popular in India onGoogle Play:
Gametion
Moonton
Words Mobile
Moonfrog
Games2win.com
Rendered Ideas
Candy Mobile
BlackLight Studio Games
GunjanApps Studios
Nextwave Multimedia
Mobile games by Indian publishers with the most downloads:
Ludo King
Indian Bikes Driving 3D
Bottle Shooting Game
A23 Games – Rummy | Fantasy
World of Carrom: 3D Board Game
Teen Patti Gold Poker & Rummy
Ludo Games: Win Cash Online
Bike Racing – Offline Games
Carrom Meta-Board Disc Game
Bus Simulator Games: Bus Games
Localization into languages of India
English is one of India's two official languages. It varies from region to region and is not the mother tongue of most Indian citizens.
This means that, while some Indians may be able to play games in English, to draw a large audience to a game, localization into the local languages will be necessary.
As of 2015, there were 454 languages spoken in India.
In terms of localization, the five most relevant Indian languages are:
Hindi (650 million speakers, 2017), the official language, spoken in India's northern states.
The main languages of southern India are:
Telugu (89.7 million speakers)
Bengali (83 million speakers in India, 215 million in total worldwide in 2017)
Tamil (66 million speakers, one of the official languages of Sri Lanka and Singapore)
Kannada (40.3 million speakers), spoken in the state of Karnataka. The state capital is Bangalore, "India's Silicon Valley."
Since version 5.1.1, Android has been offering fonts for all the Indian languages. However, support for these languages also depends on smartphone manufacturers. As of 2015, the following Indian languages have typically been supported (fonts and keyboards):
Hindi, including dialects, as well as Marathi and Nepali in Devanagari script
Bengali
Tamil
Telugu
Malayalam
Kannada
Since version 9, iOS has supported the following languages (fonts and keyboards):
Hindi, including dialects, as well as Marathi in Devanagari script
Punjabi
Telugu
Tamil
Bengali
Urdu
In 2014, the Indian government named the most popular Indian languages for mobile app localization (according to Best Practices for Localization of Mobile Web Applications in Indian Languages).
In alphabetical order rather than order of popularity, the languages are:
Assamese
Bengali
Gujarati
Hindi
Kannada
Maithili
Malayalam
Marathi
Punjabi
Odia
Tamil
Telugu
Urdu
Culturalization for Indian residents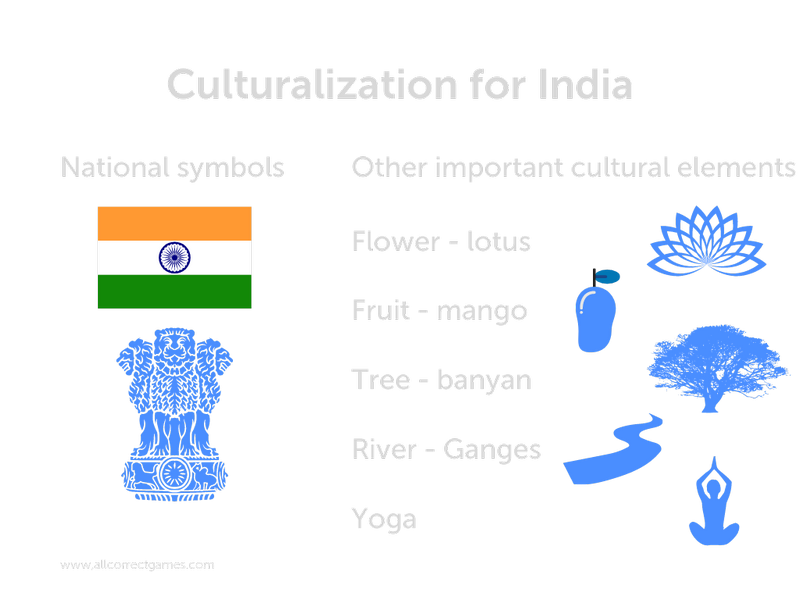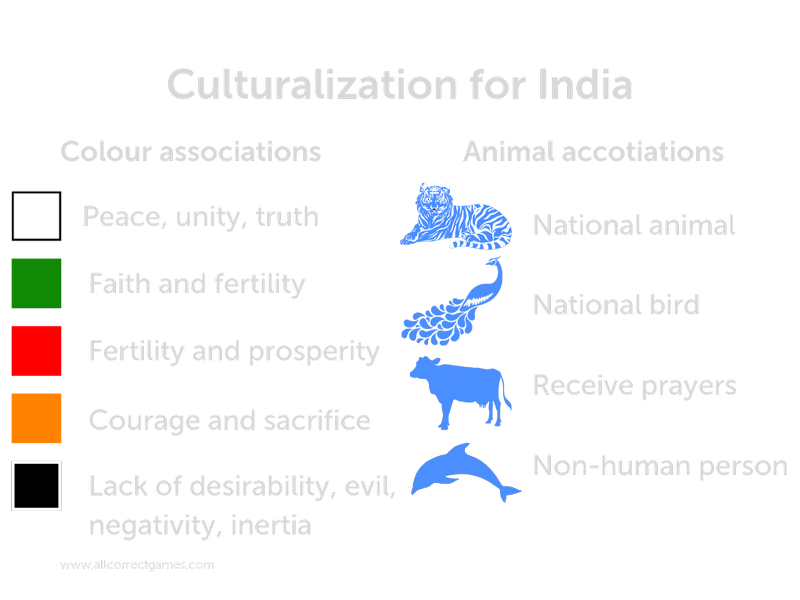 The main holidays are New Year (January 1), Republic Day (January 26), Maha Shivaratri (March 4), Holi (March 21–22), Independence Day (August 15), Ganesh Chaturthi (August/September), Gandhi Jayanti (October 2), and Diwali (October 27).
India also has a range of religious holidays (Hindu, Islamic, Jain, Sikh, Christian, and Buddhist) that are not celebrated countrywide.
The state governments determine the status of particular holidays by enacting local laws, which means that the timing and length of certain public holidays may differ across India.
The average across all states is 25 public holidays a year.
An analysis by the Business Standard demonstrated that the number of public holidays varies from 14 in Delhi to 34 in Odisha.