General Information
Germany, officially known as the Federal Republic of Germany, is a country located in Central Europe. The capital city is Berlin. The total area of the territory is 357,592 square kilometers and as of September 30, 2022, the population was 84.27 million people. Germany ranks 19th in the world in terms of population (1st in the EU, and 3rd in Europe after Russia and Turkey) and 62nd in the world in terms of territory (8th in Europe).
Situated in the heart of Europe, Germany is bordered by the Baltic and North Seas. It shares its borders with Denmark to the north, Poland and the Czech Republic to the east, Austria and Switzerland to the south, and France, Luxembourg, Belgium, and the Netherlands to the west.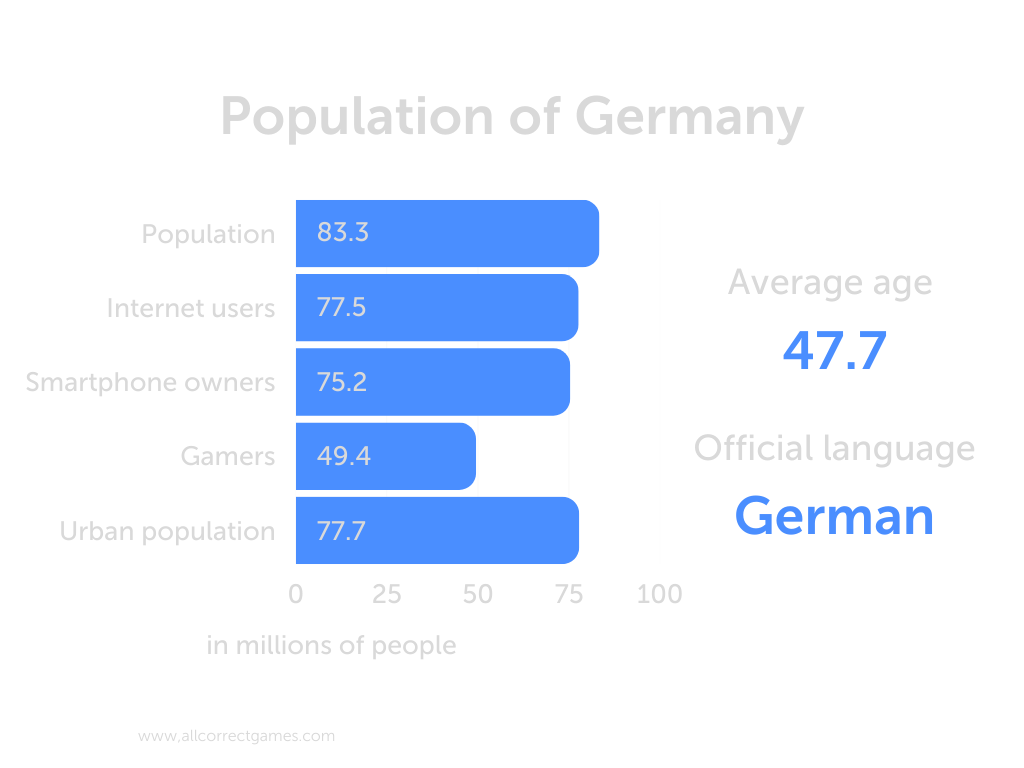 Germany is a federal state composed of 16 states. These are Bavaria, Baden-Württemberg, Berlin, Brandenburg, Bremen, Hamburg, Hesse, Mecklenburg—Western Pomerania, Lower Saxony, Rhineland-Palatinate, Saarland, Saxony, Saxony-Anhalt, North Rhine-Westphalia, Thuringia, and Schleswig-Holstein.
The country has a parliamentary republic form of government. Olaf Scholz from the SPD party has held the position of Federal Chancellor of Germany since December 8, 2021. Frank-Walter Steinmeier, also from the SPD party, has been the Federal President of Germany since March 19, 2017, performing representative functions in the country.
The official language is German. The currency is the euro. The national internet domain is .de.
Germany's GDP in 2017 amounted to USD 3.7 trillion (approximately USD 44,550 per capita). As a global leader in various industrial and technological sectors, Germany is the world's third-largest exporter and importer of goods. Germany boasts a high standard of living (ranking 6th globally) and supports social welfare, a universal healthcare system, environmental protection, and free higher education (although approximately 50% of students in physical-mathematical and chemical fields do not complete their studies, primarily due to weak results).
In 2020, Germany ranked 4th after Japan in R&D expenditures (PPP). Germany rose to the 8th place in the Global Innovation Index for 2022. The country hosts ten of the world's top 100 key scientific and technological clusters, with Cologne and Munich being the best among German clusters.
Germany is a culturally diverse state containing people from a broad variety of nationalities and different ethnocultural, religious, and racial backgrounds.
Germany is one of the founding members of the European Union and a member of the OECD (Organisation for Economic Co-operation and Development). It is also a member of NATO and part of the G7. As of December 31, 2021, 49.7% of the population is Christian, 3.5% is Muslim, 4.8% follow other religions, and 42% are non-religious.
Gaming Market
According to Newzoo, the revenue from video games in Germany in 2023 will amount to USD 6.69 billion, making Germany the world's fifth-largest market by revenue. According to surveys obtained by the Germany Games Industry Association, after a significant increase in sales revenue from 2020 to 2021, the gaming market in Germany stabilized and remained at a high level in 2022. The Covid-19 pandemic led to a year-on-year growth of 32% and 17% in 2020 and 2021 respectively. In 2022, the total revenue from game sales, gaming equipment, and online gaming services increased by another 1% to EUR 9.87 billion.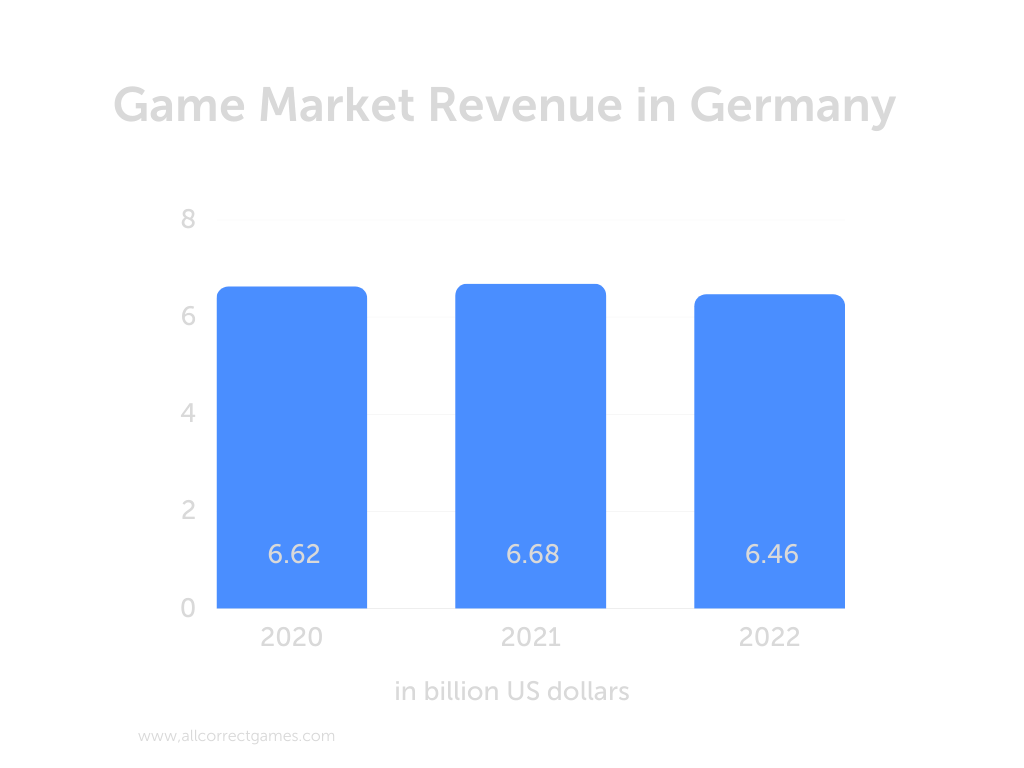 The German gaming market in 2022 proved to be remarkably stable, despite various challenges. Following the strong growth achieved after the Covid-19 pandemic, many expected a decrease in sales revenue in 2022 due to the high level of inflation throughout the year, reduced gaming time, and delays in the release of many games. Given these circumstances, the 1% growth in aggregate revenue from games, gaming equipment, and online services achieved in 2022 is yet another sign of the industry's success. The German gaming market manages to maintain its profit at around the ten-billion-euro mark.
In contrast, Newzoo's forecasts, which only considers game sales, are not as positive. According to their data, the German market only slightly grew in 2021, and in 2022, it actually declined.
The number of gamers has also been stabilized and maintained at a high level after the surge in growth in 2020-2021, with approximately six out of ten people aged 6 to 69 in Germany playing games. There's also a slight gender difference: women make up 48% of gamers in Germany, while men account for 52%. Overall, 78% of gamers in Germany are over 18 years old.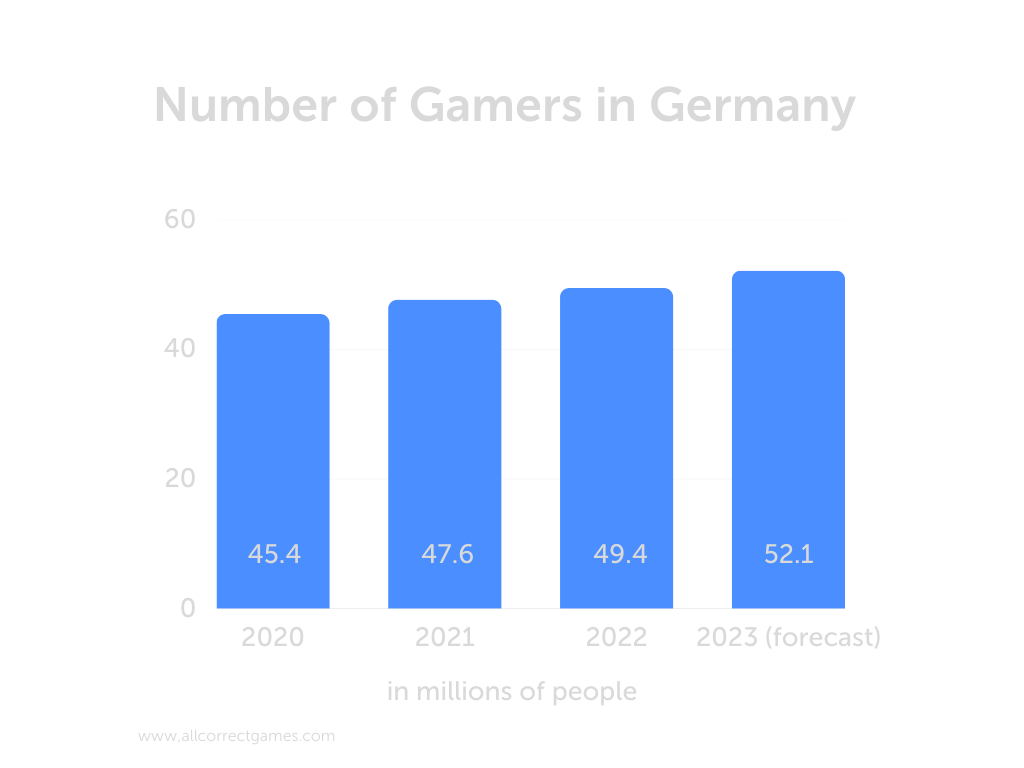 Revenue from online gaming services is growing, while demand for gaming equipment has slightly decreased.
The segment of the market dedicated to PC games, gaming consoles, and mobile devices remains stable. For video games (-1% to around EUR 1.1 billion), as well as for in-game purchases and applications (+2% to around EUR 4.5 billion), the sales revenue indicators were similar to the previous year's. Overall, revenue from game sales and in-game purchases for PC, gaming consoles, and mobile devices increased by about 1% to EUR 5.5 billion in 2022.
The segment of the online gaming services market has experienced another year of active growth, with revenue from these services increasing by 20% to EUR 866 million. This segment includes paid subscription services, cloud gaming, multiplayer online functions, and the ability to save game progress in the cloud. This market segment is characterized by particularly dynamic growth, evident not only in the significant increase in sales revenue but also in the expansion of the range of offered gaming services.
In 2023, the number of gaming companies in the country increased to 908. This is 15% more than in 2022, with a growth since 2020 of 46%. The number of people working in the industry is also increasing. In 2023, their number almost reached 12,000, which is 7% more than the previous year. Compared to 2020, the number of gaming industry employees in Germany increased by 19%. Association representatives note that the number of people employed in related professions in the gaming industry (media workers, retail stores, education, and other areas) is much higher and reaches 30,000 people.
One of the most significant growth drivers in recent years has been the increase in sales of gaming equipment (gaming PCs, gaming consoles, and related accessories). After huge growth jumps of 30% and 18% over the past two years, this segment of the market slightly decreased by about 3% to EUR 3.5 billion in 2022. One reason for the decline is that gaming consoles PlayStation 5 and Xbox Series X, as well as some new graphics cards, were not available for purchase due to the semiconductor crisis. Additionally, after the surge in 2020-2021, the demand for gaming equipment decreased as most buyers now already own the latest gaming hardware.
Statista Forecasts
It is expected that the annual revenue growth rate (CAGR 2023-2027) will be 7.17%, resulting in a projected market volume of USD 11.67 billion by 2027.
By 2027, the number of users in the gaming market is expected to reach 48.08 million users.
User penetration is anticipated to be 52.4% in 2023 and is expected to reach 57.7% by 2027.
The average revenue per user (ARPU) is expected to be USD 342.60.
Player Profile
According to the Newzoo report, in terms of the number of players, Germany ranks 12th in the world, with approximately 71% of the population playing games. Six out of ten players spend money on games. The main motivations for players include achievements (28%), skill improvement (27%), immersion in the gaming process (25%), and action (24%).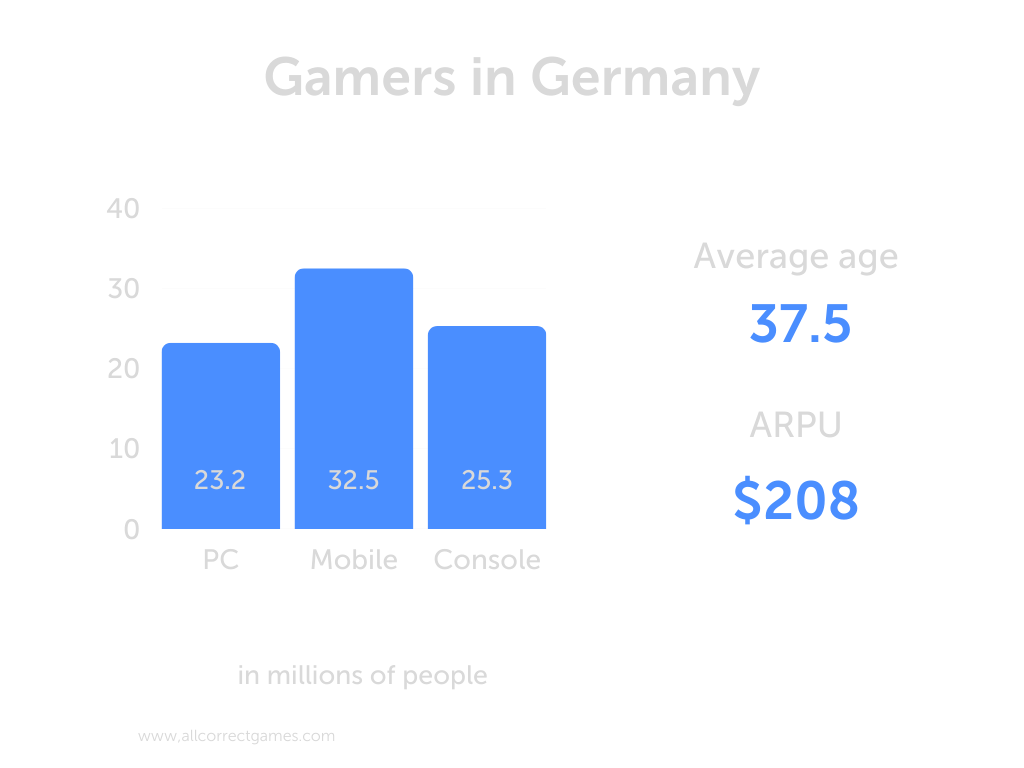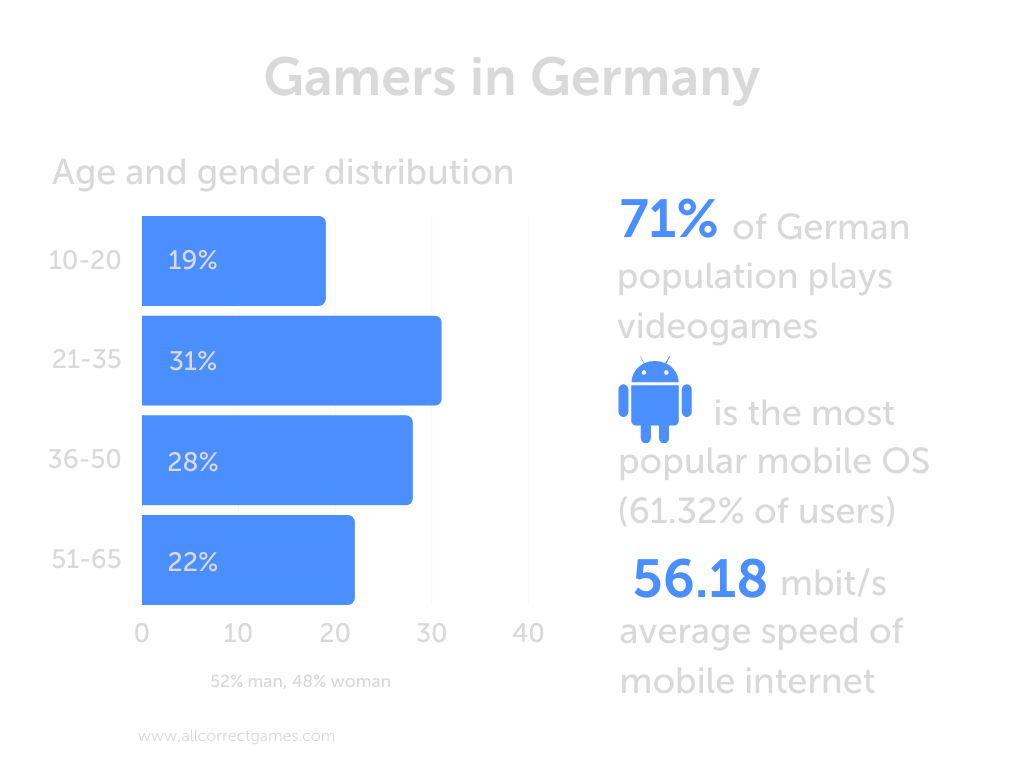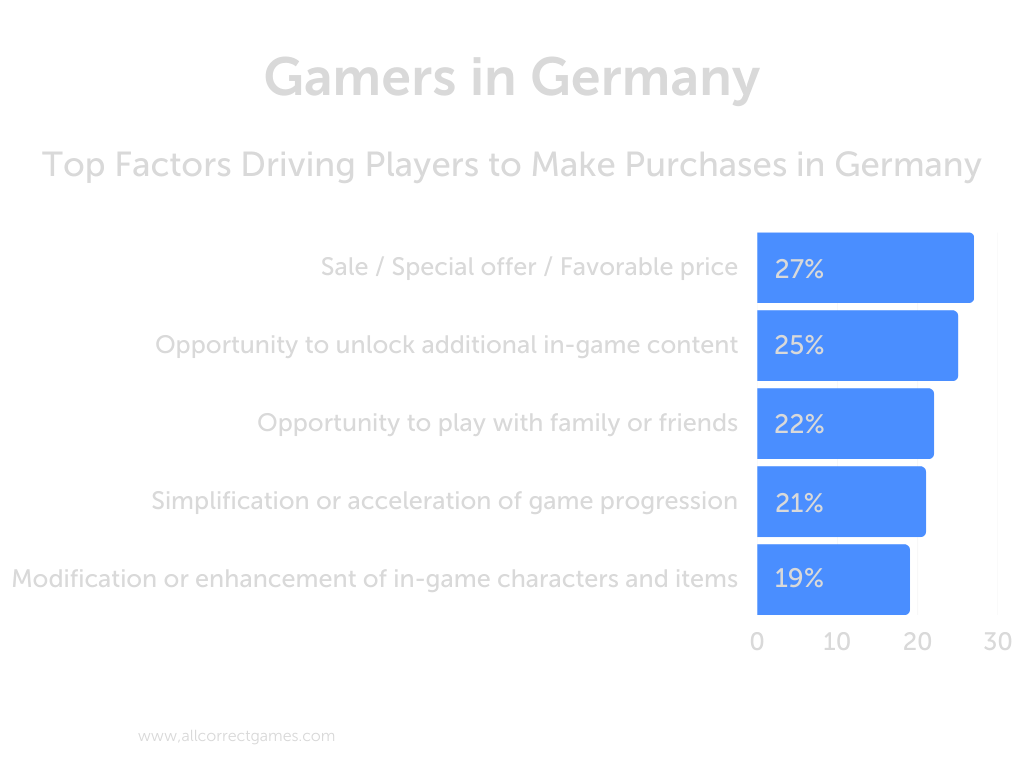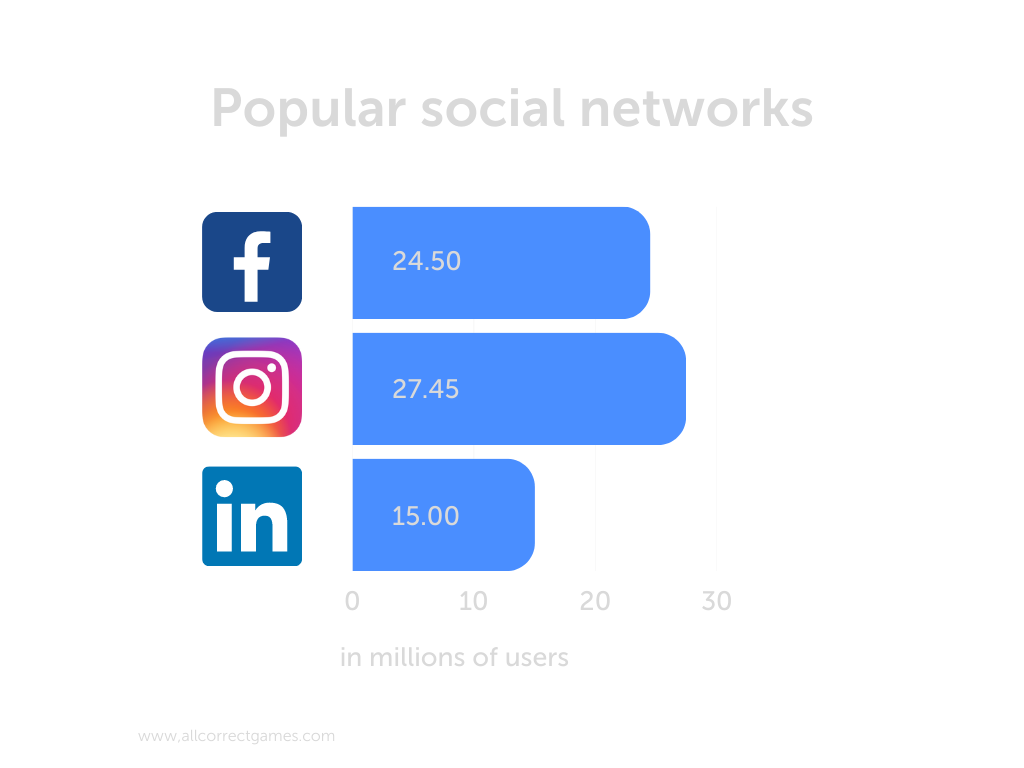 Top 10 PC and Console Games by MAU in 2022 (Newzoo)
1. Fortnite
2. Overwatch 1 & 2
3. Grand Theft Auto V
4. Minecraft
5. The Sims 4
6. FIFA 23
7. Call of Duty: Modern Warfare / Warzone
8. Rocket League
9. FIFA 22
10. Fall Guys
Top 10 Game Genres on PC and Console by MAU in 2022 (Newzoo)
1. Shooter
2. Adventure
3. Sports
4. Battle Royale
5. Racing
6. Role-Playing Games (RPGs)
7. Sandbox
8. Simulation
9. Platformer
10. Fighting
Top 30 Mobile Games by Revenue in Germany in 2022:
1. Coin Master (Moon Active)
2. State of Survival: Zombie War (FunPlus International AG)
3. Gardenscapes (Playrix)
4. Candy Crush Saga (King)
5. Clash of Clans (Supercell)
6. Fishdom (Playrix)
7. Homescapes (Playrix)
8. PUBG MOBILE (Shenzhen Tencent Tianyou Technology Ltd.)
9. Pokémon GO (Niantic, Inc.)
10. Empires & Puzzles: Match-3 RPG (Zynga)
11. Township (Playrix)
12. Roblox (Roblox Corporation)
13. Genshin Impact (miHoYo Co., Ltd.)
14. Royal Match (Dream Games, Ltd.)
15. Lords Mobile: Kingdom Wars (IGG Inc.)
16. Hay Day (Supercell)
17. Solitaire Grand Harvest (Supertreat – A Playtika Studio)
18. Brawl Stars (Supercell)
19. RAID: Shadow Legends (Plarium Global Ltd.)
20. Rise of Kingdoms (LilithGames)
21. Frost & Flame: King of Avalon (FunPlus International AG)
22. Summoners War (Com2uS)
23. June's Journey: Hidden Objects (Wooga)
24. Hero Wars: Alliance (Nexters Inc. (GDEV))
25. Slotpark – Online Casino Games (Funstage)
26. Candy Crush Soda Saga (King)
27. Guns of Glory: Lost Island (FunPlus International AG)
28. Clash Royale (Supercell)
29. Puzzles & Survival: Z Express (37GAMES)
30. The Grand Mafia (Phantix Games)
Culturalization for Germany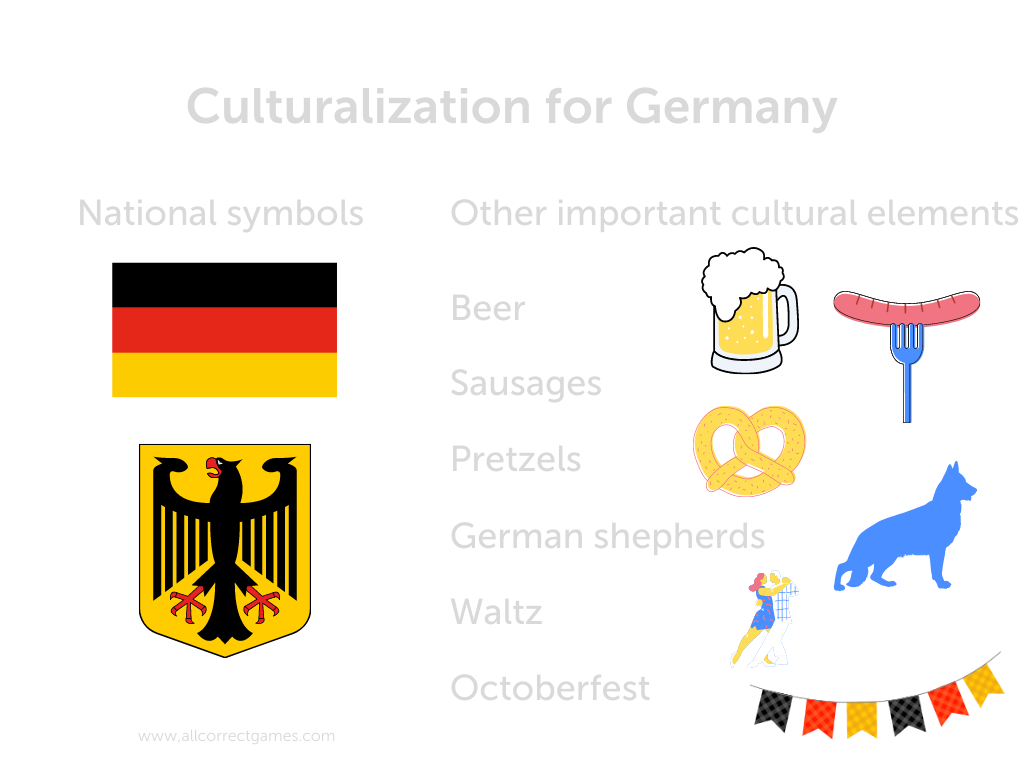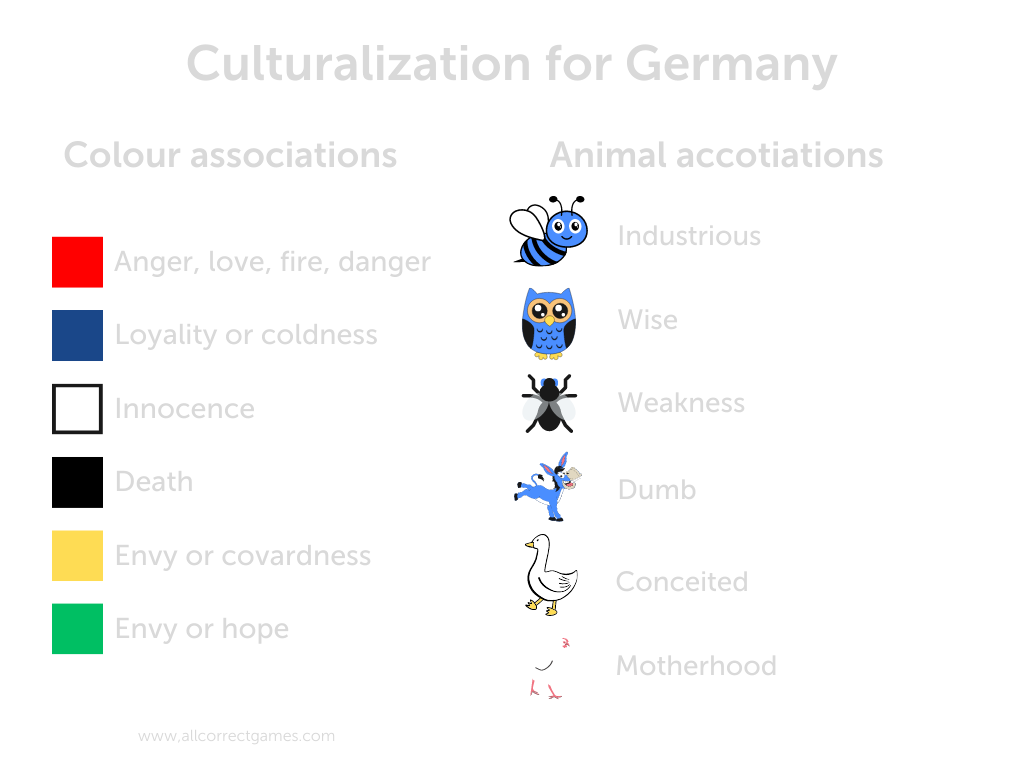 Localization into German
There are several factors to bear in mind when localizing into German:
Different German dialects. Germany has a wide range of dialects and regional variants that differ from each other phonetically, lexically, and grammatically.
Anglicisms. Germany has a concept called Denglisch (Deutsch + Englisch), which is a mix of the two languages. Instead of long German words, Germans often use short English ones. For example, there's Handy, which replaces the longer word Mobiltelefon, Hi for Hallo and other greetings, and Okay/OK for verstanden, natürlich, abgemacht, and other options.
The length of German words. German words often have more letters than would fit within string limits. For example, promo is Sonderangebot or Angebot, and reward is Belohnung. If you need to make sure you fit a text into a game window without losing the meaning, you'll have to find shorter synonyms. You can also use anglicisms like Offer or Reward.
The German alphabet. The alphabet is based on Latin. In addition to the usual Latin letters, however, there are also umlauts (Ä ä, Ö ö, Ü ü) and the ligature ß (Eszett). It sometimes happens that you need to build them into the game code, otherwise you'll end up with an error.
Formal/informal style and gender neutrality. The style you pick for the game you're localizing depends on the plot, the situation, the personalities of the characters, and how the characters relate to each other. Most importantly, maintain consistency and avoid skipping between Sie (formal) and du (informal) over the course of a single dialog. You also need to clarify the gender of each character. With how many rules there are for German grammar, forgetting to check can cause problems when you pick the wrong adjectives or aren't sure whether to use er, sie, or es. A character's gender can also dictate their profession. For instance, Sam might be a male teacher (der Lehrer) or a female teacher (die Lehrerin). If you're talking about a female character, it's important to use the suffix -in.