General information
China (officially the People's Republic of China) is a state in East Asia. It is the third largest country in the world after Russia and Canada, and now, after its population shrank in 2022, the second most populous after India. It is 65% urban. The majority of the population are ethnic Chinese.
According to its constitution, the People's Republic of China is a socialist country. It is a major power (potentially a superpower), an economic heavyweight, and a permanent member of the United Nations Security Council. China also has a leading space program, a nuclear arsenal, and the world's largest army by number of service members.
The economy of China is ranked second in the world in terms of nominal GDP and first in GDP adjusted for purchasing power parity. China is the world leader in manufacturing most kinds of industrial products, the world's largest exporter ("the world's factory"), and a major sales market. It has the world's largest foreign exchange and gold reserves. In the 1990s, 2000s, and 2010s, China's economy grew faster than average for countries in the Asia-Pacific region. It is a member of international organizations, including the UN, BRICS, WTO, G20, Asia-Pacific Economic Cooperation, and Shanghai Cooperation Organisation.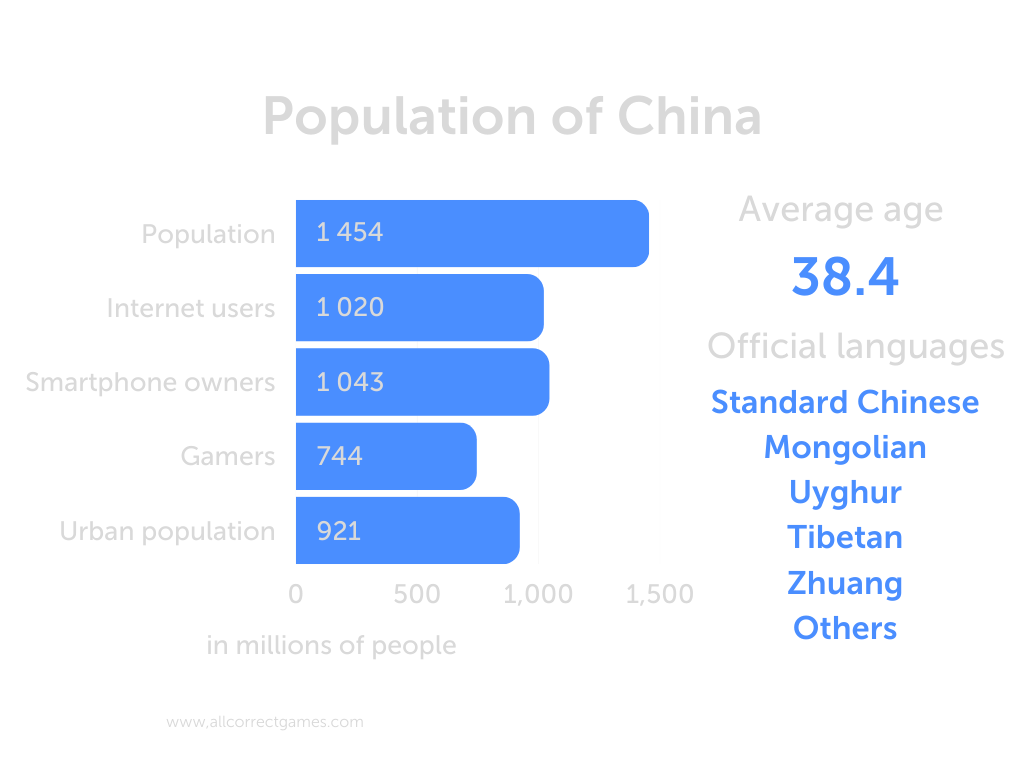 The Gaming Market
China is one of the most lucrative markets in the world for the gaming industry. It attracts numerous global gaming companies wishing to expand into a country that has experienced a particularly thoroughgoing digital transformation. It accounts for around 25% of the global video game industry.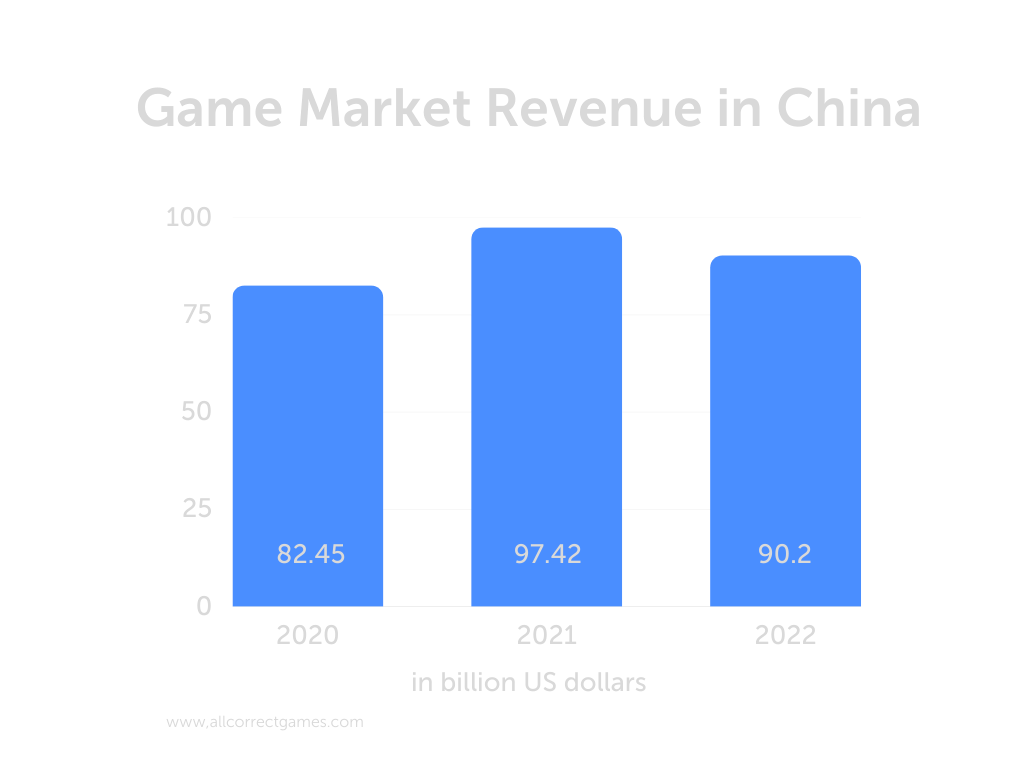 According to the South China Morning Post, this was the first contraction in the market since 2003, when data began to be published. The number of gamers has also fallen slightly (by 0.33%, to 664 million).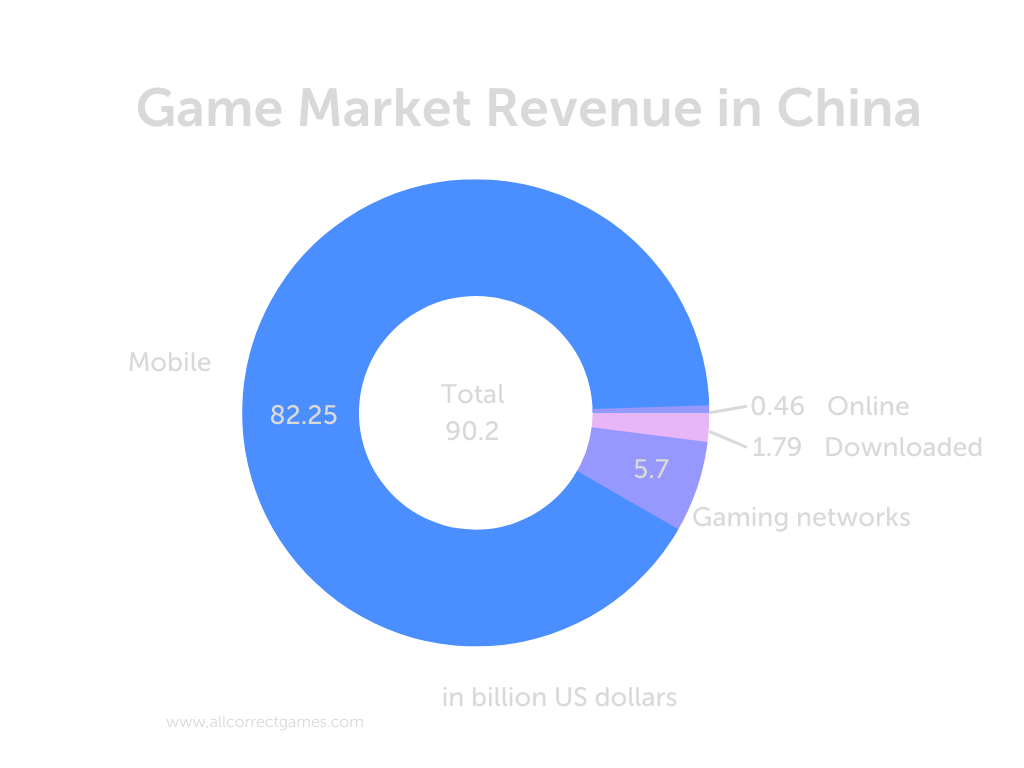 The mobile market accounted for 70% of the overall Chinese market in 2022, and shrank by 14.4%, to 193.1 billion yuan (28.4 billion USD). The esports market also contracted by 14%, to 144.5 billion yuan (21.3 billion USD).
There were many factors behind this downturn: COVID-19 restrictions, fierce competition from abroad, reduced consumer spending, recruitment issues, and laws restricting the amount of time minors can spend playing games.
China's regulation of the gaming market remained tight throughout 2022, which may also have affected market dynamics. Last year, China approved 512 game licenses, 468 for Chinese games and 44 for foreign games. This was a sharp decrease in the figures in comparison with 2021 when 679 Chinese games and 76 foreign games were approved.
As is the case worldwide, the main factor behind the downturn in the internal gaming market is the contraction of the mobile market. According to Gamma, in 2022, the revenue of the internal gaming market fell by 10.33% compared to the previous year. Revenue from mobile games declined by 14.4%, while the PC gaming market's revenue increased by 4.38%.
However, researchers have theorized that economic growth and macroeconomic recovery in China might push household incomes back up, affecting consumption of entertainment industry products.
Esports
2022 was a very contradictory year for China's esports industry. Over the year, Shanghai, the region's esports capital, experienced drastic curbs on activity due to the government's pandemic containment strategy, and many esports companies and competitions suspended their operations.
Thankfully, China's esports industry proved resilient and overcame the several challenges that it faced in 2022. Opportunities to make money are returning now, as the government has abandoned its antipandemic strategy. China has opened up again and is no longer imposing COVID-19 lockdowns and travel restrictions, which means the esports industry can finally hold offline, in-person events once again.
A number of different leagues associated with different esports franchises operate in China, including Tencent's League of Legends Pro League (LPL), King Pro League (KPL), Peacekeeper Elite League (PEL), NetEase's Naraka Bladepoint Pro League (NBPL) and Identity V League (IVL).
Player statistics
According to Statista, the number of gamers in China rose steadily between 2012 and 2021 and reached 666 million. However, in 2022, this figure dropped to 664 million, the result of a decrease in the number of young people playing video games due to regulations on gaming for minors.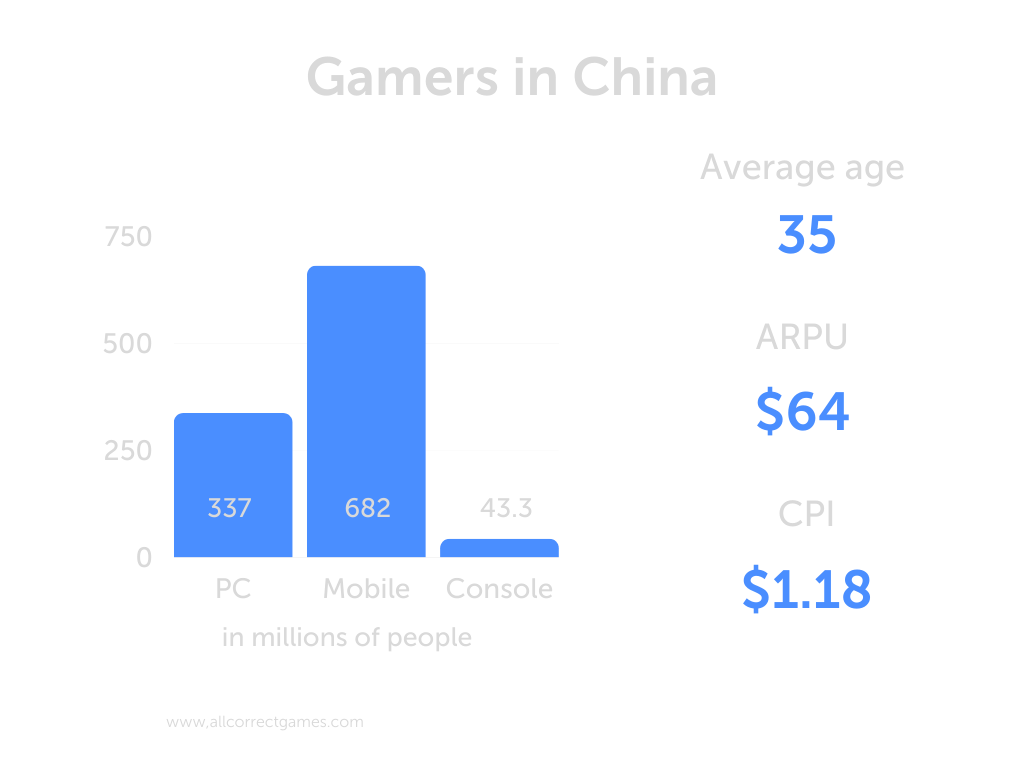 As of June 2022, around 552.4 million people in China played online games, making the penetration rate of 52.6%.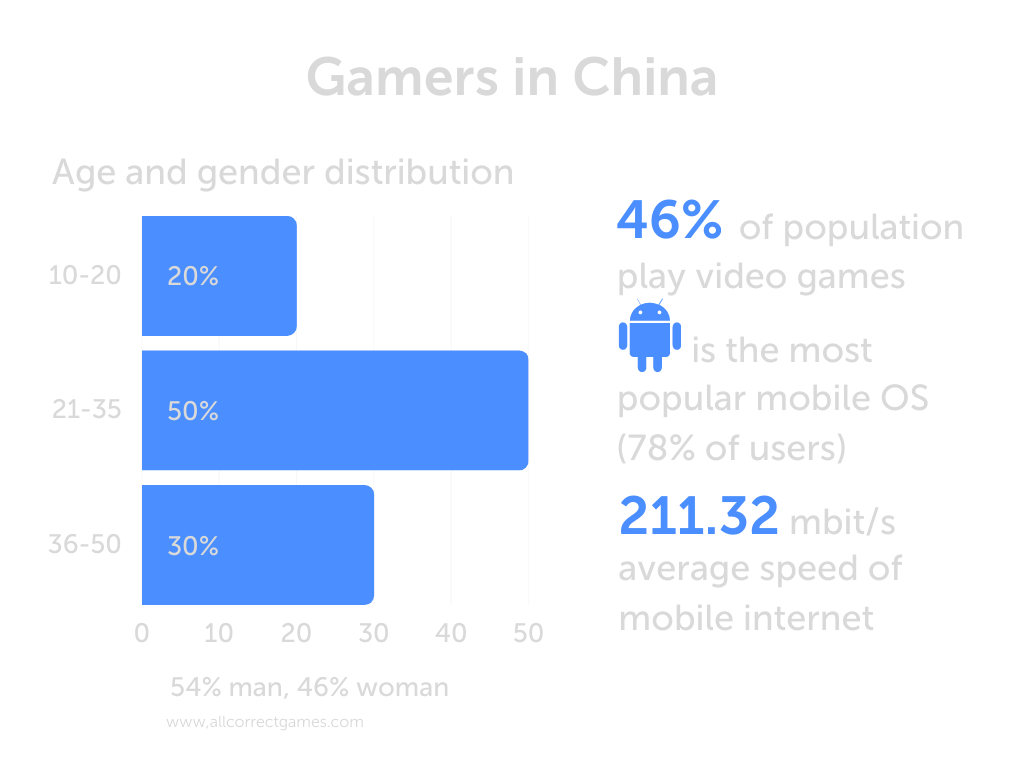 More than 46% of the total population of China think of themselves as gamers.
Around 300 million women play video games in China. According to Abacus, both major Chinese studios (for example, Tencent, NetEase, and Bilibili) and smaller studios have begun to focus on this still underexplored market.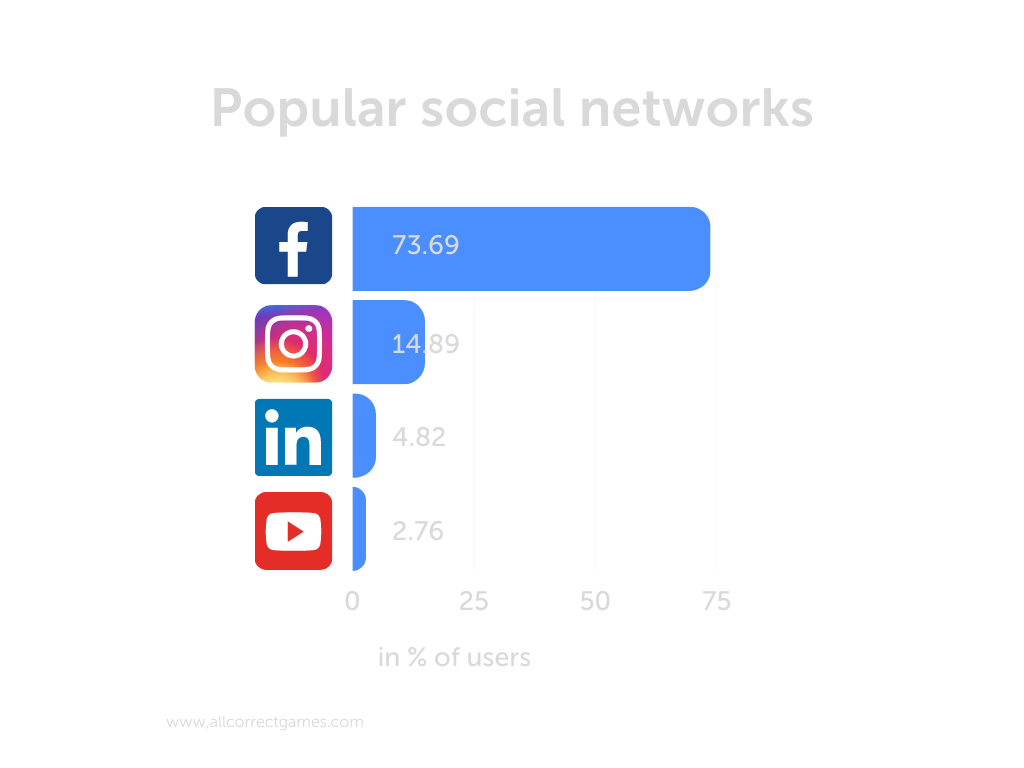 State restrictions on minors playing video games
In September 2021, new rules were introduced that allowed Chinese minors to play online games for only one hour from 20:00 to 21:00 on Fridays, weekends, and public holidays. These rules have had a considerable effect on young people in China.
Since the rules were introduced, 77% of young people have started spending less time playing games: the total number of young gamers (aged between 6 and 17) who play games for at least an hour a month has fallen from a high of 122 million in 2020 to its current figure of 83 million. 54% of young gamers only play in the hours stipulated by the government; the other 46% get around the restrictions by using an adult ID.
Most popular game genres
1. Casual games: 38%
2. Action games: 33%
3. Action adventure games: 33%
4. Shooters: 33%
5. MOBA: 29%
6. ММО: 27%
7. Adventure games: 25%
8. MMORPG: 25%
9. RPG: 25%
10. Simulation games: 18%
11. Sports games: 16%
12. Strategy games: 14%
13. Other: 3%
Video game companies in China
1. The9
2. Balanced Worlds
3. CDC Games
4. Changyou.com
5. Cmune
6. Dr. Panda
7. Duoyi Network
8. Enlight Software
9. FunPlus
10. Hoolai Games
11. IQue
12. Kongzhong
13. LayaBox
14. Leyou
15. Mattel163
16. MiHoYo
17. Moonton
18. NetDragon Websoft
19. NetEase
20. Perfect World (company)
21. R2Games
22. Shengqu Games
23. Snail (company)
24. Tencent
25. Tototek
26. Typhoon Games
27. Virtuos
28. Yodo1
29. Yoozoo Games
30. ZQGame
Culturalization for the Chinese market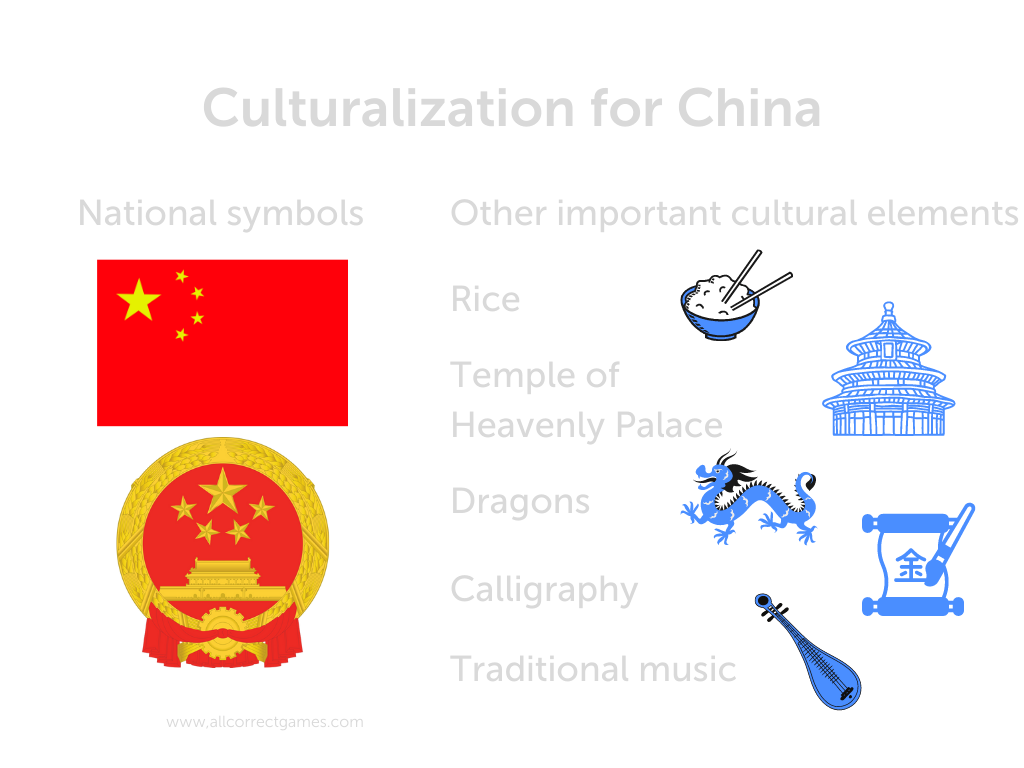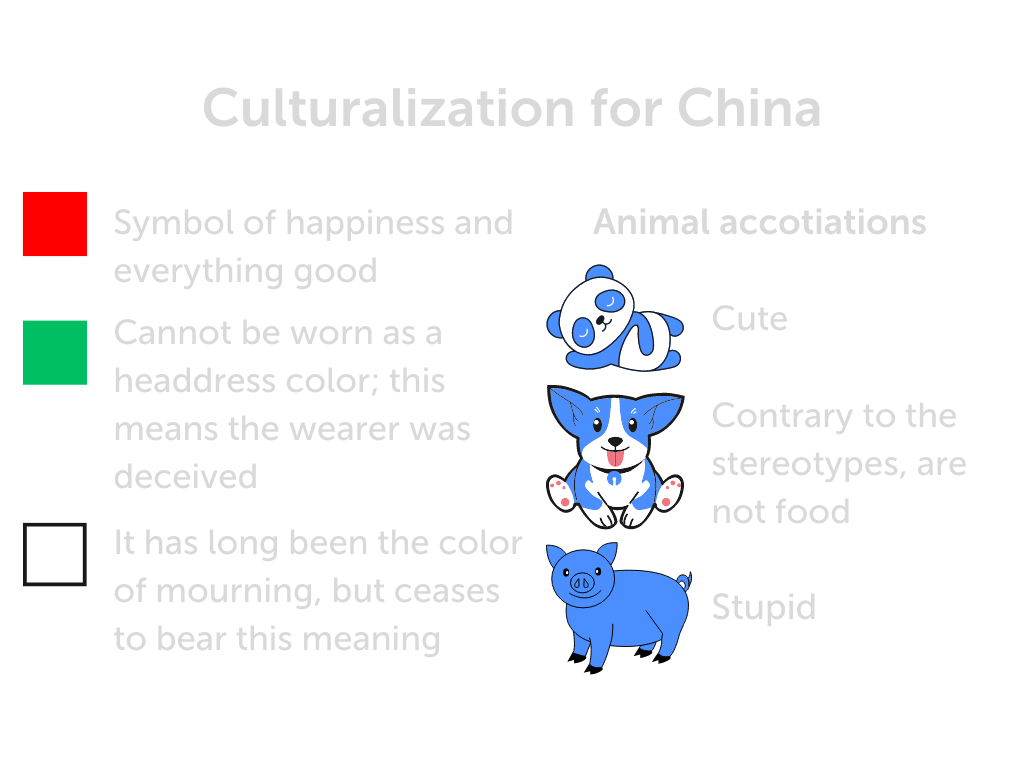 Localization for the Chinese market
According to the EF English Proficiency Index (EF EPI), China ranks 62nd out of 111 countries in terms of English proficiency, which is quite low.
ducational reforms that cut the number of hours of English teaching in schools have had a significant effect on proficiency, particularly among people under 30. Games, therefore, need to be localized for the Chinese market.
Here are some issues that need to be considered right from the start of the localization process:
1. There are several varieties and dialects of Chinese. The official language is Mandarin Chinese, but there are also numerous unique dialects. Another complication for Chinese game localization is that Chinese has four tones that affect how words are pronounced, so every word can have four meanings.
2. Chinese has two writing systems, Simplified and Traditional. Simplified Chinese has fewer symbols than Traditional Chinese. One issue that ironically makes Simplified Chinese more complicated is that it sometimes uses one character to represent separate words that have different meanings but are pronounced the same. Traditional Chinese is mostly used in Hong Kong and Taiwan, but its variations can be found in various regions.
3. Chinese grammar is complex, and these complexities can cause translation issues. For example, the singular and plural forms of a word are the same. This can be difficult for speakers of languages that distinguish singular and plural. What's more, verbs in Chinese don't have tense. To figure it out, speakers have to rely on context.
4. Cultural consideration is very important in Chinese. In the Chinese market, games often feature Chinese folk myths or stories, and that needs to be taken into account during localization. Also, games deemed culturally unacceptable might be banned, so it's important to know which elements should not be used in this region.
5. Text generally takes up much less horizontal space in Chinese than in other languages. For instance, two Chinese characters might be translated into eight words in English. This needs to be taken into account when you're working on a game's text fields.
6. Payment methods. In the United States, players generally buy games using credit cards and online payment systems such as PayPal. However, these payment methods are not supported in China, where players generally use Alipay, TenPay, UnionPay, or QR codes instead.
7. User interfaces will need adjusting. In the Chinese gaming market, players prefer colorful user interfaces. It also pays to think about the choice of icons and design.