General Information
Brazil, officially known as the Federative Republic of Brazil, is a sovereign state in South America. It covers an area of 8.51 million square kilometers (equivalent to 47.3% of the South American territory). Being the fifth-largest country in the world by area and seventh-largest by population, Brazil is the largest country in South America and Latin America in terms of both territory and population. It's the only Portuguese-speaking country in the Americas and the largest Lusophone country in the world.
The capital city is Brasília.
Brazil was a colony of Portugal from the moment Pedro Álvares Cabral landed on the South American coast on April 22, 1500, until its declaration of independence on September 7, 1822, forming the Brazilian Empire. Brazil became the Republic of Brazil on November 15, 1889. The current constitution defines Brazil as a federal republic consisting of the Federal District, 26 states, and 5,564 municipalities.
Brazil has the ninth-largest nominal GDP economy in the world and the seventh-largest GDP by purchasing power parity. Economic reforms have brought international recognition to the country. Brazil is a member of international organizations such as the UN, G20, WTO, and Mercosur, and is also one of the BRICS countries.
Portugal had a significant influence on the country's culture. The official and practically the only spoken language in the country is Portuguese. In terms of religion, the majority of Brazilians are Catholics, which makes Brazil the country with the largest Catholic population in the world.
The official currency is the Brazilian real.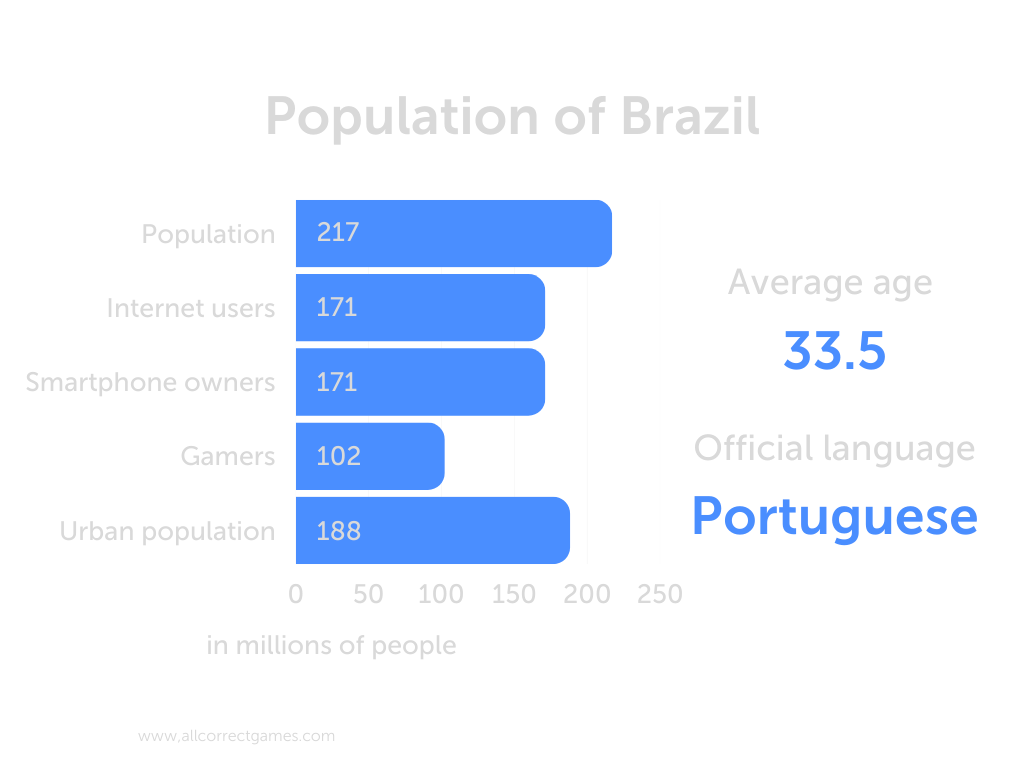 Gaming Market
As of 2022, Brazil was the leading gaming market in Latin America and ranked 10th in the world in terms of game revenue.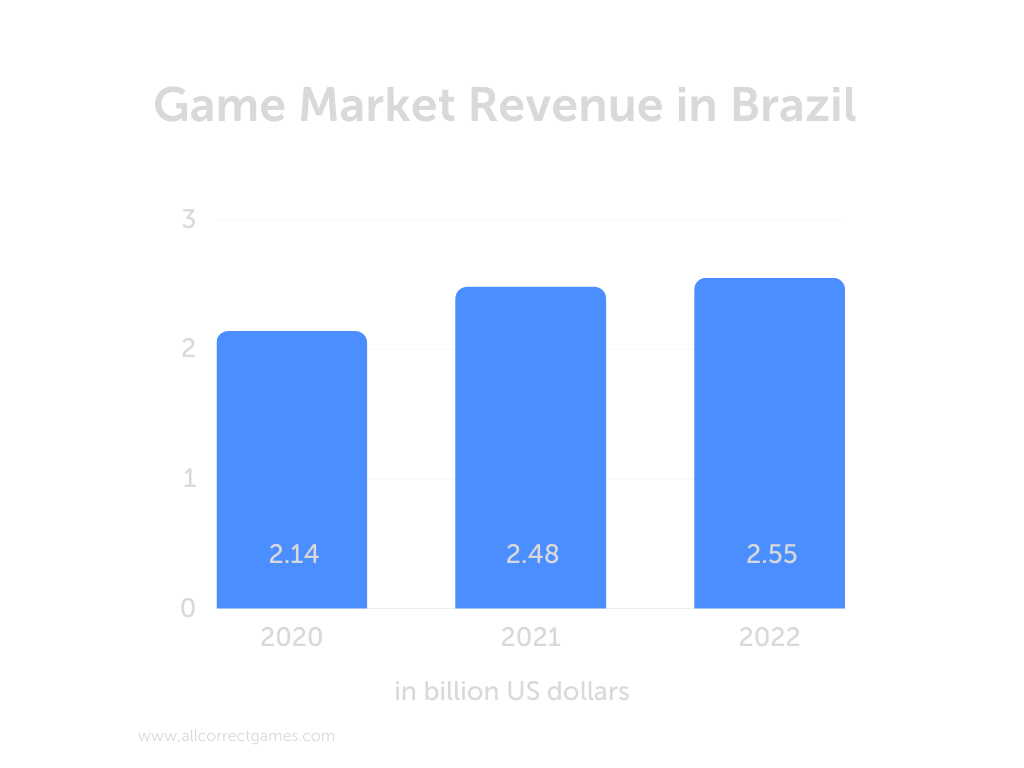 Legislative restrictions significantly influenced the formation of the Brazilian video game market. Video games were not allowed to be imported into Brazil until the 1990s, and later they were subjected to high taxes as they were considered non-essential goods. As a result, a gray market emerged in Brazil, offering consumers pirated copies of games. Due to this, many gaming companies avoided entering the Brazilian market until around 2009. An exception was Sega, which maintained a strong presence in the country due to the popularity of the Master System and Mega Drive.
Pirated versions of consoles gained significant popularity in the country. Additionally, with the emergence of mobile games, the gaming audience primarily formed around them. However, PC gaming still occupies a significant portion of the market.
Citing high taxes, Nintendo officially exited the market in 2015 but returned in 2017. However, Nintendo effectively returned only in 2020 with the Nintendo Switch.
Unfortunately, the issue of tariffs persists. Brazil ranks ninth in the cost of a PlayStation 5. In dollar terms, the PS5 disc version costs USD 900, while the recommended price in the USA is USD 499. Considering the country's not-so-high wage levels, console gaming remains elite entertainment.
Currently, the gaming industry in Brazil is showing steady growth. According to Statista, in 2022, the number of game development studios in Brazil reached a record of 1009 companies. This signifies a 152% increase from 2018 when the country had only 375 studios.
The growth of internet penetration, increased smartphone ownership, and the spread of 5G technologies influence the development of the industry and the rising popularity of mobile games. According to Mordor Intelligence, 70% of Brazilians play video games, mainly on mobile devices. According to Pesquisa Games Brasil (PGB), almost half of Brazilian gamers (51%) spend more than 20 hours a week playing games.
According to a survey conducted among gaming companies in Brazil in 2022, the United States is the largest external market for 55% of Brazilian game development studios, followed by Latin America (53%), Western Europe (49%), Canada (49%), Eastern Europe (45%), Portuguese-speaking countries (41%), Japan (37%), and China (35%).
In Brazil, gambling is legal, which means that online casino operators have the opportunity to obtain a license and operate within the framework of the law. This makes Brazil an attractive market for online casino operators. It's worth noting that the country's legislation also protects players and includes strict age restrictions and measures to combat gambling addiction.
Statista Forecasts Regarding the Development of the Gaming Market in Brazil
It is projected that revenue in the video game market will reach USD 2.61 billion in 2023.
The annual revenue growth rate (CAGR 2023–2027) is expected to be 7.97%, resulting in a projected market volume of USD 3.55 billion by 2027.
By 2027, the number of gamers is expected to reach 112.2 million.
The largest segment will be mobile games, with a market volume of USD 1.393 billion in 2023.
The average revenue per user (ARPU) in games is projected to be USD 25.91 in 2023.
Player Profile
According to the Newzoo report, there were 102 million players in Brazil in 2022. In terms of the number of players in 2022, Brazil ranked 5th in the world. On average, mobile players spend 4.31 hours per week on games, while this figure is slightly higher for PC and console gamers at 5.12 hours per week.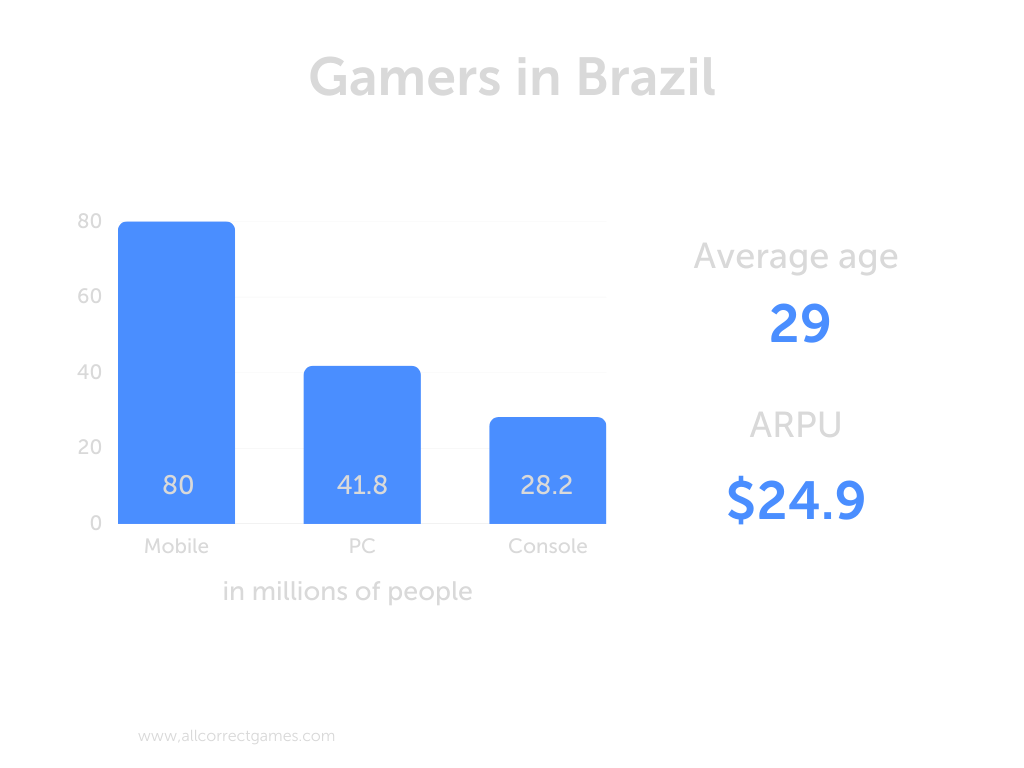 Out of the total number of players, 43% had paid for gaming content in the last 6 months.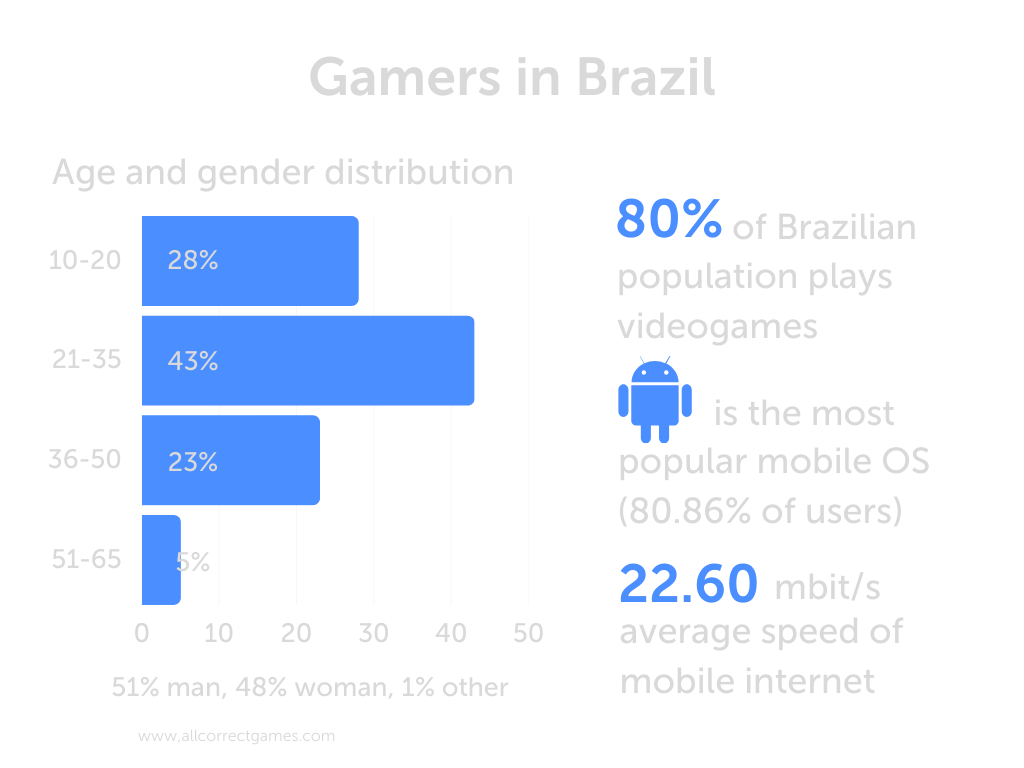 According to the classification used in the Newzoo report, the majority of Brazilians (80%) are video game enthusiasts, meaning consumers who are in some way interested in games (i.e., they play, watch gaming content, discuss games, and so on).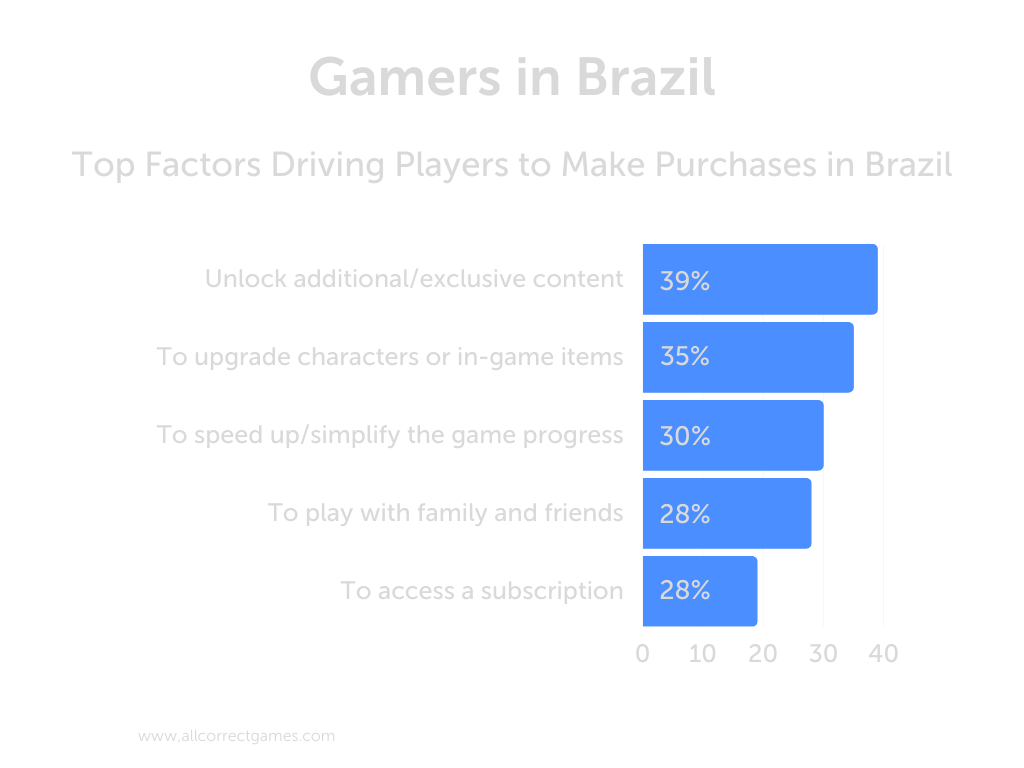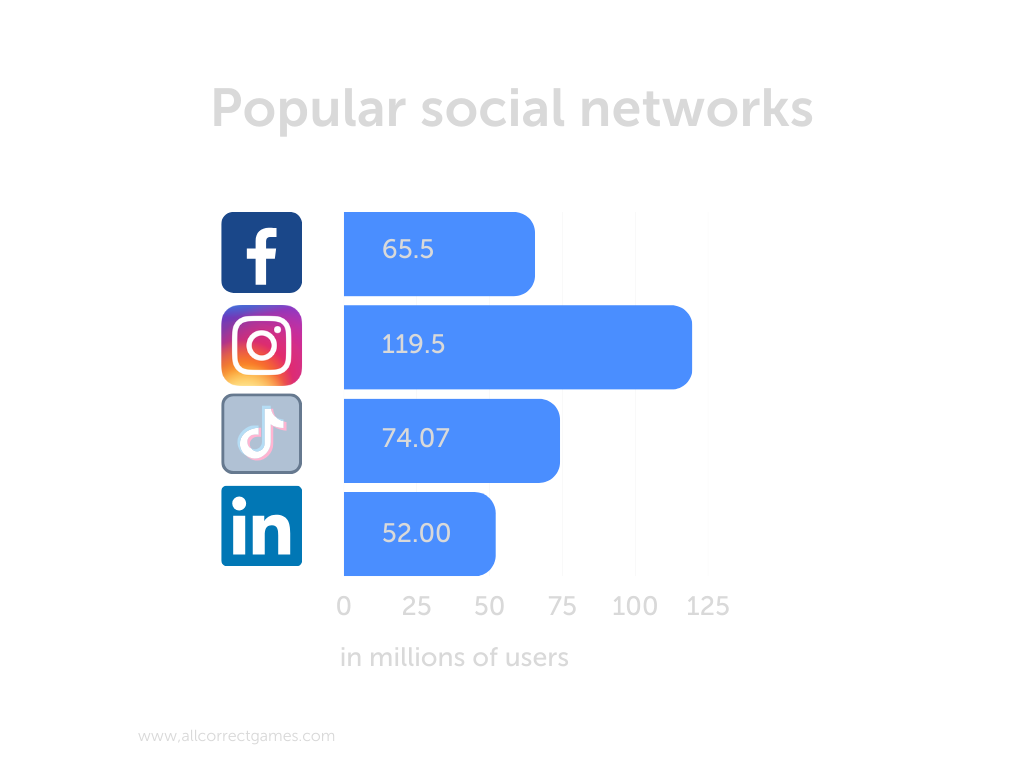 Most Popular Game Genres on PC and Consoles in 2022:
1. Shooters
2. Adventures
3. Sports
4. Battle Royale
5. Fighting
6. Role-playing
7. Platformers
8. Sandbox
9. Racing
10. Simulators
Top Game Charts for PC and Consoles in 2022:
1. Fortnite
2. Counter-Strike: Global Offensive
3. Grand Theft Auto V
4. FIFA 22
5. League of Legends
6. Minecraft
7. Roblox
8. MultiVersus
9. Valorant
10. Call of Duty: Modern Warfare / Warzone
Top Game Charts for Mobile in Google Play and App Store for 2022:
1. Coin Master (Moon Active)
2. Free Fire: 6th Anniversary (Garena International I)
3. Roblox (Roblox Corporation)
4. Candy Crush Saga (King)
5. Call of Duty: Mobile (Activision Publishing, Inc.)
6. Clash of Clans (Supercell)
7. Stumble Guys (Scopely)
8. Gardenscapes (Playrix)
9. Free Fire MAX (Garena International I)
10. League of Legends: Wild Rift (Riot Games, Inc.)
11. Brawl Stars (Supercell)
12. Lords Mobile: Kingdom Wars (IGG Inc.)
13. Genshin Impact (miHoYo Co., Ltd.)
14. Fishdom (Playrix)
15. Praia Bingo: Slot & Casino (Pipa Games)
16. Clash Royale (Supercell)
17. Empires & Puzzles: Match-3 RPG (Zynga)
18. MIR4 (Wemade Co., Ltd)
19. Homescapes (Playrix)
20. FIFA Soccer (Electronic Arts Inc.)
Localization
Brazil is a country with a vast cultural and historical inheritance, but a low level of English language mastery. It falls behind Poland, Portugal, South Korea, and even Argentina in the English proficiency index. This makes localization of video games virtually essential for the Brazilian market. However, simply using European Portuguese is not possible, as the Brazilian dialect differs significantly from the one spoken in Portugal. Some words are spelled differently, and others have different meanings. Brazilians often make verbs from nouns and condense expressions.
Culturalization