Allcorrect's art department here. A lot of game developers outsource their graphic design to us, and we'd like to talk today about why they do that and how to best structure the process.
Since getting into this business in 2020, we've handled more than 20 projects.
And it's pretty simple why outsourcing studios are in demand: it's a way to save time and/or money. There are a few instances when companies resort to this option:
It's a one-off assignment. There's no point hiring someone since they'll be sitting around with nothing to do when the job is done. And while hiring a freelancer is an option in this case, looking for them and bringing them up to speed can take quite a while. A studio, on the other hand, already has a pool of artists specialized in specific areas.
There are time-sensitive assignments. If there isn't enough time to go through hiring, onboarding, and training, companies can unload all that onto a contractor. There's some overlap with the previous point here.
There's an assignment that regular employees don't want to deal with. These are most often monotonous jobs like drawing icons. Of course, companies could use the internal resources for this, though there's no guarantee that wouldn't impact the final quality.

Routine work is most commonly outsourced.

The full-time staff specializes in other areas. The fact that a company's artists are rock stars at drawing people doesn't mean they're equally good at drawing machinery, and vice versa.
Don't resort to outsourcing at the early stages when your artists are still working on the concept. At that point, the constant discussion and exchanges of ideas mean the whole team needs to be deeply involved in the project. If they're not, the client might not end up walking away with exactly what they want. Outsourcers are as helpful as Chip and Dale when you already have your style, and you need to draw a lot of monotonous or one-off objects like themed locations, holiday skins, or events.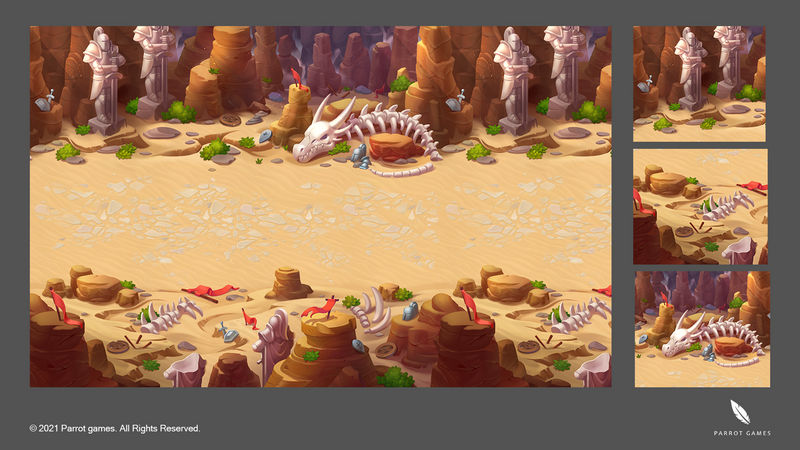 With that said, if you don't have your own team of artists and don't want to hire them, you can go directly to the outsourcing studio right at the beginning. That will let the studio engage more deeply with the project and your internal processes.
Another option is to gather your own team of freelancers so long as you have an art director with time to manage them. Unfortunately, experience shows that tends to eat up all their time, leaving them too busy to handle their main responsibilities.
We've identified when it's the right time to speak with an outsourcing company. Now let's talk about the work we do.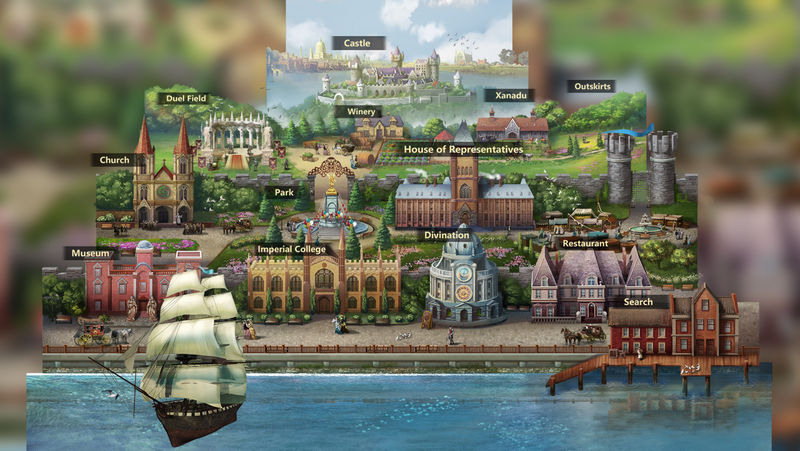 We have our own pool of artists. After taking a look at their portfolio, we give them a test assignment, take a look at their strengths and weaknesses, and make sure they're reliable. Soft skills, incidentally, are a separate and important point without which it's impossible to work with them.
There are just people in both pictures, though a different skill set is actually required for each of them.
There are two main types of clients. The first don't always know exactly what they need, and they're not always game developers. For example, we've had marketing agencies asking us to develop characters for their campaigns. In these cases, we set up a call with our art director as well as an art lead and project manager from our side. That gives us the opportunity to identify exactly what the client is looking for—the style they like, any existing games they're modeling theirs after, and more descriptive details like proportions and how cartoonish the characters should look. Walking out of that meeting, we have specifications we can use to find the right artists.
The second type of client has worked with art outsourcers before. They often send us detailed specifications on their own with everything we need to get started. For our part, we provide talent management and make sure all timelines are followed.
The cost depends on how many studio hours it takes to draw all the materials. Once in a while, an artist isn't able to handle a project, in that case, we send it to someone else. That's a risk outsourcers take on. It's also another important aspect of an art director's job, incidentally: the ability to project how much time a job will take from the get-go.
Waypoints are built into the timeline at the start to give the client a chance to pick from a few options or confirm that we're on the right track. That means we don't have to waste time redoing work later on.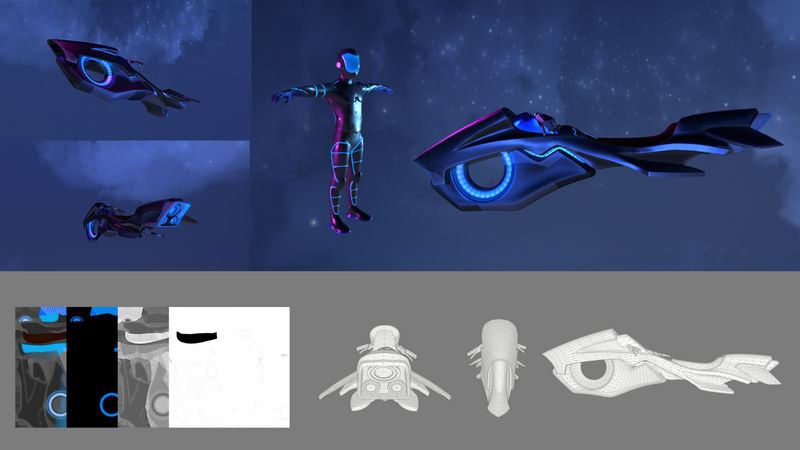 It's important to stay in contact throughout the project. Where the client has processes set up, we integrate into them, many inviting us to their Jira or Slack. If they don't, we add them to our Discord channel.
To summarize, here's what the outsourcer takes responsibility for:
Art direction. We make sure the client gets what they need from the artists. That's especially important for inexperienced developers.
Contractor evaluation and selection. After a conversation with the client, our art director knows exactly which skill set they need from the artists and how to set up the team best of all.
Talking to the artists in their own language.
Setting up internal approval processes.
Small studios working with us can take on larger projects despite limited resources. And when it comes to bigger companies, reaching out to an outsourcing studio gets them art at the quality level they need while spending as little time and effort as possible.
If you still have questions, we'd be happy to answer them!