GENERAL INFORMATION
Nigeria, or the Federal Republic of Nigeria, is a country in West Africa that ranks 32nd globally and 14th in Africa in terms of size. It is the world's seventh most populous country. Nigeria is made up of 36 states and the Federal Capital Territory. Even with 923,768 square kilometers, the entire country is covered by a single time zone: West Africa Standard Time, or WAT (GMT+1).
Per Statista data, Nigeria is home to more than 250 aboriginal peoples and tribes. The largest are: the Hausa at 21%, the Yoruba at 21%, the Igbo at 18%, the Fula (Fulani, Fulbe) at 11%, the Ibibio at 5%, the Kanuri at 4%, the Bini (Edo) at 3%, the Tiv at 2.5%, and the Ijaw at 2%. English is Nigeria's official language, while Edo, Efik, Fula, Hausa, Idoma, Igbo, Kanuri, and Yoruba are also widely spoken. Of the 527 languages in the country, 514 are considered living, two only have non-native speakers, and 11 are dead.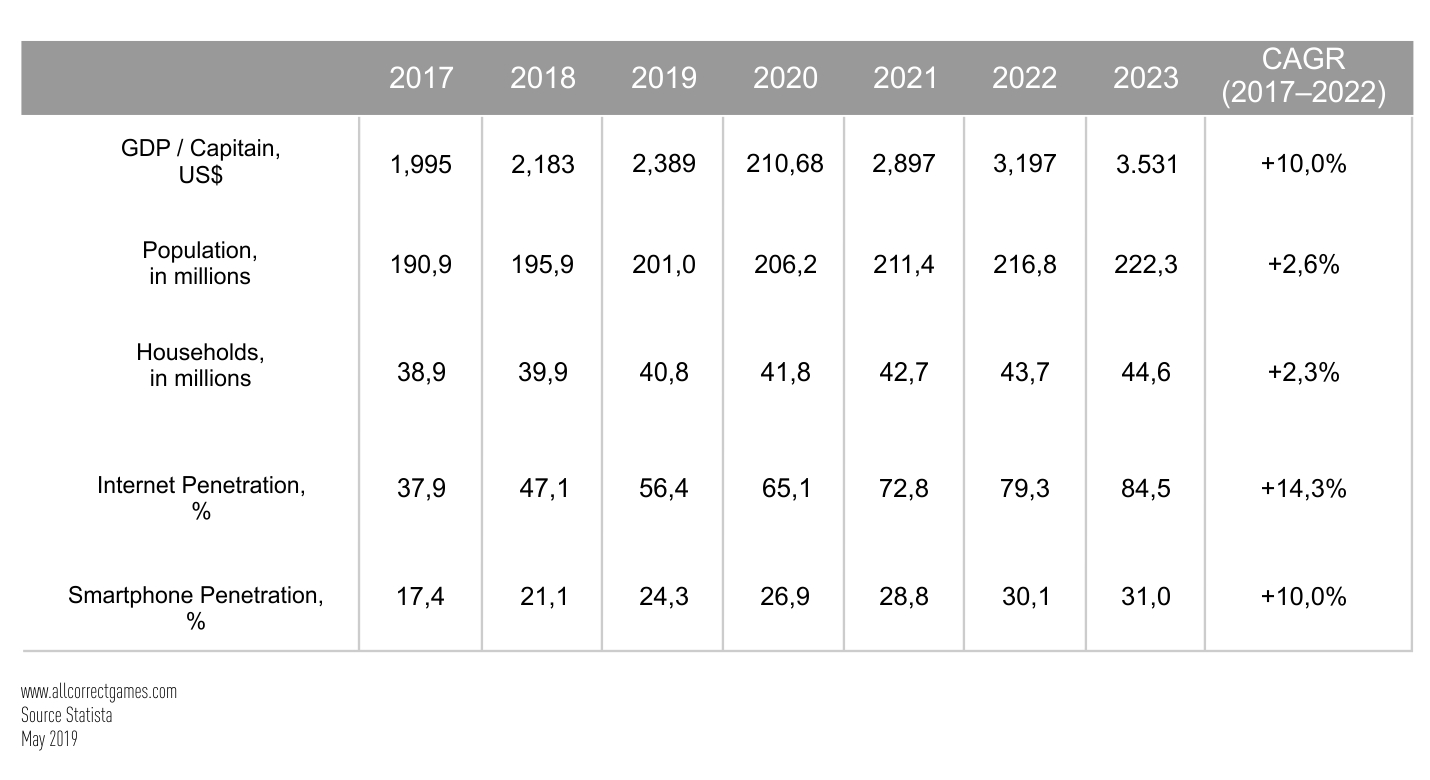 The local languages are mostly used for conversation and in mass media, though some are also taught in schools. Most people in the country speak two or more languages.
The Pan-Nigerian alphabet was developed based on Latin letters in the 1980s for many Nigerian languages.
In 2018, Nigeria ranked 92nd in the world in terms of GDP by PPP, up to 31st in terms of nominal GDP, while purchasing power is trending upward. Oil-rich, Nigeria for a long time struggled with political instability, corruption, underdeveloped infrastructure, and poor economic management. The country's former military leaders were unable to diversify the economy, leaving it wholly dependent on an oil sector that pulled in 95% of foreign exchange earnings and made up 80% of the government's revenue. Over the past few years, the government has started reforms, in particular privatizing the country's largest refineries and allowing the prices for oil products to float. The government is also incentivizing private infrastructure with particular emphasis on the agroindustrial sector.
GDP per capita in 2009 was USD 2,400 (13th in Sub-Saharan Africa, 177th in the world). The following illustration depicts how that indicator has trended in USD.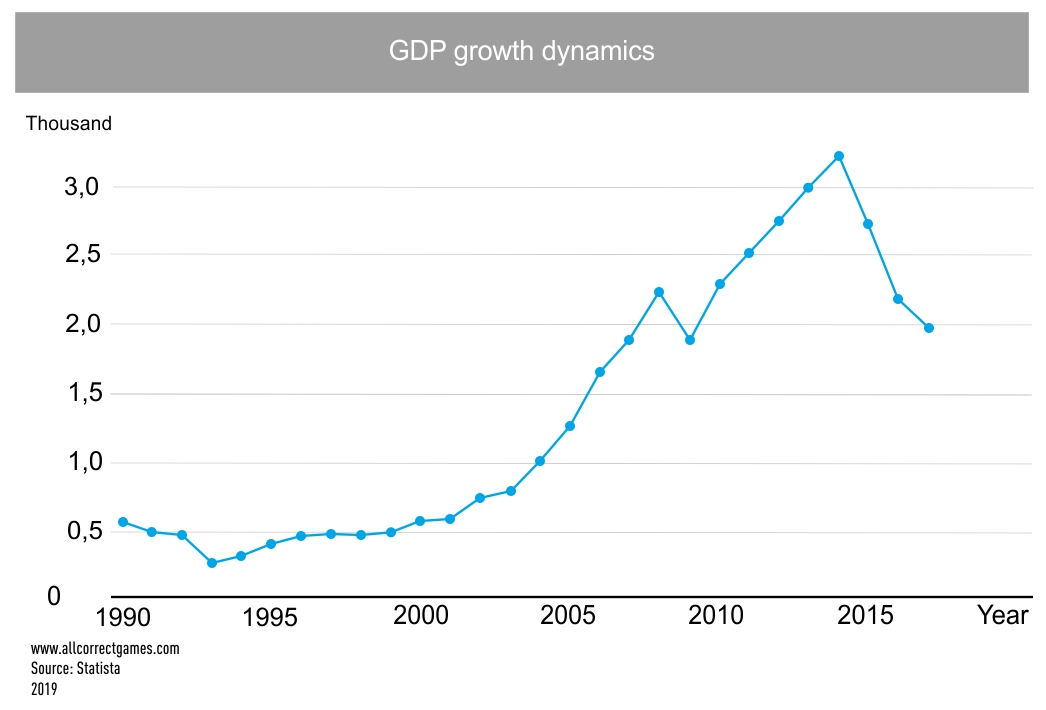 GDP per capita correlates to oil prices given the enormous percentage of Nigerian exports made up by oil and petroleum gas (90% of total exports, with the remaining 10% made up primarily of other natural resources).
Nigeria is multinational and therefore multicultural. The country's modern culture finds its beginning in the Nok civilization. Needless to say, quite a few customs can be explained by quirks of history, Nigeria's geography, and the religions and cultures of native Nigerians. Nigerian culture is heavily traditional, though novelties are welcome when they don't come at the expense of the tried and true. For example, the country has a well-developed film industry referred to as Nollywood, a reference to the American Hollywood, and it even churns out twice as many movies a year as its American counterpart. Only Bollywood is more productive in terms of quantity.
MOBILE GAMES MARKET IN NIGERIA
As of 2017, more than 74% of Nigerians use smartphones, and more than 47% are active mobile internet users, a number three times higher than the African average.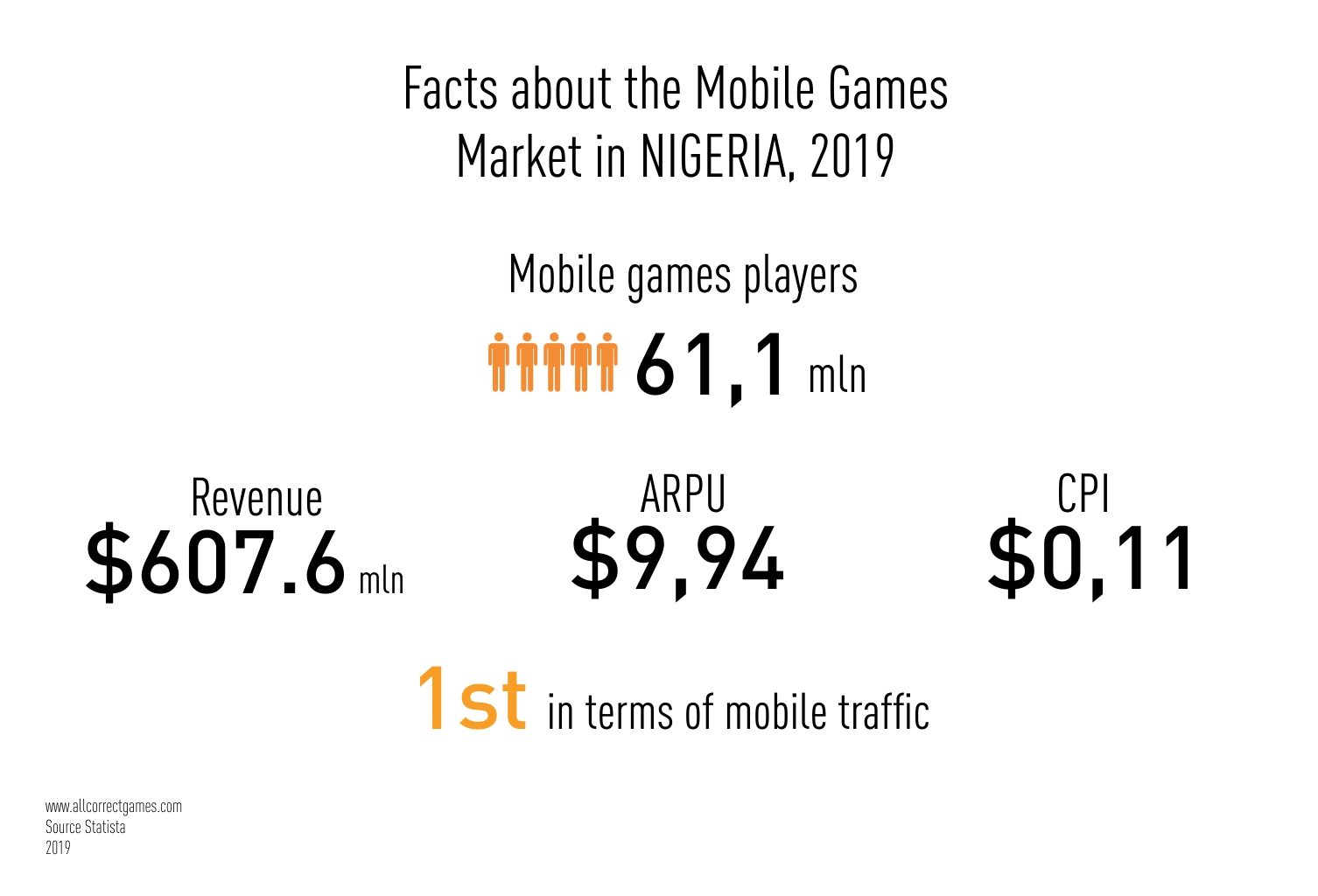 And the number of active smartphone users continues to grow with each passing year. For the most part, that's driven by lowering prices on mobile devices and delivering cheaper alternatives to the better-known and larger smartphone brands—most users prefer cheap Android devices.
In addition, Statcounter shows that Nigeria devours the most mobile data in the world. The proportion of mobile data to other kinds of internet connections also demonstrates significant growth. To that point, between 2017 and 2018 that number jumped from 76% to 81%.
That process doesn't just have to do with population growth and the climbing number of smartphone users (on a backdrop of lowering average prices); it's also down to the fact that most users have devices with more than one SIM card (the illustration below shows that Nigeria is first in the world for multi-SIM devices).
One important factor is mobile internet and smartphone user behavior. Per Statcounter data, the vast majority use mobile data for social media, half as many to look for information and check their email, and less than a third as many to watch online videos. The percentage of online gamers isn't that high in comparison.
Still, per Statista data, ARPU in Nigeria stands at USD 9.94. Not much money is spent on game promotion either, with CPI holding steady at USD 0.11, a fact that couples with fast and continuous growth in target audience to make the market a promising one for mobile game and app developers.
The combination of those factors makes it possible to project revenue for game developers over the next few years as presented in the diagrams above.
Mobile gambling and its potential for growth in Africa is worth particular mention. For example, Nigeria has seen incredible growth in online sports betting. After years spent penetrating the market, online payments are starting to pay big dividends for online sports betting operators. Seun Anibaba, General Manager and CEO of the Lagos State Lotteries Board, said in June 2018 that growth in the sports betting sector was built on larger numbers of web payments in line with data provided by the Nigeria Inter-Bank Settlement System Plc and belonging to the central bank and licensed banks.
In 2016, 14 million web payments were made totaling 132 billion naira (USD 420 million). The next year saw the number of transactions leap to 29 million, with 10 million more in the first quarter of 2018 totaling 61 billion naira. If the situation were to simply stay at the level of the first quarter, we could multiply those figures by four to arrive at a total 2018 market valuation of 244 billion naira (USD 620 million) for online sports betting in Nigeria. That's an additional USD 200 million in annual growth since 2016. With that said, there's a good chance that growth will continue, expanding the sector's horizons.
USER PROFILE
In Nigeria, there are 91.5 million active mobile app users, and Statista data points to the number of users growing. That's due to the increasing prevalence of smartphones and mobile data. The percentage of gamers is relatively low, though they're responsible for the most payments per active user.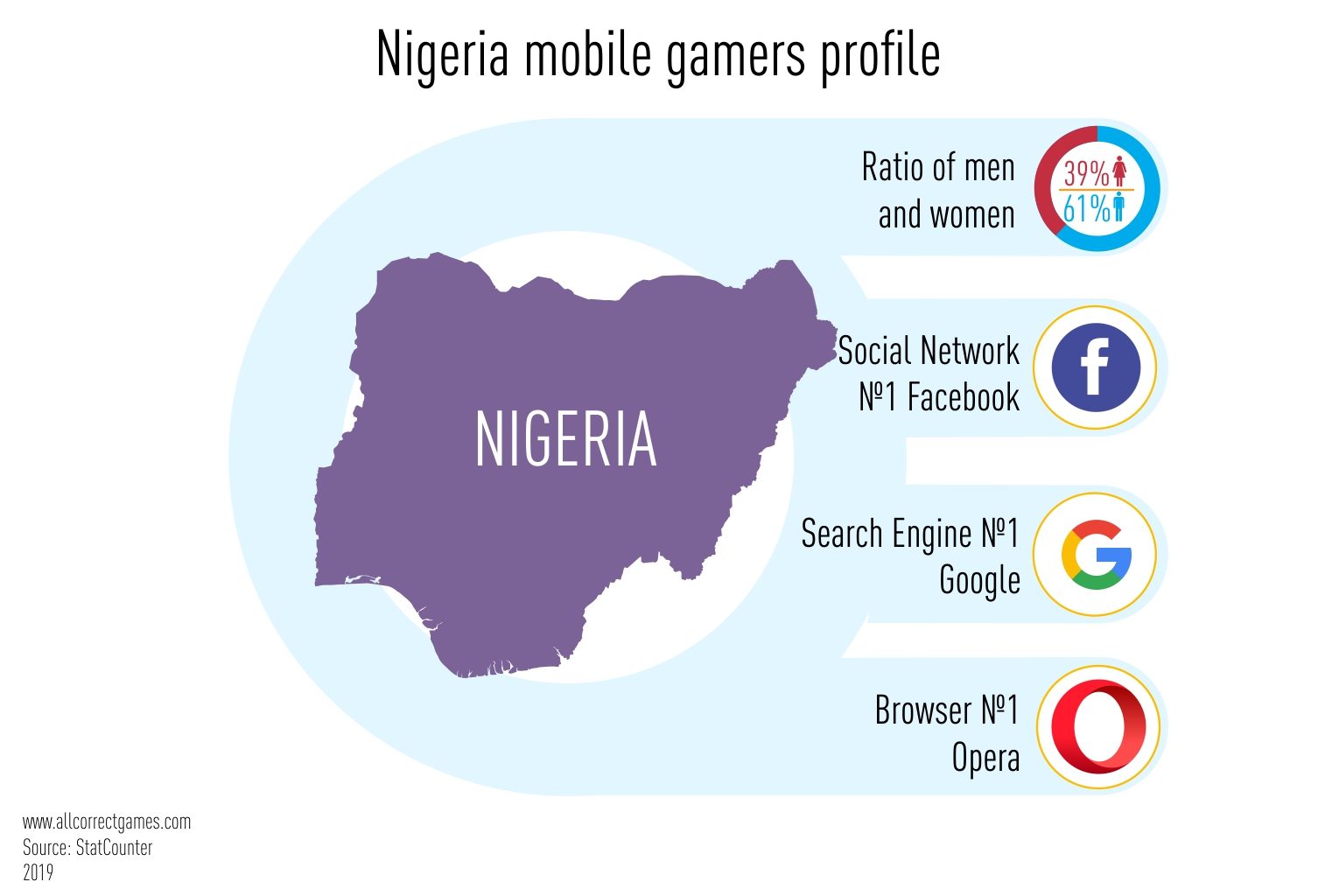 The diagrams above depicting user behavior data were put together by Statcounter. They point to a gender imbalance when it comes to user demographics: almost two thirds of paying users are male, while just one third are female.
A bit less than half of all users (49.5%) have paid for apps or games at least once. And 41.9% of them have paid for more than one game or app. Here's what's going on with in-app purchases: 42.6% of users have made at least one in-app payment.
As expected, the segment that pays the most is gamers aged 25–34. Most payments are made in the first few days after an application is installed.
Per Statcounter data, Facebook is the most popular social network in Nigeria. Among search engines for mobile internet users, Google is in the lead (97.11%), with the remaining 3% or so split primarily between Bing (1.59%) and Yahoo! (0.9%).
NIGERIAN MOBILE GAME DEVELOPERS
The top developers working in the Nigerian market include companies from a wide variety of countries: Israel, Finland, Lithuania, Turkey, China, and others.
Game developers in Nigeria:
Bison Play
Gamesole
Yinola
Chopup
Maliyo Games
The most popular games in Nigeria per App Annie data are: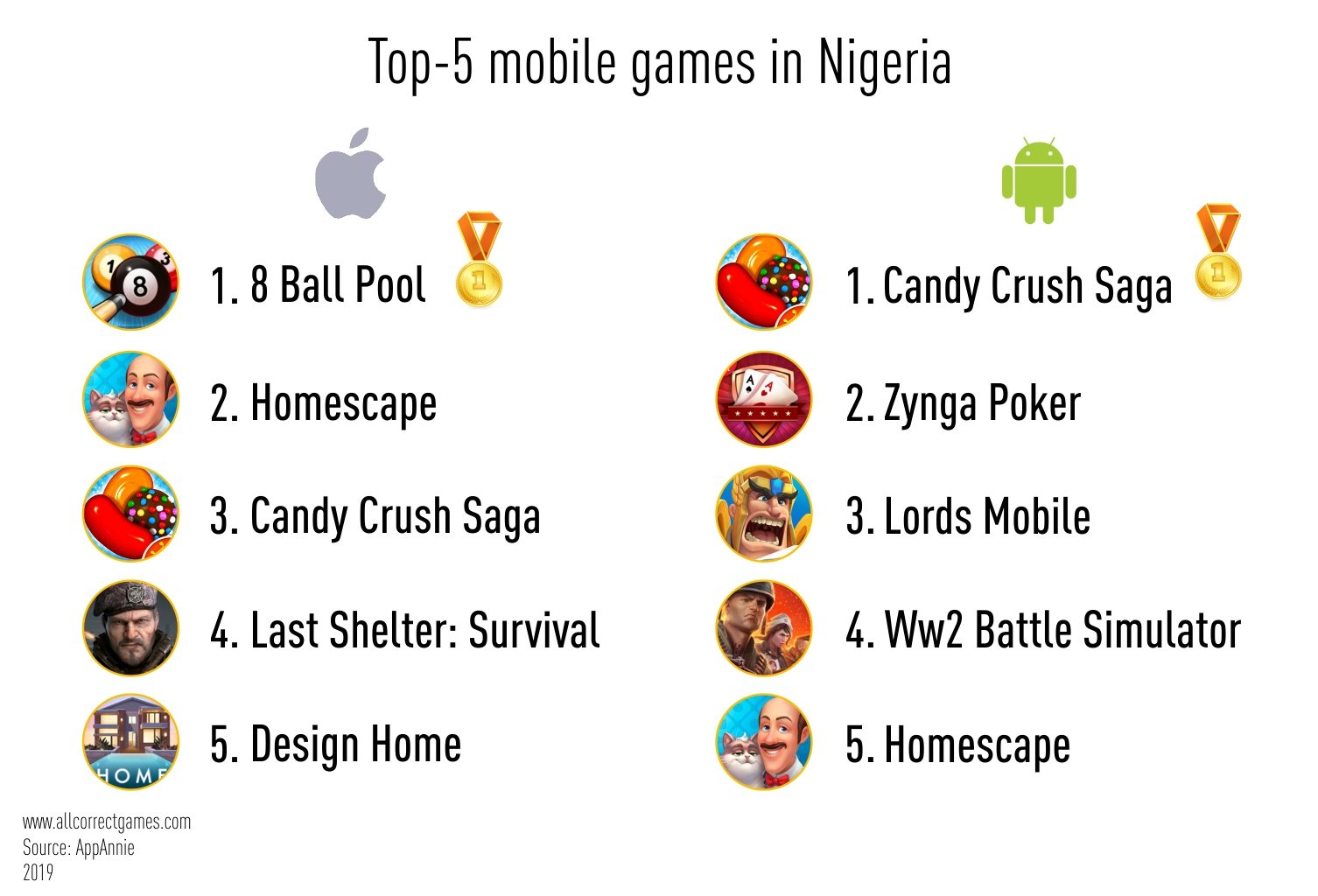 Local developers don't make it into the top charts for either platform.
CULTURALIZATION FOR NIGERIANS
Nigeria is a multinational and multicultural country, making it difficult to find a single cultural code understood equally by all Nigerians. Still, there are some things worth paying attention to when adapting games for Nigeria.
Regardless of the role tradition plays for Nigerians, they're open to new international trends.
Half the population of Nigeria are Muslim, and adhering strictly to Sharia law is a must when localizing games. For example, homosexuality is illegal and carries the death penalty. Given how harsh punishments can be, it's important to clear games of visuals that could be considered inappropriate ahead of time.
Nigeria was a long-time English colony, meaning that intertribal communication is done in English, though there's also Pidgin English, a local dialect that mixes English vocabulary with local slang.
Here are some examples of Nigerian Pidgin English:
How bodi?/How you dey?—How are you doing today?
How far?—Hey, hi.
Wetin?—What?
I no no—I don't know.
I no sabi—I don't understand.
I dey fine—I'm fine. I'm doing well.
Wetin dey happen?—What's going on? What's happening?
Wahala—problem, trouble. Example: "Why you dey give me wahala?" That means, "Why are you giving me so many problems?"
Comot!—Get out of here!
Comot for road—make way.
Dem send you?—Have you been sent to torment me?
Gi mi—Give it to me.
K-leg—questionable. Example: "Your story get k-leg!" That means your story or gist sounds suspect or exaggerated.
I wan chop—I want to eat.
Come chop—come eat.
Abeg—please, but usually not a repentant plea. Example: "Abeg! No waste my time!" That means, "Please! Don't waste my time!"
Vex—upset. Example: "Make you no vex me!" That means, "Don't upset me!"
I no gree—I don't agree. I disagree.
Abi?—Isn't it?
Na so?—Is that so?
Wayo—trickery. Example: "That man be wayo." That means, "That man is a fraud!"
Area boys—street-smart young men that loiter around neighborhoods.
Butta my bread—answered prayers. Example: "God don butta my bread." That means, "God has answered my prayers."
Go slow—traffic jam.
The Economic Community of West African States (ECOWAS), which includes Nigeria, was founded back in 1975, though it has seen a resurgence recently. As of today, the ECOWAS is made up of 15 countries covered by what basically amounts to a free trade zone. Its permanent capital is in Abuja, Nigeria. The countries in the ECOWAS make up an enormous and growing market with more than 400 million users. In contrast to the EU, certification requirements are designed to boost mutual export-import relationships. There are no limitations placed on foreign founders looking to open businesses in Nigeria. With that said, there is a quota for the number of foreign employees one can have, and the company has to prove a need for them.
USEFUL LINKS