Does localization affect user reviews? The answer is short and obvious: yes. In fact, up to 16.11% of user reviews mention localization in one way or another. And no, this isn't just a random number we came up with. We have analyzed millions of user reviews for hundreds of games in a variety of different genres over the course of the last two years. And here are our findings.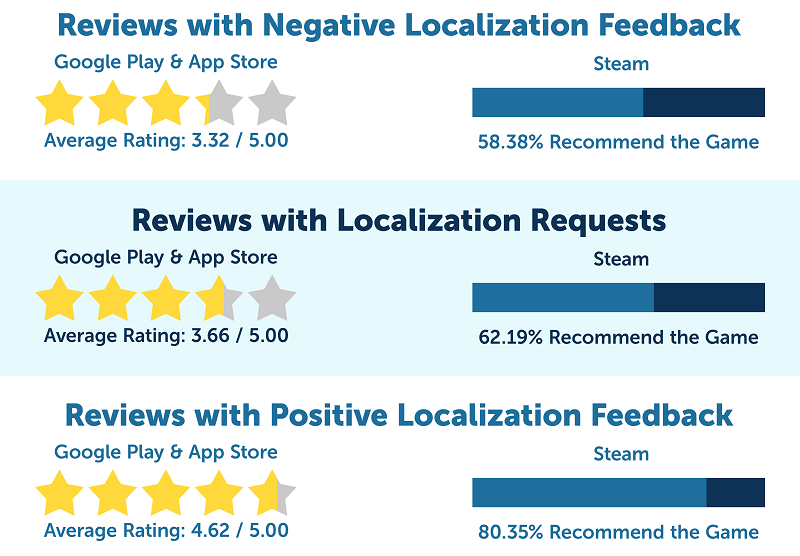 As you can see, game ratings can vary drastically. As you amass more and more localization requests and negative localization feedback in the reviews, it lowers your game's overall rating, thus also impacting its position in the charts. And users are less likely to install a game with a low rating. As a result, you might need to invest more resources into marketing to get your game noticed.

Localization Requests

Basically, if you release a game in English only, you should be prepared to face frustrated players from all over the world. "Why frustrated?" you might ask. While English is certainly considered the current lingua franca, not everyone in the world speaks it. In fact, the EF EPI rating shows that more than half of the countries represented there have either low or very low English proficiency level.
How would you feel about playing a game that isn't available in a language that you speak? For some players, the language barrier is the reason why they cannot enjoy video games. Such players are also very likely to leave a review with a plea to localize the game in their language. Based on our research, almost 40% of such reviews are negative.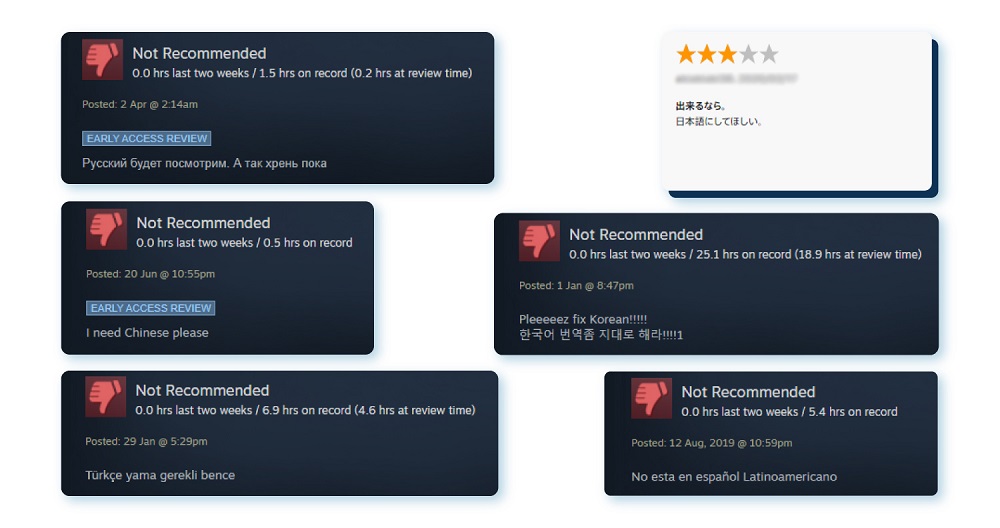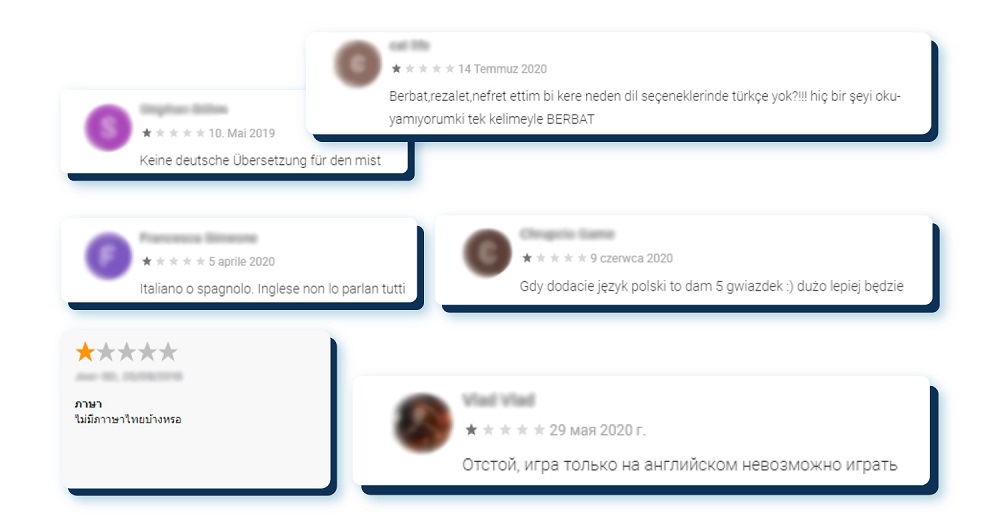 Note: Have a look at the English translations of the reviews above.
Positive Localization Feedback
It is true that localization is an investment. But it's completely worth it. Since some users will refuse to even install a game not available in a language they speak, localization is one step towards getting their attention. In return, players will appreciate having their needs met. They will be able to immerse themselves in the world of the game and understand jokes and references that cater to their cultural background. This will enhance the pleasure they derive from the game. Which means positive reviews. Overall, more than 80% of reviews with positive localization feedback are also positive in general. All this increases sales (albeit indirectly). That's how you get a return on investment. All the more reason to invest in high-quality localization. And quality does play a major role. Machine translation, or other types of unprofessional translation, will hardly get you any positive reviews. Keep reading to find out more.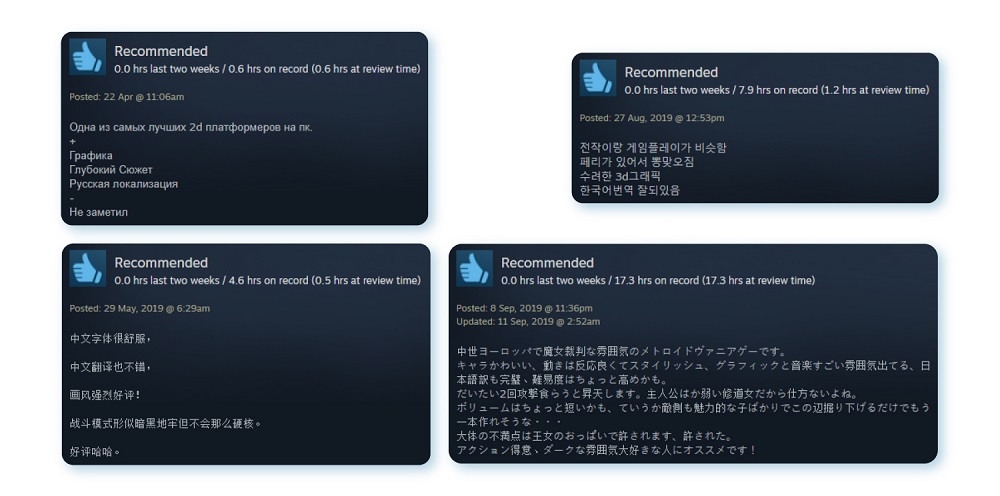 Note: Have a look at the English translations of the reviews above.
Negative Localization Feedback
But there's a catch. Not all kinds of localization will do. Simply knowing the language is not enough for a translator to do a decent job. They should have a game localization background, as well as experience in the genre.
Poorly done localization will hinder the players' enjoyment of the game, and they will not hesitate to express that in their reviews. They will complain about machine translation, inconsistency, or mistranslations. The picky ones will also be complaining about typos of any kind and even mismatched fonts.
From a developer's perspective, it's nigh on impossible to assess localization quality when you don't speak the language yourself. But fortunately, we have LQA.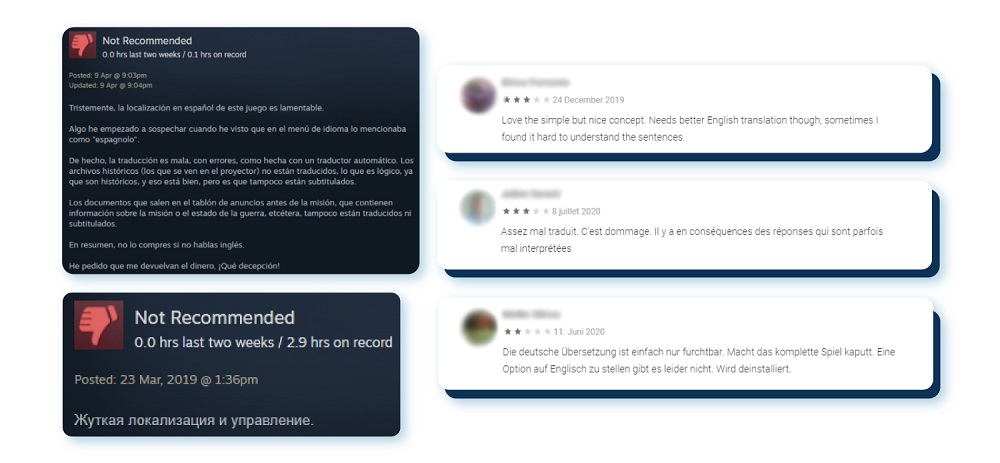 Note: Have a look at the English translations of the reviews above.
Conclusion
In a nutshell, good localization helps you make sure that at least this aspect of your game won't be pummeled in the reviews (see some more example reviews below). And that, in turn, will aid you in the pursuit of that Overwhelmingly Positive badge on Steam or give you a rating bump on Google Play and in the App Store. Not to mention the expanded player base and outreach that comes with localization.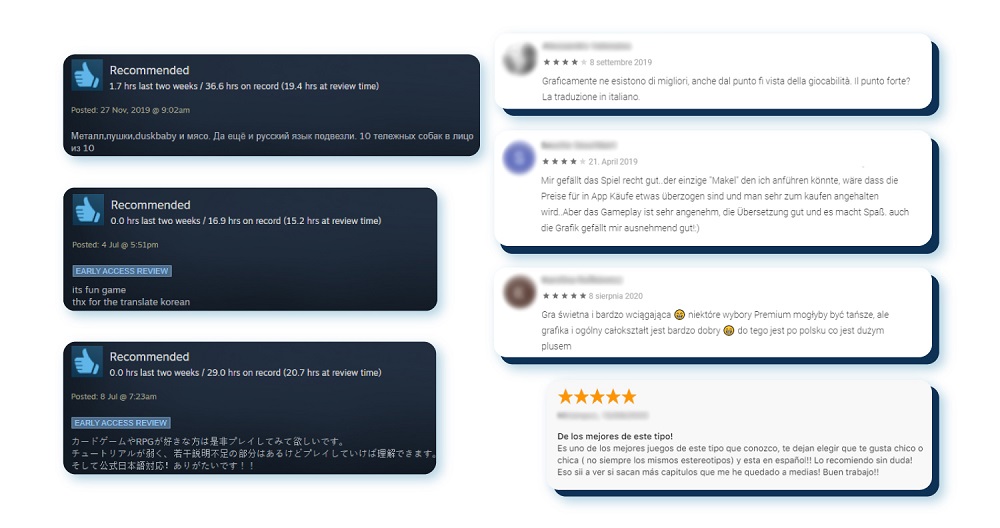 Note: Have a look at the English translations of the reviews above.
ALLCORRECT GAME LOCALIZATION STUDIO
You're a game developer and you want to know what your players think about localization? Contact us, and we'll get back to you with a report.
Incidentally, Allcorrect has been translating games since 2008. This has given us all the tools and expertise to also help you with the actual localization. We can check the quality of your existing translations and give you advice on entering new markets to reach even more players—and potentially increase the number of positive reviews along the way.