Overview
Vietnam is one of the oldest countries in the world and its history is rooted in several countries of the ancient Vietnamese people, who have lived in the area now known as Vietnam since 1000 B.C. Today, the country occupies the eastern part of Mainland Southeast Asia and borders China, Cambodia, and Laos.  Most of the country is covered by mountain ranges, while the lowlands are largely clustered near rivers and the coastline.
Today, Vietnam is hugely popular as a tourist destination, and deservedly so. Here you can find ancient temples, such as in Hue, the capital of the last emperors of the Nguyen dynasty. Listing all the country's landmarks would take far too long, but it's enough to say that people visit Vietnam to admire its culture, fantastic beaches, and exotic natural beauty.
The country's main exports are textiles (24.5 billion USD), mobile phones and accessories (24.1 billion USD), and computers and electronics (11.6 billion USD). Other Asian countries such as Japan, South Korea, and Malaysia are active investors in Vietnam's economy. They are primarily involved in the construction of factories to manufacture their own products.The official language of Vietnam is Vietnamese, although the country is home to a huge number of ethnic groups who speak Chinese, Mon-Khmer, Tibeto-Burman, and Kra-Dai languages, among others.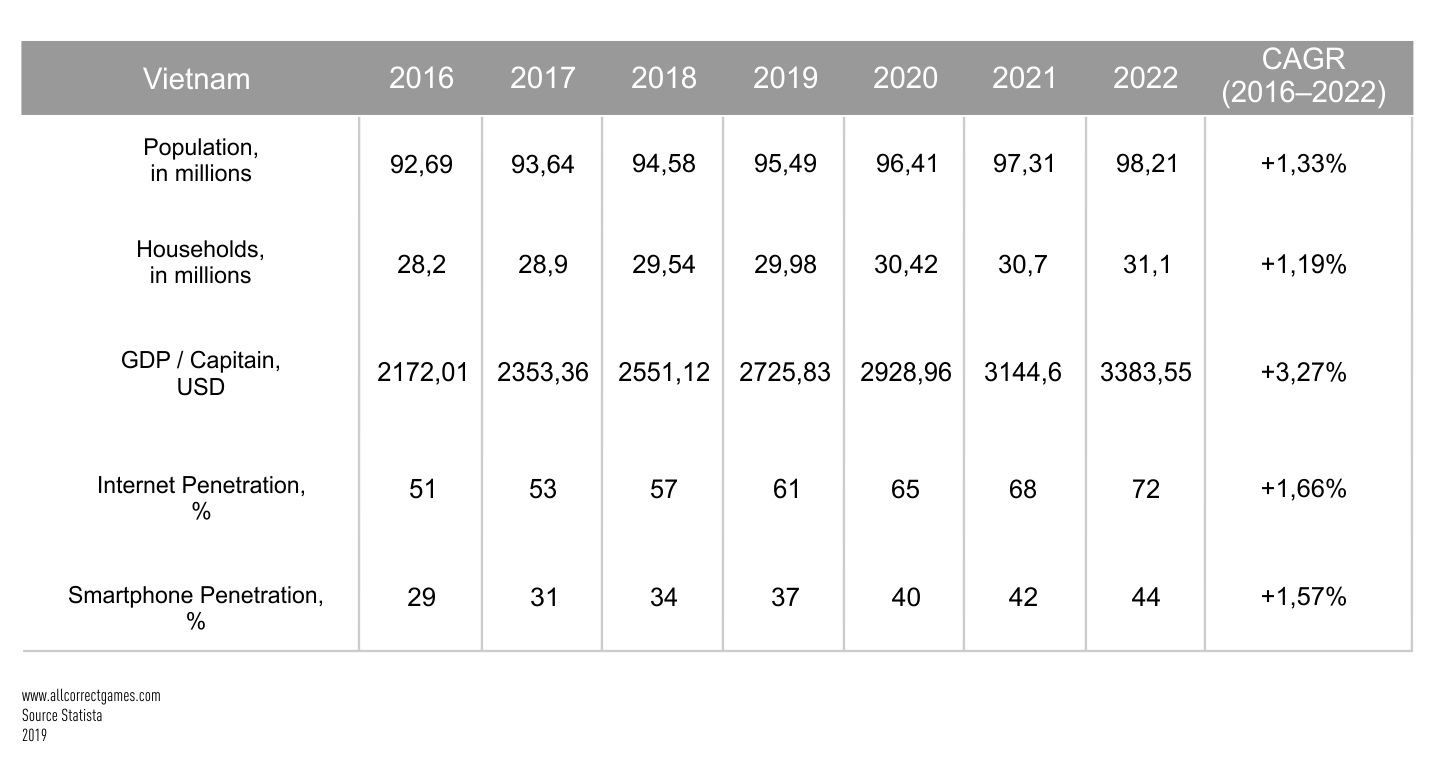 Over three million jobs have been created as a result of direct foreign investment. Foreign companies' share of Vietnamese exports has reached 70%, it's more than 115 billion USD.
Mobile Games Market in Vietnam
In 2018, the Vietnamese games market was valued at 75 million USD. Mobile games, as usual, constitute the lion's share of this—45.5 million USD (60%). The second largest by revenue part is downloadable games —24.8 million USD. The lowest earner is browser games at 4.5 million USD.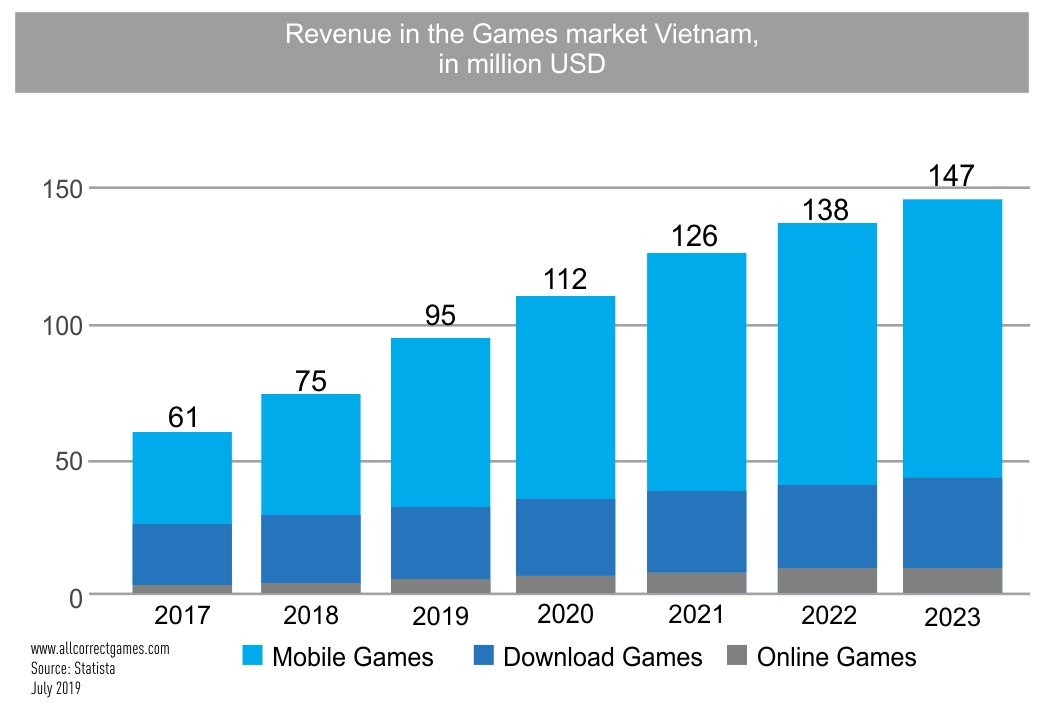 In addition, the Vietnamese games market shows great potential in relative terms. Statista analysts predict growth in 2023 up to 147 million USD, doubling the 2018 figures. But in absolute terms, the Vietnamese market remains not very large.
It is interesting that the data from App Annie varies so wildly from Statista's data. Firstly, App Annie mentions that the Vietnamese market is sixth in the world by number of downloads. In 2018, the people of Vietnam made 1.4 billion downloads (exceeded only by India, USA, Brazil, China, and Indonesia). Secondly, App Annie values the Vietnamese mobile games market at 365 million USD in 2018, almost five times higher than Statista's figure. App Annie's numbers are backed up by research conducted by NewZoo in 2017, where they obtained similar results.
The only explanation for this data disparity is the use of different methodologies and different data sources.
Growth rates in Vietnam, like everywhere else, are set to slow. In 2019, the growth of the mobile sector relative to 2018 stands at 36.3%, but in 2023 it will be only 7.6%. As before, these figures are higher than the growth rates for the rest of the world, from which we can infer that the Vietnamese market is still in its infancy and needs to grow before it reaches maturation.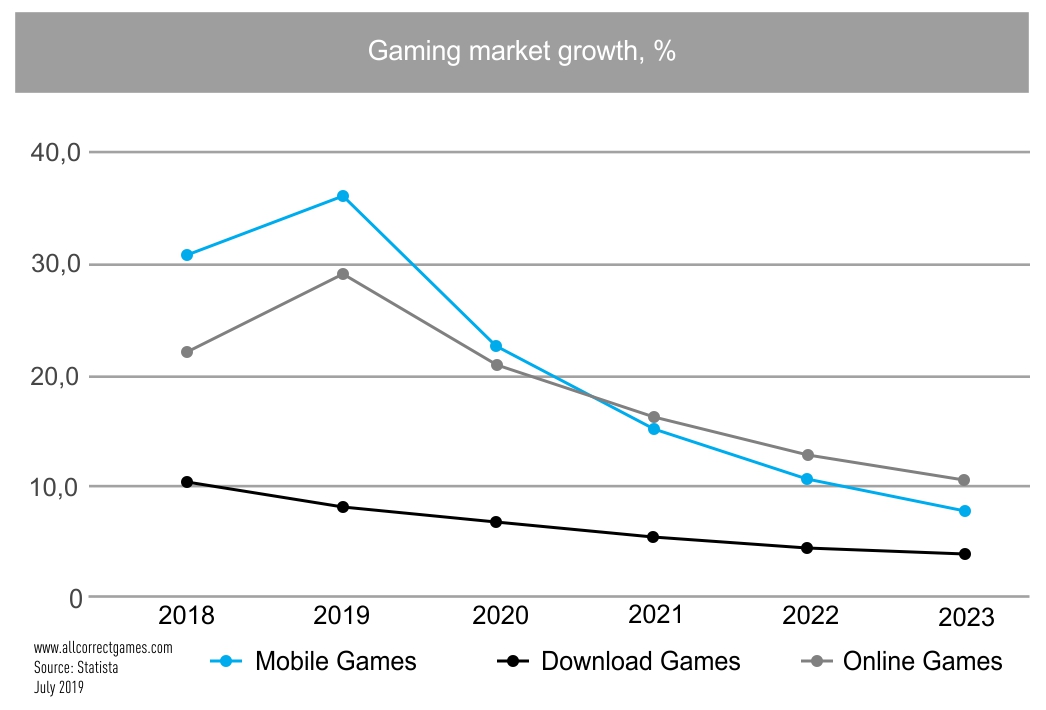 One interesting point: analysts predict that by 2023, browser games will show the best growth. This is the only segment that will continue to grow at above 10% for the next four years. Mobile games' growth will be 7.6%, while the growth of client-based multiplayer games will be less than half that at 3.5%.
Vietnam is one of the few countries where ARPU in mobile games is set to show significant growth in the coming years. In 2018, ARPU stood at 12.72 USD, in 2019 it will be 15.28 USD, and by 2023 it will rise to 18 USD. Compared to the leading markets in the USA and Japan, these numbers don't seem too impressive, but the growth they represent is above 40%. These figures point to the country's overall economic growth and the population's financial capacity.
You can't release a game in Vietnam without a local publisher, because selling a game in stores requires a license from the Ministry of Information and Communications. Of course, you will have to share your profits with your local partner; Supercell recently left the local market for good after failing to come to an agreement with the authorities.
"Games published in the Vietnamese market must be licensed. We do not permit the sale of international games, which have players based in Vietnam and which earn revenue in Vietnam, without the permission of the state," states the Ministry of Information and Communications.
The process for approving games in Vietnam takes 20 days. If a game contains prohibited content—gambling, offensive language, violence, or misrepresentations of the country's history—the project may be sent for revision or banned outright.
Making in-game purchases in Vietnam is also a tricky business. Until May 2018, users were able to purchase cards for the major mobile operators (Vinaphone, Mobifone, and Viettel) to top up their phone balance with a specified sum, which then allowed them to send messages or make purchases. After May 2018, the government began closely monitoring the sale of these cards, resulting in the market turnover falling by 60–70%.
Naturally, this affects the costs associated with acquiring users. According to Chartboost, these costs are quite low in Vietnam—an average of 0.07 USD on Android and 0.16 USD on iOS. The priciest genre is casino games, where a new player costs between 30 and 40 cents.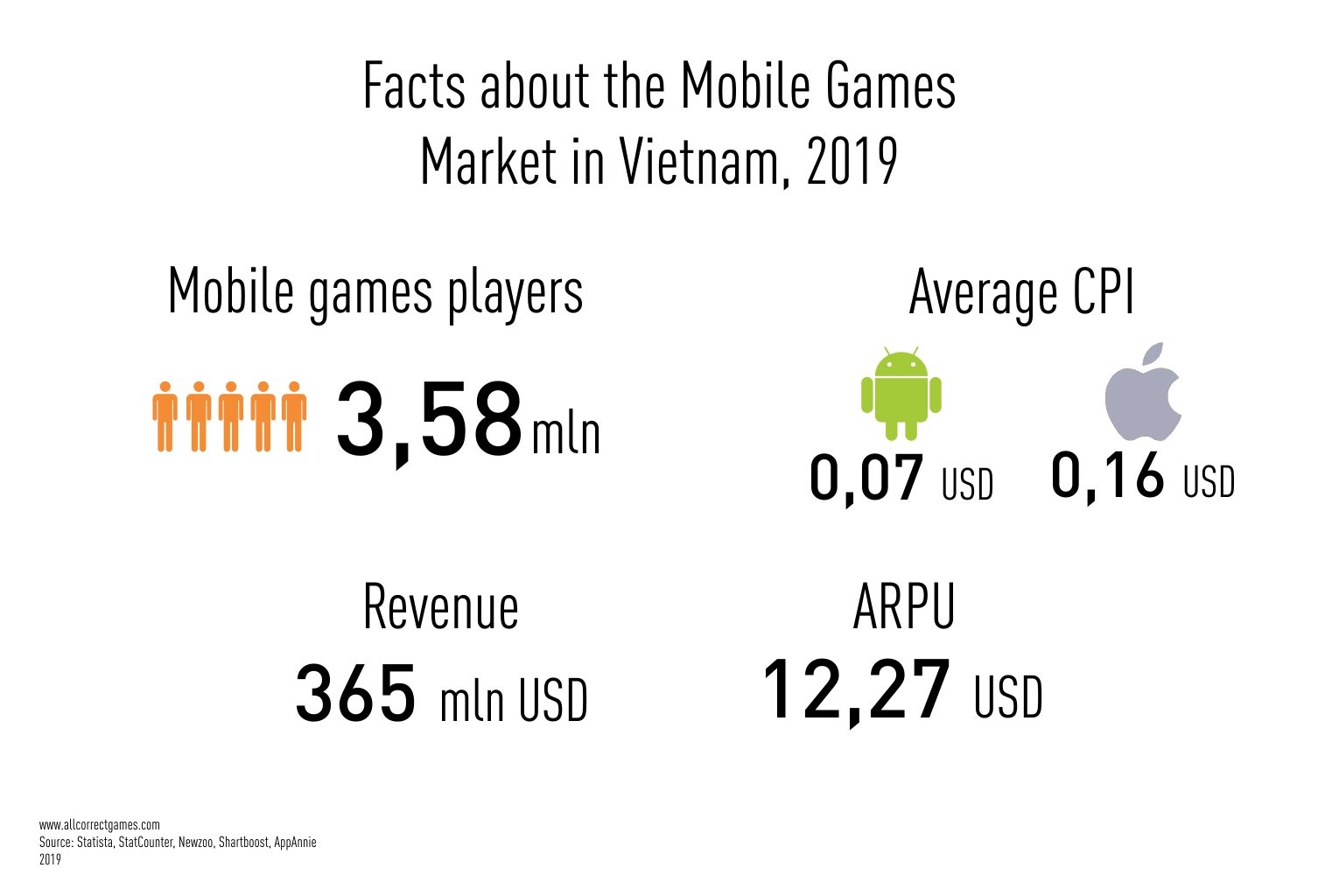 Social casinos are hugely popular in Vietnam. But the creators of the most profitable game Rikvip (which earned 450 million USD) were put on trial after the government shut down the company.
Who plays mobile games in Vietnam?
According to Statista, by the end of 2019 there will be around 5.2 million gamers in Vietnam. By 2023, this number will grow to 7.4 million. This means that the penetration of video games in the country is currently 5.3% (in 2023 it will be 7.3%). This is a statistical paradox, given that the region is generating relatively low download numbers. Even if you consider the fact that the corresponding research from App Annie on downloads doesn't just include games, the figure still looks very impressive.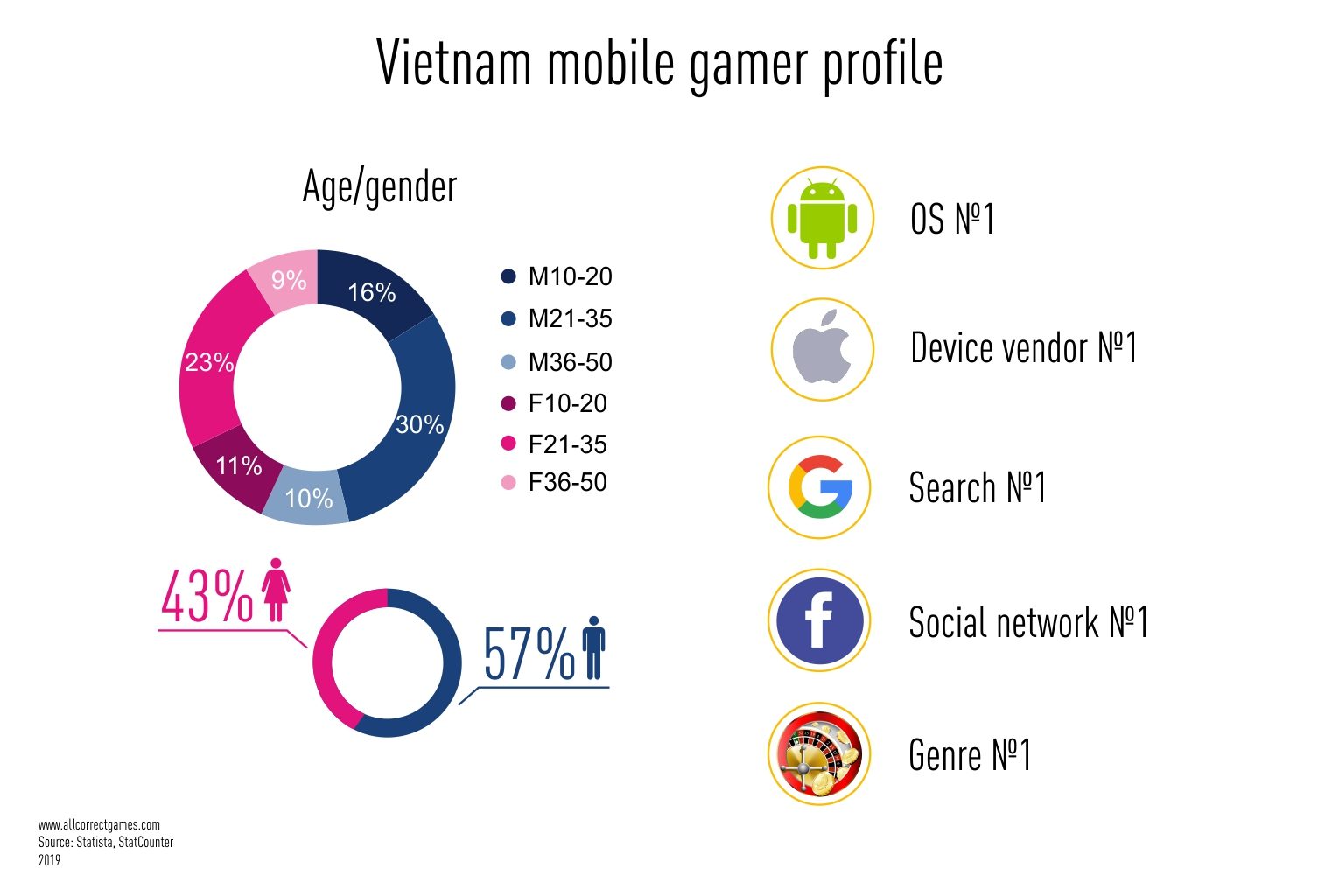 The most recent research on the Vietnamese player profile is from 2017, conducted by NewZoo. At that time, the majority of gamers were men (57%), making the proportion of female gamers—43% accordingly.
The biggest age group among gamers is 21 to 35 years (30% of men and 23% of women). The next biggest group is 10 to 20 years (16% of men and 11% of women). The group least likely to play games is 36 to 50 years (10% of men and 9% of women). The research included anyone who played games more than once a month.
59% of gamers regularly watch streams of their favorite games: League of Legends, Võ Lâm Truyền Kỳ Mobile, PUBG, and Overwatch. 45% of all gamers play across multiple platforms. It is interesting that on Reddit, one gamer writes that most Vietnamese gamers use PCs to play mobile games.
In the Vietnamese App Store, three game categories reign supreme: MOBA, Battle Royale, and hyper-casual games. According to Sensor Tower, these genres occupy eight of the top ten places in the Top Grossing chart on iOS. On Android, as suggested by SimilarWeb, the situation is a little different: there isn't a single hyper-casual game among the most popular titles, however, RPGs and strategy games are represented.
An interesting fact is that in Vietnam, according to data from the vice president of the Appota publisher, online casinos are very popular (despite strict regulation of these games by the authorities). But on both iOS and Android, the highest-ranking casino game is only 13th in the charts. It's quite possible that these comments were referring to the gray market and casinos that can be accessed via PC.If you look closely at these games, you can see the significant influence of Chinese trends on the Vietnamese market. In general, projects that are popular in China are also popular in Vietnam.
The most popular operating system in Vietnam is Android, and it enjoys a considerable lead over iOS. 36.66% of the population use Apple devices, while Android is used by 59.35%. Notably, Windows smartphones still hold 2.27% of the market.
The winner in the war between device manufacturers is Apple with 36.66% (the conclusion to be drawn from the previous paragraph). Second place, with a significant 27.16%, is occupied by Samsung. After that, we have Oppo (8.15%), unknown manufacturers (accounting for 5.15%), Nokia (3.21%), Xiaomi (3.1%), and Sony (3.03%). All the remaining manufacturers have less than 3% of the market.
In Vietnam, almost everyone uses Google (94.27%), although the country does have a local search engine—Cốc Cốc. It controls 3.68% of the market, which is an achievement against a giant such as Google.
The two most popular social networks in Vietnam are Facebook (62.94%) and YouTube (21.19%). Significant market shares are also held by Pinterest (5.27%) and Twitter (5.11%). All other companies have less than 2% of the total number of users. Statcounter has all the data on this.
Culturalization for Vietnamese Residents
Vietnamese culture has been shaped by significant Chinese influence, which is why all Vietnamese people are raised on the same stories of the Three Kingdoms, kung fu, and the novels of Jun Yong as the Chinese. For this reason, Chinese MMORPGs based on local folklore are incredibly popular in the region.
Vietnamese gamers love good graphics and UI. You should take this into account before releasing a game in this region. It's unlikely that you can improve the graphics significantly, but spending a little extra time on your interface will be worth it—an appreciative audience will happily pay more.
Language is an essential consideration before release. A small number of Vietnamese people understand (but are not fluent in) English—the country is 34th out of 80 countries by level of English (higher than Russia). Therefore, localization is crucial to the success of a project in the region.
When it comes to blood and bodies, Vietnam has not picked up the Chinese practice of banning depictions of gore. However, when adapting games for Asian markets, it's worth removing or sanitizing these images, just to be on the safe side. If you don't, there is a hypothetical chance that your game's release will be blocked. Either way, you can't release a game in Vietnam without a local partner, and they will advise you on the pitfalls to avoid.
One final point: social networks are very popular in Vietnam, so seriously consider creating a page for your game on onClan. This is a gaming social network where players ask for advice, share their achievements, and find friends to play with.
Vietnamese Mobile Games Developers
Flappy Bird came from Vietnam. It was developed by Dong Nguyen, who works as an artist and programmer at his own studio dotGears. At its peak popularity, Flappy Bird was earning more than 50,000 USD from in-game advertising alone.
From the report by Nguyen Minh Quang (VP at Appota), we know that Vietnamese developers feel very comfortable releasing projects in foreign markets. Nguyen reports that thousands of development teams are working in Vietnam, the majority of which are making casual and hyper-casual games (clearly inspired by Flappy Bird's example). Here are the most famous:
Divmob
Onesoft
Amanotes
TeaMobi
Athena
Punch
The report also shows that local developers are earning a combined total of around 200 million USD a year.
When listing games companies, we can't forget the publishers that make it possible to enter the Vietnamese market. You should choose a publisher based on the genre of your game (it's better to work with publishers in the same category), the terms of the agreement, and if possible, personal contacts. For example, China Joy'19 is a great opportunity for making connections, as many Vietnamese publishers attend this conference.
VNG (multi-genre publisher; published PUBG, CrossFire, and Bang Bang)
Garena (hardcore games)
Gamota (MMORPGs)
Funtap (midcore MMORPGs)
SohaGame (SLGs, MMORPGs, casual games, and collectible card games)
VTC (casual games and shooters, in 2019 they shifted to working in MMORPGs)
It's worth mentioning that despite the generally favorable conditions for developers in Vietnam, there are virtually no subsidiary offices of the major game studios present in the country. The notable few include Koei Tecmo, Gameloft, DeNA, and Nexon (under the name gloops Vietnam).
Localization into Vietnamese
Vietnamese is the official language of Vietnam. It is the language that people use for socializing, studying, negotiations, and making business deals. The language is spoken outside Vietnam as well, in Cambodia, Laos, Thailand, Malaysia, Australia, France, Germany, USA, Canada, and other countries. The total number of Vietnamese speakers in the world is more than 68 million.
The traditional Vietnamese writing system Chữ Nôm (people's writing) is a logographic system, but since the start of the 20th century, the chữ Quốc ngữ (national writing) system based on the Latin alphabet has been in use.
The Vietnamese language has been subject to intense Chinese influence and today around 60% of its vocabulary is made up of loanwords from neighboring countries. After Chinese, French is the language that has had the greatest influence on Vietnamese.
Most Vietnamese words are short, comprising only 3 or 4 letters. Because of this, it's difficult for Europeans to appreciate this beautiful language. However, the language's concision is often hidden in plain sight: for example, the country's own name is written "Việt Nam."
There are six tones in Vietnamese (level, deep, sharp, tumbling, asking, and heavy), meaning that each vowel sound can be pronounced in six different ways, and a single word can have six different meanings depending on intonation.
Another interesting feature of Vietnamese is that it does not have any grammatical gender. This is convenient when translating from English and eliminates the need to create gender-neutral constructions or specify gender tags.
Apart from Vietnamese, people in Vietnam also speak dialects of Chinese, Mon-Khmer, and other ethnic minority languages.