Overview
Malaysia is a small country in Southeast Asia that covers the northern part of the island of Borneo and the southern part of the Malay Peninsula. Through it runs the Titiwangsa Mountain Range. Numerous beaches stretch along Malaysia's coastline. Within the state's territory, there is an extensive network of rivers, but they are all quite small.
People call Malaysia the land of contrasts, and for good reason. Kuala Lumpur, its capital city, is a chic metropolis. You've probably seen photos of its skyscrapers all across the Internet. The city is also renowned for its night clubs, which have been recognized as the best in Southeast Asia. The government also takes care to protect the environment, so Kuala Lumpur has many parks.
Beyond the capital, there is natural beauty to admire. The best places for it are the Penang and Sipadan islands, as well as Langkawi archipelago. There, you can enjoy snow-white beaches and do some scuba diving.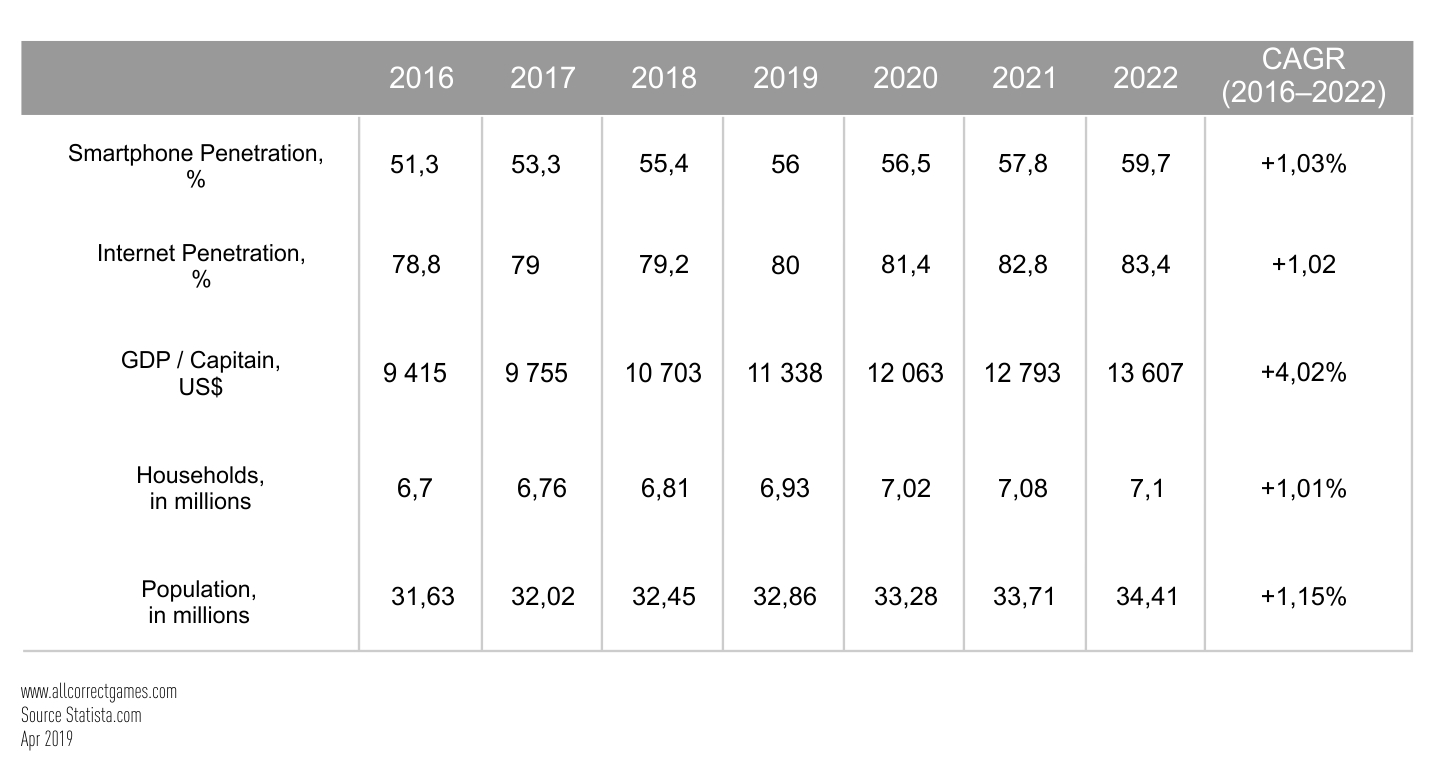 Malaysia had been one of the fastest growing countries in Southeast Asia right up to 2005. Then its economic growth slowed, although it remains one of the highest in the region. The latter is explained by its geographical proximity to the Strait of Malacca, an important sea route. Malaysia actively sells its agricultural and natural resources, particularly oil, to foreign countries. Electrical goods also make up a large share of its exports (Malaysia is the world's largest supplier of electronic chips and home air conditioners).The official language of Malaysia is Malay. However, because the country spent a long while as a British colony, English is still in active use here. In business, Manglish—a fascinating mix of Malay and English—is widely used.
Malaysian Mobile Games Market
Statista analysts estimated the Malaysian gaming market at USD 100 million in 2018. Mobile games accounted for more than half of this—USD 54.3 million. The rest was downloadable and online games for console and PC.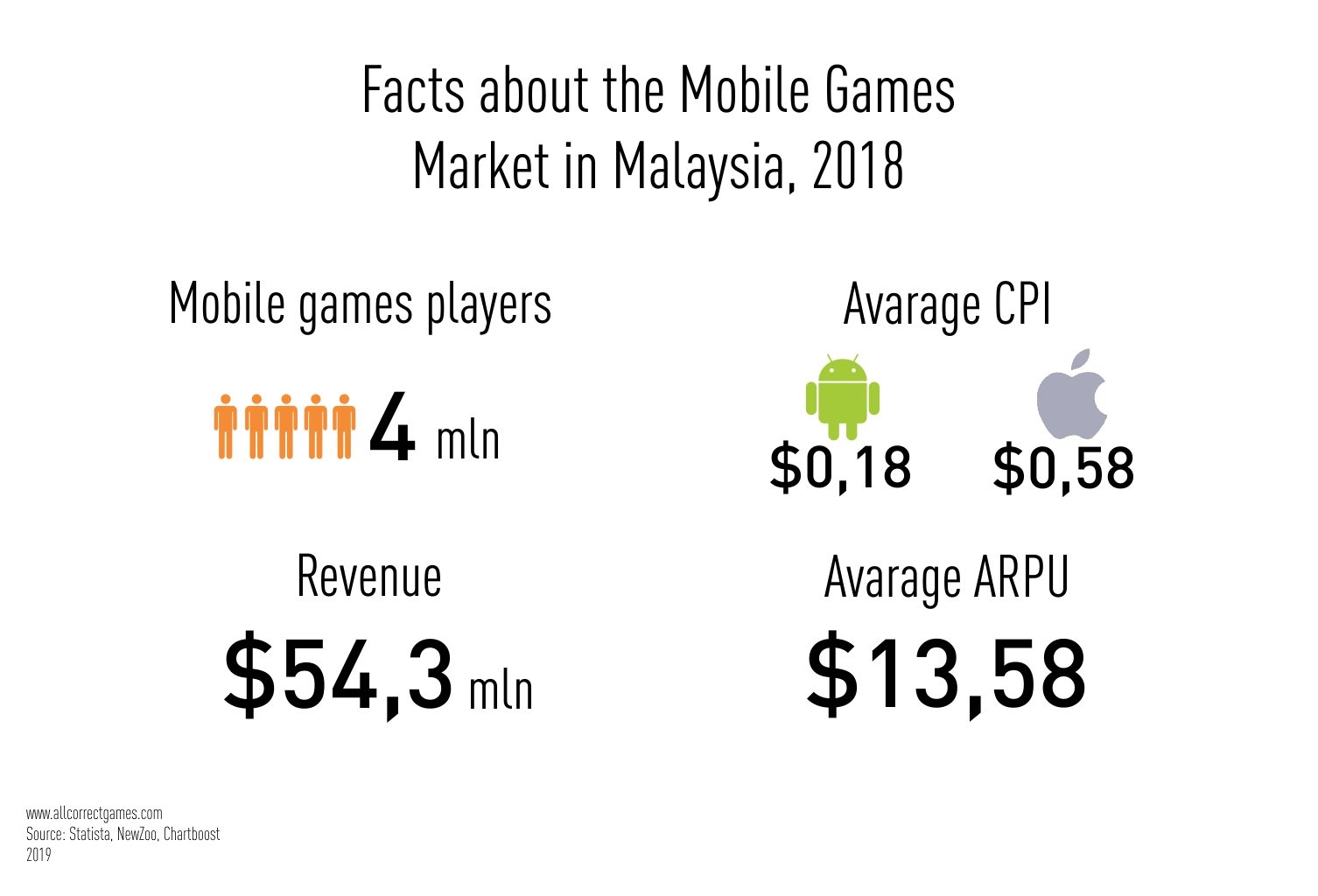 Despite the relatively small values in absolute terms, the Malaysian market is growing quickly. According to estimates, its economic growth will reach its peak—16.6%—in 2019 and will drop to 6.7% by 2023, which is a rather high figure in itself.
Interestingly, downloadable PC games dominate the Malaysian market. Average revenue per user (ARPU) in this segment in 2018 was USD 19.91. For comparison: the ARPU for Malaysia's mobile games segment is USD 13.58. Analysts predict that this gap will only widen by 2023: mobile games will draw less profit, while downloadable client MMOs will bring more.
However, because of the population's low purchasing power, traffic in Malaysia is relatively inexpensive. According to data from Chartboost, attracting one player to an Android app costs only USD 0.18 and USD 0.58 for iOS. In reality, these figures are likely to be several times higher, so the decision to buy Malaysian traffic should be made with caution. The game genres that are the most expensive to attract audiences are  .
Who Plays Mobile Games in Malaysia?
According to Statista information for 2018, men and women are approximately equal among the Malaysia's gamers—55.3% and 44.7%, respectively. People aged 25 to 34 spend the most time in games (they account for 39.3% of the audience). The second largest segment is players aged 35–44 years (23.9%), followed by younger players aged 18–24 years old (23.8%). The older generation spends less time playing than the others. Only 10.2% of players are aged 45–54 years, and those over 55 make up only 2.8%.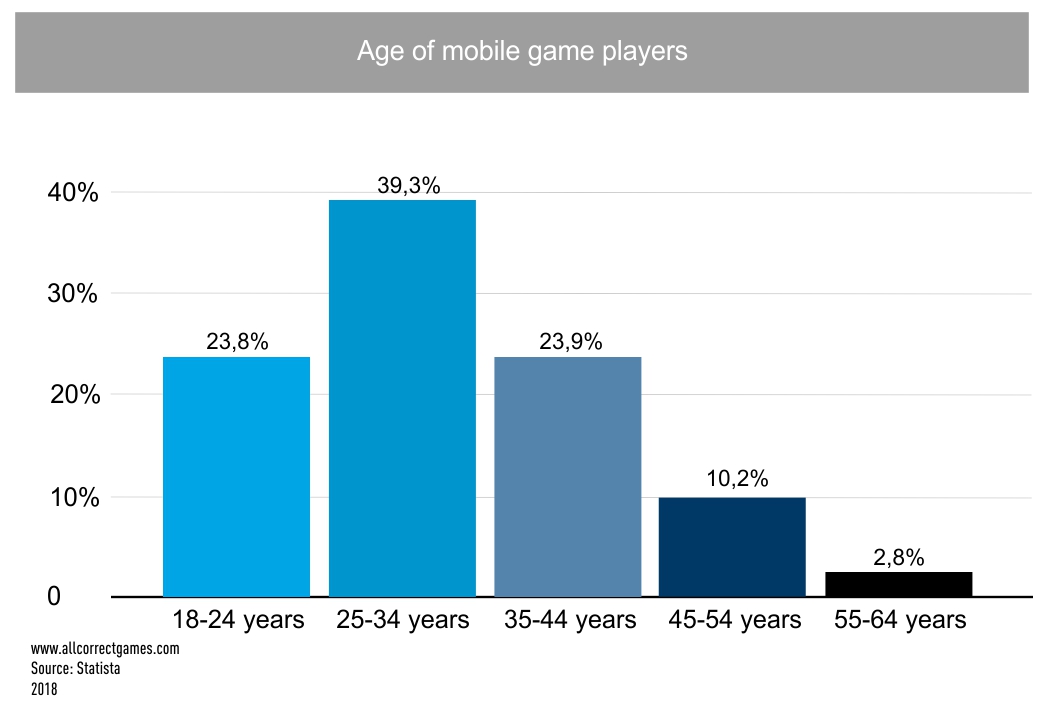 Malaysians generally have a favorable view of their financial situation. Among players, 36.9% hold this opinion, and 34.3% of the population think they earn an average income. Another 28.9% consider their financial situation to be poor.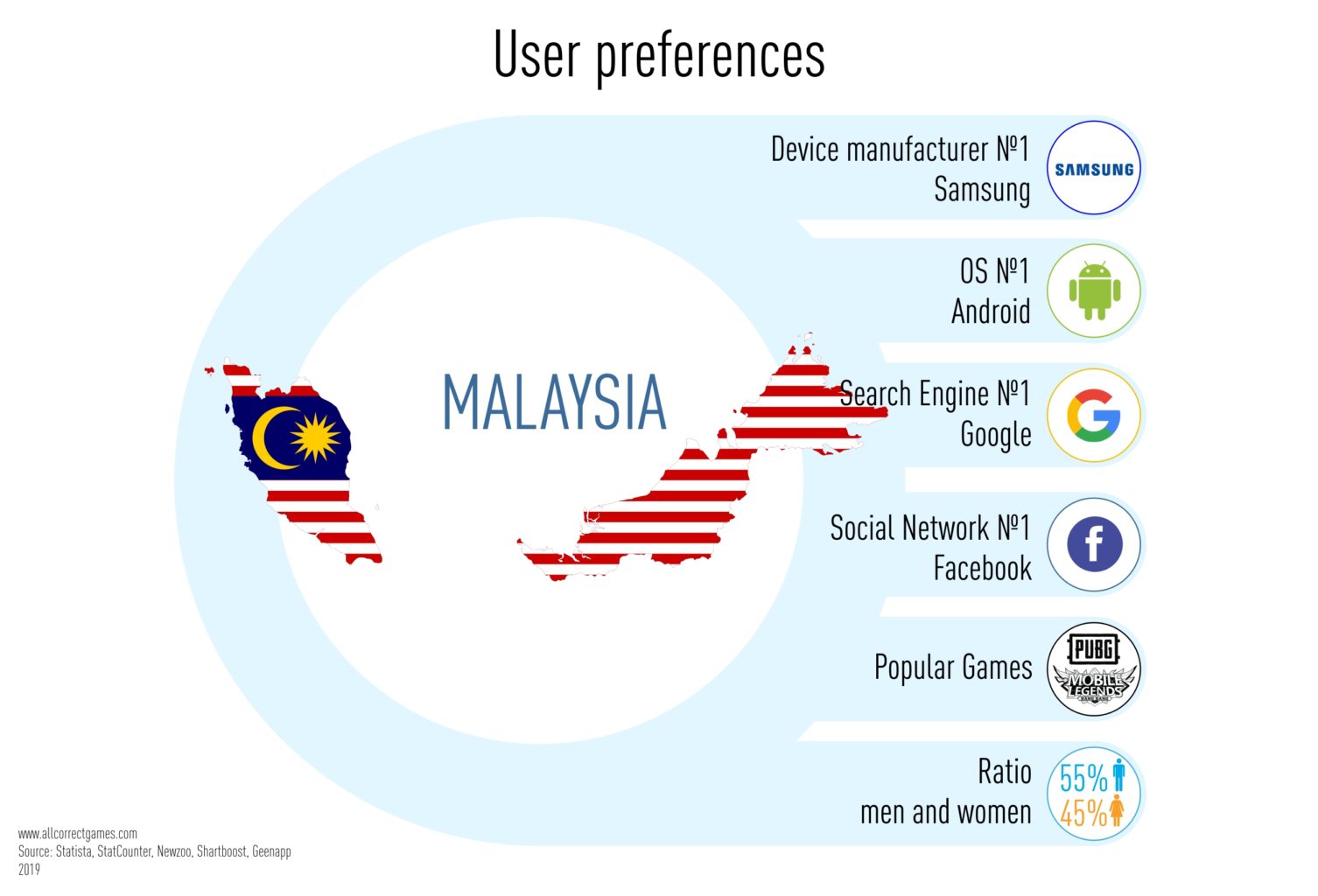 Malaysians generally share preferences with those of audiences from other Asian countries. The games PUBG and Mobile Legends: Bang Bang are popular there. There is also a great interest in Garena Free Fire.
| | | | |
| --- | --- | --- | --- |
| Name (iOS) | Genre | Game (Android) | Genre |
| PUBG Mobile | Battle Royale | PUBG Mobile | Battle Royale |
| Mobile Legends: Bang Bang | MOBA | Mobile Legends: Bang Bang | MOBA |
| Ragnarok M: Eternal Love | RPG | Garena Free Fire | Battle Royale |
| Garena Free Fire | Battle Royale | Tower of Saviors | Puzzle |
| Pokémon GO | RPG | Laplace M | MMORPG |
| Rise of Civilizations | Strategy | Lords Mobile: War Kingdom | Strategy |
| Candy Crush Saga | Match-3 | Rise of Civilizations | Strategy |
| MU ORIGIN 2 — WEBZEN Officially Authorized | MMORPG | Slotomania™ Slots Casino: Vegas Slot Machine Games | Slots |
| Call Me Lord | Simulation | Zynga Poker — Texas Holdem | Poker |
| Laplace M | MMORPG | Call Me Lord | Simulation |
Interestingly, gambling games only topped the chart for Android. Zynga Poker for iOS got only 18th place. It's also significant that the game Call Me Lord gained a lot of popularity. It has earned a reputation of being very sexist—not an unexpected outcome from a harem simulator.
According to information from StatCounter, most Malaysian residents prefer devices that run on the Android operating system. They represent 81.69% of the market.
The popularity of Samsung mobile devices is also quite high—they succeeded in winning 32.16% of the total. Apple products account for only 16.55%. They are followed by Oppo (11.11%), Huawei (8.16%), Mobicel (5.34%) and Xiaomi (4.81%).
Google is the primary search engine in that region. It is used by 99.05% of the population. The remaining fractions of the percent are reserved for those who prefer Yahoo!, Baidu, and Bing.
Facebook is available in Malaysia. It has become the primary social network for 80.66% of the country. Twitter follows with a large gap at 6.01% of the audience. YouTube comes in third place with 5.17%.
Culturalization for Malaysian Residents
Malaysia is an Islamic state. This entails a number of rules and prohibitions anyone planning to launch an app here will face. Many of these rules are universal: they will apply to other territories where the majority of the population follows Islam.
First, we highly recommend removing all half-naked female characters or prepare other, more modest outfits for them. This is exactly what the developers from CD Projekt RED did in preparation for the release of the third installment of The Witcher. (Learn more about culturalization from this material.) If you ignore this recommendation, you may encounter a negative reaction from users who feel the application violates established social norms.
Second, if the app depicts scenes of alcohol or pork consumption, they must also be removed or altered. A protagonist that drinks is likely to be poorly received by Malaysia's religious citizens. To avoid an undesirable response, you will most likely have to rewrite the dialogues or even the whole story.
Launching an application in Malaysia may require a large amount of additional work. Is it worth it? In all likelihood, yes, because this work will certainly not go to waste. The result of it will be useful when launching projects in the markets of other Islamic countries.
Malaysian Games Developers
According to GameDevMap, there are offices of 11 games companies in Malaysia. Here are the most famous (in alphabetical order):
Big Frost Games
Codemasters
Gameloft
Kaigan Games
New Era Interactive Software
Streamline Games
There are also developer companies that are based only in Malaysia. As of yet, none of them can boast any major projects, so their names—Appxplore, Sherman3D and GameBrains—are known to only a few.
The overwhelming majority of gaming companies are located in Malaysia's capital, Kuala Lumpur. It's unsurprising, since all the country's business activity is centered here.
Localization into Malay
According to article 152 in the Constitution of Malaysia, Malay is the official language. However, English is widely used in the professional, industrial, and commercial fields, as well as in the higher courts. The languages of Malaysia's minority nationalities are also regularly used.
Malay has many dialects. Standard Malay is based on the southern dialect from the Malay Peninsula. Other significant dialects are: Bahasa Indonesia; a Malay hybrid language known as Bazaar Malay, which was borrowed by the colonial powers in Indonesia; and a variety of Bazaar Malay—Baba Malay, which is used in several Chinese communities in modern Malaysia.
Malay has no grammatical gender, which simplifies game and app localization that requires the player to specify gender. Even the pronoun "dia" can mean "he" or "she".
In 1972, a single Latin-based writing system was introduced in Malaysia and the grammatical rules for the various dialects of Malay were simplified.
It's worth noting that around 80% of Malaysians are reasonably proficient in English, which is the de facto second official language.